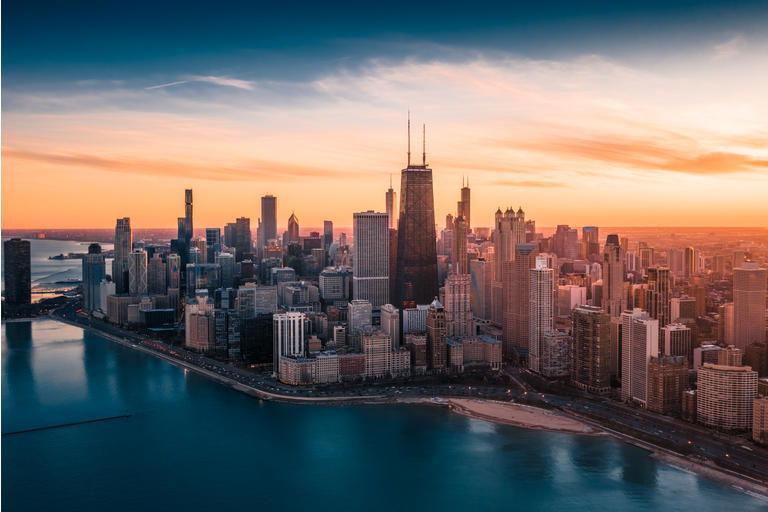 Real Estate Weekly Outlook
Goldilocks Is Back? U.S. equity markets rallied to fresh record-highs this past week as long-term interest rates and inflation expectations pulled back despite a stellar slate of economic data and corporate earnings reports. Following the slowest week for trading volumes this year, the "American Exceptionalism" theme was back in full force as concerns over the impact of a temporary safety-related halt of the Johnson & Johnson (JNJ) COVID vaccine and ongoing COVID issues in Europe and Asia led to a bid for U.S. Treasury bonds.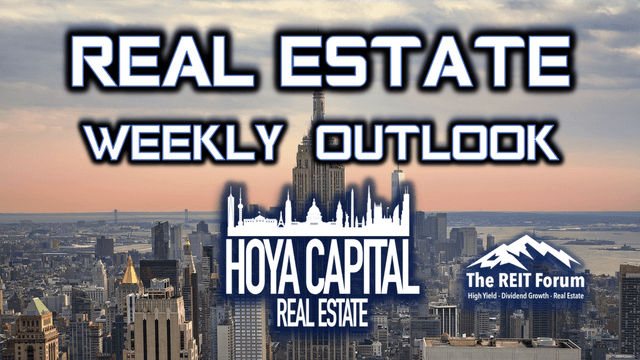 (Hoya Capital Real Estate, Co-Produced with Colorado Wealth Management)
Pushing its gains this year to nearly 12%, the S&P 500 (SPY) gained another 1.4% on the week while the Mid-Cap 400 (MDY) climbed 1.9% and the Small-Cap 600 (SLY) rose 1.1%. Real estate equities - particularly the red-hot residential sectors - were among the leaders on a busy week of major M&A news and ahead of the start of REIT earnings season next week. The broad-based Equity REIT Index (VNQ) gained 2.5% this week with 18 of 19 property sectors in positive territory while the Mortgage REIT Index (REM) gained another 1.5%.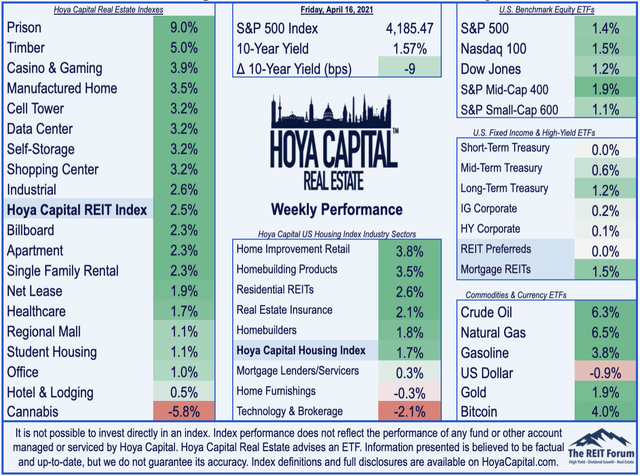 Despite the strong slate of economic data throughout the week, the 10-Year Treasury Yield retreated to the lowest levels since early March as investors backed off the consensus bets on rising inflation after the vaccine roll-out hit an unexpected snag. Ten of the eleven GICS equity sectors finished higher on the week, led to the upside by the Utilities (XLU), Materials (XHB), and Healthcare (XLV) sectors. Homebuilders and the broader Hoya Capital Housing Index delivered another strong week as the housing sector - which has been a continued leader of the early economic recovery - showed signs of continued strength.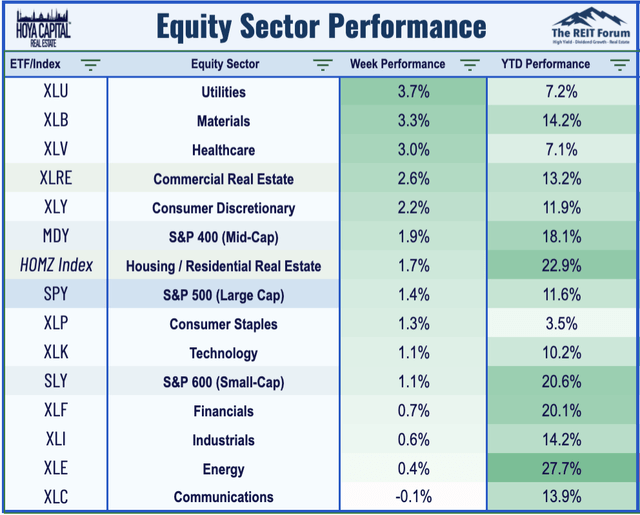 On that point, Housing Starts climbed to the strongest rate in nearly 15 years in March. Following a brief weather-related cooldown in February, Housing Starts were 37.0% higher than last year while Building Permits jumped 30.2% - each well above consensus estimates. The gains during the pandemic have been powered primarily by a surge in single-family construction, which was 40.7% higher than last year. Despite the recent rebound in new construction, a new analysis from Freddie Mac showed that the housing market is 3.8 million homes short of what is needed to meet the country's demand.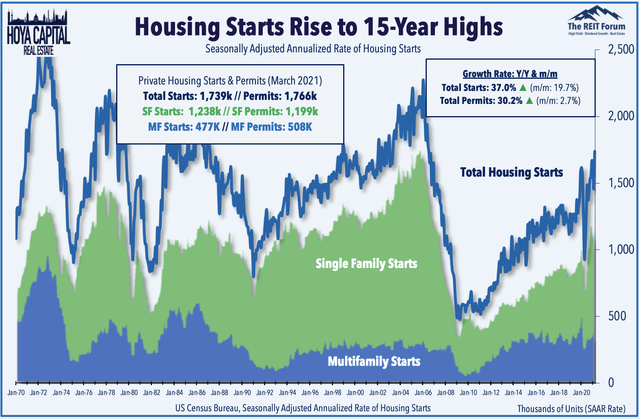 Meanwhile, the Homebuilder Sentiment Index - a leading indicator of single-family homebuilding activity - climbed one point to 83 in April from last month as homebuilders continue to sell homes as quickly as they can build them. Buyer Traffic climbed to the second-highest level on record, offsetting some pressure from concerns over constraints on land and materials as lumber prices (LB1:COM) surged to all-time highs. Confirming this insatiable demand, Redfin (RDFN) reported this week that 59% of homes that went under contract had an accepted offer within the first two weeks on the market while 43% of homes sold for more than their list price both all-time highs.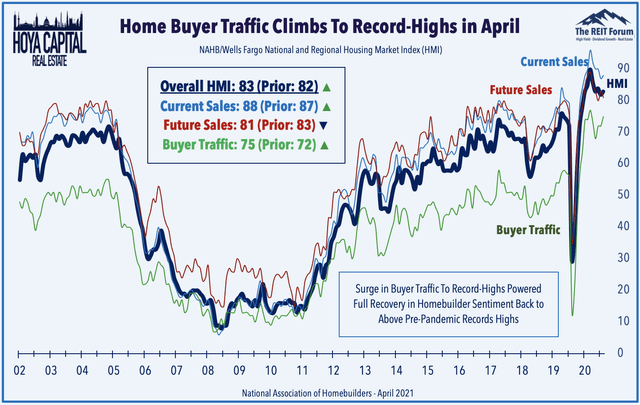 Real Estate Economic Data
Below, we recap the most important macroeconomic data points over this past week affecting the residential and commercial real estate marketplace.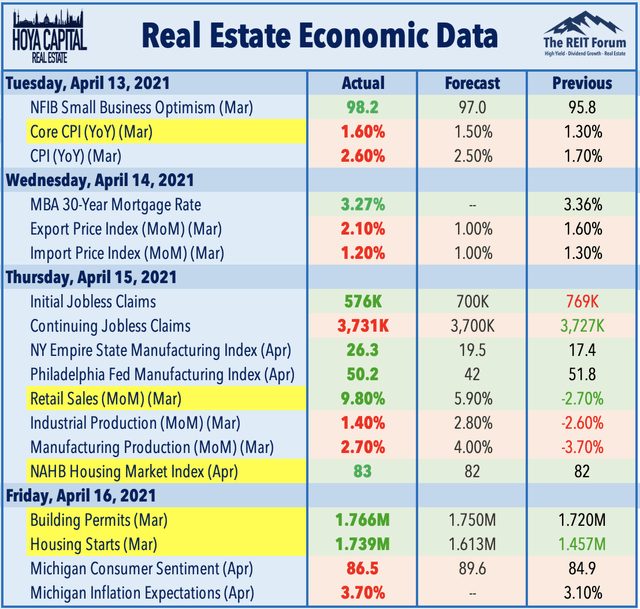 Elsewhere on the economic data front, the Census Bureau reported that Retail Sales were stronger than consensus estimates in March, surging by 9.8% from the prior month and were higher by 27.7% from the prior year. Sales were boosted by the third wave of stimulus checks as all categories recorded a sequential increase in sales. Clothing sales more than doubled from last March during the initial wave of economic lockdowns. Consumers continued to spend heavily on housing-related goods as the Building Materials category is higher by 29.4% from last year while Furniture sales are higher by 46.8%.

The blowout retail sales and housing data unexpectedly stole the attention away from inflation data, which has been the primary focus of investors over the past month. The CPI Index showed the largest annual gain in prices since 2012 last month driven by a jump in gasoline prices, which pushed the annual increase to 2.6%. However, the Core CPI Index - which excludes food and energy - was higher by 0.3% in March. Longer-term inflation expectations have trended sideways over the last month as market participants are split on whether the jump in inflation metrics this Spring will be sustained.

Equity REITs
Shopping Center: The "animal spirits" are alive in REIT world. Two weeks after Brookfield Asset Management's (BAM) deal to buy the remainder of Brookfield Property (BPYU) in a $6.5B deal, shopping center REITs Kimco Realty (KIM) and Weingarten Realty (WRI) announced a merger to become the largest open-air shopping center owner in the country with a pro forma market cap of roughly $12B. The merger will create a national operating portfolio of 559 open-air grocery-anchored shopping centers and mixed-use assets comprising approximately 100 million square feet of gross leasable area. Expected to close during the second half of 2021, each WRI share will be converted into 1.408 KIM shares plus $2.89 in cash.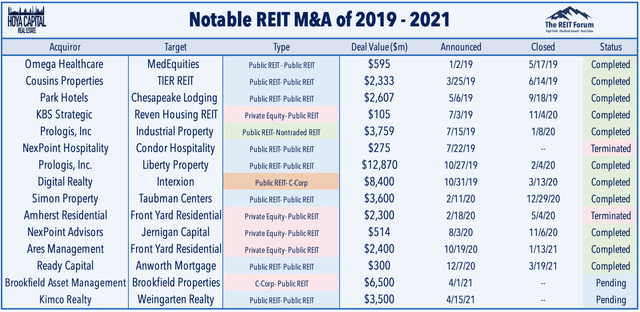 Storage: Public Storage (PSA) gained 3.5% this week after announcing plans to acquire ezStorage - the largest self-storage company in Maryland, Virginia, and Washington DC - for $1.8B. ezStorage's portfolio comprises 48 properties located in submarkets with "strong demand drivers and high barriers for new property development." PSA expects the transaction to be immediately accretive to FFO following an anticipated closing in May 2021. Storage demand has rebounded sharply since mid-2020, helped by a red-hot housing market. Acquisition and consolidation opportunities should be plentiful over the next decade for storage REITs as the weaker operators are "shaken out" by COVID dislocations.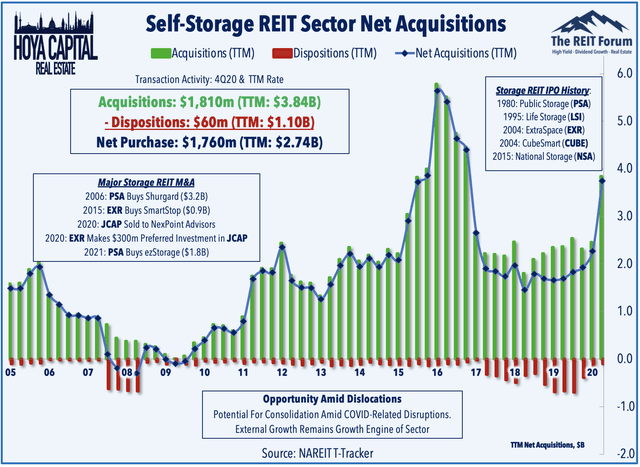 Malls: SPG Acquisition Holdings (SPGS) - the SPAC sponsored by Simon Property (SPG) began the separate trading of its common shares and warrants this week as it continues to search for an acquisition target in the "Live, Work, Play, Stay, Shop ecosystem." Simon Property is one of three REITs involved with SPACs alongside billboard REIT Lamar Advertising (LAMR) and lab space REIT Alexandria Real Estate (ARE). Other non-REIT SPAC sponsors across the real estate sector include CBRE Group (CBRE), Cushman & Wakefield (CWK), RXR Realty, and Tishman Speyer.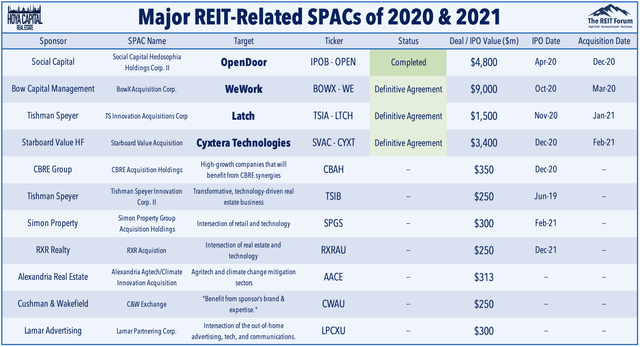 Prison: CoreCivic (CXW) jumped more than 14% this week after announcing that it reached a settlement in a shareholder lawsuit filed after the company's stock price plunged following a DOJ memorandum in 2016 which instructed the Federal Bureau of Prisons to end the use of privately operated prisons. GEO Group (GEO) finished higher by almost 4% despite news that Washington State passed legislation to ban private prisons. GEO owns a 1,575-bed facility under a contract with U.S. ICE, which is the only private prison in the state. The bill would allow GEO to continue operating the jail until its contract with ICE expires in 2025. In our report this week, The End Is Here, we analyzed the sector's prospects following the Biden Administration Executive Order prohibiting the renewal of federal contracts with private detention facilities, which account for roughly half of industry revenues.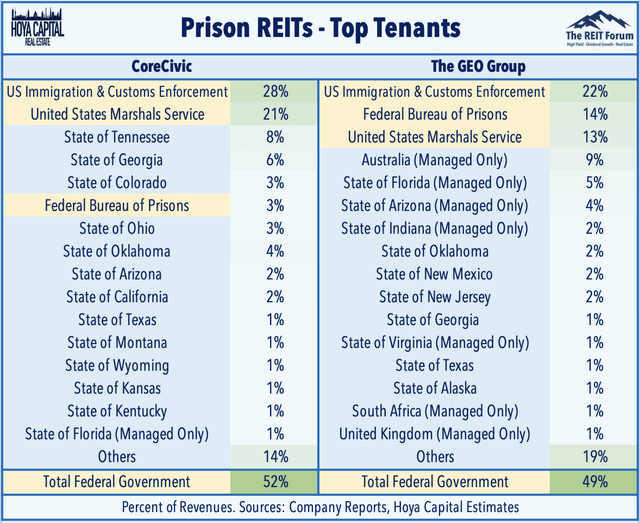 Healthcare: This week, we published Vaccines Avert Dark Decade and launched formal coverage of the healthcare REIT sector on The REIT Forum. Healthcare REITs - particularly senior housing and long-term care facilities - have been revived by the early vaccination success. Aggravated by policy errors, 34% of all COVID deaths were among nursing home residents, but new coronavirus cases have since been nearly eradicated in senior living facilities. Risks remain, but long-term fundamentals remain more compelling than other troubled property sectors. While unquestionably devastating, the pandemic did not compromise the sector's favorable demographic trends.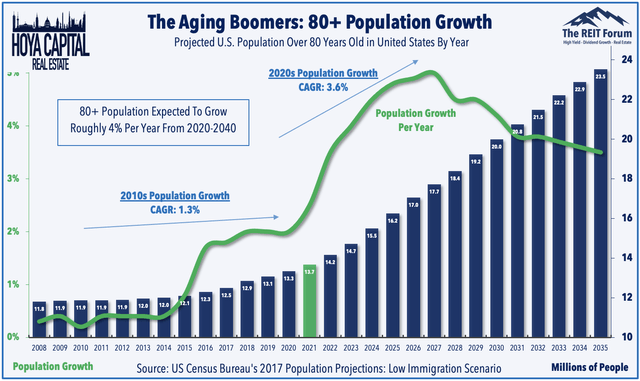 Net Lease: Just a few weeks after the final REITs reported Q4 earnings results, we're already set to begin Q1 real estate earnings season next week with results from a half-dozen REITs including industrial REITs Prologis (PLD), Redford Industrial (REXR), office REITs Brandywine (BDN) and SL Green (SLG), and cell tower REIT Crown Castle (CCI). REITs are off to a hot start to 2021 with a record-setting 51 increases in the first quarter including a second boost from net lease REIT Agree Realty (ADC) this week, which declared a $0.217/share monthly dividend, a 4.8% increase from its prior dividend rate.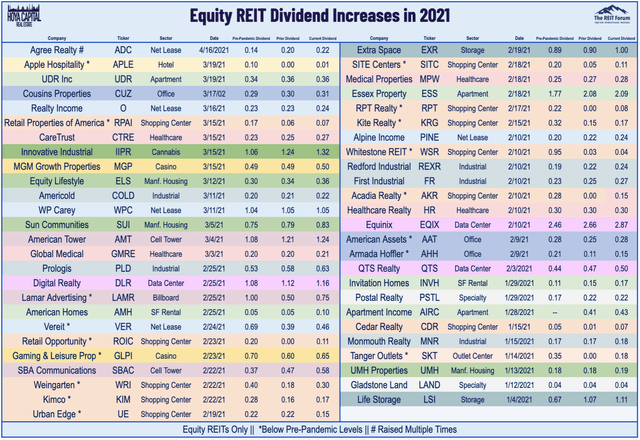 Mortgage REITs
Mortgage REITs were mixed this week as commercial mREITs climbed 2.6% while residential mREITs declined by -0.4%. We heard a handful of preliminary earnings reports ahead of the start of mREITs earnings next week. Orchid Island (ORC) dipped more than 10% this week after announcing preliminary results that showed a 9.5% decline in its Book Value Per Share ("BVPS") in Q1, which was weaker than expectations. On the upside, Ellington Financial (EFC) finished higher by 0.3% after it announced that its estimated book value per share was $18.16 as of March 31, 2021, up 4.4% from the end of 4Q20 while Redwood Trust (RWT) finished flat after announcing preliminary results showing a 21% jump in residential loan locks from last quarter.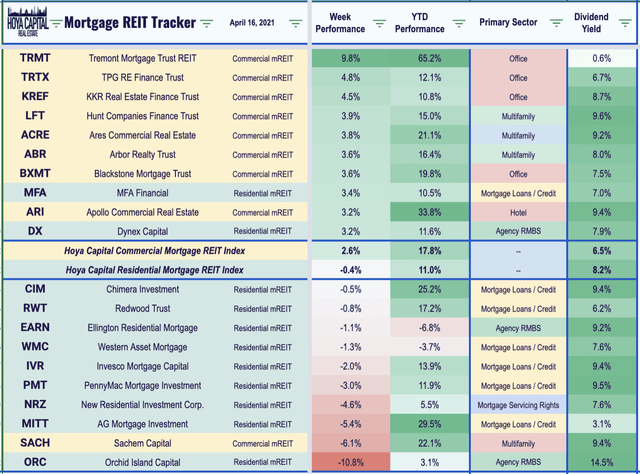 There was some notable M&A activity this week as well as New Residential (NRZ) announced that it will acquire Caliber Home Loans for $1.675 billion, or approximately 1.0x expected tangible book value at closing. The deal is expected to boost the company's origination platform and retail footprint. NRZ subsequently announced a secondary stock offering of 45m shares of its common stock to fund the acquisition. Helped by 17 mREIT dividend increases this year, the average residential mREIT is currently paying a forward dividend yield of 8.2% while the average commercial mREIT is yielding 6.7%.

REIT Preferreds & Bonds
The REIT Preferred ETF (PFFR) ended the week flat but remains higher by 3.8% thus far in 2021. This week. Digital Realty (DLR) announced plans to redeem all 8.05M shares of its 6.625% Series C Preferred Stock (DLR.PC) on May 17, 2021. The security was callable beginning on May 15, 2021. Elsewhere, KKR Real Estate's (KREF) 6.50% Series A Cumulative Redeemable Preferred Stock (KREF.PA) began trading on the OTC markets this week and will begin trading on the NYSE under ticker symbol KREF-A within 30 days. So far in 2021, REIT Preferred stocks are higher by 6.51% on a price-return basis and the average REIT preferred currently pays a dividend yield of 6.29% and trades at a slight discount to par value.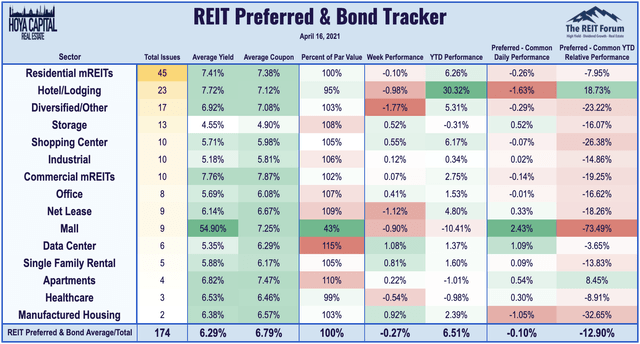 Over in the bond markets, Public Storage announced that it has priced $2B of senior notes to fund the aforementioned acquisition of ezStorage in three tranches: 1) a $700M tranche of floating-rate notes due April 2024; 2) a $650M tranche of 1.850% fixed-rate notes due May 2028; and 3) a $650M tranche of 2.3% fixed-rate notes due May 2031. Elsewhere, NexPoint Real Estate (NREF) announced and priced a $75 million offering of 5.75% senior unsecured notes due 2026. REITs have used lower interest rates over the past year to extend their debt maturities to over 7 years, on average, and to lower their average interest rate on long-term debt from 3.67% to 3.55% over the last quarter - the lowest level on record.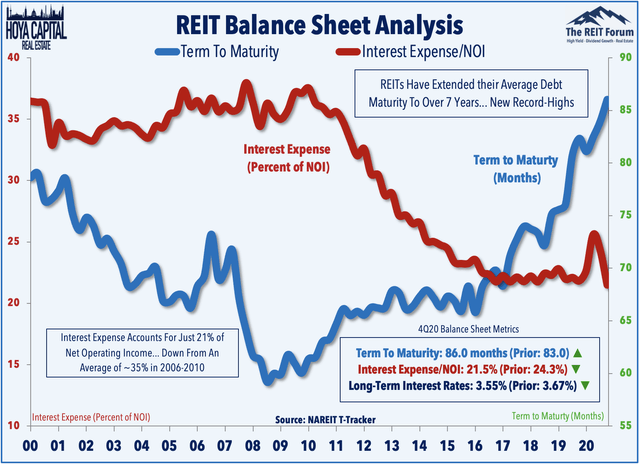 2021 Performance Check-Up & 2020 Review
Through fifteen weeks of 2021, Equity REITs are higher by 13.2% while Mortgage REITs have gained 13.3%. This compares with the 11.6% advance on the S&P 500 and the 18.1% gain on the S&P Mid-Cap 400. Seventeen of the nineteen REIT sectors are in positive territory for the year, while on the residential side, all eight sectors in the Hoya Capital Housing Index are higher. At 1.57%, the 10-year Treasury yield has climbed 66 basis points since the start of the year and is 105 basis points above its all-time closing low of 0.52% last August, but 168 basis points below its 2018-peak of 3.25%.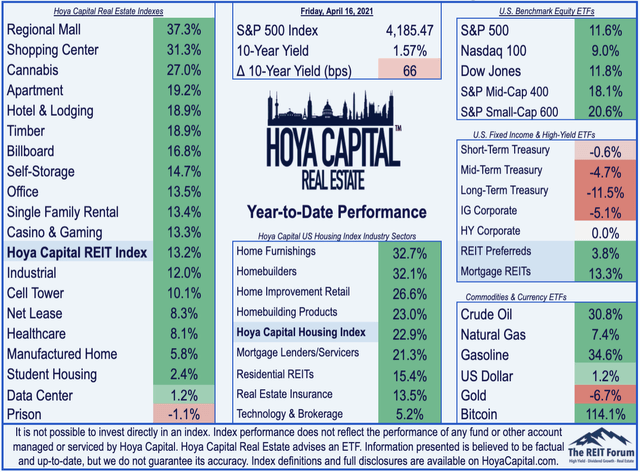 The FTSE NAREIT All Equity REIT Index ended 2020 with total returns of -5.12%. Despite the rough 2020, REITs have been one of the best-performing asset classes since the start of 2010, producing average annual total returns during this time of 11.1%. Interestingly, 2020 was the first year since 2009 that REITs finished in the bottom four of the ten major asset classes, and despite the pullback, still lag only the Small-Cap, Mid-Cap, and Large-Cap equities over this time. REITs have produced far superior total returns to Bonds (AGG), TIPS (TIP), Commodities (DJP), and International (EFA) stocks.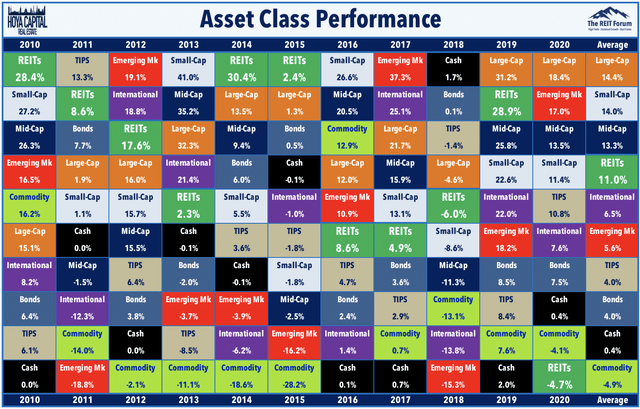 Economic Calendar In The Week Ahead
We have another busy week of housing data in the week ahead with the two major home sales reports. On Thursday, we'll see Existing Home Sales data which is expected to show that the sales rate was roughly even with last month as the mere lack of available homes to sell has emerged as a near-term constraint on further upside. On Friday, we'll see New Home Sales data which is expected to show a solid jump in March from the weather-affected February data, consistent with the trends observed this week with Housing Starts data. We'll also be watching the weekly MBA Mortgage data on Wednesday, Jobless Claims data on Thursday, and PMI data on Friday.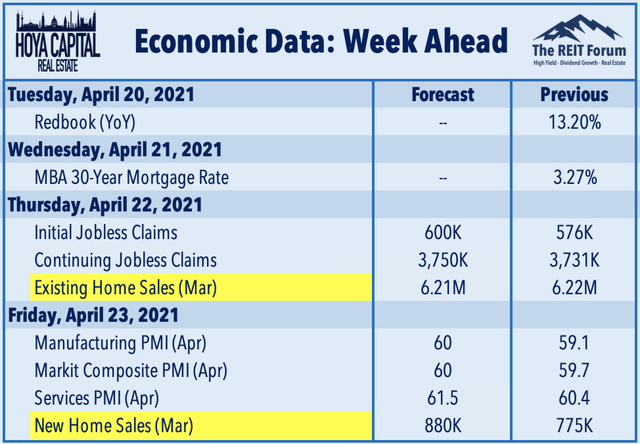 For an in-depth analysis of all real estate sectors, be sure to check out all of our quarterly reports: Apartments, Homebuilders, Manufactured Housing, Student Housing, Single-Family Rentals, Cell Towers, Casinos, Industrial, Data Center, Malls, Healthcare, Net Lease, Shopping Centers, Hotels, Billboards, Office, Storage, Timber, Prisons, Cannabis, Real Estate Crowdfunding, High-Yield ETFs & CEFs, REIT Preferreds.
Disclosure: Hoya Capital Real Estate advises an Exchange-Traded Fund listed on the NYSE. In addition to any long positions listed below, Hoya Capital is long all components in the Hoya Capital Housing 100 Index. Index definitions and a complete list of holdings are available on our website.