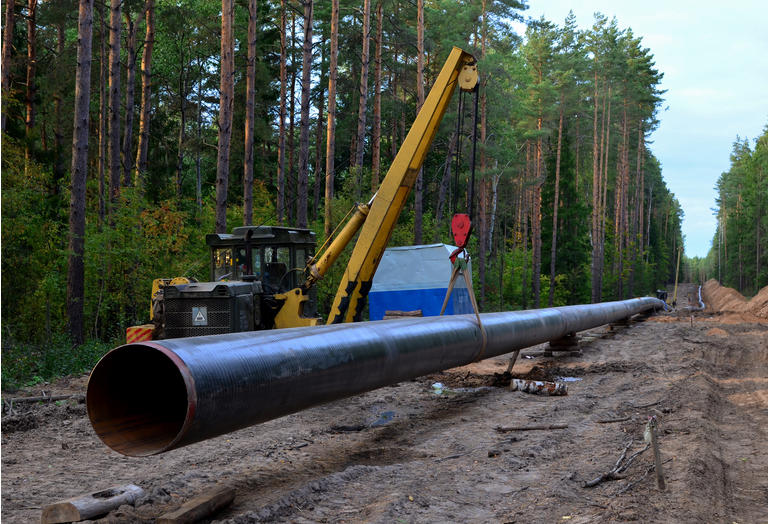 Enterprise Products Partners (NYSE:EPD) is a dividend-investing favorite for good reason: the company offers a sizable and growing yield with rapidly improving distribution coverage. The company survived 2020 with flying colors and is essentially guiding for substantial increases in free cash flow. I outline my reasons why I am no longer bullish the stock in spite of the still-hefty distribution yield. EPD is arguably the best operator in the midstream sector, but I cannot endorse buying at current prices.
EPD Stock Price
EPD saw its stock price get hammered at the onset of the pandemic, as energy prices fell through the floor.

However, as vaccines became fact-not-fiction, the stock price rebounded strongly - now trading within striking distance of where it did prior to the pandemic. The stock still yields nearly 8% - is it still a buy? To understand why my view is no longer "yes" but instead a reluctant "no," we have to understand the business model.
Enterprise Products Partners Business Model
EPD is a fully integrated midstream company with long pipelines transporting crude oil, natural gas, and liquids.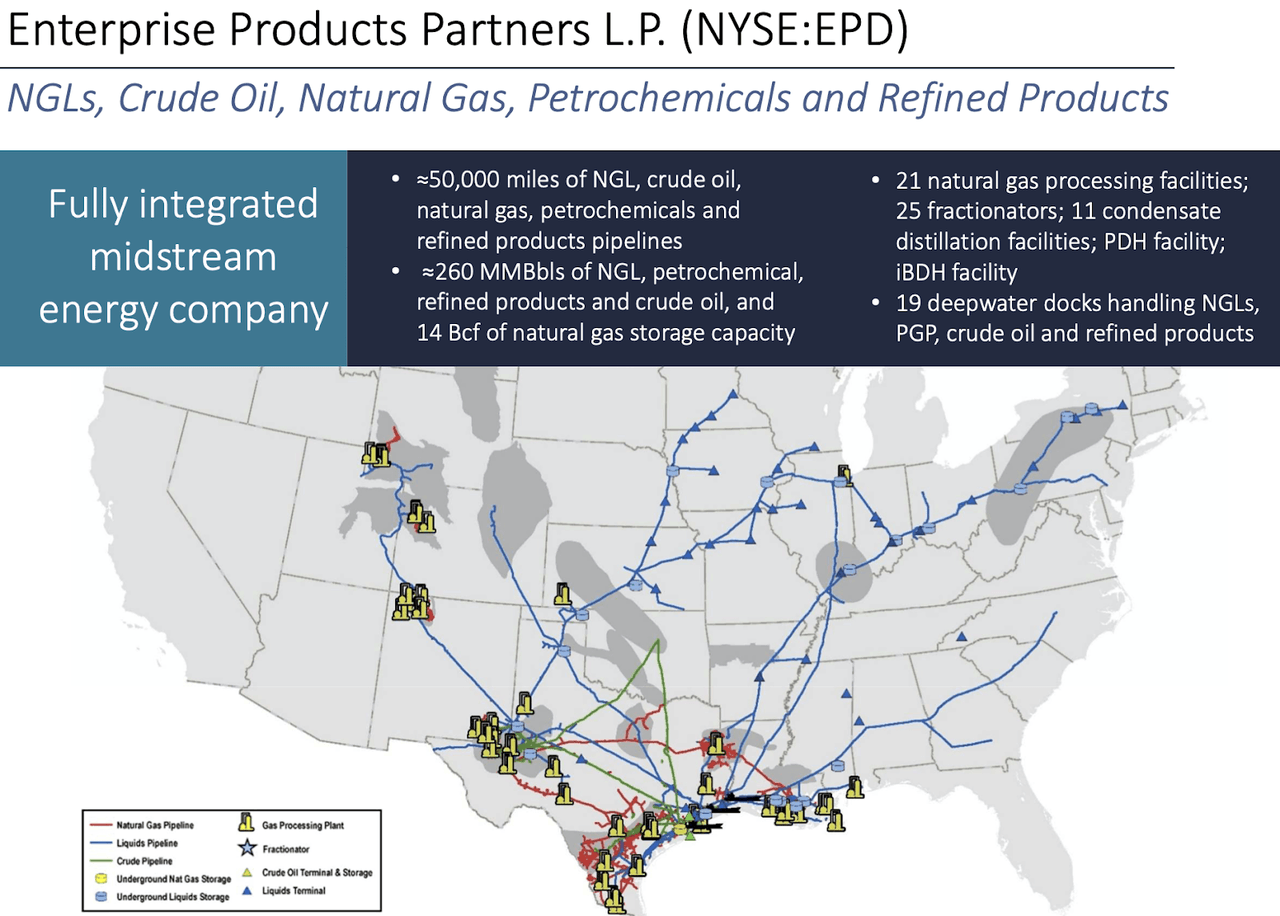 With 62% of gross operating margin coming from natural gas liquids and natural gas, EPD's business model is less exposed to crude oil than other midstream peers like Magellan Midstream Partners (MMP).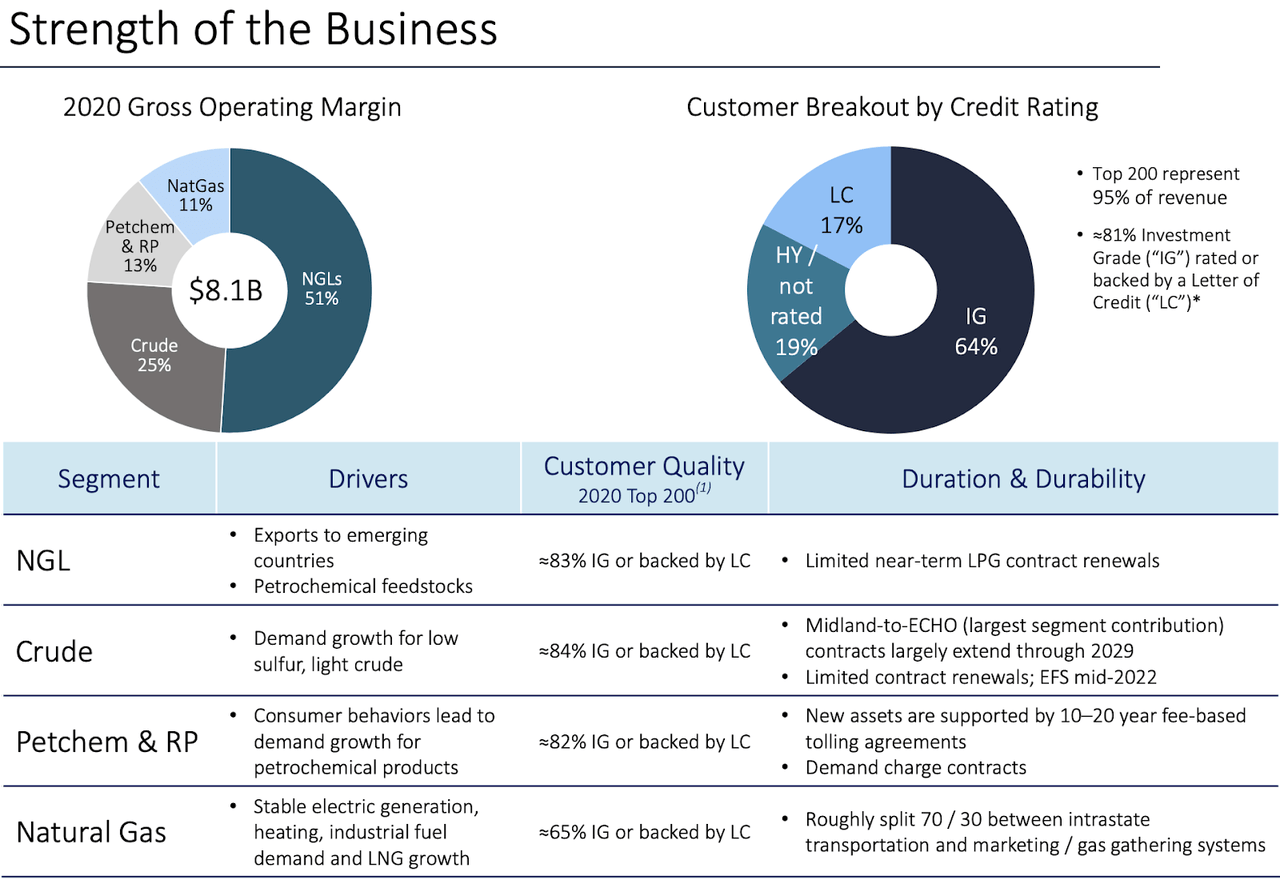 Further, as can be seen above, much of EPD's customers are investment grade or backed by letters of credit. As a pipeline company, investors may be less interested in commodity prices and more interested in EPD's ability to produce a reliably growing distribution.
Is EPD Stock Dividend Safe?
EPD has 22 consecutive years of distribution growth, with distribution coverage increasing above 1.5 times over the past 3 years - higher than the 1.0x-1.2x coverage of the past.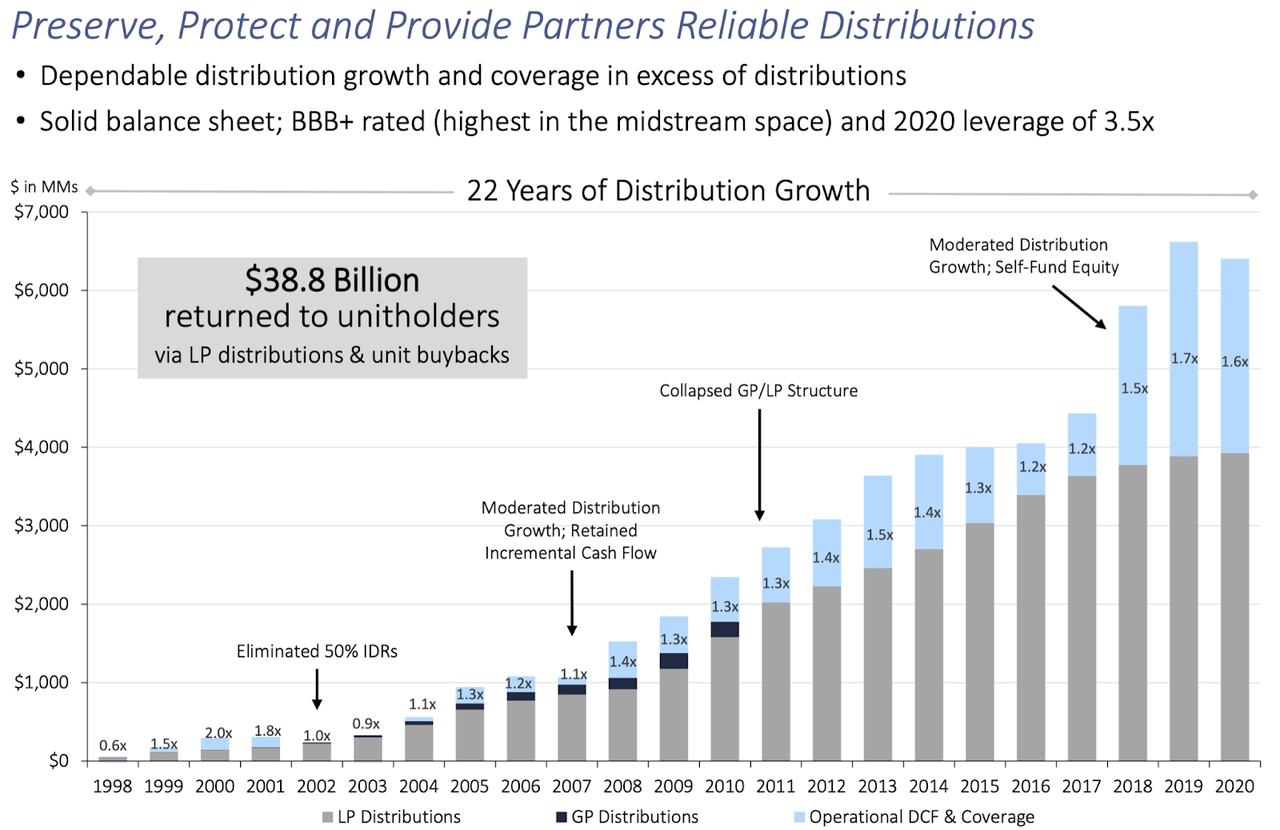 Distributable cash flow ('DCF') has used above accounts for maintenance capital expenditures but not expansion projects. Because much of EPD's growth does come from external expansion, it may make sense to judge distribution coverage instead based on free cash flow. EPD has rapidly increased free cash flow the past 3 years.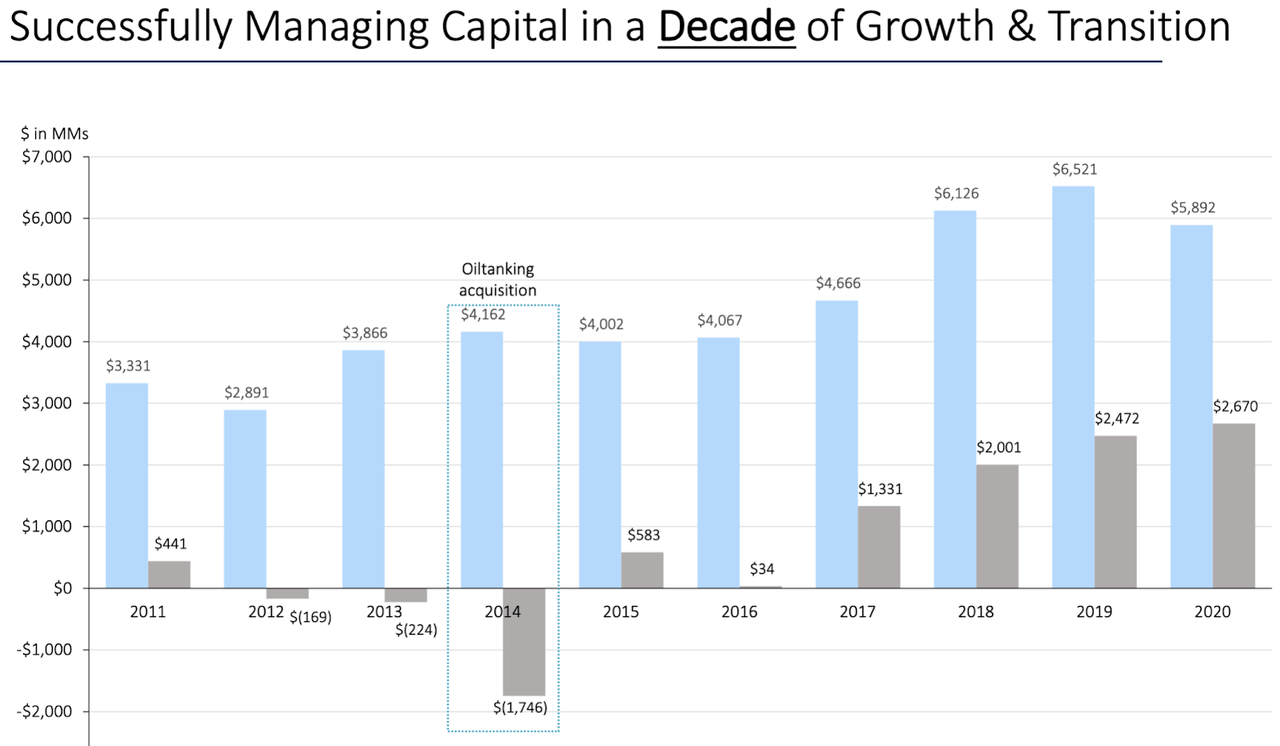 Based on $4 billion in 2020 distributions, EPD's free cash flow coverage stands at 67%. That's a far cry from 100%, but there are two critical reasons why it might not be such a red flag in the near term. For one, EPD's balance sheet is conservatively leveraged at 3.5 times debt to EBITDA (among the best in the sector) with long average maturities and a low weighted average interest rate of 4.4%.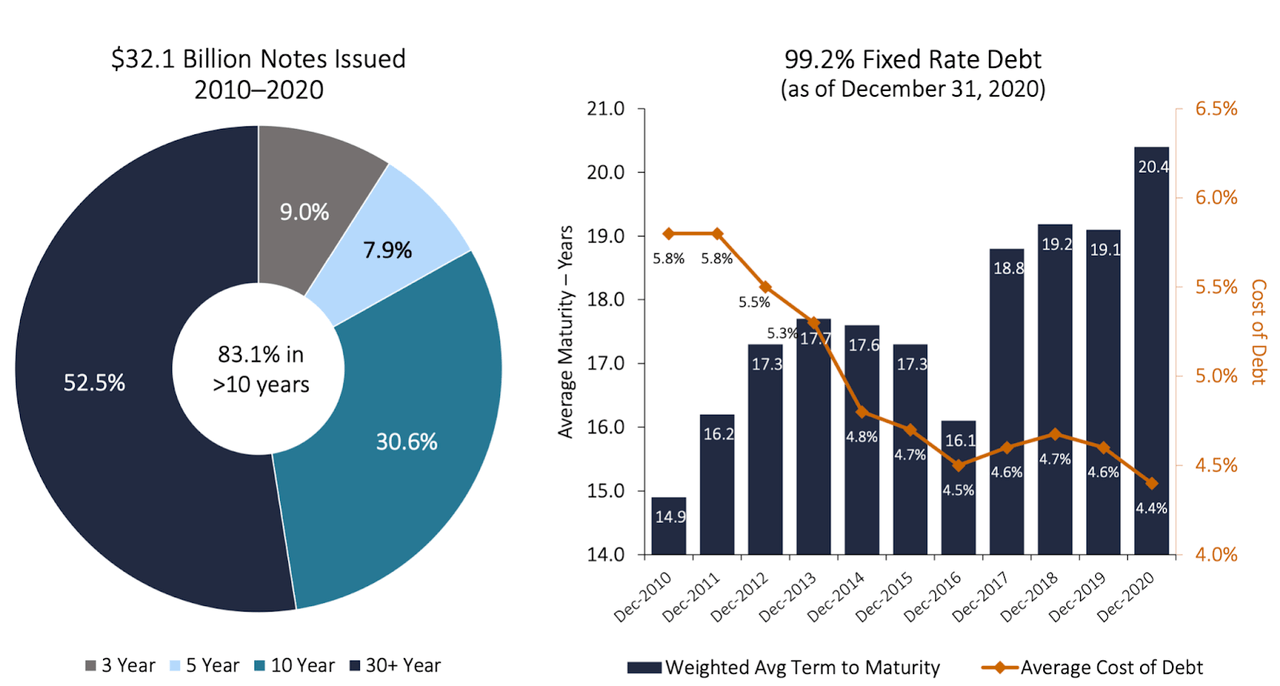 Further, EPD is guiding for $1.6 billion and $800 million in growth capital expenditures for 2021 and 2022, respectively. That's a steep decline from the $3 billion in growth capital expenditures in 2020, suggesting that free cash flow could soar to $4 billion and beyond - leading to complete coverage of the distribution.
The last but most important metric to track is return on assets ('ROA') based on DCF. As stated above, EPD is constantly investing in growth projects because growth is primarily driven externally. As such, it makes sense to track the profitability of EPD's assets over time, to determine if the company is able to maintain its profitability margins even with growing assets. DCF is appropriate to use as the numerator because EPD's leverage has remained low and is still relatively low to peers.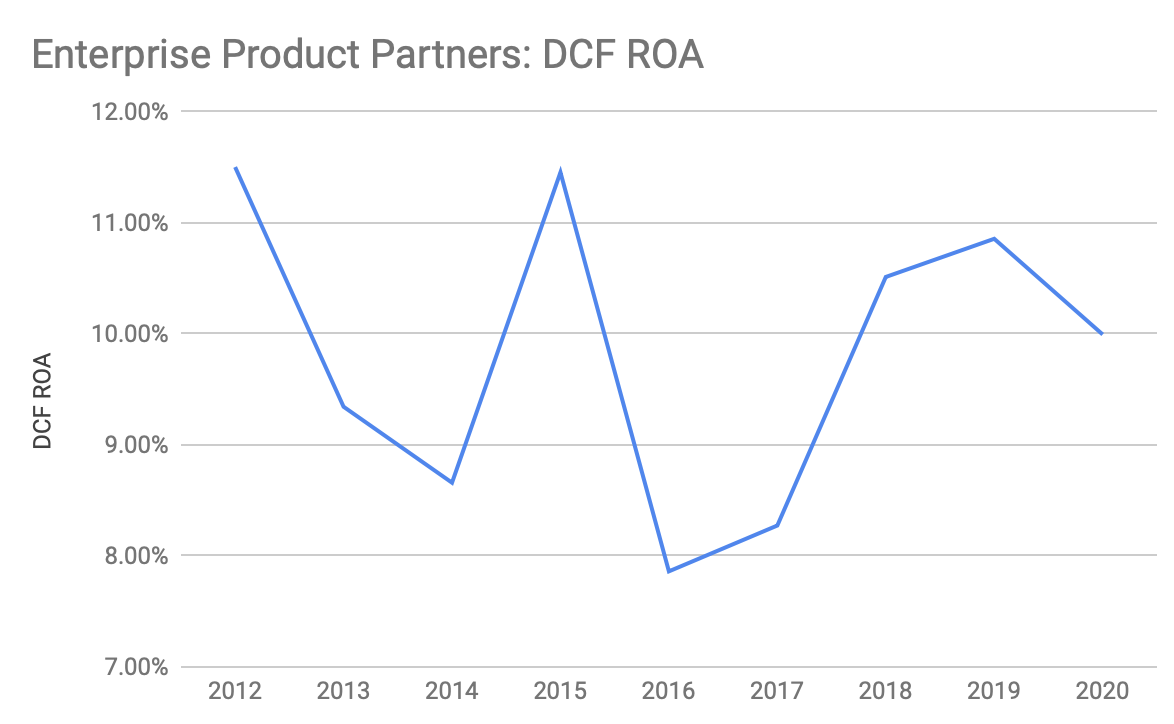 (Chart by Best of Breed, data from annual filings)
As we can see above, EPD has maintained high ROA around the double-digit mark even after the 2016 crash in energy prices. In my view, the ROA is the primary differentiator between EPD and peers, as it shows that the company has executed strongly on growth projects with a track record of maintaining profitability even at lower energy prices.
Is EPD Stock A Buy?
I previously was very bullish on EPD even at prices above current levels. Unfortunately, my outlook has changed. While EPD appears to be one of the highest if not the highest operators in the midstream sector, my general view is that the midstream sector as a whole does not offer enough potential reward for the risk.
In terms of valuation, it makes sense to value EPD on the basis of its distribution yield, as the distribution appears sustainable and is indicative of shareholder returns. Units are trading at just under an 8% yield, which has historically been a great entry point over the last 10 years.

Past performance, however, does not predict future performance. If EPD can maintain its current distribution yield, then unitholders might be able to earn around 8% plus 2-3% growth. Many investors likely think that the currently 8% yield is too high. While that is likely true, how much lower should it be? EPD traded around a 6% yield for many years prior to the pandemic, but I am skeptical that 6% remains fair value moving forward. Crude oil prices have been in steady decline over the past decade.

It is not obviously clear why that trend should change even as we move beyond the pandemic given accelerating adoption for renewable energy. It seems that the optimistic bull case might call for EPD trading up to a 6.5% yield, which suggests 20% potential capital appreciation upside. For any given year, that means a maximum of 28% total return. Even if EPD trades up to a 5.5% yield, which seems highly improbable, then that suggests a maximum of 50% total return upside. These are not very attractive bullish cases for a value stock. On the other hand, EPD may have substantial downside if energy prices continue to decline and it proves unable to renew contracts with customers at attractive rates. Because EPD is levered (admittedly lower than peers), there is little to no room for material organic declines in the business. One should only purchase units of EPD if they have conviction that energy prices can sustain current prices for the long term. I would be more bullish if units traded at a 10% yield or higher, as that would be a level that provides a better risk-reward proposition for investors.
Does Enterprise Products Stock Issue A K-1 Tax Form?
EPD does issue a K-1 tax form. Some investors may have extensive experience in K-1 tax filing and thus may not find it an issue, but others might find the hassle yet another reason to avoid buying EPD. One could theoretically avoid the K-1 tax form by owning EPD through call options instead of units, but that would forego the distribution. I view such a method as unsuitable at current prices because I expect the distribution to drive the bulk of forward returns.
Conclusion
EPD has proven itself as one of the best midstream operators in the space. It has a long track record of growing its distribution and has made strides in improving distribution coverage. Even with free cash flow set to explode higher, I am withdrawing my bullish stance due to my less than optimistic outlook for future energy demand. The bullish case does not offer enough upside to justify the real downside risk. I am neutral on EPD at current prices.