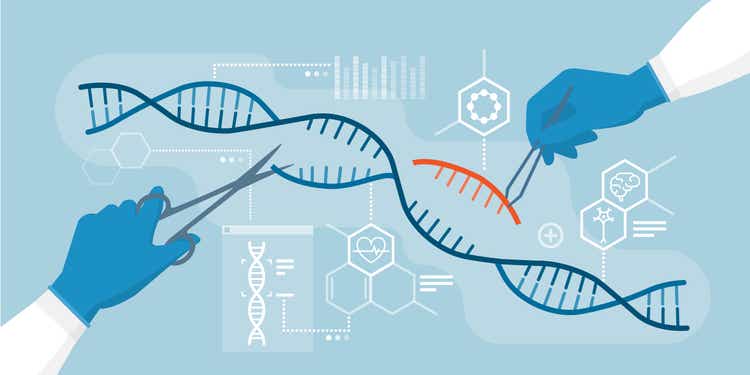 2020 was the Year
2020 was the year that the science of CRISPR really began getting recognized as making progress in becoming a potential breakthrough medical technology. CRISPR-Cas9 is a technology that can be used to edit genes by allowing genetic material to be added, removed, or altered at specific locations in the genome.
Throughout 2020, companies like CRISPR Therapeutics AG (NASDAQ:NASDAQ:CRSP) started showing wins in clinical trials, which was the catalyst for investors to begin paying attention to the vast potential within the CRISPR gene editing space to eliminate rare hereditary diseases and improve quality of life.
CRISPR Therapeutics AG Stock Price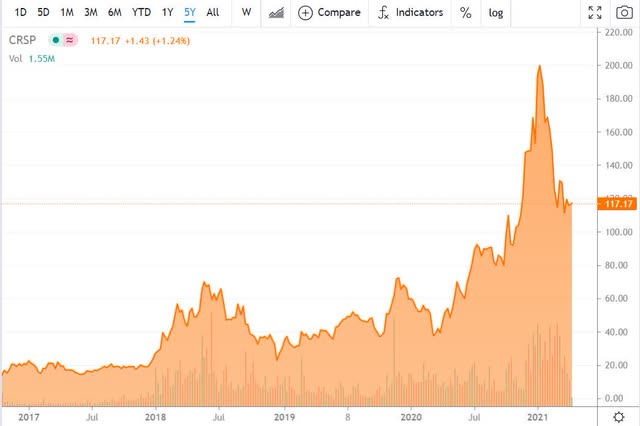 Source: Seeking Alpha
Investors really began paying attention to CRISPR Therapeutics last June, as clinical data began pouring in that validated the company's technology. The stock rose from its March 2020 lows of $33.68 to a 52 week high of $220.20 in January 2021.
Since January, the stock has fallen significantly down to $114.39 as of April 12, 2021. CRISPR Therapeutics AG stock started being called "overvalued" by more than a few analysts just as the stock price also began getting impacted by bond yields rising rapidly since late February.
10 Year Treasury Bond yield Prices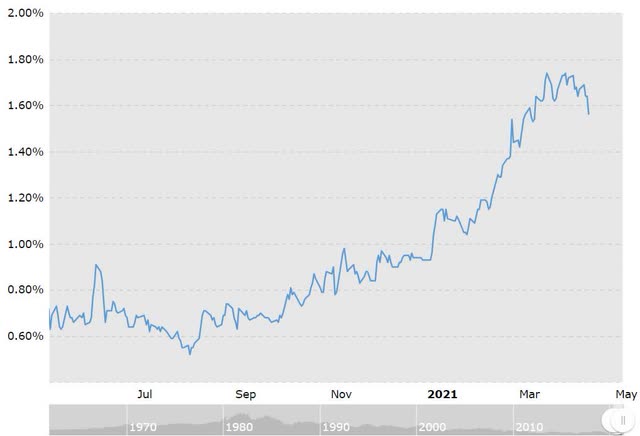 Source: MacroTrend
The rise in Treasury yields sparked by inflation fears has made growth more expensive to fund and diluted the present value of future cash flows and this affects speculative growth stocks like CRISPR Therapeutics very negatively.
However, it seems the very worst of the recent sharp bond yield rise has already occurred and the downward pressure on the prices of speculative and/or highly valued stocks appears to be abating.
So, is CRISPR Therapeutics stock currently a buy after such a substantial pullback in the stock price since January? This article will explore and hopefully answer that question.
The Technology is Revolutionary
The CRISPR-Cas9 platform is a programmable genome-editing tool that makes genome-editing simpler, faster, cheaper, and more precise in comparison to other genome-editing techniques.
CRISPR helps lower the level of sophistication required to carry out meaningful genomic research. This makes the CRISPR-Cas9 platform perfect for revitalizing areas of research that had stagnated in recent years, as well as enabling new drug discovery and novel therapies. Some of the new therapies have the ability to fix mutations that cause hereditary diseases.
What makes CRISPR-Cas9 revolutionary is that the technology carries the promise of empowering healthcare providers to begin being able to treat the root causes of many diseases rather than simply treating the symptoms like most medical approaches do today.
Crash Course In Investing in CRISPR Stocks
Source: YouTube
In the above video, Luke Lango outlines the three criteria to look for when investing in stocks in the CRISPR space. The three criteria for investable ideas in the CRISPR space are:
Find a company that has pipeline drugs in at least Phase I or Phase II clinical trials.
Find a company that has the talent in the management team and engineers that are capable of disrupting the status quo in the gene editing field.
Find a company with a lot of money.
CRISPR Therapeutics satisfies all three criteria.
CRISPR Therapeutics Background
CRISPR Therapeutics was founded in 2013 by Chad Cowan, Craig Mello, Daniel Anderson, Emmanuelle Charpentier, Matthew Porteus, Rodger Novak, Shaun Foy, Emmanuelle Charpentier, and Jennifer Doudna.
The core of the company was developed around an exclusive license of the CRISPR-Cas9 platform that was developed by Professor Emmanuelle Charpentier and Jennifer Doudna, who both won a Nobel Prize in Chemistry in 2020 for developing the technology.
In 2016, CRISPR Therapeutics went public on NASDAQ. Since 2016, CRISPR Therapeutics has evolved into being considered the premier gene editing company in the world with over 400 employees. CRISPR Therapeutics has both the management team and the engineering talent to satisfy criteria number two on Luke Lango's list of criteria for investing in CRISPR stocks.
Who Cares About Revenues and Margins?
CRISPR Therapeutics is an extremely early-stage company. Like most early-stage biotech companies, this company trades more on news of the success or failure of its therapy/drug pipeline, rather than trading based upon numbers like revenues or quarterly earnings.
CRISPR Therapeutics AG Revenue 2015-2020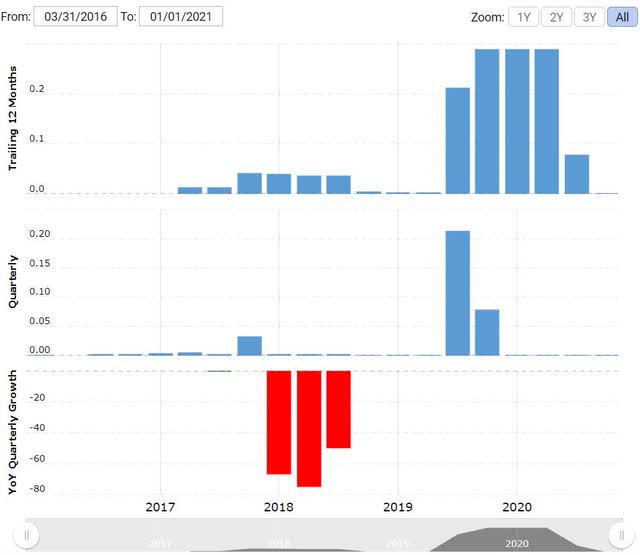 Source: MacroTrends
Generally, the company's quarterly revenues are all over the map, as currently, I believe that CRISPR Therapeutics gains most of its revenues from things like grants, collaboration revenue, and milestone payments from other companies like Vertex (NASDAQ: VRTX) and ViaCyte (Private).
For instance, in the Q4 and Full Year 2020 Financial Results, milestone payments of $25 million were mentioned as being paid out in April 2020 under the company's June 2019 collaboration agreement with Vertex to discover and develop gene editing therapies for the treatment of Duchenne Muscular Dystrophy and Myotonic Dystrophy Type 1 (DM1).
Since CRISPR Therapeutics currently doesn't have any current therapies that are approved on the market and all the therapies that the company is working on is in either a pre-clinical or clinical trials stage, CRISPR Therapeutics will continue to rely on grants, collaboration revenue and milestone payments to make up the revenues that get reported in the earnings releases.
With most companies that I write articles about, this would be the point where I start talking about margins, free cash flow, operating income, net income, etc., but those metrics are meaningless with CRISPR Therapeutics at this stage of development of the company.
The stock of CRISPR Therapeutics trades less on revenues, margins, and the net income number and more on news about what is going on in the company's pipeline. CRISPR Therapeutics can't be reasonably valued based upon any of its fundamentals currently. So, let's look at the pipeline.
CRISPR Therapeutics Pipeline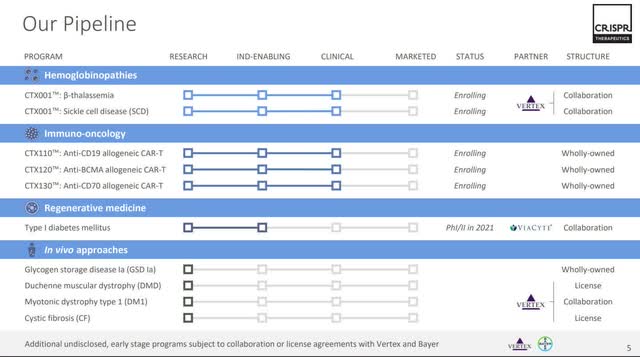 Source: CRISPR Therapeutics Presentation
Currently, CRISPR Therapeutics has 4 different lead programs:
Hemoglobinopathies: Rare blood disorders, with the current focus being on sickle cell disease and β-thalassemia. There are two products in clinical trials in this segment of the pipeline.
Immuno-oncology: Next-generation cell therapy products for immuno-oncology applications with a current focus on Allogeneic CAR-T formats for various types of cancer. There are three products in clinical trials in this segment of the pipeline.
Regenerative Medicine: This segment combines pluripotent stem cell technology or regenerative medicine applications with the power of CRISPR/Cas9 genome editing to enable new curative type therapies for more common diseases. The company's initial foray in this area is a Type 1 diabetes program. This segment only currently has one product in the IND-Enabling stage.
In vivo approaches: The pillar of CRISPR Therapeutics' pipeline are in-vivo applications where CRISPR/Cas9 genome editing technology is delivered directly into the body into organ systems of interest, like the liver, or the CNS to treat mainly genetic disorders. This segment has four products that are still in the research phase. In vivo therapies will likely be the hardest area for CRISPR Therapeutics to achieve success and that is why the company will focus their resources on this area last.
Currently, CRISPR Therapeutics has five products in the pipeline that are in the Phase I or Phase II clinical trials. This satisfies Luke Lango's first criteria for investing in CRISPR stocks which is having products in either Phase I or Phase II clinical trials.
Let's explore the pipeline further.
Hemoglobinopathies - Devastating Blood Diseases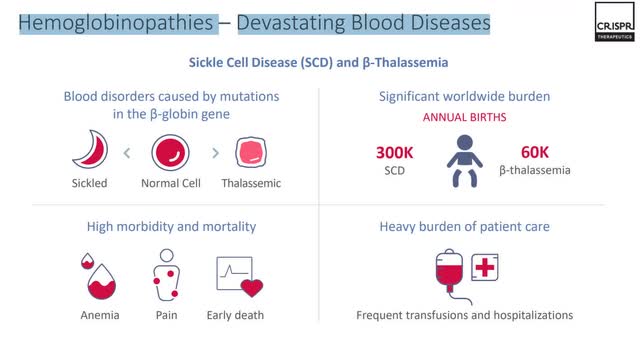 Source: CRISPR Therapeutics Presentation
CRISPR Therapeutics and Vertex entered into a strategic research collaboration in 2015. The result of that collaboration is CTX001, which is an investigational ex vivo CRISPR gene-edited therapy lead program for sickle cell disease and β-thalassemia.
Near the end of June 2020, data from the CLIMB-111 and CLIMB-121 Phase 1/2 trials of CTX001 began pouring that confirmed that the CRISPR gene editing could be a potential cure for sickle cell disease and β-thalassemia. Data from sickle cell and beta thalassemia programs showed 10 of 10 patients were effectively cured of their diseases after treatment.
Additionally, in December 2020, at the American Society of Hematology meeting, Vertex Pharmaceuticals and CRISPR Therapeutics presented new clinical trial data showing consistent and sustained health improvements in a handful of patients treated for the inherited blood disorders.
Recently, Seeking Alpha author Bashar Issa wrote an article giving a very good overview of some of the possible implications of CRISPR Therapeutics and Vertex successfully introducing CTX001 into the market.
Immuno-oncology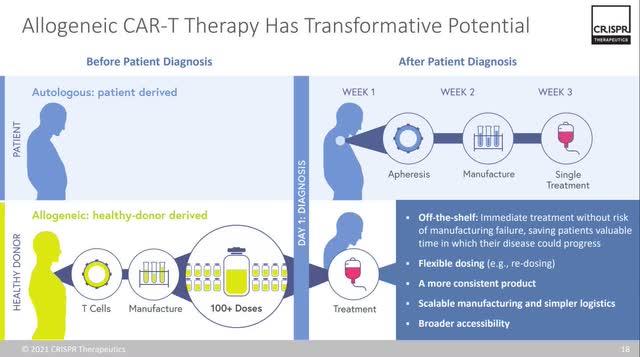 Source: CRISPR Therapeutics Presentation
The three primary purposes that CRISPR Therapeutics believes they can accomplish in their immuno-oncology platform are to produce allogeneic cell therapies, enhance immune cell performance, and speed the discovery and generation of novel therapeutic candidates.
CRISPR Therapeutics started their immuno-oncology with an allogeneic CAR-T treatment. Allogeneic CAR-T is simply a fancy way of saying that the genetically engineered T cells to be used in the treatment will come from healthy donor pools, instead of coming from the patient's own body which is what the word "autologous" means.
As of October, CRISPR Therapeutics had treated patients at four different dose levels using allogeneic CAR-T. The company found that at the higher dose levels, there were complete response rates that were on par with what's seen in autologous therapies in similar patient populations.
Why is CRISPR Therapeutics developing an allogeneic CAR-T therapy when there are already autologous CAR-T therapies available?
Well, allogeneic therapies can be used to treat many more patients (sometimes thousands) and more time is available in order to quality control the treatment prior to administrating the treatment.
Also, with allogeneic treatment, the patient can be treated within the same day, instead of waiting the 3 weeks that the autologous method would require, and with aggressive cancers, time to treatment can make a big difference.
These edited allogeneic T-cells are also designed to persist longer in a patient's body as well as have increased potency. CRISPR Therapeutics performs what they call a CD70 knockout that is designed to give their CAR-T cells improved properties including potency and persistence over CAR T cells where the CD70 gene remains intact. CD70 is simply a Protein Coding gene. Diseases associated with CD70 include Lymphoproliferative Syndrome 3 and Acute Myocarditis.
The first data that CRISPR Therapeutics released for their CAR-T therapy was the Phase 1 CARBON Trial for CTX110 in October 2020. The CTX110 therapy targets CD19 malignancies or in plain English, the therapy targets B cell lymphomas, acute lymphoblastic leukemia (ALL), and chronic lymphocytic leukemia (CLL).
CRISPR Therapeutics is also developing two follow-on programs with CTX120 targeting BCMA in multiple myeloma and CDX130, targeting CD70 in both solid tumors and liquid tumors.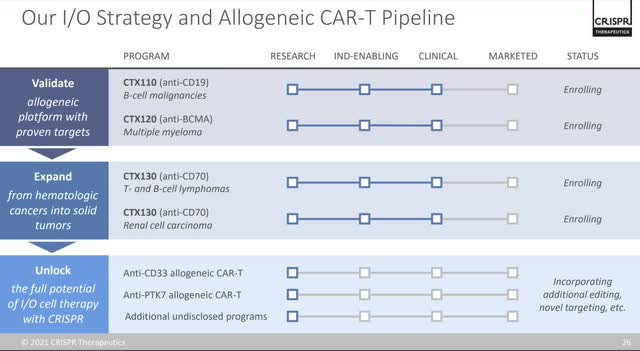 Source: CRISPR Therapeutics Presentation
Regenerative Medicine Applications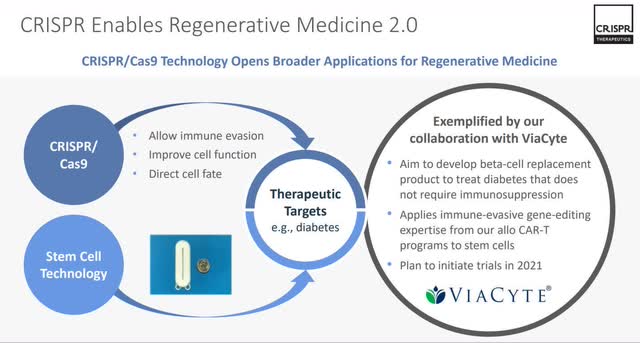 Source: CRISPR Therapeutics Presentation
In 2018, CRISPR Therapeutics and ViaCyte formed a strategic collaboration to develop gene-edited stem cell-derived therapy for diabetes. This collaboration turned into CRISPR Therapeutics' lead program for a potential functional curative approach for Type 1 diabetes with the goal being to replace a patient's damaged pancreatic beta cells.
CRISPR Therapeutics is combining multiplex genome editing with stem cell technology developed by ViaCyte to potentially develop a much more broadly applicable product format that could be used by any patient with Type 1 diabetes without the need for immunosuppression. This program is in preclinical stage with clinical activities scheduled to occur later this in 2021.
In vivo approaches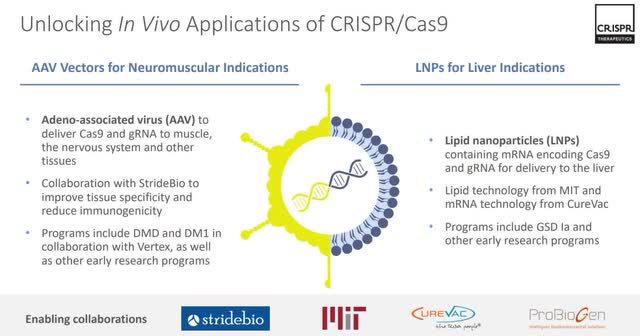 Source: CRISPR Therapeutics Presentation
"In Vivo" means when the research or work is done within a living organism, as opposed to "In vitro", which is work that's performed outside of a living organism.
Within vivo applications, CRISPR Therapeutics made a strategic decision early on to prioritize treatments that they could develop more quickly like sickle cell disease and β-thalassemia. The company thinks that in vivo technology will take much longer to develop. CRISPR Therapeutics management thinks it will take time to get the viral delivery or lipid nanoparticle delivery, right, for various organ systems.
High Risk Innovation
Investing in a company like CRISPR Therapeutics isn't for everyone. Only investors that have high risk tolerance should consider an investment. Biotech stocks like CRISPR Therapeutics can be very volatile and often comes with unique risks.
Biotech stocks, in general, are often subject to volatile binary events involving clinical trial results and drug approval decisions from the U.S. Food and Drug Administration. CRISPR Therapeutics is a very early stage biotech stock and the stock could take a significant fall if drug trials show bad side effects or less than desired efficacy. The U.S. Food and Drug Administration has also could throw a wrench in the company's plans by requiring more drug trials, delaying approval, or outright rejection of a drug/therapy candidate
Another thing to be wary of with CRISPR Therapeutics is concerns about the underlying CRISPR technology, which has evolved so rapidly that the full implications of using the technology have not been fully considered yet. There have been questions about intentional misuse of this gene-altering tool, as well as the possibility of accidently causing harm with good intentions. CRISPR is an area where regulation and oversight are far behind the pace of innovation.
Last but not least, early-stage biotech companies often are cash flow negative and have heavy cash burn. Therefore, a close eye must be given to the balance sheet of companies like CRISPR Therapeutics.
In Q4 2020, CRISPR Therapeutics balance sheet showed $1.83B in Total Assets and $0.16B in Total Liabilities. CRISPR Therapeutics has a Debt/Equity ratio of 0.04. The Quick Ratio (Acid Test) is 17.93. These are all good numbers and CRISPR Therapeutics is not likely in danger of having any near-term liquidity problems.
Cash, cash equivalents, and marketable securities came in at $1.69B as of December 31, 2020, compared to $943.8 million as of December 31, 2019. The increase in cash of $746.6 million was primarily driven by cash from financing activities of $1,016.1 million, which consists primarily of proceeds from the Company's July public offering and funds received from its "at-the-market" offering during 2020.
CRISPR Therapeutics satisfies criteria three on Luke Lango's list for investing in CRISPR stocks, which is "Find a company with a lot of money". With $1.69B in cash and relatively little debt, CRISPR Therapeutics definitely qualifies as a company having a lot of money, especially considering the company's current progress in its pipeline and its great management qualifies the company for raising even more money if needed.
How in the World Do you Value This Thing?
Among the difficulties in attempting to value a company like CRISPR Therapeutics is that revenue numbers from quarter to quarter can be inconsistent and the company is burning lots of cash.
I have seen people try to value CRISPR Therapeutics using all different types of traditional valuation methods, including Discounted Cash Flow (DCF) and I find all of the methods as virtually useless as this company, at this stage of development, is 100% a story stock.
The problem with attempting to value this company is that the potential uses of the underlying CRISPR technology are virtually unlimited and the potential monetary upside of CRISPR Therapeutics is also unlimited, as well. Scientists have only just scratched the surface on imagining all the different possible uses of gene editing technology. In baseball terms, the first batter is up in the first inning and the pitcher is winding up to throw the first pitch.
A DCF analysis attempts to figure out the value of an investment today, based on projections of how much money it will generate in the future. The problem with CRISPR Therapeutics is there is no way to figure out how much money the company can generate over the long term or even over the next two or three years with any degree of accuracy.
What is the value of scientists eventually achieving success in being able to prevent a disease like Alzheimer's? What is the value of CRISPR, if scientists eventually use it to cure metastatic cancer? What is the value CRISPR within all of the potential agriculture uses?
On the opposite side, what is the potential downside of a poorly edited genome? Could humans create a Frankenstein monster by introducing unintended mutations into a genome? What would be the liability for a company like CRISPR Therapeutics if a gene editing project became a nightmare gone wrong? There is a lot that could go wrong with CRISPR technology and even CRISPR Therapeutics' sickle cell disease and β-thalassemia franchise is no sure thing at this stage of development.
Attempting to value CRISPR Therapeutics is extremely difficult because there are too many unknowns in the equation. Any attempt to assign a price target to CRISPR Therapeutics tells me more about the person doing the valuation than it does about the actual stock itself.
The only thing a price target on CRISPR Therapeutics tells me is the relative amount of optimism or pessimism that an analyst has about where CRISPR Therapeutics can ultimately take the technology. This is why price targets range from a pessimistic low of $45 to an optimistic high of $210. The range of outcomes shows that there is really very little consensus on what CRISPR Therapeutics could potentially do.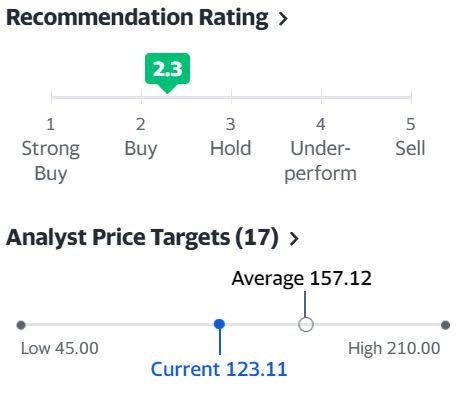 Source: Yahoo Finance
So how do we know what price to buy CRISPR Therapeutics?
First investing in CRISPR Therapeutics today is pure speculation that the company will develop meaningful products within the next 5 years. CRISPR technology is currently on the bleeding edges of science and there is a medium-sized chance that it could take an additional ten to twenty years of research before truly useful therapies come out of the CRISPR space, as CRISPR technology at this stage is mostly just a laboratory and research tool.
At this stage of development, investors are looking to see a "Proof of Concept" showing that a meaningful product can be developed with the science. CRISPR Therapeutics' "Proof of Concept" is located within the two clinical products within the Hemoglobinopathies segment and the three clinical products within the immuno-oncology segment. If any of those products achieve approval from the FDA and go on to become a commercial success, then CRISPR Therapeutics stock price will likely blow well beyond $210, on optimism that even more ambitious therapies can also be realized.
Conclusion
CRISPR Therapeutics at this stage of development is strictly a speculative story stock and most fundamentals are virtually meaningless to use to value the stock. This stock will mostly move based upon news items concerning the company's pipeline. Positive news will serve as a catalyst to send the stock price up and negative news will send the stock price down.
I believe this stock is currently a buy at current prices for three reasons.
The first reason is that the recent rise in bond yields appears to be stabilizing, which should decrease the downward pressure on the stock price of speculative companies like CRISPR Therapeutics.
The second reason is CRISPR Therapeutics satisfies all of the criteria on Luke Lango's list for investing in CRISPR companies. The list, while simplistic, helps steer investors in the direction of companies that have a higher chance of succeeding long term in the CRISPR space.
The third reason is that during a recent healthcare conference, CRISPR Therapeutics management indicated that CTX001 sickle cell and β-thalassemia programming is already undergoing early dialogues with different regulatory agencies on the requirements for filing for therapy approval. Right now, there is no definitive timeline for filing for approval but more information about a filing timeline should occur sometime this year.
Considering the recent positive results that the CTX001 sickle cell and β-thalassemia programs have produced so far, any announcements of a regulatory filing and any subsequent approval will likely be a big catalyst for the stock moving sharply upwards.
However, it is important when investing in companies like CRISPR Therapeutics to "Know Thyself". This company is a biotech company and as with all biotech companies, there is always the risk that the even most promising drug/therapy won't make it over the finish line of regulatory approval. Investors considering CRISPR Therapeutics as an investment should not invest more than they are willing to lose because this is a fairly speculative company.