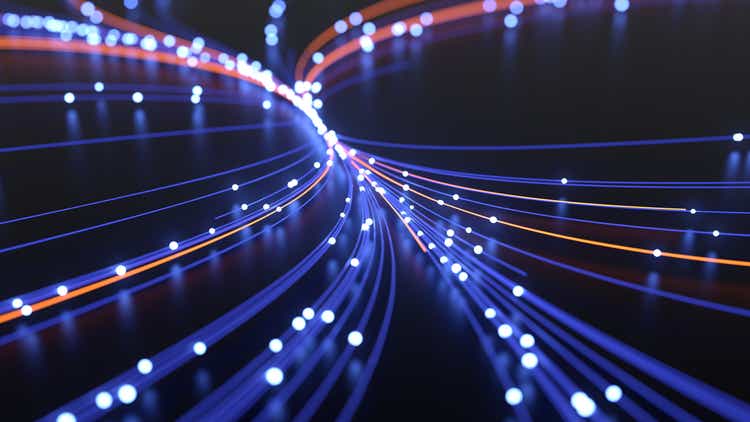 Affirm (NASDAQ:AFRM) went public early this year, as I reviewed the investment thesis on the name, as I came to conclude that Affirm was only the most recent high-flier in a very hot IPO market.
Affirm's shares saw great momentum, almost incredible momentum, as the huge moves left me to conclude to be very cautious, not seeing a compelling reason to buy shares after that run. Fast forward a quarter and shares are cut in half which, because of the definition alone, improves appeal. Yet, I see no appeal yet amidst a dramatic slowdown in growth and margins.
The Investment Case
Affirm claims to provide a ubiquitous, secure and convenient payment network, with transparency and honesty to both consumers and merchants. The company aims to disrupt a stagnant payment card industry, a market which has not seen much innovation since it arose, while it is utterly non-transparent with unknown and late fees, among others.
Besides this honest view, investors like the fact that Affirm was founded nearly a decade ago by PayPal (PYPL) veteran Max Levchin, which attracted interest from many shareholders as well, hoping that another payment giant is in the making here.
The company has seen rapid adoption of its services as it has attracted more than 6,000 merchants and 6 million end customers to its platform, as Affirm's platform has processed over $10 billion in gross merchandise value to date. Besides the honest mission, Affirm is taking over default risk as which makes it hard to compare apples-to-apples. Merchants like the elimination of network and third party processing fees, and consumers like honesty and delayed payment options as well.
Underwriters aimed to sell shares in a range of $33-$38 per share a few weeks before the public offering, as this guidance was hiked and final pricing took place at $49 per share. Shares rose to $97 on their first day of trading, and actually hit a high of $146 per share in February. When I looked at the shares in January, the valuation rose to $31 billion at $130 per share, a huge valuation for a company generating $264 million in sales in 2019, that is June of that year. That number was accompanied by a $127 million operating loss.
Revenue rose 92% to $510 million in 2020, with growth to a minor extent inflated because of a $32 million gain on the sale of loans. Operating losses narrowed modestly to $120 million, although relative losses came down quite a bit. One concern of me was that gross merchandise volumes of ''just'' $4.6 billion resulted in revenue generated from loans and payments at 11% of GMV, raising the question of how honest the offerings really are?
First quarter sales for 2021 rose 98% to $174 million, as operating losses rose to $44 million, while I was awaiting the second quarter results at the time of the IPO. However, at the time of the IPO, a $31 billion valuation looked steep with an annualized revenue run rate around $700 million, for a 44 times sales multiple. That was a bit too steep for me if I looked at the relation of the sales multiple in combination with the growth rate of the business and the losses.
Other concerns were that 30% of revenue was tied to Peloton (PTON), on top of the potential credit losses and a competitive field. When looking at key online payment processors and their ecosystems like PayPal and Square (SQ), which were trading at 10-13 times sales while posting strong growth as well, I turned cautious.
Appeal Lures, No Triggered Yet
The main reason why the situation, by definition, has become more compelling is that the share price has essentially been cut in half, to $66 at the moment of writing.
Halfway through February, the company reported its second quarter results as growth slowed down quite a bit. Revenue rose just 57% compared to the year before, to $204 million, for a run rate of just over $800 million. Gross merchandise volumes rose in line, up 55% to $2.1 billion, which suggests that the ''cut'' is largely the same. On the bright side is that adjusted losses narrowed significantly to a near break-even level.
What is concerning is that third quarter sales are seen at just $190 million, at the midpoint of the guidance, as adjusted operating losses are expected to increase significantly to $50 million, a near $50 million deterioration on a sequential basis. Note that in the third quarter of last year revenue rose $8 million on sequential basis to $138 million, as the latest guidance suggests that growth slows down to just 37% on an annual basis, a dramatic decline from essentially 100% growth rates reported just two quarters ago.
With a current operating asset valuation around $14 billion, the annualized sales multiple has been cut from 44 times to 17 times, but on the back of a too high valuation from the get go, dramatic slowdown in growth, and poor margin guidance, appeal is not a given.
Amidst all of this and still volatile conditions in the technology market, I do not see appeal yet. The combination of a too high valuation to start with and rapid slowdown in growth makes me very cautious here as shares are still up significantly from the actual offer price. This makes that while I see appeal emerging, I still see no trigger to initiate a position yet.