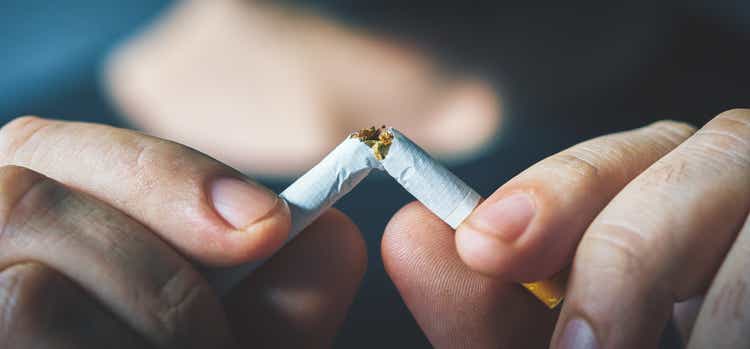 Introduction
It feels like a degree of déjà vu upon once again seeing prospects of lower nicotine levels in cigarettes returning to the front of the news for the United States tobacco industry, which saw the share price of the cigarette giant Altria (NYSE:MO) initially drop around 6%. Whilst this could sound rather troublesome on the surface, thankfully when digging deeper, it appears that they are well-positioned to traverse this resurgent risk.
Background
It can be amazing in retrospect how quickly time passes with it being almost four years since the specter of regulated lower nicotine levels in cigarettes first began striking fear into the hearts of investors. At the time, this news sent their share price plunging by near-record double-digit percentages during a single trading session as investors ran for the exits over fears that the domestic tobacco industry was about to be decimated. Fast forwards until now in early 2021 and the elected Biden administration is considering regulating nicotine levels to a point whereby cigarettes are no longer classified as addictive to help continue the trend of declining smoking rates, as the graph included below displays.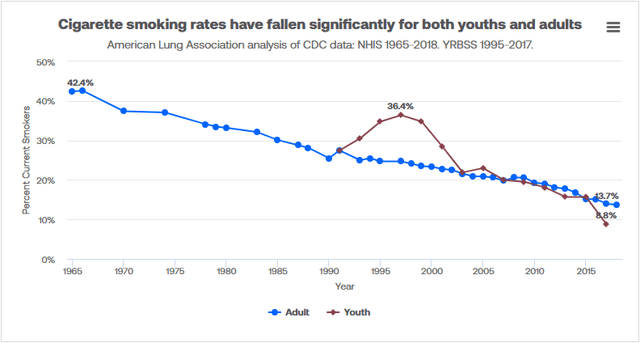 Image Source: American Lung Association.
The Short-Term Implications
The implications of any regulated lower nicotine levels will be essentially non-existent in the short term for multiple reasons with the first and most obvious being that the Biden administration is only currently considering taking such an action. This evidently means that no date has been set and there would naturally be a run-up time frame to allow for its implementation, not to mention that the tobacco industry could likely tie the matter up with court cases for years.
Even if we completely forget about these logistical realities and assume that all of a sudden cigarettes have non-addictive levels of nicotine starting 1st May 2021, it will still not see an instant plunge in cigarette sales. Smokers will not simply just wake up in the morning and completely cease smoking even if the policy has its intended impacts, as it merely makes it easier for people to quit over a length of time whilst also making it less likely for others to become addicted themselves.
When considering these variables, it seems that the only implication in the short term would be higher legal costs if they were to fight any new nicotine regulation in court, and whilst lawyers are not cheap, a few million dollars a year is nothing when your revenue is over $26b per annum. Even though there are no reasons to be concerned in the short term, obviously the value of an investment is the present value of its aggregated future earnings and thus the long-term implications are far more important.
The Long-Term Implications
When casting an eye out into the long term, the possible implications of such a regulation start becoming more meaningful, but thankfully, they still have ample ability to navigate and survive such a change. Assuming this potential regulation has its intended effect, then naturally, smoking rates would start decreasing faster than would have otherwise been the case in a business-as-usual scenario. It could also impact the price inelasticity of their demand and thus make it difficult to continue mitigating lower volumes with higher prices since it would be harder to pass along price increases on a non-addictive product.
Thankfully, management is not simply sitting around and hoping that these long-term risks magically disappear with them recently discussing their "moving beyond smoking" strategy at length during their 2021 CAGNY Investor Presentation. Apart from their various other general environmental and social initiatives, this strategy sees them focusing on growing their lower-risk non-combustible product offerings, such as IQOS and Marlboro HeatSticks. This strategy will naturally require time not only to build their non-cigarette earnings but also capital to invest in growing these other business segments, but thankfully, they have historically performed very well even in the face of difficult operating conditions, as the graph included below displays.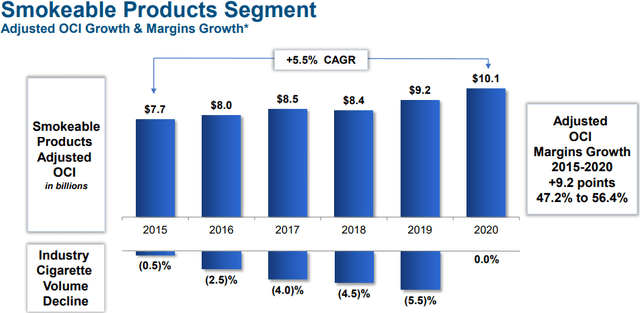 Image Source: Altria 2021 CAGNY Investor Presentation (previously linked).
Since they have grown their earnings by a compounded average growth rate of 5.50% between 2015 and 2020 despite seeing cigarette volume declines, it stands to reason that their earnings should not suddenly plunge even if lower nicotine levels result in larger volume declines. It would be much more likely to first see their earnings flatline before beginning to decline modestly year-on-year, because once again, lower nicotine levels are not a magic bullet to suddenly cease smoking but rather a long-term initiative. This means that despite sounding rather scary, they should still have sufficient capital to continue investing elsewhere in order to diversify away from cigarettes and thus continue providing their generous shareholder returns.
A final point of view based on my anecdotal life experience as a lifetime non-smoker, without the fear of becoming addicted to cigarettes, they are significantly less scary to try on occasion out of nothing but pure curiosity. Whilst the negative health implications are always going to remain as a deterrent for heavy usage, I feel that the prospect of becoming easily addicted is the bigger deterrent when it comes to occasional usage. Given this personal opinion, I would not be surprised if lower nicotine levels were to foresee an increase in occasional usage that could partly mitigate the loss of heavy usage. Whether this ever transpires is naturally unknown but government policies can easily have unintended side effects.
Conclusion
At the end of the day, it should be remembered that cigarette volumes are already in a secular decline, and thus, even if nicotine is regulated to non-addictive levels, it only expedites their future as clinging onto cigarettes was never going to last forever. Since they still offer a high dividend yield of 7% and management has already started implementing their "moving beyond smoking" strategy, I believe that maintaining my very bullish rating as the specter of lower nicotine levels is not as scary as it initially seems.