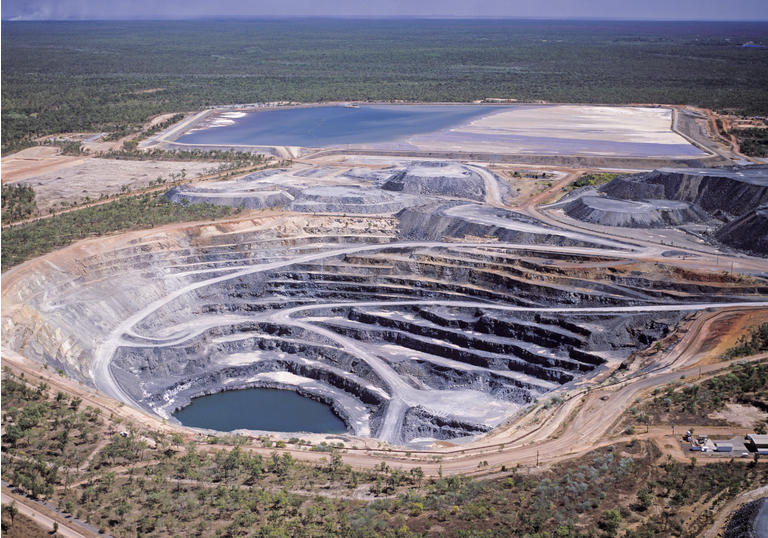 Like most commodities, the energy market has heated up over the past year. Virtually all energy commodities were in some form of supply-chain-driven shortage due to production cuts last year. This has driven up the price of not only crude oil but also coal and uranium. Uranium stocks have seen particularly extreme volatility as the spike in U308 prices has been seen as a sign that the "Great Uranium Shortage" is finally upon us.
There has been growing speculation in uranium stocks over the past few years due to ongoing supply-demand developments in the market. It is expected that a long-term shortage will develop in the market around 2023-2025 due to new plants and dwindling secondary supplies. Since the last commodity cycle, the uranium market has been partially in a glut due to some denuclearization following the Fukushima disaster and aggressive production from low-cost uranium miners such as Kazatomprom (in particular) and Cameco (CCJ).
Those firms' mines currently make up a substantial portion of the global uranium supply, and very little is produced in higher-wage nations such as the U.S. As the narrative goes, the impending shortage in uranium will boost U308 prices to a level where smaller North American miners such as Denison Mines Corp. (NYSE:DNN) can finally return to profitability. However, a premature shortage has developed due to Cameco's temporary shutdown of its major Cigar Lake mine in Canada due to COVID. This shutdown is being lifted, which analysts expect will create pressure on the market, and this news did cause a minor sell-off in most miners.
I discussed this issue in February in "URA: The Uranium Rally May Be Getting Ahead Of Itself." This article took a neutral-to-bearish view on the uranium ETF (URA) due to what appears to be overvaluation among many miners. While it is true that uranium prices should rise eventually, the fact is that there is not yet a long-term shortage large enough to create such a rally. Quite frankly, it seems many investors could be mistaking the temporary COVID-driven shortage for the shortage expected to build years in the future.
Regarding the "clean energy" narrative, it is also potentially true that the Biden administration's clean energy efforts will result in the commissioning of new nuclear plants. That said, let us not forget that it takes around a decade to build in plants to not impact the supply-demand fundamentals for a long time. Overall, these narratives have pushed smaller miners like Denison much higher. Still, we must look more closely at its financial situation to judge whether investors have pushed it too far too fast.
Denison Mines Assumptions vs. Reality
Denison Mines is interesting as the stock is a top target among many uranium bulls. The company is much smaller than giants like Cameco but larger than the more speculative U.S. exploration-focused miners like Ur-Energy. Denison has more significant operations in Canada and has focused its efforts on lowering production costs to levels where the firm may actually achieve profitability without higher uranium prices using In-Situ Leaching.
Denison believes this will allow the company to produce uranium at all-in-costs per pound as low as $8.9 - potentially making it among the most profitable in the world. See below: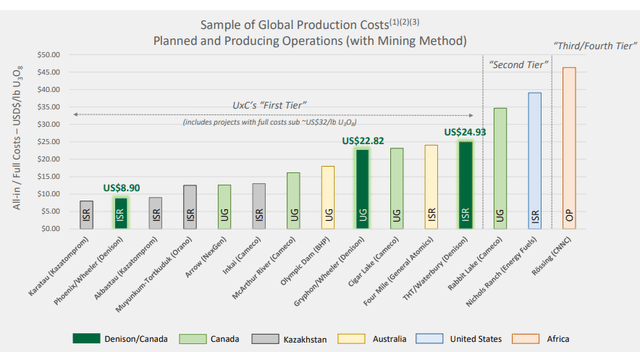 (Denison Investor Presentation)
Denison values the NPV of these projects at $1.4B-$2.6B while the company is worth $850M today. Considering there are other exploration projects, DNN may appear significantly undervalued today. That said, these assumptions assume a roughly $50/lbs uranium price which is near twice its current spot price and seemingly aggressive cost and construction timing assumptions.
The ultra-low-cost Phoenix mine is still in assessment and will not likely produce until 2024. The other potential relatively low-cost uranium mine it's working on called "Gryphon" is expected to be productive even later. As such, we must heavily discount the potential profitability of these projects considering there are uncertainties regarding permitting and whether or not Denison actually achieves its aggressive forecasted production costs.
On a related note, while there is expected to be a long-term shortage around 2023-2025, the fact is that many miners are anticipating this shortage and pursuing exploration and development. If sufficient new supply arrives by that time, then the surge in uranium prices may never come. Indeed, the core U-Bull thesis could be a self-defeating prophecy, as is validated by a recent International Atomic Energy Agency study.
An additional issue may be Denison's potential difficulties in achieving timely development of its new projects. Denison's investor webpage mentions that recent "social, financial, and market disruptions" may push these projects even further into the future due to suspensions of certain environmental assessment programs. In my view, these disruptions may not be going away any time soon and could continue to mount, considering Denison's value today is almost entirely dependent on assumptions related to its Wheeler River project. Hence, it is a major risk if the firm is unable to overcome such slowdowns.
One Eye Forward, One Eye Backward
Overall, Denison's value today is entirely focused on many assumptions regarding tomorrow. These include a large, lasting rally in U308 prices that are not guaranteed and assumptions regarding low production costs and, most importantly, successful and expedient permitting and construction. Denison's permitting process has already run into hiccups regarding environmental risks and regulatory slowdowns due to COVID.
Investing is about the future as much as it is about the present. Denison's future may be very profitable, but uncertain and volatile times can often upend our beliefs about the future. In my view, the present is much more reliable, and the fact is that Denison's present situation is a bit more precarious.
The firm has had chronically negative operating cash flow for more than a decade and has offset dwindling working capital with aggressive and extreme equity dilution. See below: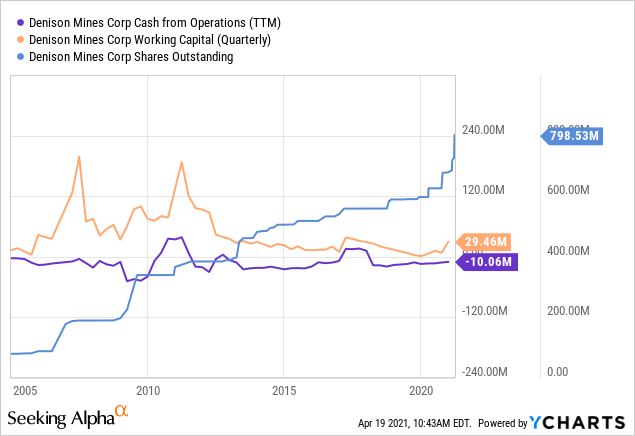 Denison has pursued relatively significant dilution over the past year, particularly during the recent spike in DNN's price. To me, this is yet another sign that DNN is overvalued as its management team is using the price-spike to raise capital. This is good as it allows Denison to remain debt-free, but total reliance on the equity market can be problematic. According to the firm's 2020 annual report (pg. 32), it is expected to see cash outflows of around 26.8M CAD this year ($20M), so further cash raises may likely be necessary.
The Bottom Line
Overall, I do not currently believe that DNN is a buying opportunity. There are indeed many factors that could lead the firm to an era of strong long-term profitability. However, its current market capitalization appears to be a bit too high considering the plethora of uncertainties regarding its future. The many new uranium projects may cause the shortage to be less extreme than anticipated. Regarding Denison, it is not clear if its development projects will prove as attractive as currently assumed.
They may, but there will be many equity dilutions between now and the time of expected profitability. Additionally, it seems that the current rally in uranium stocks seems a bit premature and may reverse as Cameco restarts production. Thus, I believe investors may be able to buy DNN at a lower price in the future. Personally, I would prefer the stock around $0.50 or a market capitalization closer to $400M as I believe that provides more than sufficient discounting of Denison's material uncertainties.