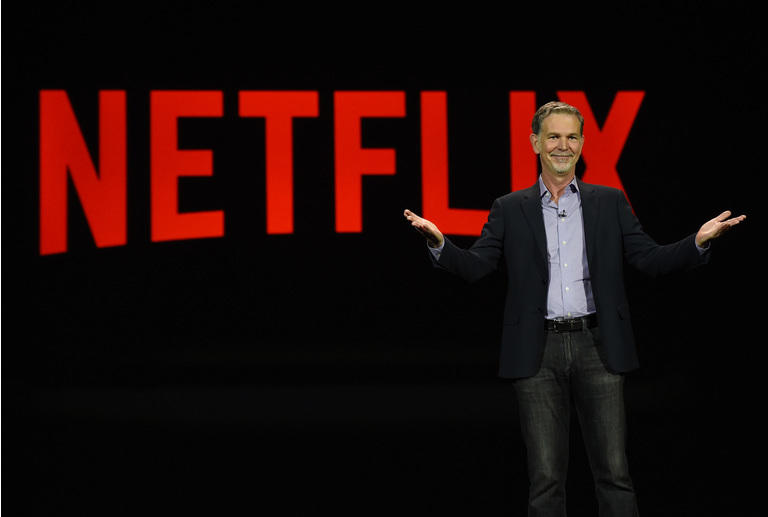 Investment Thesis
Netflix (NASDAQ:NFLX) delivered a rare miss. Yet, long-term shareholders shouldn't be too disappointed with its solid Q1 2020 performance.
Investors have always been focusing on Netflix's subscriber numbers, but I assert that focusing on that detail misses the forest for the trees.
The big story here I declare is that Netflix is expertly managed and that, right now, investors are being asked to pay approximately 8x forward sales for Netflix - arguably its lowest valuation for a while.
The short story is, there are lots of exciting drivers for Netflix, and that investors shouldn't get overly caught up in a single choppy quarter.
Netflix Results: What Happened?
Netflix's results were strong, yet the stock sold off, why? The big takeaway from the commentators was that Netflix's subscriber addition for the quarter ahead is pointing towards just 1 million.
This is the lowest net addition in more than 5 years, with the recent lowest net addition of subscribers being 2.2 million during Q3 2020. However, I believe that there's more at play than initially meets the eye here and that context is important.
Accordingly, readers should keep in mind the shaky market we've seen the past few days, with tech, in particular, being hit hard.
Moreover, Netflix was perceived by investors as one of the companies that were early-to-benefit from the COVID environment, with investors amply rewarding its stock very early in the pandemic.
For their part, CEO Reed Hastings and team had been very consistent in their message throughout COVID, that Netflix was pulling forward subscribers and that there would at some point be a ''pause'' in the pace of net additions.
Moving on, Netflix has been consistent in its message throughout the past year, although it has acknowledged that Disney (DIS) and Amazon (AMZN) Video, as well as, other streaming platforms are a competition to Netflix, that they consider this view to be too narrow. Indeed, Netflix notes that gaming and user-generated content such as YouTube (GOOG)(GOOGL) and TikTok (BDNCE) are also sources of competition.
To that end, Netflix noted that churn levels were lower in Q1 2021 than they were back in Q1 2020. In fact, Hastings remarks that the problem is down to a lower user acquisition profile on the back of a lack of fresh content slate - that is light due to COVID impacting its production schedule and that investors should anticipate a heavier content slate in H2 2021.
Revenue Growth Rates are Steady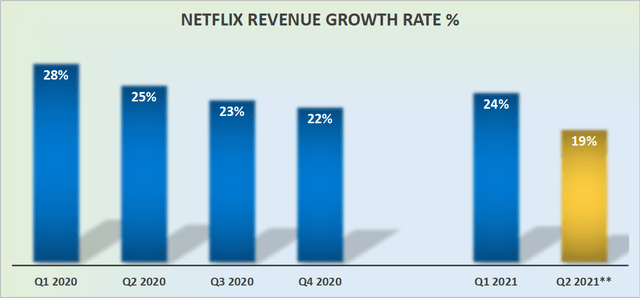 Source: author's calculations, shareholder letter
Netflix obviously had a terrific 2020 as you can see above, but as we look ahead to Q2 2021, we can see that its revenue growth rates are pointing towards dipping below that infamous 20% hurdle.
For many investors, the drop from 30% to 20% has less of a psychological impact than the drop from mid 20s% to sub 20s%. For investors, that now squarely points towards Netflix no longer being a high growth engine, but more of a mature company.
Personally, if I was a Netflix shareholder, this wouldn't be the set of results I would throw in the towel. That's the great thing about investing alongside the best management teams - they are incredibly innovative.
In fact, in the shareholder letter, Hastings reminds investors that Netflix has a long history of innovating, as it migrated from a DVD-by-mail towards a streaming company, as well as, a licensor of second window content to a producer of original content.
Again, that's the great aspect of investing alongside owner-operated companies, they are incredibly driven and competitive. As Hastings mentions in his book, there is no space for sub-delivering executives. The company is always forward-thinking and has navigated plenty of setbacks before.
Valuation - Still More Upside Potential
During the earnings call, Netflix's Spencer Neumann notes the choppiness in subscriber adds during COVID. And that COVID has delayed a substantial portion of its production titles.
Furthermore, Neumann and Hastings remark that investors should continue to buy into the narrative that streaming entertainment is not only growing but that it's speeding up.
As a benchmark, if you compare over a 2-year stack, Netflix's net subscriber additions grew by roughly 19% CAGR, against a historical backdrop of 20% addition in subscriber numbers.
This all lends itself to the point I wish to impress upon the reader, that Netflix has a lot more going for it than being just a COVID winner.
Indeed, consider this, right now, Netflix notes that not only it's expecting to be sustainably free cash flow breakeven, but it's bringing down its debt on its balance sheet and starting to repurchase its own shares. Could Netflix ever become a free cash flow story? Remarkable as it may seem, I believe it's a resounding yes.
What investors need to think about is that assuming Netflix reaches approximately $30 billion of revenues in 2021, that the stock is right now priced at just 8x forward sales.
This would be arguably the lowest multiple that Netflix has been priced at for a while. But what's particularly noteworthy is that expectations have become so low of Netflix.
The Bottom Line
I make the case that investors have become ''bored'' of investing in Netflix. Right now, the stock is being priced at just 8x forward sales, the lowest valuation Netflix's stock has seen for some time.
Further, Netflix is, dare I say, starting to become a free cash flow generator and looking forward to repurchasing its own shares.
There are obviously still huge overhanging questions over Netflix's amortization schedule, but if investors hang around waiting for full closure on that chapter, they'll miss out on the substantial upside potential presented right now.
In actuality, that's why I haven't spent any time discussing Netflix's earnings, because Netflix's free cash flow is a less contentious issue for both bulls and bears.
In sum, Netflix continues to plow ahead, and long-term shareholders should be fairly content with this set of results.