Photo by jonnysek/iStock via Getty Images

Investment thesis
Lion Group Holding (NASDAQ:LGHL) operates a small China-focused trading platform operator and has lately been dipping its feet into the special purpose acquisition company (SPAC) sector. It's also entering the cryptocurrency space.
The business has taken a significant hit in 2020 and the company claims that the culprit is the COVID-19 outbreak. Lion Group expects to bounce back in 2021 but I'm skeptical about this due to the weak performance of the company's insurance brokerage, and futures brokerage, and securities brokerage businesses during the past few years.
Overall, I think this one is a sell. The business is losing money, assets are low, and the operating cash flow is barely positive.
Overview of the business
In its own words, Lion Group Holding operates an all-in-one trading platform that offers a wide spectrum of products and services with a focus on Chinese investors. Its offering includes contract-for-difference (CFD) trading, insurance brokerage, futures brokerage, and securities brokerage solutions.
The group is registered in the Cayman Islands and offers its services through several subsidiaries. It was listed on Nasdaq in 2020, following a combination with a SPAC named Proficient Alpha Acquisition Corp.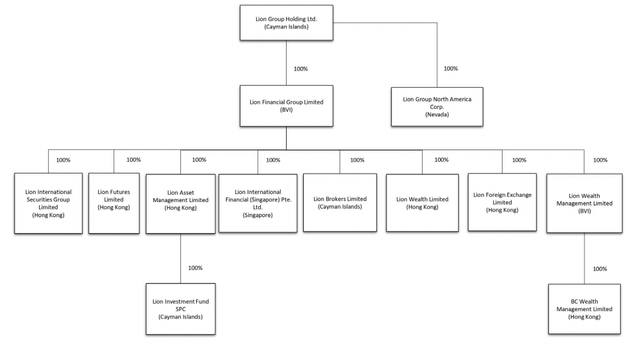 (Source: Lion Group)
Overall, the trading platform is pretty small with just 5,010 revenue-generating client accounts as of December 2020. The main product seems to be CFD trading, as revenue-generating client trading accounts in this segment increased by 44.8% to 2,668 in 2020.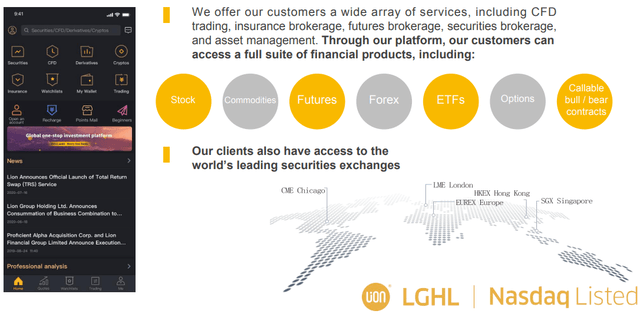 (Source: Lion Group)
In February 2021, Lion Group revealed that it plans to launch a blockchain-related fund of up to $800 million. Also, it recently bought a company named Lion Fintech, which holds a proprietary trading license for crypto assets in Dubai.
Regarding the SPAC business, Lion Group is forming two companies in the space - Skyline I Acquisition Corp and Aquarius I Acquisition Corp.
Financials and valuation
As I mentioned, 2020 was a pretty bad year for the company. During the year, revenues crashed by 44.8% and Lion Group swung to a $3.4 million loss from an $8.2 million net profit in 2019.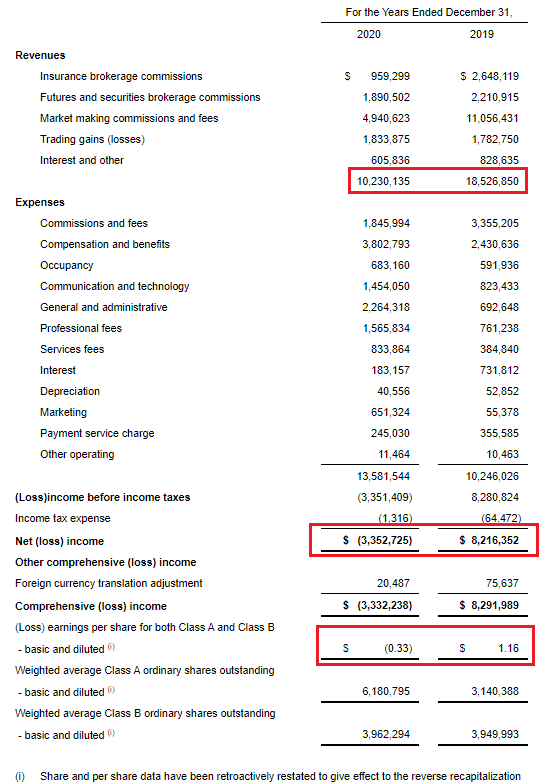 (Source: Lion Group)
The company claims its business was adversely affected by the COVID-19 pandemic and expects revenue to grow to between $37 million and $41.7 million in 2021. I'm skeptical about this and the reason is that this is a company that seems to pivot to a new sector every time something goes wrong. The result hasn't all been good, e.g. revenues crashed in 2018. Back then, Lion Group was focused on insurance brokerage and pivoted to futures brokerage and securities brokerage services as it encountered difficulties. Then revenue from the latter stagnated, and Lion Group pivoted to CFD solutions.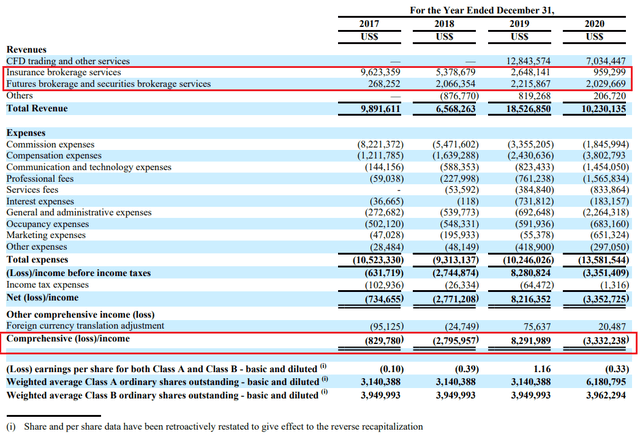 (Source: Lion Group)
Now that CFD trading revenue is down, Lion Group is pivoting once again, this time to SPACs and cryptocurrency. I think the company doesn't have a good track record of pivoting – it has booked losses in three of the past four years. I see this as a significant red flag. Another red flag is that compensation and G&A expenses have been rising at an alarming rate.
Looking at the balance sheet, I think things look bad as total assets stood at just $22.9 million as of December and working capital shrank to $5.3 million from $6.8 million.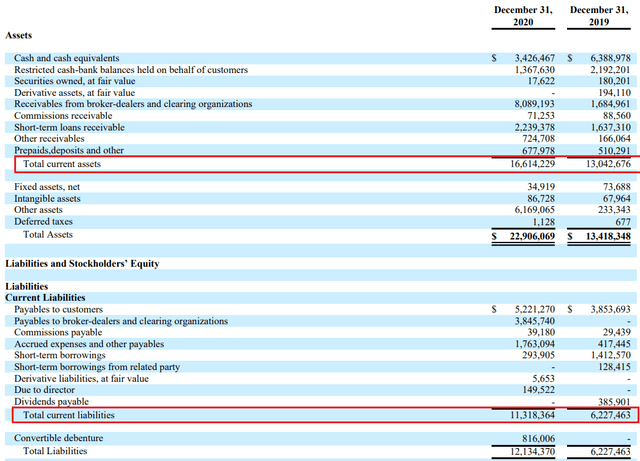 (Source: Lion Group)
Regarding the cash flow, net cash provided by operating activities was just $0.1 million in 2020.
Overall, this seems like a company that is in dire straits financially.
Looking at Lion Group's shares, you'll notice that the trading volume has increased significantly over the past two months. The share price has been volatile but is still significantly higher compared to the start of 2021.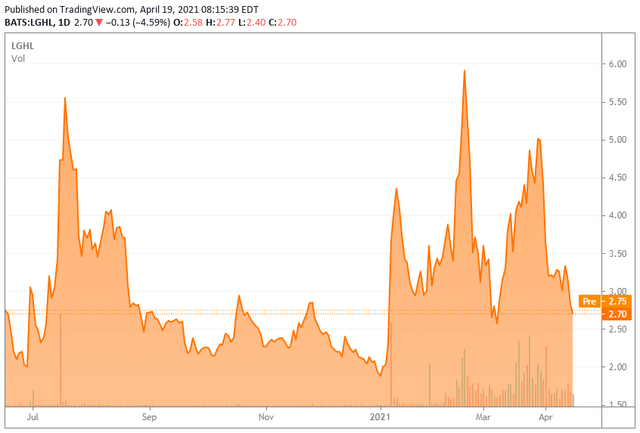 (Source: TradingView)
My theory is that this increased interest in the company's shares could be attributed to retail investors. The company is currently popular on platforms such as Twitter, StockTwits, and Reddit (including among Robinhood traders). On YouTube, Lion Group is being covered by several channels, including Warrior Trading, Stockton, Beginner Investor, Ben in the Bullpen, Buy The Rumor Sell The News, Stock Investing Genius, and TheStocksmen. I find it interesting that the number of views on many of the YouTube videos is higher than the number of Lion Group's revenue-generating client accounts. Note that Lion Group isn't promoting the business itself, but this is done by a significant number of retail investors and traders.
If we assume that the share price is rising due to retail investor interest, a good question is wouldn't the fundamentals eventually support this growth? After all, revenue is expected to soar to $37 million and $41.7 million in 2021.
Well, I think the answer is no. Sure, Lion Group has a history of growing revenues, but this growth has been erratic. Also, the company has struggled to stay in the black over the past several years. I don't see a compelling reason to think these trends are likely to change in the future.
Risks for the bear thesis
I think that the main risks are the following:
1) It's possible that Lion Group manages to generate significant revenues and profits from its foray into SPACs and cryptocurrencies.
2) Also, it's possible that the company's CFD trading business recovers in 2021 and allows it to return to profitability.
3) If the share price is being driven by retail investor interest, it's impossible to forecast whether it could spike again in the future.
Investor takeaway
Lion Group has been unprofitable for the majority of its history and has been pivoting to a new business each time its operation encounters difficulties. I think that the company's market capitalization has increased to $100 million not because of good fundamentals, but because of retail investor interest.
In my view, Lion Group's business isn't worth much in its current state and investors can take advantage of this by shorting the shares or buying long-dated put options.
According to Fintel, the short borrow fee rate stands at 32.69% as of the time of writing. This is pretty high, so buying long-dated out of the money put options might be a good alternative. In case you think the share price could increase due to retail investor interest but that volatility will remain high, I think a straddle strategy would be a good option.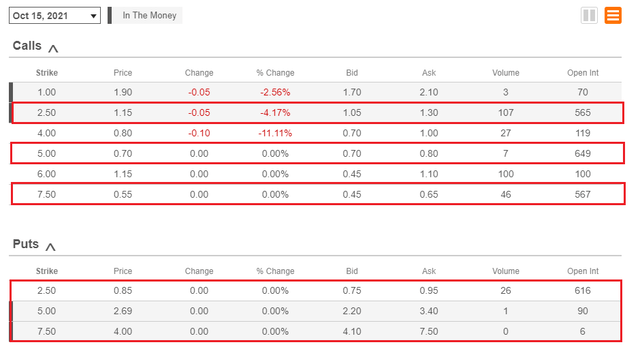 (Source: Seeking Alpha)