This article was first released to Systematic Income subscribers on 5-Apr. - any pricing is as of that date.
The first quarter finished with a bang for CEF shareholders as March delivered very strong returns, particularly, across the higher-yielding and equity-linked sectors. In this article we take a look at the broader CEF space, with a close look at the key drivers of discount valuations, in particular. Our main takeaway is that the market environment over the next few years is unlikely to resemble that of the last 5-10 years when higher overall yields as well as yield compression allowed CEFs to outperform open-end funds. This suggests that investors should no longer view CEFs as an obvious choice for their capital but tilt to those CEFs that offer unique advantages over OEFs.
CEF Market Performance
If we look at year-to-date CEF sector performance we get the following picture.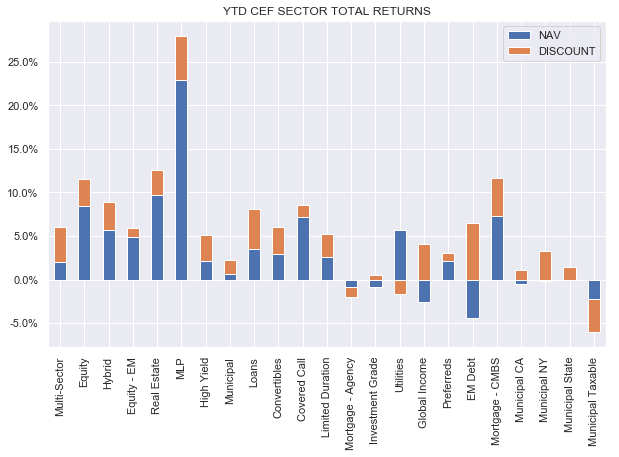 Source: Systematic Income
The chart shows us a few things. First, on an NAV performance basis, the trend has been for higher-beta/lower-quality sectors to outperform which makes sense in the current reflationary environment with lots of fiscal and monetary support. Higher-quality sectors like taxable munis, global income, agencies and investment-grade corporates have underperformed, pressured by higher Treasury yields and already-tight spreads. This dynamic highlights that there is a certain kind of "risk" of being in the higher-quality sectors during reflationary episodes because of the opportunity cost of missing a strong performance tailwind and a likely negative absolute performance to boot.
If we sum up price returns across all sectors to get a sense of how March looks in context, we see that it was the strongest month this year and the third strongest since June. Much of the heavy lifting for the month was due to the strong performance of equity-linked sectors as fixed-income sectors were under pressure due to a 0.30% rise in 10-year Treasury yields.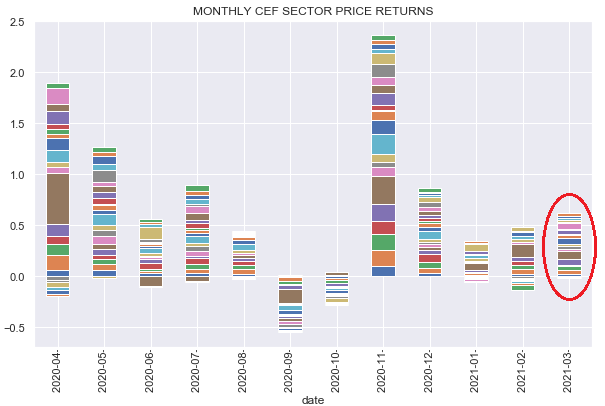 Source: Systematic Income
A look at current discount valuations across both fixed-income and equity sectors shows that both are close to their 8-year tights.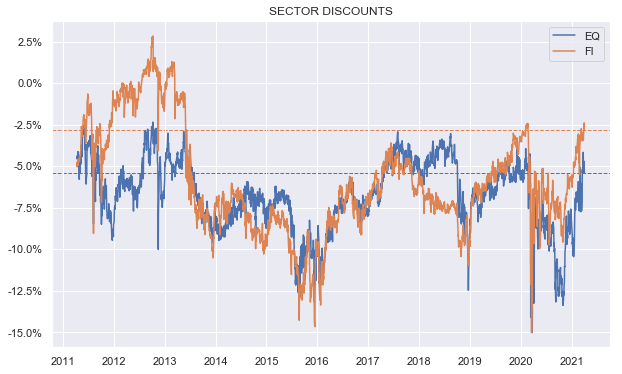 Source: Systematic Income
If we take a look at our Credit CEF Valuation Swirlogram which captures changes in both underlying credit spreads (x-axis) as well as credit CEF discounts (y-axis) we see that the first leg of the rally from March to around October was mostly due to the tightening in credit spreads. The second leg of the rally was mostly in discounts as credit spreads started bumping up against their historic lows.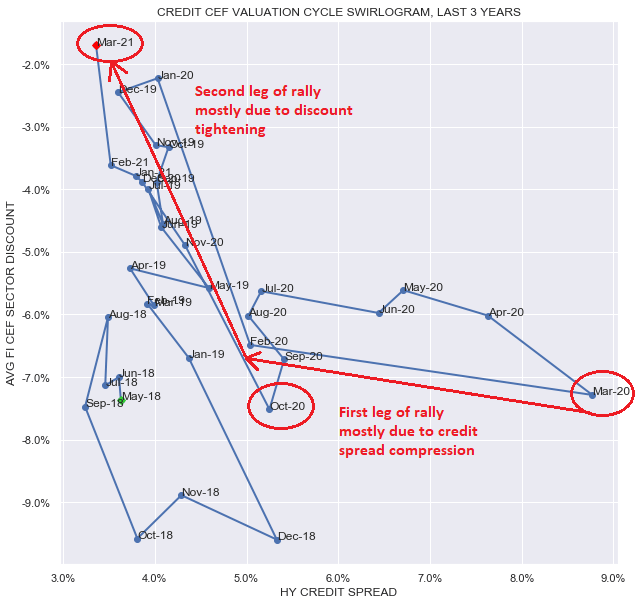 Source: Systematic Income
This raises the question of whether we should expect discounts to continue to tighten. In our view, the direction of discounts is likely to be driven by the following four factors:
broader market performance
yield divergence between CEFs and OEFs
fair-value anchor of discounts
relative performance of CEFs vs OEFs
It is no surprise that CEF discounts are linked to broader market performance - if markets are "risk-off", discounts typically widen and vice-versa. The way we quantify this on the service is by building a model of the different market variables that have historically correlated with changes in discounts. These key variables are Treasury volatility, the VIX, 5-year inflation breakevens, 10-year real rates and the Treasury term premium. The chart below shows that the discount of the high-yield CEF sector, for example, as predicted by these variables, closely matches the actual sector discount. The key drivers of the tightening over the last few months have been the fall in the VIX and the rise in real rates. The VIX is still historically high relative to its level over the last 5 years so there is room for it to fall, further supporting discounts and real rates are still fairly depressed. If these key market variables continue to normalize, we should expect to see discounts tighten further.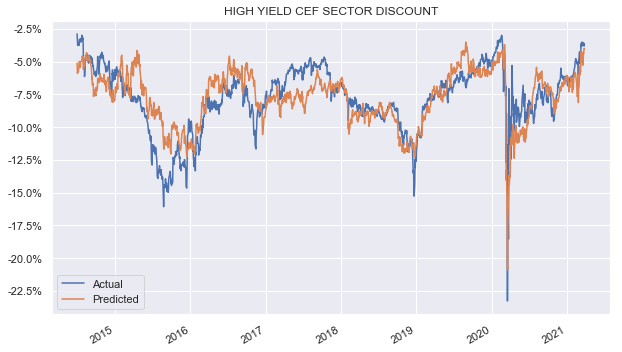 Source: Systematic Income
Another factor behind discount performance is the yield divergence between CEFs and open-end funds. Many investors make allocation decisions based on the distribution rates they see on CEFs and OEFs of the same sector. Currently, CEFs across most sectors offer significantly higher distribution rates than their OEF counterparts relative to the pre-COVID market environment.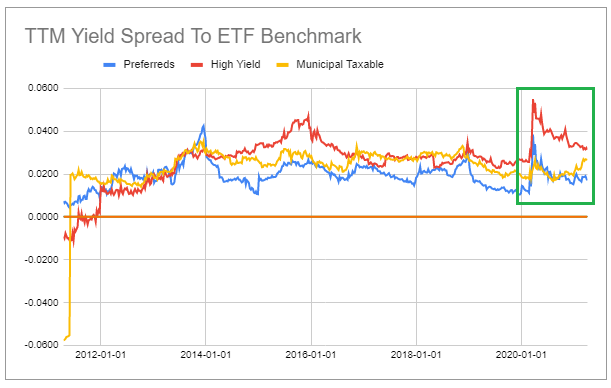 Source: Systematic Income CEF Tool
Some of this is due to lower leverage costs, however, most of this yield "pick-up" is purely optical and has to do with the fixed-coupon nature of most credit holdings. As we discussed earlier, by far the biggest driver of how much additional yield CEFs can generate has to do with the overall yields on offer in the market which are at or near record low levels. The chart below highlights how much additional yield a typical high-yield CEF can generate over and above its portfolio yield.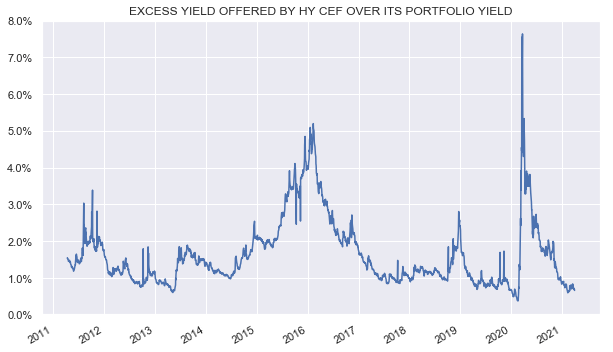 Source: Systematic Income
However, because the CEF market tends to trade much more on distribution rates as most investors don't look through to the funds' portfolio yields (in large part, because fund companies fail to properly disclose their portfolio yields), the continued "yield" superiority of CEFs over OEFs should continue to support discounts.
Another key factor behind the direction of travel of CEF discounts is, simply, their fair-value. Simply put, the size of the discount is largely a function of how much of the underlying yield goes to the managers of the fund. All else equal, the higher the fund expense level the wider the discount. And while a key dynamic over the last year has been the fall in overall yields, fund expenses have remained largely fixed. Leverage costs have come down but they are a small portfolio of overall expenses given they apply to only a small portion of the fund's total assets. Net net this means that the average credit fund has seen expenses rise to nearly a quarter of the underlying yield, which should "theoretically" translate to a widening of the discount.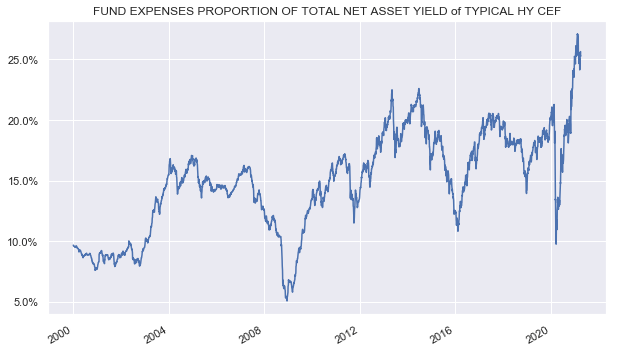 Source: Systematic Income
The final factor, which we explore in some length below, is the relative performance of CEFs and OEFs. Investors familiar with CEF marketing will, no doubt, have seen a chart like the one below which describes the historic outperformance of CEFs relative to open-end funds. The message from the chart is clear - CEFs offer consistent outperformance relative to OEFs. Unfortunately, there is a lot of nuance that goes missing from a chart like this so let's dig into why this chart looks the way it does.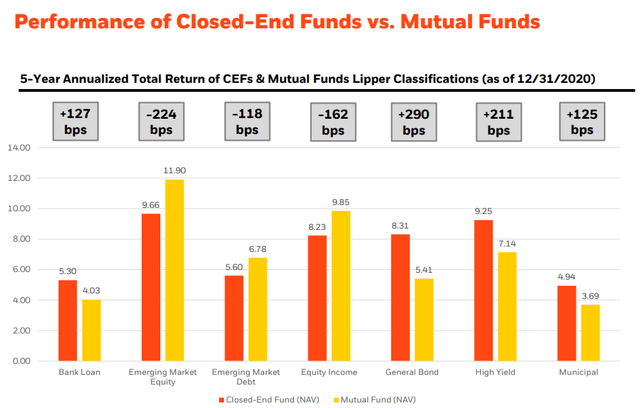 Source: Blackrock
Two main drivers will determine the performance of CEFs vs OEFs - the direction of yields and the overall yield level. The market environment we have had over the last decade can be described as one of 1) steadily lower yields - lower highs and lower lows and 2) having an average yield level significantly higher than it is now. Falling yields benefit leveraged funds like CEFs due to their greater exposure to rising prices while a higher level of yield allows the CEF wrapper to generate additional yield over and above its fees.
The situation now is quite different - we are unlikely to see a continued fall in credit yields over the medium term given 1) low level of risk-free rates, 2) tight credit spreads and 3) being at the early stages of the macro cycle with lots of monetary and fiscal support which should support higher risk-free rates.
To gauge what this means for performance going forward, let's take a look at performance of the High Yield sector over the past 5 years or so. Our actual starting date is 20-Apr-2016 which is roughly 5 years ago and also roughly corresponds to the average BB-rated corporate bond index yield over the last decade (to avoid cherry-picking) and is roughly the average credit rating of fixed-income CEF holdings.
This is how the performance across High Yield corporate bond funds looks like over that period - the picture doesn't have every open-end fund out there but is representative enough to be worthwhile. Green bars are active open-end funds - mostly mutual funds, red bars are passive open-end funds i.e. passive ETFs, blue bars are CEFs. The picture is quite clear and echoes the Blackrock chart above - High Yield CEFs delivered strong outperformance over their OEF counterparts.

Source: Systematic Income
Now let's pick a period which, in our view, is much more representative of what the going-forward investment environment is going to look like - from 20-Feb-2020 to now. The start and end dates of this period correspond to roughly the same BB-rated yields. Here we see that during a period of low and stable yields, CEFs no longer deliver superior results. Sure, there are some CEFs at the right-end of the chart but just as many at the lower end of the chart.

Source: Systematic Income
In fact, the investment situation for CEFs is arguably even worse than this chart suggests because the consensus for credit yields is to move higher from current levels as risk-free rates are likely to continue rising while credit spreads are less likely to tighten due to their historic tightness. CEFs do provide active management, which could make them more attractive, however, if CEFs were able to deliver outsized alpha then surely the investment environment over the past year should have provided fertile ground for that and it didn't, at least not for the entire CEF sector. And, in any case, there are a number of actively managed ETFs with less than half the fees of CEFs on a total asset basis (on a net asset basis active ETF fees would be around a third that of CEFs).
Let's see how this return dynamic has played out in other sectors. The preferreds sector return profile also favors CEFs over the last 5 years with the right side of the chart consisting mostly of blue bars.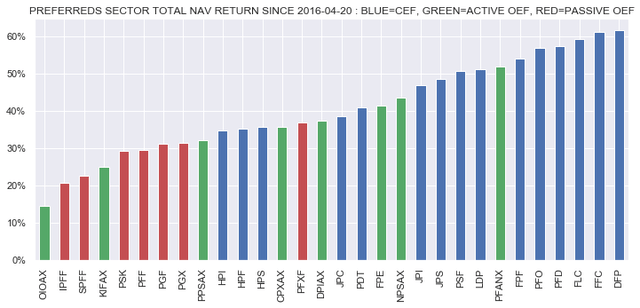 Source: Systematic Income
Again, the picture is quite different in a more stable yield environment with CEFs now spread more evenly through the chart with 4 of the top 5 funds being passive ETFs.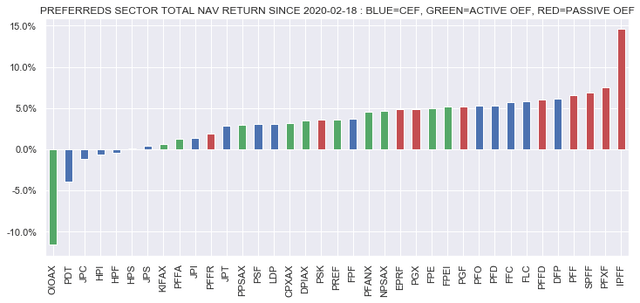 Source: Systematic Income
The agency sector over the last 5 years is favorable to CEFs with 3 of 4 CEFs in the top half of returns.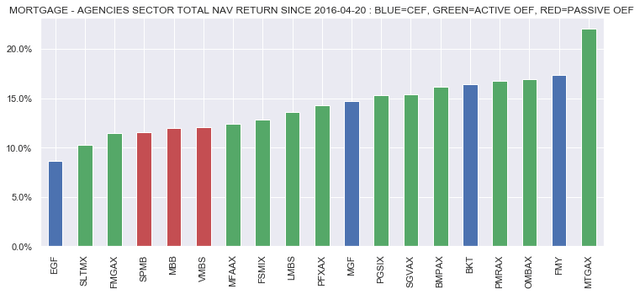 Source: Systematic Income
Again, this CEF superiority goes away fairly dramatically in a stable yield environment. The CEFs in this sector are not composed entirely of agencies, however, the period in question (when agency yields were flat) should actually favor funds with some non-agency holdings as the valuation of such assets was more depressed at the start than it is now.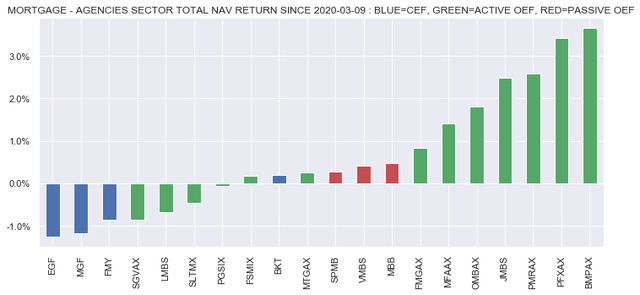 Source: Systematic Income
The pattern in the investment-grade space looks familiar - CEFs dominate returns over the last 5 years.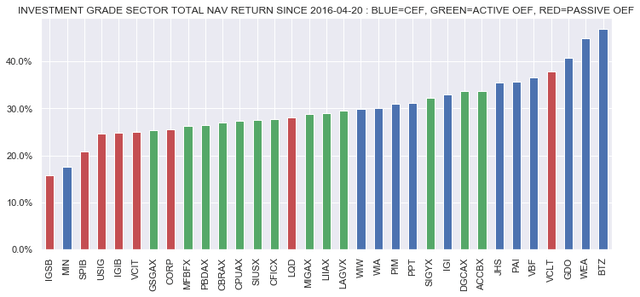 Source: Systematic Income
While, in a period of stable yields, CEF returns are certainly less impressive. CEFs go from being 6 of the top 7 to being 2 of top 7.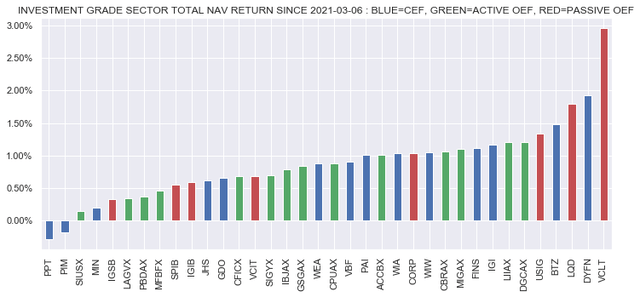 Source: Systematic Income
This cross-sector pattern of CEFs providing middling returns in a stable and low yield environment is not a coincidence in our view. In a period of low and stable/rising yields, CEFs will struggle to deliver the kind of historic outperformance that investors may have been used to. Low yields don't allow CEFs to generate high additional yields above their underlying assets, despite low leverage costs as fees eat up a big chunk of the additional yield. And a market environment where yields are stable no longer provides a tailwind for funds with leveraged exposure.
What does all this mean for investors? The main message here is that CEFs, in aggregate, are facing a very different market environment than investors have enjoyed over the last decade or so: 1) overall yields are low and are more likely to remain stable or even rise than they are to keep falling, 2) CEF fees as a proportion of portfolio yields are high and 3) discounts are on the expensive side. This means that investors are likely to experience CEF performance that is on par with open-end funds, in aggregate, while taking additional volatility, drawdown and deleveraging risk and paying fees well in excess of what is on offer in the open-end fund space.
Takeaways
Our takeaway isn't that investors should move out of CEFs wholesale - rather that they have to be careful to allocate to those funds that continue to look attractive relative to OEFs. These are first, funds that have more underlying upside, due to, for instance, an equity-link such as the Virtus AllianzGI Convertible & Income Fund (NCV) that allocates in part to convertible bonds. Secondly, funds with relatively low fees which makes them more than competitive with open-end funds such as the Credit Suisse Asset Management Income Fund (CIK), Nuveen Select Tax-Free Income Portfolio 3 (NXR) or the BlackRock Municipal 2030 Target Term Fund (BTT). Thirdly, funds with still attractive discounts such as the MFS Investment Grade Municipal Trust (CXH) or the Virtus AllianzGI Convertible & Income Fund II (NCZ). Fourthly, funds with unusually wide mandates which can allow them to generate higher level of alpha such as the Ares Dynamic Credit Allocation Fund (ARDC) and the Apollo Tactical Income Fund (AIF). Fifthly, term CEFs which can provide a measure of discount control and additional performance tailwind into the potential termination such as the Nuveen Preferred and Income 2022 Term Fund (JPT) or the Western Asset Global Corporate Defined Opportunity Fund (GDO). Sixthly, funds with holdings that are hard to find in an open-end format such as CLO debt - Eagle Point Income Company (EIC).