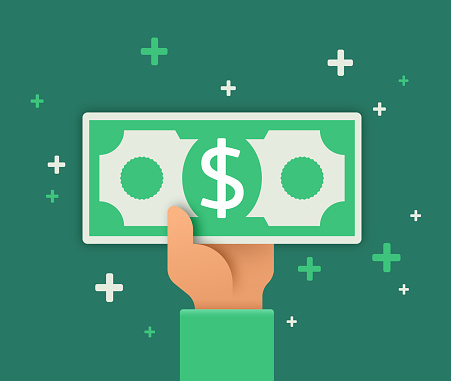 The Vanguard High Dividend Yield ETF (NYSEARCA:VYM) invests in U.S. stocks with higher than average yields, and currently yields 3.0%. These stocks suffered sizable losses earlier during the pandemic, but have outperformed during the recovery. I believe these stocks will continue to outperform in the coming months, due to their cheap valuations and strong growth prospects. VYM offers investors an above-average yield and the possibility of capital appreciation, and is a buy.
Fund Basics
Sponsor: Vanguard
Underlying Index: FTSE High Dividend Yield Index
Expense Ratio: 0.06%
Dividend Yield: 2.94%
Total Returns CAGR (Inception): 8.32%
Fund Overview
I've previously covered VYM here and here, so I'll only give a brief overview of the fund, and focus on its recent performance. Feel free to check those articles if you want a longer analysis of the fund, its index, and its holdings.
VYM tracks the FTSE High Dividend Yield Index, a large-cap market cap weighted stock market index tilted towards stocks paying higher than average dividend yields. In simple terms, the index includes the 50% highest-yielding dividend stocks in the market.
VYM is well-diversified, but overweight financials, and underweight tech. Compare VYM's industry allocations:

(Source: ETF.com)
To those of the S&P 500:

(Source: ETF.com)
VYM does have a higher yield than most comparable equity index funds, and most industry sectors, except energy.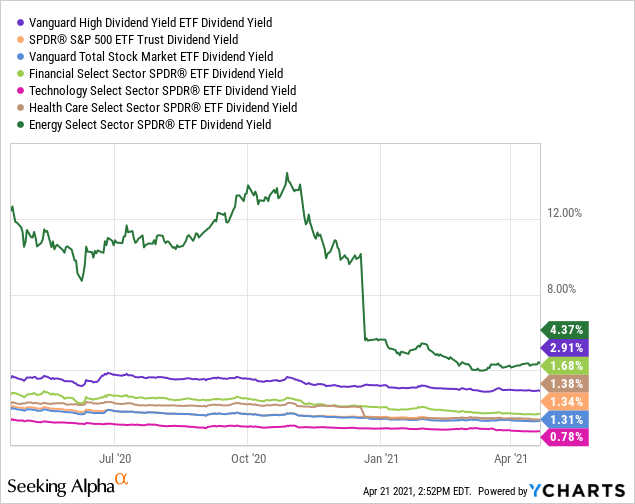 VYM combines strong industry diversification with an above average yield, a solid combination. In practice, income investors could make VYM a core, even only, portfolio holding, as the fund's diversified holdings mean it includes all relevant industries and a sufficient number of holdings. Sounds great, but there are some issues.
VYM - Recent Underperformance
VYM, and its underlying index, had closely tracked the S&P 500 for years. This started to change during 2018, but the gap grew massively during early 2020: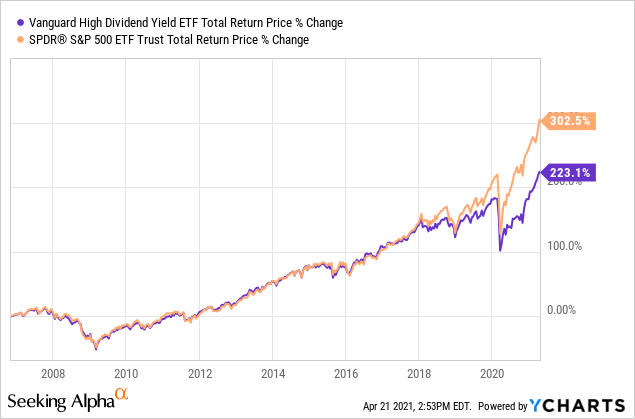 Said gap occurred for a simple reason.
VYM is overweight financials, which have underperformed these past two years, and underweight tech, which has outperformed for the same. The gap in the performance of these two sectors is massive.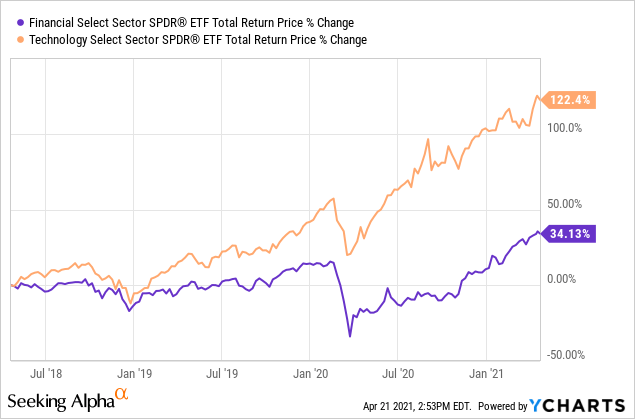 The fund's industry allocations are very similar to those of the S&P 500 otherwise, hence their identical performance in the decade prior, but this one change was large enough to cause VYM's underperformance these past two years. Which makes sense, considering tech has outperformed financials by about 90% since 2018.
VYM's recent underperformance was unwelcome news for the fund's past shareholders, but it does present something of an opportunity for new investors. Let's have a look.
VYM - Strong Growth Prospects
VYM offers investors the possibility of strong capital appreciation for three key reasons.
First, is the simple fact that VYM is trading at a relatively low price when compared to the broad equities market, the S&P 500 in particular. For the past decade or so, VYM traded at a price somewhere between 35% and 32% that of the S&P 500. The fund currently trades at a price just above 25% the S&P 500, quite a bit lower than its historical average. If prices normalize, VYM's shareholders could see double-digit returns.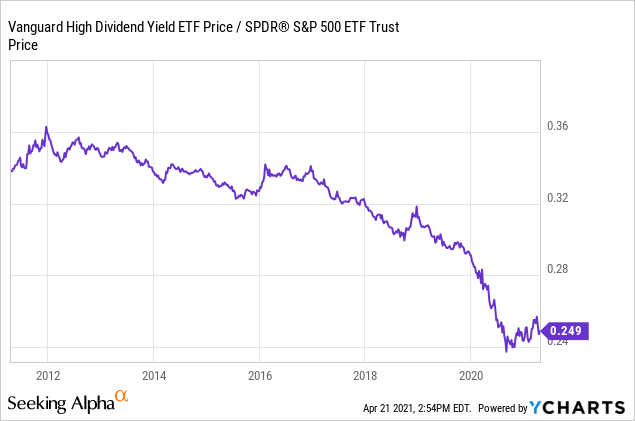 Second, is the fact that VYM currently trades with a comparatively strong dividend yield. VYM's yield is usually 1 - 1.25% higher than that of the S&P 500, but it currently trades with a yield about 2.3% higher. Higher yields are always better, so this is a significant benefit for the fund and its shareholders.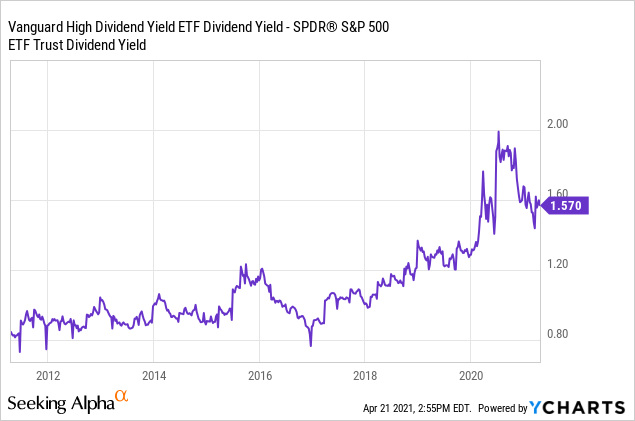 Third, is the fact that VYM is currently trading at a comparatively cheap valuation. The fund trades at a significantly lower PE and PB ratio when compared to the S&P 500, and at a slightly lower PE when compared to global equities, the Vanguard Total World Stock ETF (VT).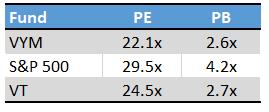 (Source: Vanguard Corporate Website - Chart by author)
At the same time, I think VYM is looking cheaply valued relative to the S&P 500 on a historical basis. I say this because the fund focuses on value stocks, see above, and see this analysis by MSCI: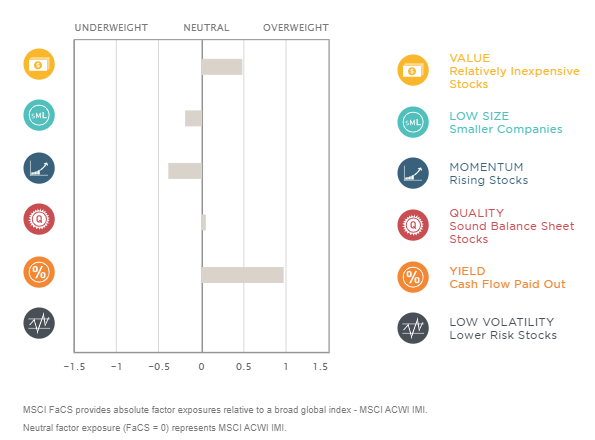 (Source: ETF.com - Chart by author)
And value stocks are comparatively cheaply valued according to JPMorgan (JPM):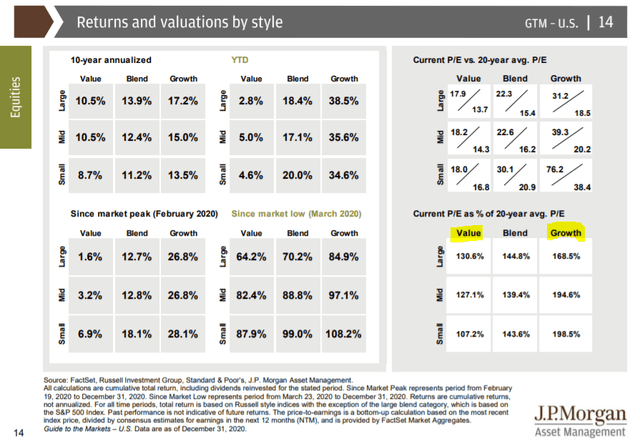 (Source: JPMorgan Guide to the Markets)
As can be seen above, all major equity styles are deeply valued when compared to their historical average, but value stocks less so than others. Point being, valuations have risen for all stocks, but less so for value stocks. I think there is a strong possibility that the valuations should normalize/equalize between value and growth, leading to value outperformance. Importantly, this has been the case all throughout 2020, with value significantly outperforming growth:
financials significantly outperforming tech: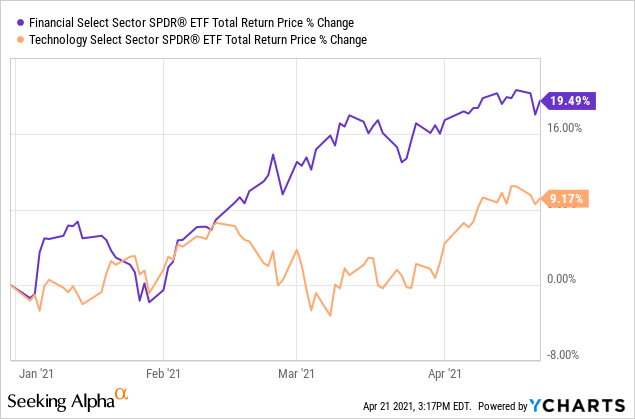 and VYM outperforming the S&P 500: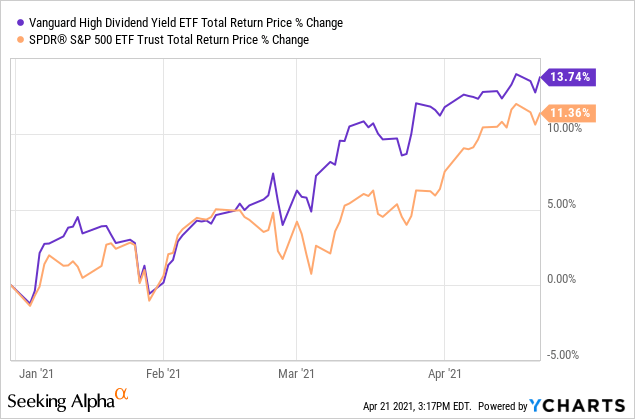 In my opinion, the above trend is set to continue. Vaccinations are proceeding rapidly, the pandemic is subsiding, and the economy is set to reopen soon. Improved economic conditions should lead to increased returns and outperformance for VYM, in my opinion at least.
Finally, I would like to reiterate that VYM is overweight financials and underweight tech, and could, depending on the performance of these two sectors, significantly underperform. I think this is unlikely, but we've had several years of tech outperformance already, and the trend could very easily continue. Don't invest in VYM if you want a lot of tech exposure, or if you are bearish about the financial sector.
Conclusion
VYM offers investors an above-average 2.9% dividend yield, a cheap valuation and price, and the possibility of some capital appreciation. As such, the fund is a buy.