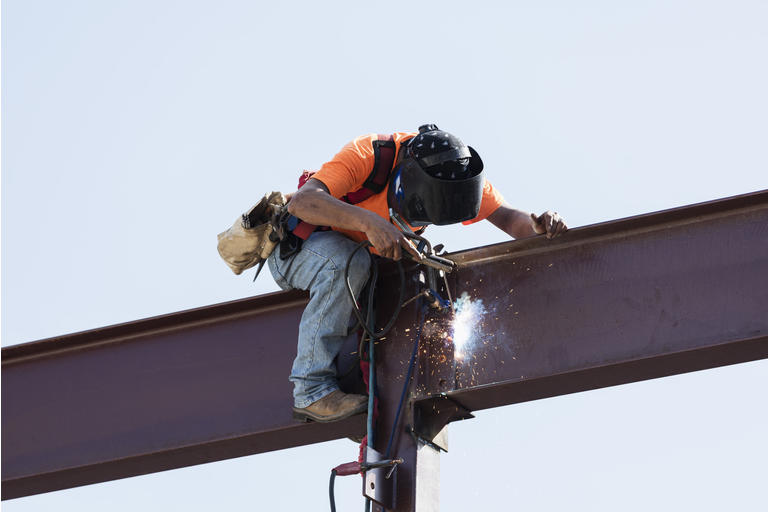 Jacobs Engineering Group Inc. (NYSE:J) has come a long way from the days of its large exposure to the oil and gas sector to becoming a government stalwart in aerospace, defense, and security projects based on ESG principles. Its total addressable market for high value projects continues to grow as it wins new contracts for nuclear and water projects that will transform future cities into more sustainable versions of themselves. An upcoming potential $2T bipartisan infrastructure bill could be the cherry on top for this company already making regular new 52-week highs.
Want some space exploration and commercialization exposure without paying up for the few public companies in the area at nosebleed levels? 25% of Jacobs' Critical Mission Solutions revenue comes from space solutions for NASA as well as the Department of Defense. With a Total U.S. government Addressable Market of ~$20B a year, space budgets could expand rapidly in the coming years as pioneers like SpaceX's (SPACE) Elon Musk, Blue Origin's (BORGN) Jeff Bezos and Virgin Galactic Holdings Inc. (SPCE) Richard Branson push space initiatives at breakneck speeds forcing NASA and other government agencies to spend heavily to keep up with the latest breakthroughs.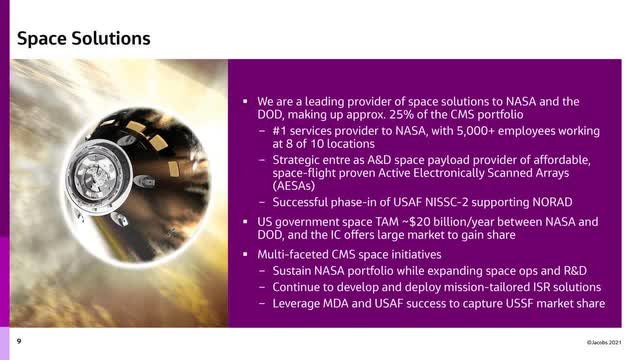 Slide from a Jacobs Presentation at Cowen's Aerospace & Defense Conference
Jacobs now is winning high value projects that coincide with its ESG goals and commitments as it has fully transitioned away from its former oil and gas dependent segments. Rapidly changing with the times means it should have the expertise to win lucrative future contracts as many governments and corporations now have set net carbon zero and renewable energy goals for the coming decades.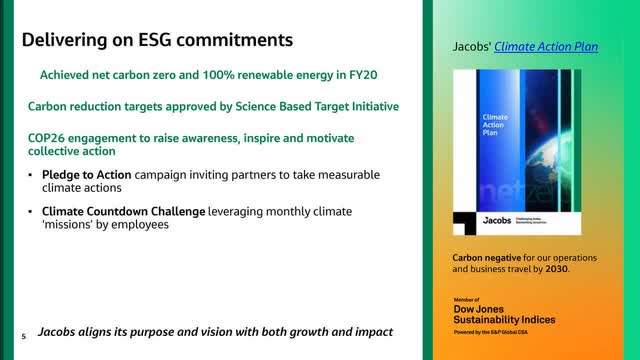 Slide from Jacobs Q1,2021 Earnings Call Presentation
Jacobs push into higher value growth sectors like nuclear and clean water and away from traditional oil and gas centric projects has helped its margins improve the past few years even as it backlog continues to grow.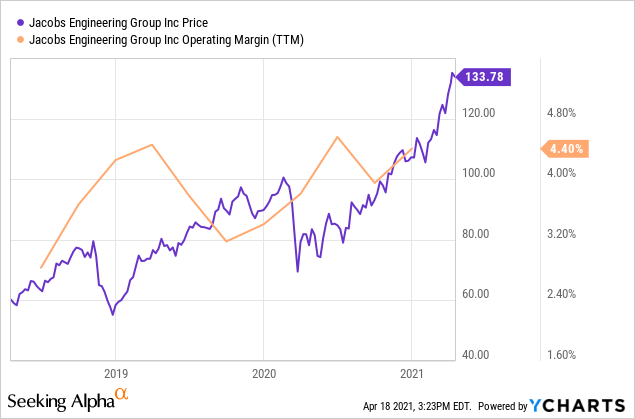 Jacobs' Critical Mission Solutions backlog has grown to $9.7B with 14% year-over-year growth according to the company's latest earnings call. Its People & Places Solutions business backlog grew at a 9% clip as climate change and the decarbonization of the economy movement continues to gain strength not only in the U.S. but in the U.K., Australia, and its other global presences as well. This has helped the company's EBITDA dramatically increase over the last year, after some initial COVID-19 hits, even as most of the world continues to reel from the effects of COVID-19.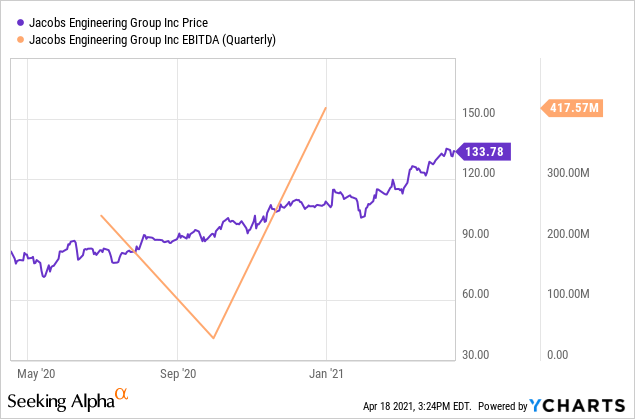 Jacobs continues to grow and expand into high value areas of the market by acquiring smaller companies at great values that become accretive to the company's bottom line in short order. It has went from being a 0 debt company to one with a low debt burden as it aims to pay off debt when opportunities fail to present themselves in the market. This means Jacobs should have plenty of free cash flow in the future to continue to grow its dividend annually by double digits like its 11% increase to start 2021. Here's a list of Jacob's most recent M&A activity with CH2M's acquisition a defining moment for the company in turning it away from its oil and gas background into a future looking company providing state of the art infrastructure services.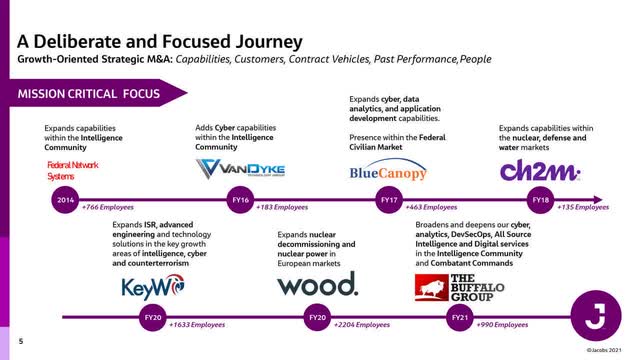 Slide from Jacobs Q1,2021 Earnings Call Presentation
All of these acquisitions have allowed Jacobs' revenues to grow healthily again after the massive overhaul at the end of 2017 where Jacobs sold its Energy, Chemicals, and Resources business to WorleyParsons for $3.3B. Jacobs' transformation allowed it to rid itself of its legacy portfolio and replace it with a much more modern and higher value portfolio while at the same time quickly lowering its debt burden back down towards the net debt free company it has embraced in the past.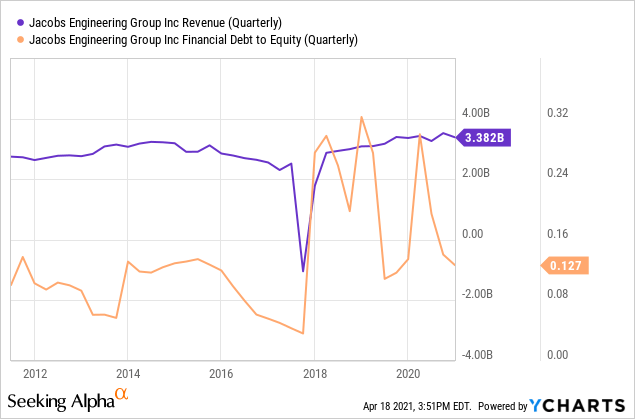 Jacobs is in prime position to benefit from a possible bipartisan infrastructure bill that could be coming as both Democrats and Republicans are open to passing legislation of one type or another in the coming years. The Biden administration is currently looking more towards $2T in spending with the Republicans seeking closer to $600B - $800B in spending which is a staggering amount of money no matter how you look at it. Bills like a potential infrastructure bill are a lot of times sell the news events, but it would provide tailwinds for Jacobs for years to come depending on if one or two bills get approved and what they entail. Considering Jacob's pivot the last few years and its growth trajectory, an infrastructure bill would just be the cherry on top of a very impressive company in perfect position for future infrastructure and security needs with an ESG edge over much of its competition.
Risks: The risks to the thesis are mainly ones generated from being part of an overcharged economy with stimulus everywhere and parts of the market seeming to make new 52-week highs daily.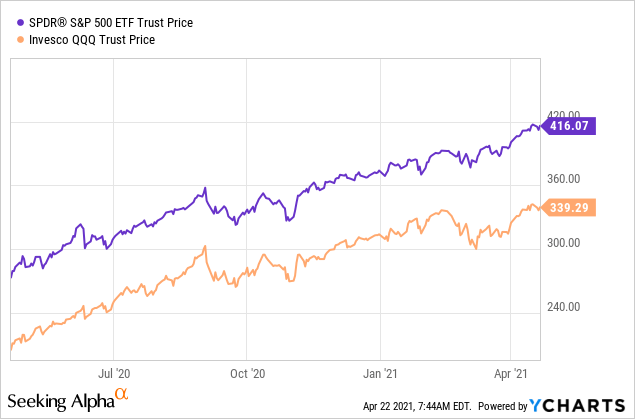 All of this frothiness is occurring at the hopeful tail end of a world-wide pandemic. A resurgence of COVID-19 or mutations could shut down the economy and infrastructure plans real quick at any time. A price most likely will have to be paid for the endless stimulus now seeming to pour out of the Fed, but that could be years or decades down the road. Finally, nothing is ever certain with politics as former President Trump wanted an infrastructure bill before President Biden. An infrastructure gridlock could put pressure on stocks like Jacobs pretty easily, but most likely this would be a short-term headwind that would pass with another good earnings report or two from the company.
Jacobs has transformed from a slow and old-fashioned oil and gas focused infrastructure play to one poised to benefit from the rapid evolution of modern needs and wants for secure and socially acceptable engineering problems. From national security and cybersecurity work alongside NASA and government defense contractors to the latest innovations in water and carbon neutralization, Jacobs is now at the engineering forefront of an ever changing world. Its tremendous record of acquisitions and divestitures has let it keep up with the times while ever returning to its low-debt to no-debt conservative roots. Annual dividend increases and a nicely growing backlog of high value contracts look to be on tap for the future as an infrastructure bill or two would be the cherry on top for this ever evolving company. Jacobs continues to be one of my largest individual stock holdings in a portfolio of 38 stocks with no intent to sell anytime in the near or far future.