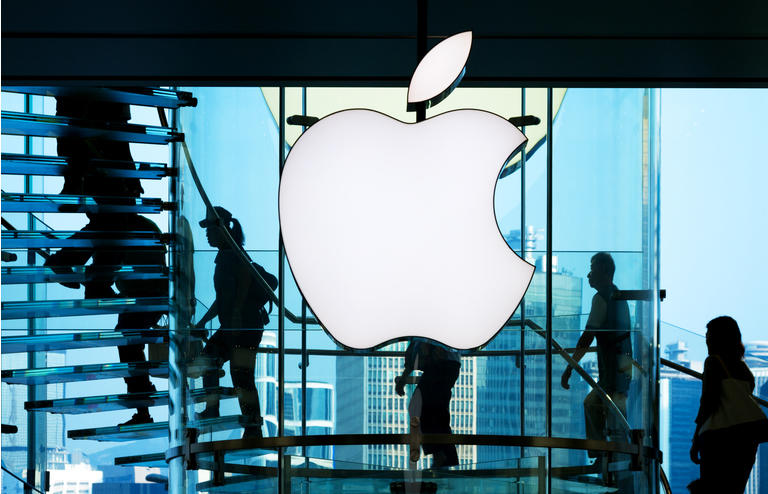 Apple (NASDAQ:AAPL) will provide fiscal second quarter results on April 28, and boy expectations are high. Analysts' consensus estimates forecast revenue to have climbed by 32.2% vs. last year to $77.1 billion, with earnings expected to have jumped by 54.3% to $0.98 per share.
Much of that growth is expected to come from the iPhone, with sales seen rising by 42.3% to $41.2 billion. A 17% jump follows that in services to $15.6 billion, and 24.1% rise in wearables and other products to $7.8 billion. To make it more interesting, those iPhone estimates have been creeping up, rising from around $39.6 billion at the end of January.
The big question, and certainly what has weighed the most on the stock in recent quarters, is Apple's willingness to provide guidance. Since the pandemic began, Apple has not provided guidance. It's the main reason why the stock sank despite better than expected first quarter results. The fiscal third quarter revenue is seen rising by 15.4% to $68.8 billion, while earnings rise by 27.1% to $0.82 per share.
Premium Valuation
A lack of guidance is sure to weigh heavily on the stock, and investors will likely punish the shares if that should happen. The stock is not cheap currently, and investors are clearly giving a lot of credit and confidence in management's ability to steer through the coronavirus pandemic. Because of that and the company's balance sheet, investors have given this stock a premium valuation, trading for 28.5 times 2022 earnings estimates of $4.70 per share. That's nearly 50% higher than its historical PE of 17.1 over the past five years.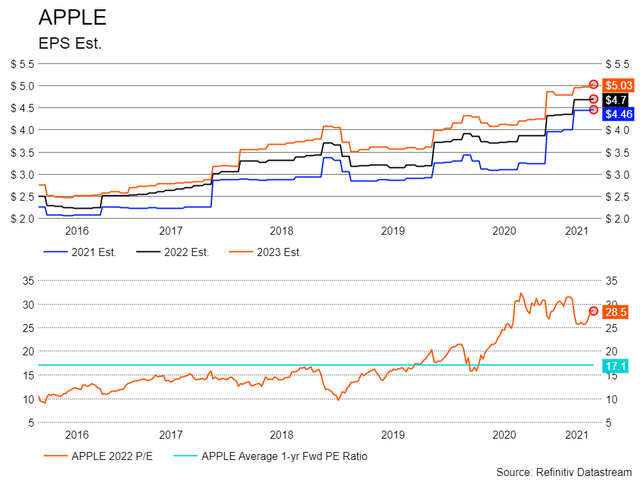 The stock also is trading with a premium one-year forward price-to-sales ratio of 6.4, double its 10-year average of 3.2. That average would be even lower, if not for the run-up since the winter of 2018. Before that time, the peak price-to-sales ratio had been 4.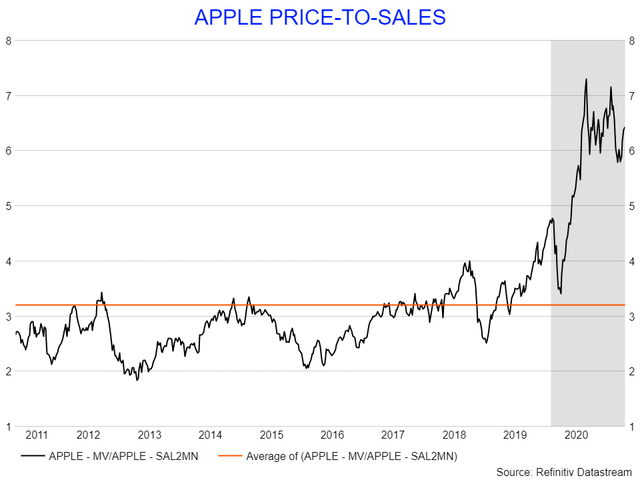 When investors and the market give a company this much of a premium, the market expects to get what it wants, and no matter how glorious results are for the second quarter, the absences of third guidance, to the detail level the market wants, could result in the stock selling off, again, like it did last quarter.
Apple, to its credit, has delivered better than expected earnings and revenue 12 quarters in a row. It would come as a big shock to the market if Apple missed estimates.

(Apple Earnings Beats - Seeking Alpha)
Options Trades
Options traders are betting the company disappoints, and the stock sinks between now and expiration on June 18. Since the beginning of April, traders have been building up big positions for both the $135 puts and calls. Over that time, both options have seen their open interest levels rise by roughly 65,000 contracts each. The data shows most of the calls have been sold, and most of the puts have been bought. The calls have been sold for approximately $3.50 and $4.15. Meanwhile, the puts have been bought for around $10 and $11. This would suggest that the trader paid roughly $7 per contract and would need the stock to fall to approximately $128 or lower to start earning a profit on the trade, a drop of at least 4%.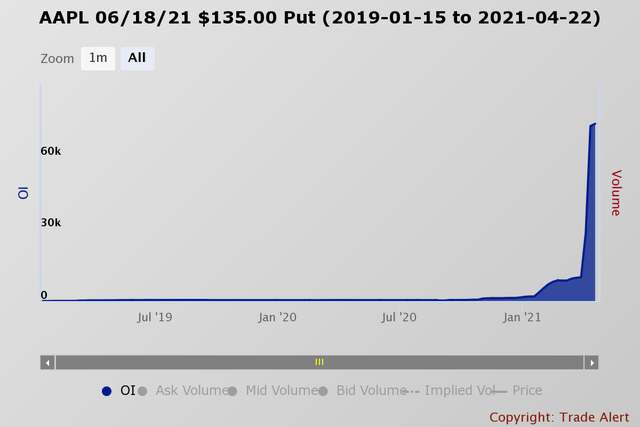 Technicals
If the stock falls to $128, it will probably fall further, based on the technical chart. The stock is currently sitting on a key level of resistance at $130, and if that level of resistance breaks at $130, it likely will trigger a decline to $118, a drop of about 10%. The RSI also is signaling weakness and lower prices. It has been trending lower since peaking in September.
It's possible to see the stock climb to around $138 ahead of earnings though that's likely where it would meet extreme resistance. The stock does have a history of moving higher into earnings and then selling off after results over the past year.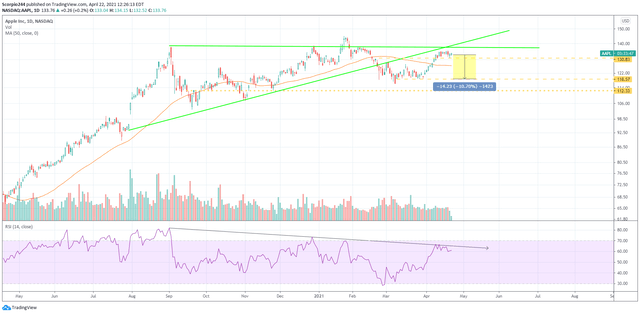 Whether the company beats earnings this quarter or not likely does not matter. The only thing that will matter is if the company provides the type of guidance the market has grown to expect from Apple. If investors get better-than-expected quarterly results and better-than-expected guidance, good things are likely to happen. Anything else will likely result in lower prices.