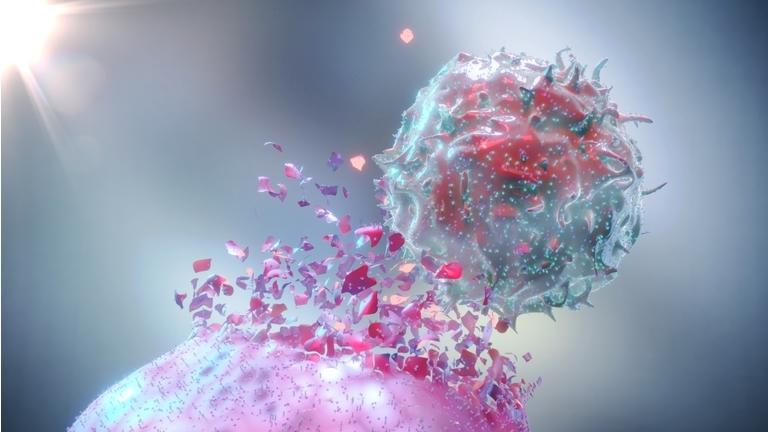 Marker Therapeutics (NASDAQ:MRKR) develops MultiTAA-specific T cell therapies for heme and solid tumors. This technology uses non-reengineered tumor-specific T cells that recognize multiple tumor associated antigens and kill tumor cells expressing those targets. Unlike CAR-T therapies, the T cells here are simply expanded, not re-engineered; since these autologous T cells are therefore no different from the body's own T cells, the therapy needs no prior lymphodepletion. Lymphodepletion is the key cause of increased expense and unacceptable safety issues. Since there's no genetic modification, this therapy is cheaper than the inordinately expensive CAR-Ts, and it is safer as well because there is no risk of malignant mutagenesis. The company says that of the 150 patients treated so far, there has not been a single serious adverse event - this is not something you see with CAR-Ts. The company offers graphics outlining the problem with existing CAR-T, TCR and NK therapies.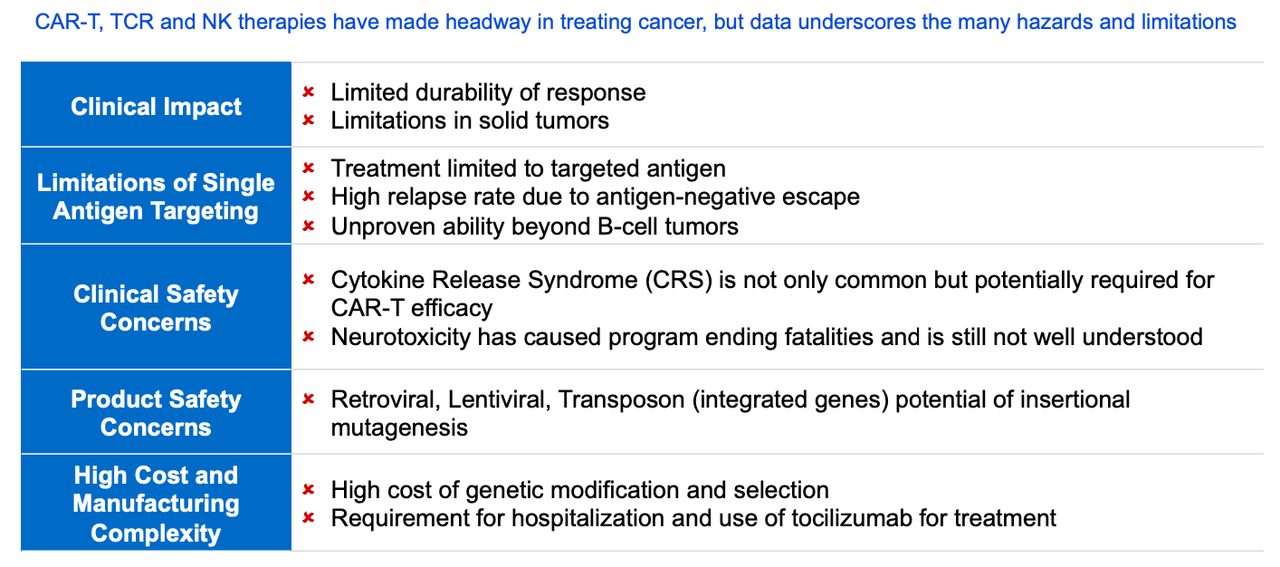 In various trials in over 150 patients across 7 indications in Phase I/II trials at Baylor College of Medicine, Marker's therapies have shown complete response rates similar to CAR-T results. They have differed from CAR-T in that these CRs have exhibited strong durability. The therapy has shown no evidence of cytokine release syndrome, neurotoxicity or dose limiting toxicities. The therapy costs less than $8000 to manufacture, comparing positively to the million-dollar price tag of CAR-Ts. It can also be given in an outpatient setting in a 10 minute infusion, with 3 infusions over 2-4 weeks. Given all these positives, the company has started its first Phase 2 study in AML with data expected in Q1 2022.
The company's pipeline looks like this: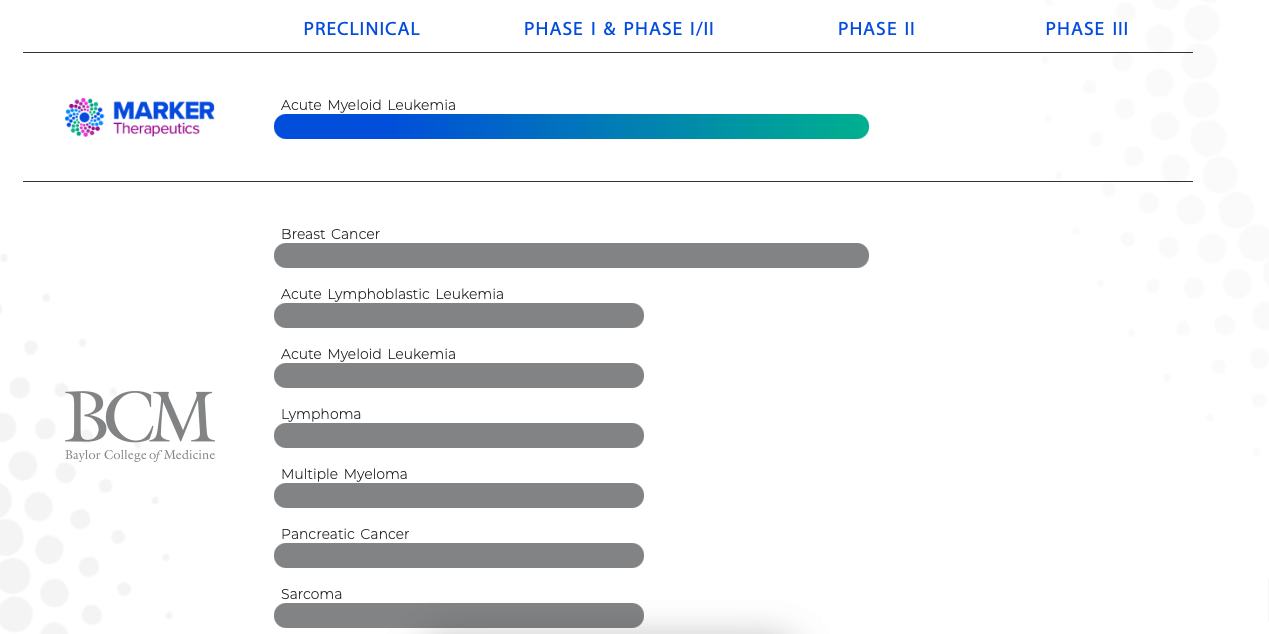 The technology has also been run through 7 phase 1/2 trials since its inception at Baylor College of Medicine. The largest dataset was in lymphoma with response rates similar to CAR-T programs but with improved safety and durability. Strong response rates were also observed in post-transplant AML. In a solid tumor setting in pancreatic cancer, proof of concept data was seen.
Results from the Baylor lymphoma study were published this year at ASCO. Titled "T-Cell Therapy for Lymphoma Using Nonengineered Multiantigen-Targeted T Cells Is Safe and Produces Durable Clinical Effects," the report said the following:
PURPOSE

Patients with relapsed lymphomas often fail salvage therapies including high-dose chemotherapy and mono-antigen–specific T-cell therapies, highlighting the need for nontoxic, novel treatments. To that end, we clinically tested an autologous T-cell product that targets multiple tumor-associated antigens (TAAs) expressed by lymphomas with the intent of treating disease and preventing immune escape.

PATIENTS AND METHODS

We expanded polyclonal T cells reactive to five TAAs: PRAME, SSX2, MAGEA4, SURVIVIN, and NY-ESO-1. Products were administered to 32 patients with Hodgkin lymphomas (n = 14) or non-Hodgkin lymphomas (n = 18) in a two-part phase I clinical trial, where the objective of the first phase was to establish the safety of targeting all five TAAs (fixed dose, 0.5 × 107 cells/m2) simultaneously and the second stage was to establish the maximum tolerated dose. Patients had received a median of three prior lines of therapy and either were at high risk for relapse (adjuvant arm, n = 17) or had chemorefractory disease (n = 15) at enrollment.

RESULTS

Infusions were safe with no dose-limiting toxicities observed in either the antigen- or dose-escalation phases. Although the maximum tolerated dose was not reached, the maximum tested dose at which efficacy was observed (two infusions, 2 × 107 cells/m2) was determined as the recommended phase II dose. Of the patients with chemorefractory lymphomas, two (of seven) with Hodgkin lymphomas and four (of eight) with non-Hodgkin lymphomas achieved durable complete remissions (> 3 years).

CONCLUSION

T cells targeting five TAAs and administered at doses of up to two infusions of 2 × 107 cells/m2 are well-tolerated by patients with lymphoma both as adjuvant and to treat chemorefractory lymphoma. Preliminary indicators of antilymphoma activity were seen in the chemorefractory cohort across both antigen- and dose-escalation phases.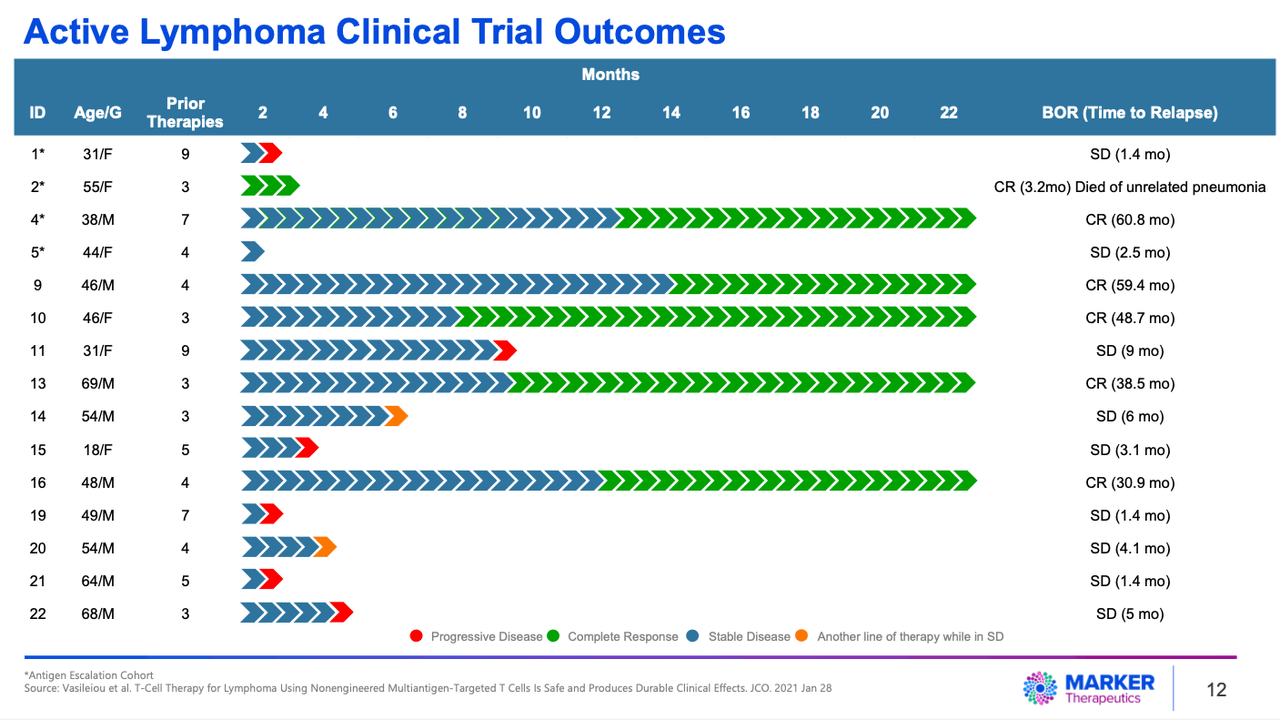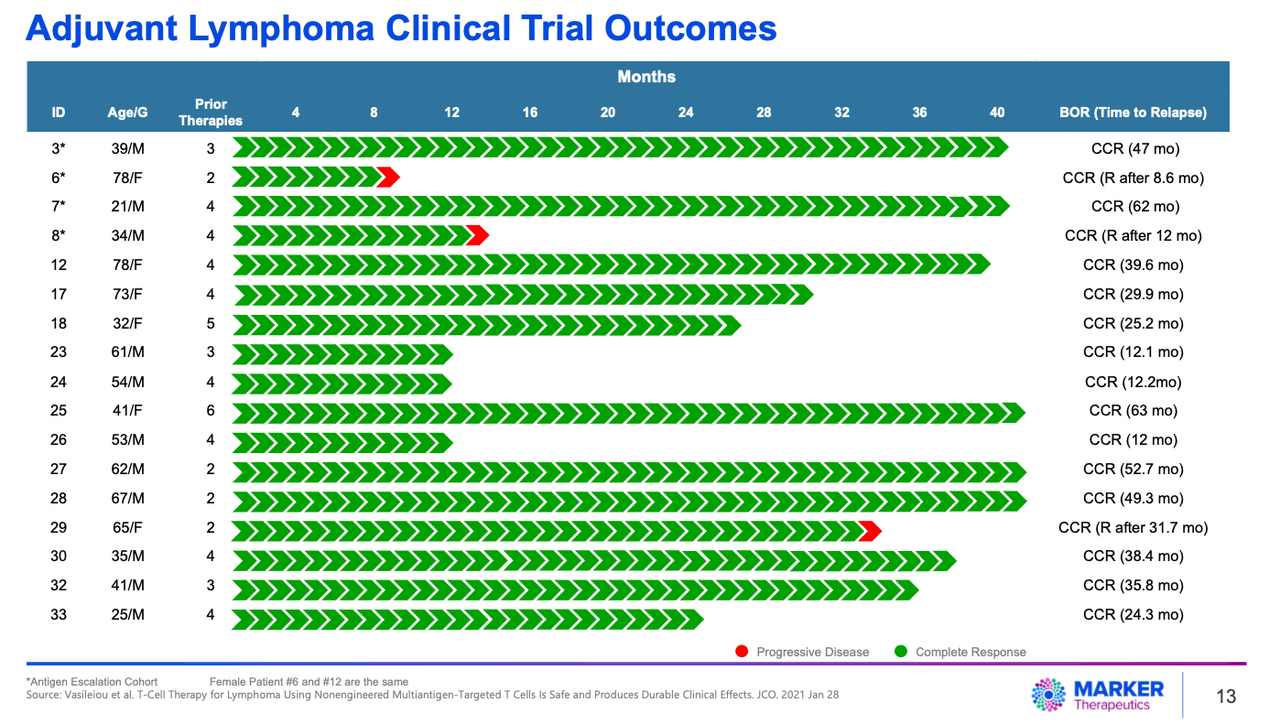 In this study, the therapy targeted 5 TAAs - PRAME, SSX2, MAGEA4, SURVIVIN, and NY-ESO-1 - and it was observed that such simultaneous multi targeting was well-tolerated by patients even at the maximum used dose (MTD was not reached). Patients in this setting have very few options left to them; however, the therapy was able to produce a high percentage of durable responses even in this population. These results were truly outstanding.
Marker's Next Steps
Marker is running a phase 2 trial in post-transplant AML with MT-401 (zedenoleucel) following stem cell transplant. It has positive phase 1 data from the BCM trial in AML. Data showed anti-tumor effect, as well as significant in vivo expansion of T cells. The therapy was well-tolerated, with no incidence of cytokine release syndrome, neurotoxicity or Gr3-4 GvHD. In the adjuvant setting, data was from 17 patients, 12 post-HSCT, and 5 that received salvage post-HSCT. 11 out of 17 of these patients were in continued CR (median leukemia-free survival not reached at a median follow-up of 1.9 years). In the active disease setting, there were 8 patients, and there was 1 CR durable for 13 months, 1 PR and 6 stable disease.
The study will enroll 172 patients and will be completed in 2022. This is an open label study with two arms, adjuvant and active. This is a major market because 45% of the ~65K AML patients in the U.S. and E.U. are refractory to current therapies.
The company also has data from a pancreatic cancer trial, as follows:
4 confirmed objective responses (OR):- 1 complete response (CR) and 3 partial responses (PR) after receiving MultiTAA cells.

6 stable disease (SD):- Notably, 2 patients within stable disease boundaries (+20%/-30%) saw reversal of tumor growth — tumors previously growing after chemotherapy alone showed shrinkage following administration of MultiTAA cells.

1 mixed response:- Some lesions increased and others decreased for a net zero change in size of tumor lesions.

Aggregate tumor volume shrinkage observed and 9 out of 13 patients exceeded historical control of overall survival.
They are not running a self-sponsored trial in solid tumors at the moment.
They have also developed a manufacturing facility in Houston. Manufacturing milestones include -
Initiate tech transfer from Baylor College of Medicine to Marker cGMP facility in Q1 2021.
Receive regulatory approval for Marker cGMP Q2 2021.
Manufacture MT-401 at Marker cGMP for Phase 2 AML trial Q3 2021.
Financials
MRKR has a market cap of $171mn and a cash reserve of $21mn. Funds own 43% of the company and the public owns 57%. Insiders are heavily buying:

Recently, in late March, Cantor Fitzgerald gave an overweight rating to MRKR with a $6 price target. A number of insiders also bought stock at that time. In March, too, the company made a $50mn public offering. In its recent earnings update, the company said it "raised $6.2 million through the previously executed $30 million common stock purchase agreement with Aspire Capital Fund, LLC. The remaining $23.8 million available to Marker from Aspire Capital, along with current cash available, funds operations into Q1 2022."
Marker's MultiTAA technology is licensed from Baylor College of Medicine:
On March 16, 2018, we entered into an exclusive license agreement, or the BCM License Agreement, with BCM, under which we received a worldwide, exclusive license to BCM's rights in and to certain intellectual property rights, including European patent EP 2470644 (estimated expiration date August 24, 2030), to develop and commercialize MultiTAA-specific T cell product candidates.

Exclusive License to BCM's Subject Technology:

1. "Generation of CTL Lines with Specificity Against Multiple Tumor Antigens or Multiple Viruses"

2. "Pepmixes to Generate Multiviral CTLs with Broad Specificity"

3. "Immunogenic Antigen Identification from a Pathogen and Correlation to Clinical Efficacy"

4. "T cell performance assay as a prognostic factor for clinical outcome"
Bottom Line
MRKR has been a depressed stock for a long time probably because of, among other things, a partial clinical hold placed on the AML study due to issues stemming from its reagent suppliers. The hold has now been lifted, the company has a new manufacturing facility, and there was never any doubt that the Baylor data is very strong. Another company, AlloVir (ALVR), co-founded by some of the same people, using the same technology, but for easier-to-treat indications like infectious diseases, has a billion dollar market cap. Marker's only problem now is cash, but it is managing to raise money. So, given these low prices, and the trial data available, this looks like an opportunity.