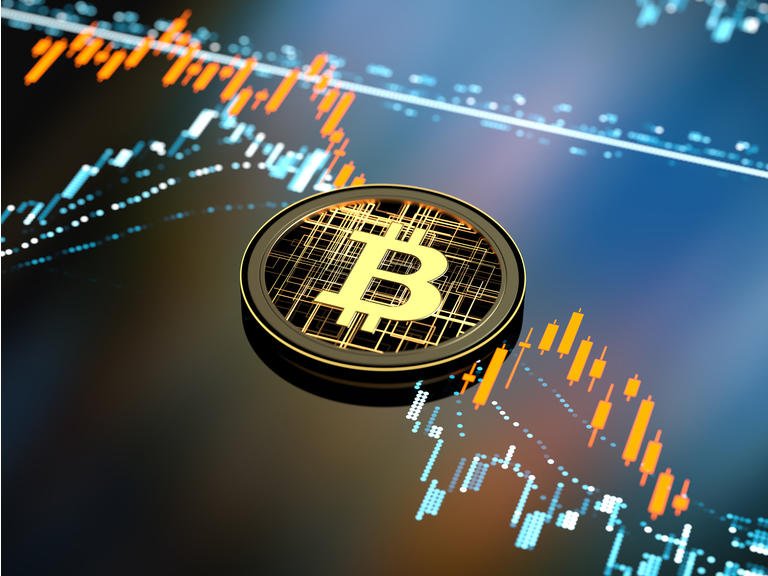 This article attempts to calm fears of a crypto bear market by analyzing Bitcoin's historical volatility and point in the stock-to-flow model. Because a 27% price correction is completely within historic norms, the on-chain data is healthy, and price is still perfectly tracking the stock-to-flow model, I believe we will see a continuation to the upside. Despite this, investors should know that a 40% correction down to $39,000 is well within the realm of possibility from a historical perspective and within the model's acceptable variance.
Volatility
High volatility is a two-way street. In the 2017 bull market that witnessed a 1,325% gain, Bitcoin witnessed six corrections between 29% and 38%. As the chart below demonstrates, each bull market dip was followed by a rally of at least 100%.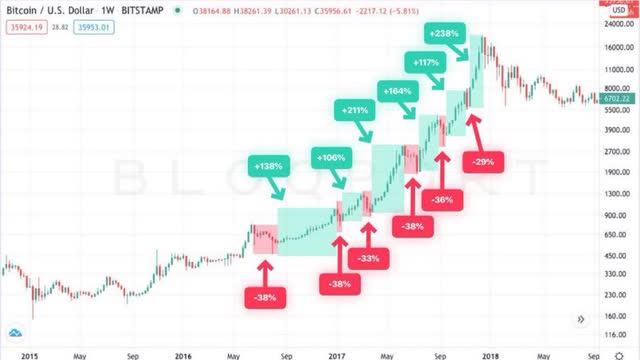 (source: @BTC_Archive)
Bitcoin began its current correction on April 15, following a drop in the hash rate due to a temporary power outage in Xinjiang province, China. Price fell further along with all risk assets due to fears of a rising U.S. capital gains tax. Because none of the on-chain data demonstrates any cause for alarm, and because this correction is in no way out of ordinary, I remain bullish in believing that price will recover to new all-time highs. My previous article here examined three on-chain and two technical metrics that pointed to further upside.
The shortsightedness of some anti-Bitcoiners conducting a victory lap for a 27% correction is rather astounding. As the chart below shows, the last time Bitcoin had a 30% correction was five months ago. The last time Bitcoin had a 25% correction was sixty-one days ago. I do not include the 18% correction in March because it seems insignificant given Bitcoin's historical volatility. Additionally, despite the recent correction, Bitcoin is still up 72% YTD.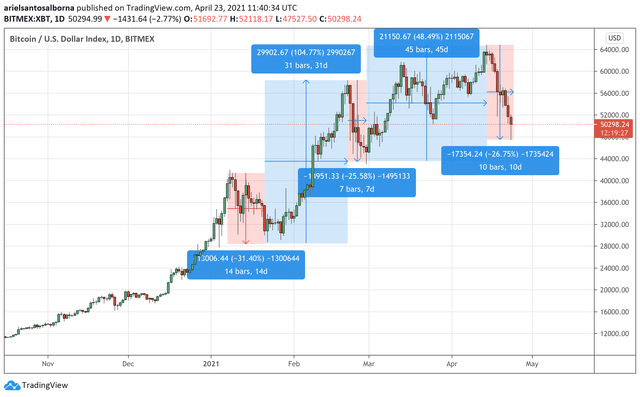 Stock-to-Flow
My previous article here explains the stock-to-flow model more in-depth. The model contains a 95% correlation coefficient with the price of Bitcoin, and has thus far predicted future price with uncanny accuracy. It is this model that has a price projection of $100,000 by December 2021, though the author published an updated model with a $288,000 target. The first image below is the current price overlaid on the model price. The image underneath is that of the entire 2017 bull market cycle. Not only does the current cycle better match the stock-to-flow model, but this correction also seems to be a blip on the radar from a long-term perspective. I believe we will see a consolidation and continuation in accordance with the model. There is no fundamental reason to believe that it broke this week.
The largest model variance, or deviation between Bitcoin price and the stock-to-flow model price, occurred in July 2017 at -1.06. Current variance is -0.32. A typical bull market peak will have a positive variance above one. We peaked at 0.27 in February 2021. The current bull market has strengthened the validity of the stock-to-flow model through such small variance between actual price and model price. I do not believe this 27% correction based on fear of a tax hike upends the model entirely.
Conclusion
I feel obligated to remind readers of the conclusion I made in a recent article here:
Given the current block number combined with the RSI, I believe we will see a massive correction and consolidation before reaching to all-time highs in a manner similar to 2013. Price appreciation cannot continue at its current rate through September 2021.
This is a healthy, expected correction that cleanses the system of excess speculation. It resets much of the overheated metrics to allow for a bullish continuation. This occurred six times in 2017 and twice this year.
Pleas for caution oftentimes get lost in the uber-bullish narrative of a perfectly scarce, liquid, and decentralized store of value amidst the Fed balance sheet going vertical. We will continue to see monetary debasement in the face of structural inefficiencies caused by overactive global central banks. Austerity or Volcker style rate hikes will lead to a deflationary spiral and too much human suffering. The answer will be more central bank and government activity in the form of universal basic income and targeted fiscal policy through Central Bank Digital Currencies. High inflation and technology-driven growth will be the only ways to reduce the deflationary effects of the debt burden. Do not lose the signal through the noise. All roads lead to Bitcoin.