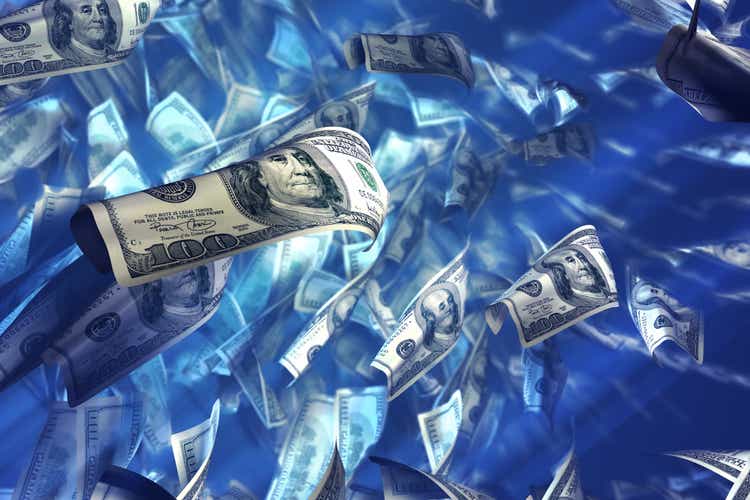 Main Thesis / Background
The purpose of this article is to evaluate the BlackRock Floating Rate Income Trust (NYSE:BGT) as an investment option at its current market price. I find this fund interesting at the moment because it owns floating rate loans, or "floaters", as they are called, which have interest rates that re-set according to a standard benchmark, such as the Fed's funds rate. This is an ideal holding for a rising rate environment because, as rates rise, the loans re-set at the prevailing, higher rates. This allows investors to remove some of the risk inherent in fixed-income securities during inflation periods.
For BGT specifically, the fund's objective is to "provide a high level of current income", and it does this by investing primarily in senior secured floating rate loans made to corporate and other business entities. BGT currently trades at $12.49/share and pays a monthly distribution, yielding 6.22% annually. This is my first review of BGT, and has come about as I look for ways to adapt to a market that is starting to see inflation pick up. With the expectation that yields may continue to rise, and the Fed may be forced to raise rates sooner than expected, I believe investors could benefit from owning some floating rate exposure.
As a result, BGT seems like a decent option, especially due to its reliance on secured loans, which are less risky than unsecured loans. However, there are risks to this thesis as well, which include a scenario where inflation and/or rate hikes do not materialize. Further, the fund does hold below investment grade debt, which is only appropriate for investors with a higher risk tolerance.
Why Floaters? Inflation Is Picking Up
To begin, I want to discuss why investors want to consider floating rate debt right now. As I noted, floaters are unique in that their interest rates will re-set based on prevailing market conditions. As interest rates rise, so does the interest charged on the loan. This allows lenders to profit off of rising rates, and it also lowers the interest rate risk inherent in bond and loan investing. After all, with a fixed-income product, the value of those future payments declines when yields and rates rise. This means, all other things being equal, floaters are a preferred asset class when interest rates are rising, or when investors are anticipating a rise in rates.
That second point is especially relevant right now. While yields have risen, benchmark rates from central banks in developed markets have stayed at rock bottom levels. And, in fairness, the Fed has reiterated its stance to stay the course until inflation picks up for a sustainable period. As a result, we have not seen much of a move in short-term interest rates, and that could make investors question the need to buy into floating rate debt for the moment.
While this is a fair point, I want to highlight that prices are rising for many products and raw materials across the globe. I believe, ultimately, that these costs are going to find their way into final consumer prices, driving inflation metrics higher (and sooner) than the Fed and other central banks expect. The reason behind this thought is that prices have moved sharply higher in the near term. Essentially, rather than modest, stable increases, we have seen aggressive price moves being absorbed by the market. This tells me middle-men such as importers, grocery chains, gas stations, etc. will be forced to pass on these costs.
To understand why, let us look at a few benchmarks. One obvious place to look is the cost of a barrel of oil. This is often seen as a relevant measure for inflation and economic growth expectations. Further, rising oil prices often seep their way into consumer prices. This makes sense because when oil rises, the cost of transporting finished goods rises (since transportation companies have to pay more per mile to move the goods). This has indeed been the story of 2021 so far, with crude oil prices rising 31% to over $62/barrel, well above the gain to the S&P 500 in percentage terms:

Source: CNBC
Of course, this is just one measure, and there are plenty of others. In fact, the list of items where prices have shot up is quite diverse. In addition to crude oil, we are seeing commodities like corn, soybeans, and wheat all surge in price: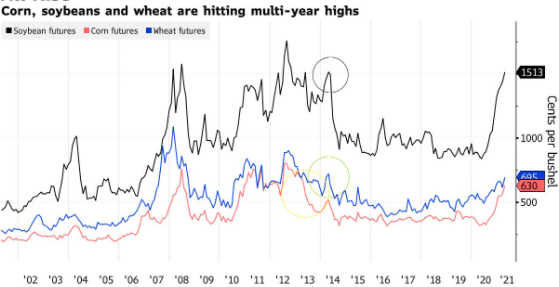 Source: Bloomberg
Aside from those commodities, other factors are causing a jump in prices. Supply chain disruptions, driven by virus outbreaks, lock-downs, and lack of workers, are all making shipping costs rise. Again, the story here is the sharpness of the move, in addition to the rise itself. To illustrate, we see the price for a container of goods from China to the U.S. and European ports has remained elevated near record highs: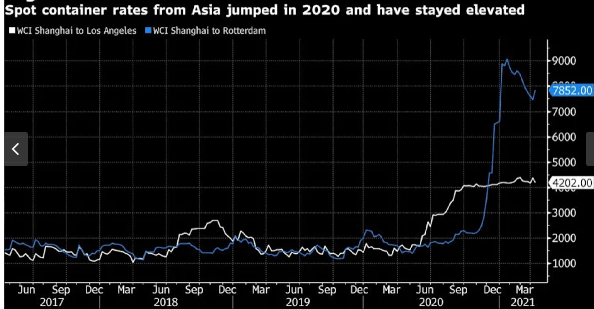 Source: Yahoo Finance
My takeaway here is that prices are moving up rapidly, and across the board. There is little doubt in my mind this will trickle into consumer prices, finally pushing up the CPI to a measure where the Fed is forced to accept inflation is real and present. If that happens, floating rate loans will be a place to be.
BGT Removes Risk Of Higher Interest Rates
So, now that I have laid out why I see inflation picking up steam heading into the second half of the year, what do we do about it? One way, in my opinion, is to prepare for higher interest rates sooner than expected. To do this, investors should focus on lowering the duration of their portfolios. This is a measure of interest rate sensitivity, and has grown substantially for many fixed-income funds as issuers have locked in low rates for extended maturities. By contrast, BGT has a very low duration because, as noted, the interest income the fund should collect will rise along with the higher rates. This puts the fund's duration at a low level, actually under 1 year:

Source: BlackRock
I bring this up because investors have many options when it comes to finding higher income streams. BGT, with its leveraged, below-investment grade exposure in loans, is just one way to do this. Another way is to buy below-investment grade corporate bonds, through funds like the BlackRock Corporate High Yield Fund (HYT). While this is a viable option, and one I have recommended in the past, I see it as an inferior choice when (and if) interest rates rise. To understand why, consider that HYT's duration is almost 5 years:

Source: BlackRock
This compares negatively to BGT, if rates do increase. That is because HYT is likely to see a 5% drop in value for every 1% increase in interest rates. Again, if rates do not increase, or even move lower, this point is moot. But, if inflation does take hold and rates head higher, the performance differential between these two options will be noticeable.
With this backdrop, it is understandable why investors are beginning to favor corporate loans at the expense of high yield bonds. With inflation expectations rising, investors have been adjusting their portfolios, moving into the leveraged loan market at the expense of high yield bonds. To illustrate, consider the capital flows for both in Q1. After quarters of outflows for loans, Q1 saw a sharp rise in inflows. The story for high yield bonds was the reverse: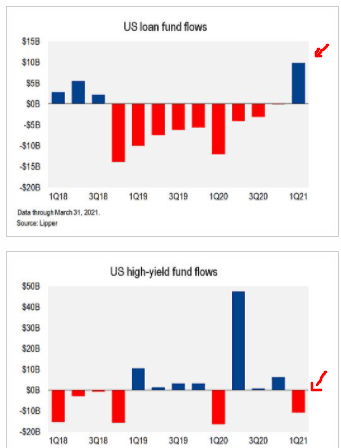 Source: S&P Global
The point here is investors may be wise to follow the trend here, as the rotation from high yield bonds to loans has a valid thesis. Through buying BGT, investors have an option to take advantage of this market development.
Attractive Discount To NAV
The next attribute for BGT I find attractive is the fund's valuation. This is a straightforward metric, so I won't discuss this in great detail. Suffice to say, I find BGT's discount to NAV tempting, as it sits just under 8%, as shown below:

Source: BlackRock
All things being equal, a discount is the preferable way for me to invest, so BGT seems to offer some value here. Investors have a chance to buy into this sector for less than the underlying securities are worth, and that should help to limit downside risk. Further, with equities looking pricey across the board, moving into an alternative asset class makes sense inherently. When I factor in BGT's discount, the case for putting some capital to work here, as opposed to building to my equity positions, gets even stronger.
Any Downside? Income History and Metrics
Of course, buying BGT is not a sure thing. As I noted in this review, I have a cautiously optimistic outlook for this fund. But I am not overly bullish, because the thesis assumes inflation will pick up and central banks will act. Both of those scenarios are by no means guaranteed. Further, covid-19 cases are spiking through the developing world, namely in India, and that could derail price increases for many commodities if economic expectations soften.
Further, there are micro-reasons to be cautious on BGT. For one, the fund's income history is a bit mixed. On the surface, the yield above 6% looks attractive and the floating rate make-up of the holdings is ideal if rates rise.
However, given that short-term rates have remained in a narrow range, there has been pressure on this fund over the past year. In fact, current metrics suggest BGT is under-earning its stated distribution rate right now:

Source: BlackRock
This is always a concern of mine, but it is especially relevant because BGT recently cut its distribution. While a cut is never ideal, in my opinion, it can be necessary to align actual income with what the fund has stated it will pay. The bad news is, BGT just cut its distribution back in December, as shown below: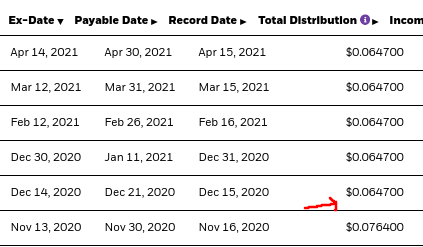 Source: BlackRock
My conclusion here is the fund just saw an income cut, yet it is still struggling to earn enough to maintain this prevailing, lower payout. Therefore, income-oriented investors should evaluate this reality before getting too aggressive on this option for the time being. Unless income metrics improve, another cut could be in the cards if interest rates stay put.
This Is Still A Riskier Fund
The final point to make is to emphasize that this investment option is not for the risk averse. Yes, I see some potential for BGT, given its objective and discounted valuation. However, investors need to recognize these loans, while secured, are still considered below-investment grade. In fact, the vast majority of BGT's holdings are rated B, which is solidly in the junk rating universe:

Source: BlackRock
The takeaway is that these loans, and their income streams, are on the riskier side of the debt universe. Investors should understand this 6% yield comes at a price, and that price is more credit risk. While I believe an improving macroeconomic backdrop will keep actual defaults and delinquencies low, I want to manage expectations here. If conditions deteriorate, these are the types of loans that will fail first. So investors need to evaluate their own risk tolerance before diving in.
Bottom Line
BGT offers investors floating rate exposure at a discounted price. With inflation likely in the second half of the year, planning for higher interest rates could be the right move. Of course, BGT has some risks, such as a junk debt profile and some income weakness. Those factors balance out a bullish story behind the floating rate exposure. As a result, I see a buy case here, but only for investors who can tolerate more risk and who believe inflation will materialize and sustain itself. Therefore, I am considering a position in BGT, but suggest investors consider this fund critically at this time.