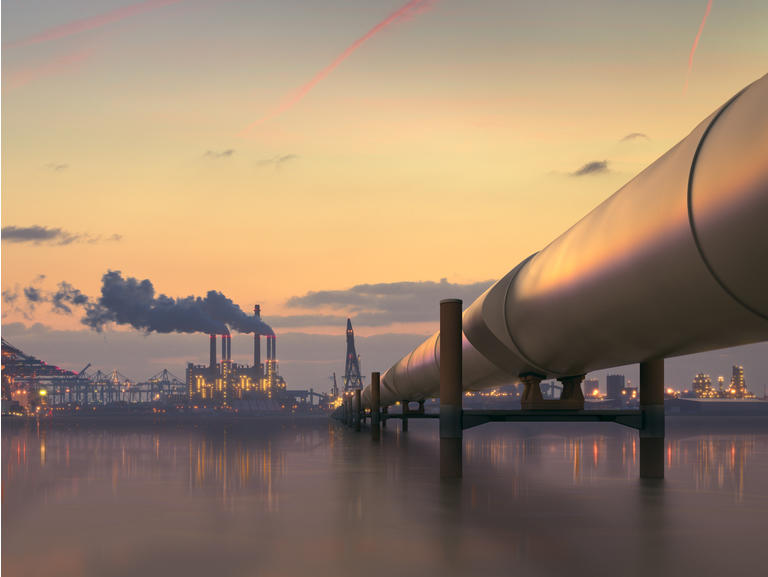 Magellan Midstream Partners (NYSE:MMP) is one of the highest quality operators in the midstream space and with units yielding 9%, you may be wondering if it is a strong buy. While I was a buyer of MMP when it was yielding double digits, my opinion regarding the future of both energy stocks and their underlying pipeline infrastructure has changed materially since then. MMP has high exposure to crude oil and refined products, both of which I view to have strong secular headwinds as we come out of the pandemic. To make matters worse, MMP has a low distribution coverage, which heightens the risk of a distribution cut. In light of my pessimistic forecast, I cannot recommend buying MMP at current prices.
MMP Stock Price
MMP fell hard in March and April when the pandemic first hit, as it was unclear how the energy sector would fare during the turmoil.

MMP has recovered significantly from lows, and now trades with 33% upside to pre-pandemic levels - but is it a buy?
Magellan Midstream Partners Business Model
MMP is a midstream pipeline company focused on transporting refined products and crude oil.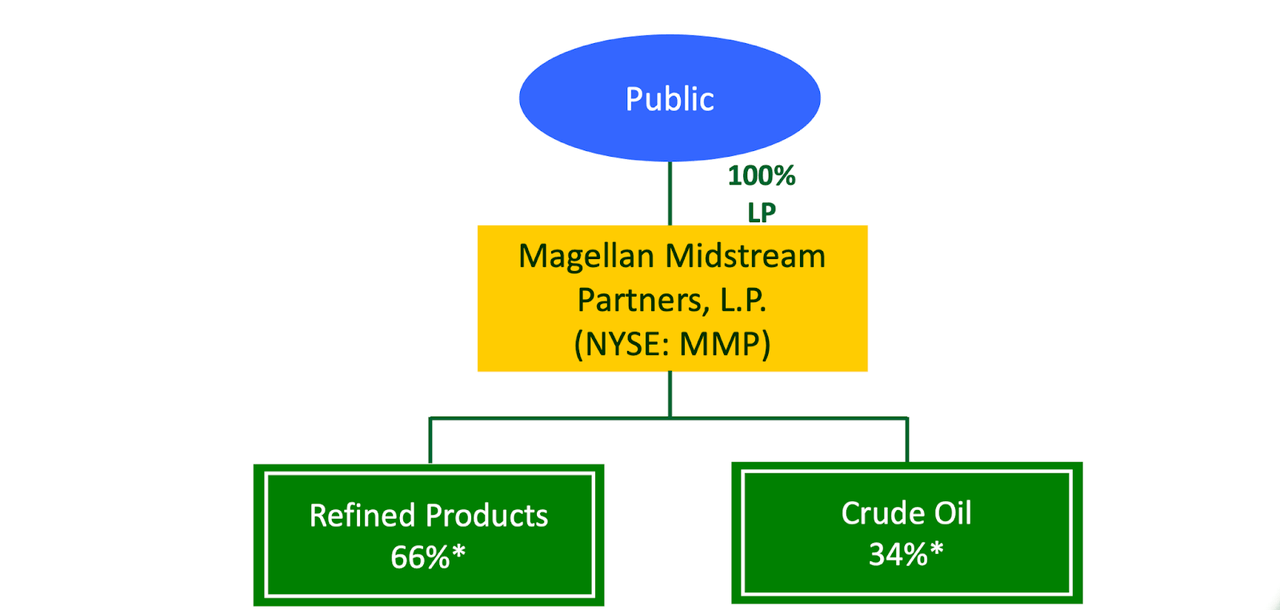 MMP owns the longest refined petroleum products pipeline in the country at an astounding 9,800 miles in length. Refined petroleum primarily refers to gasoline and diesel fuel.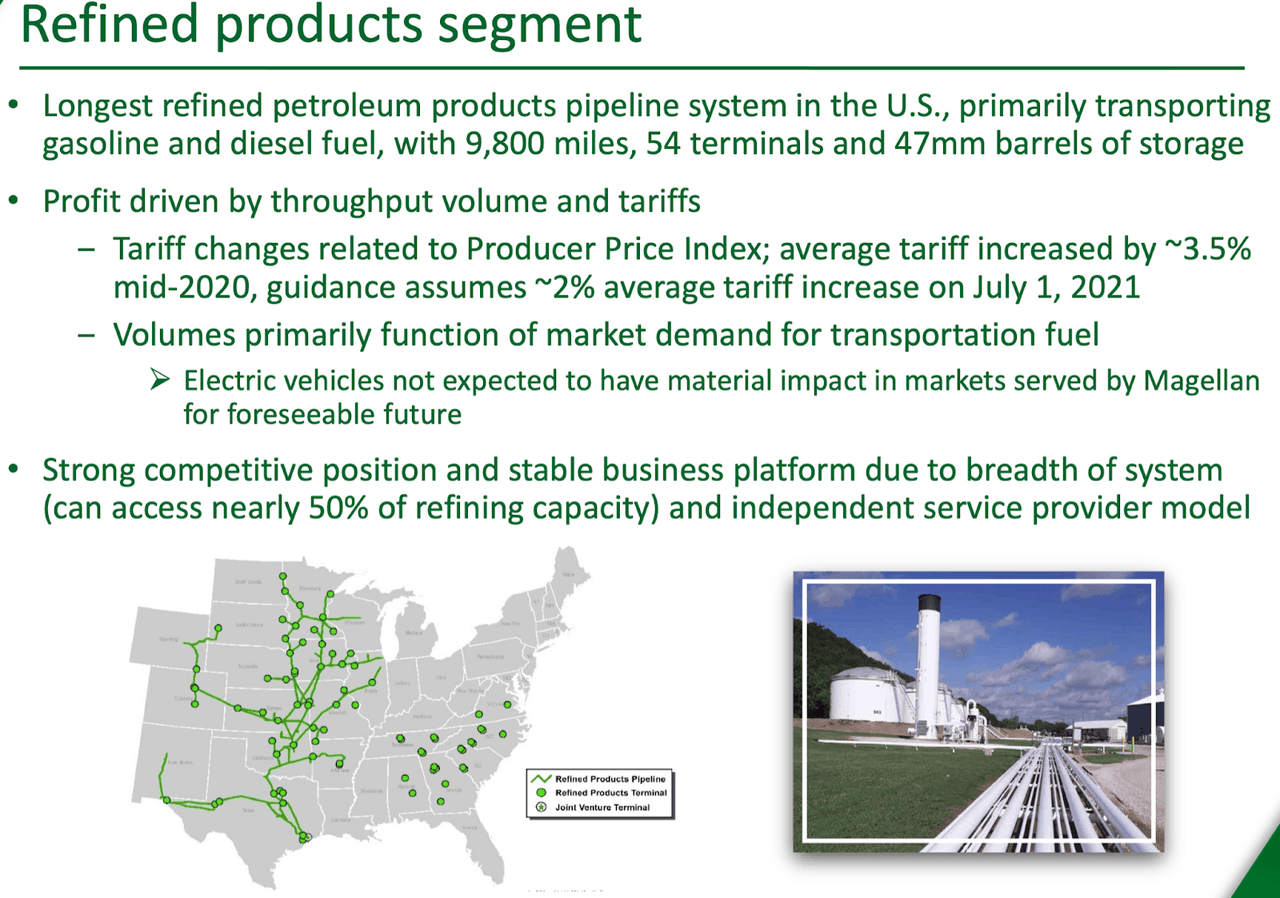 Historically, dividend investors looking to invest in the energy sector have preferred to invest via midstream operators like MMP because much of their business is fee-based.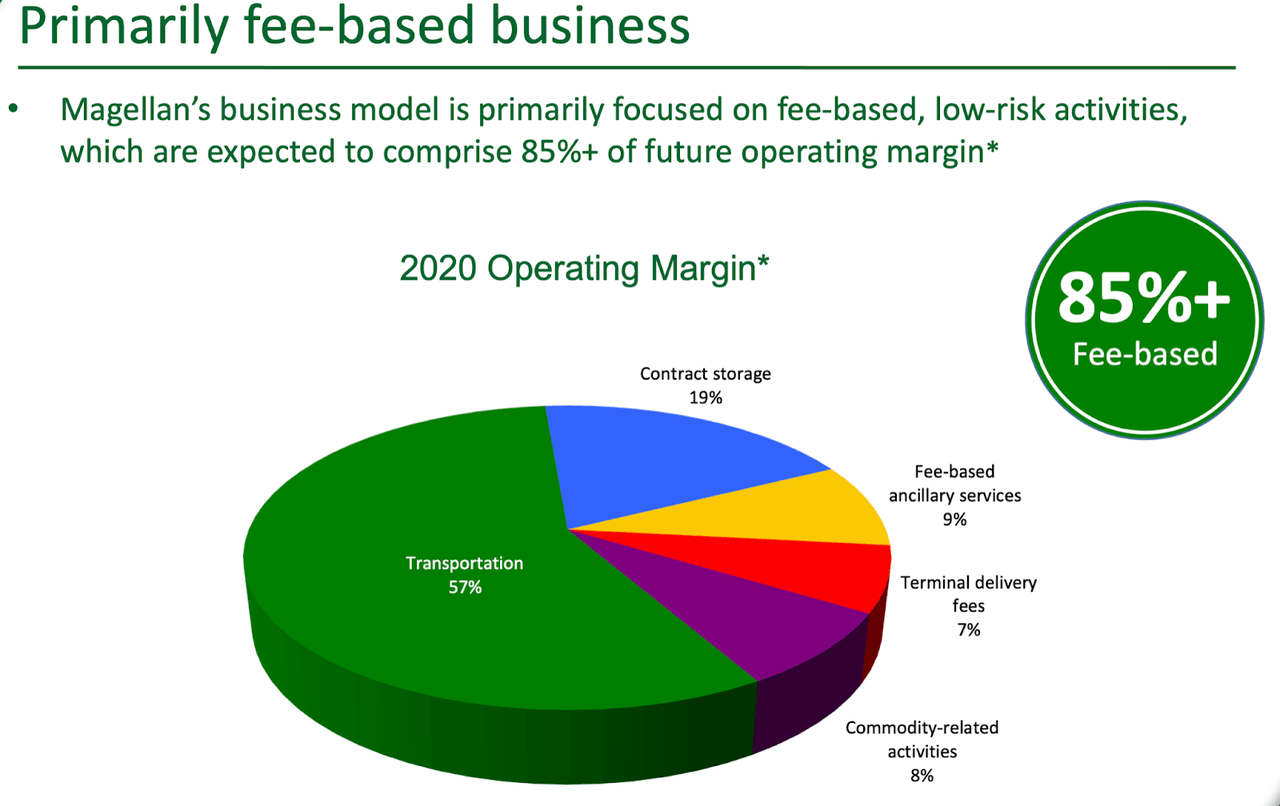 Speaking of dividends, is MMP's distribution safe?
Is MMP Stock Dividend Safe?
MMP has grown its distribution for 20 years and yields a generous 9% at current levels.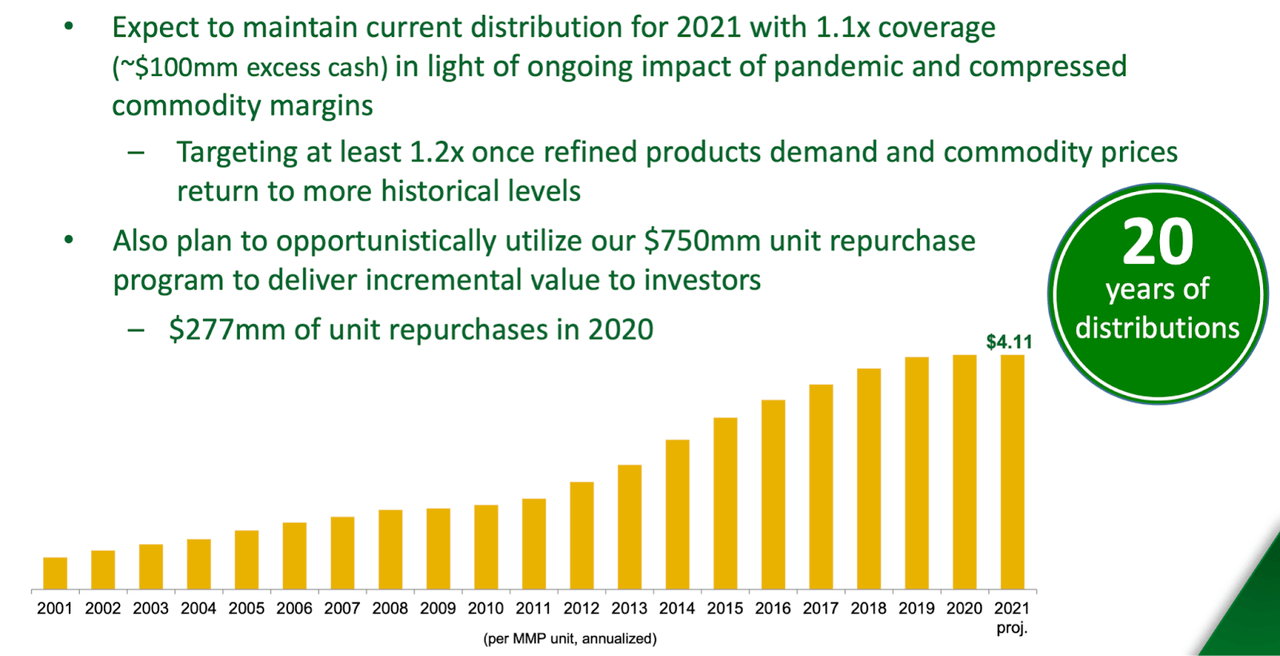 Coverage based on distributable cash flow ('DCF') is expected to be only 1.1 times in 2021 - much lower than the 1.5 times seen at Enterprise Products Partners (EPD). Historically, that low level hasn't been a problem for the following reasons. First, MMP maintains one of the strongest if not the strongest balance sheets in the sector, with debt to EBITDA at only 3.5 times.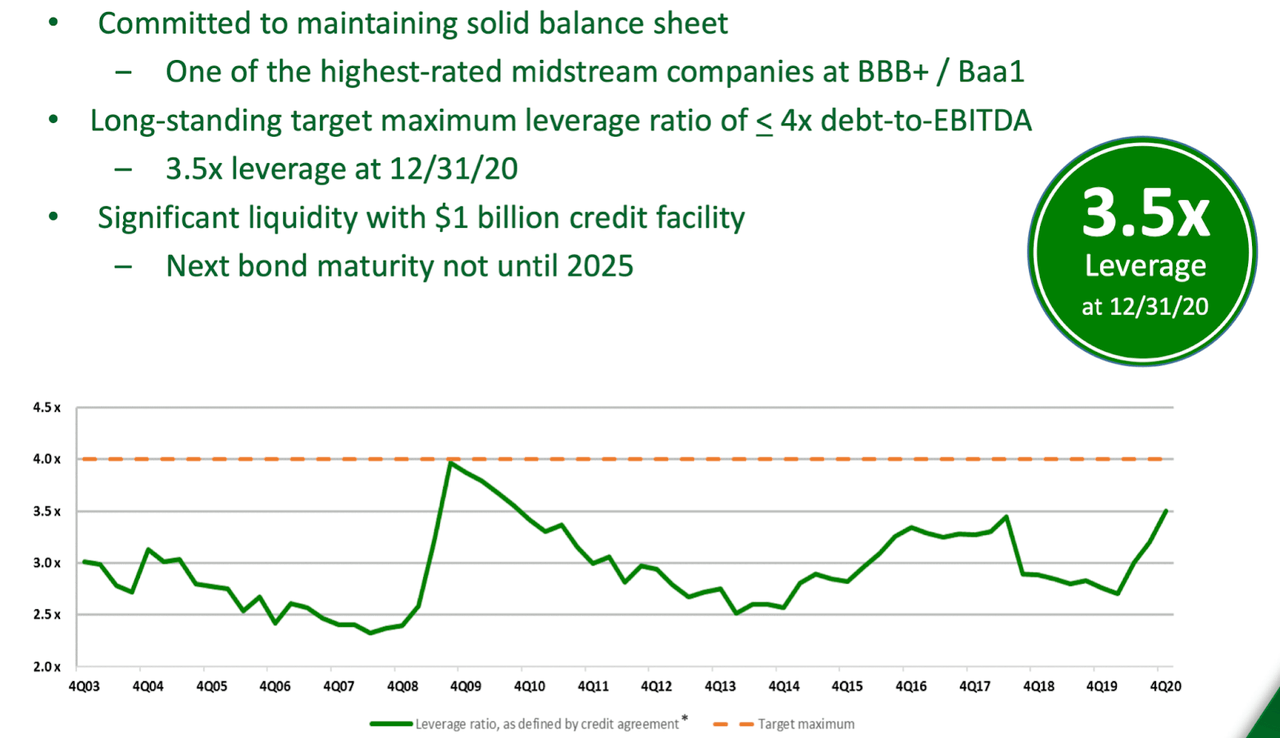 MMP has delivered strongly on growth projects with best in class returns as compared to peers.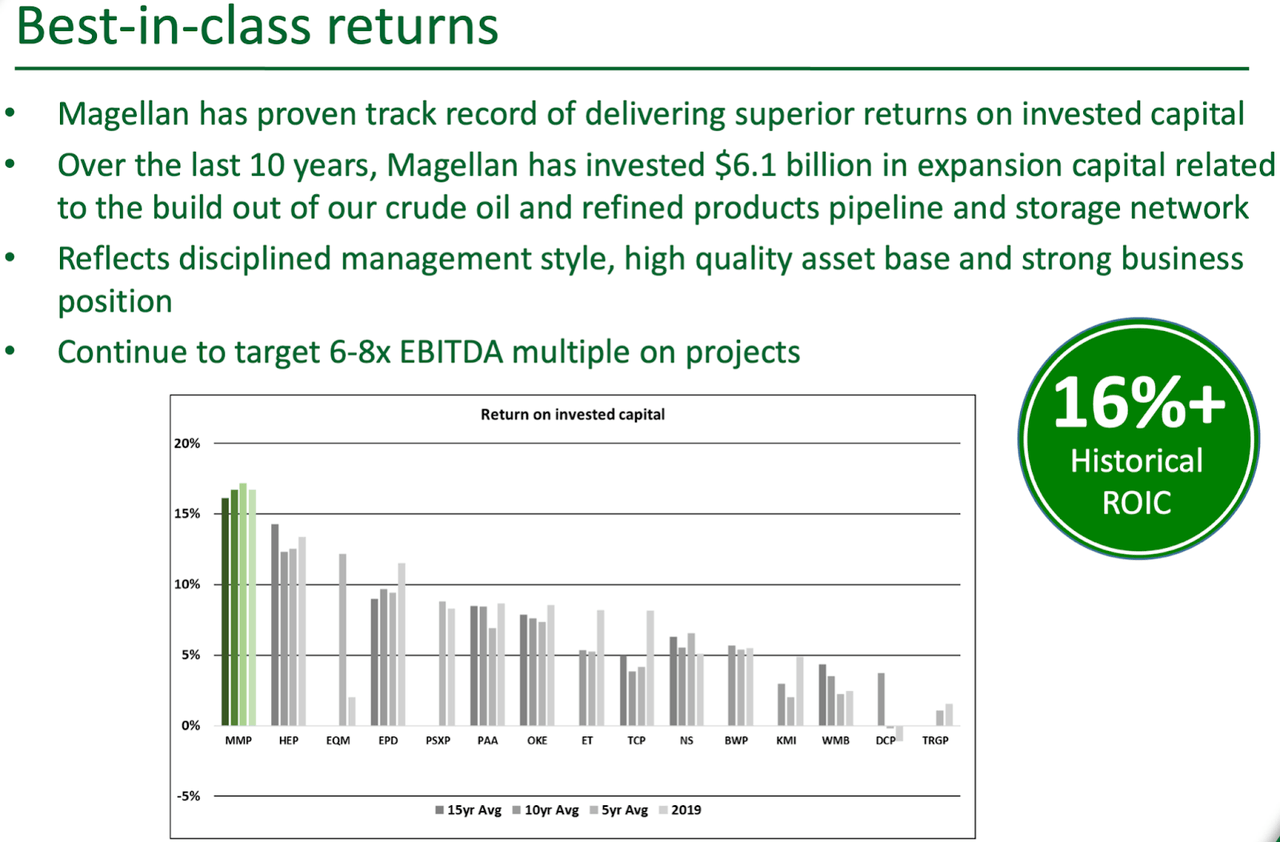 The last but most important metric to track is return on assets ('ROA') based on DCF. As stated above, MMP is constantly investing in growth projects because growth is primarily driven externally. As such, it makes sense to track the profitability of MMP's assets over time, to determine if the company is able to maintain its profitability margins even with growing assets. DCF is appropriate to use as the numerator because MMP's leverage has remained low and is still relatively low to peers.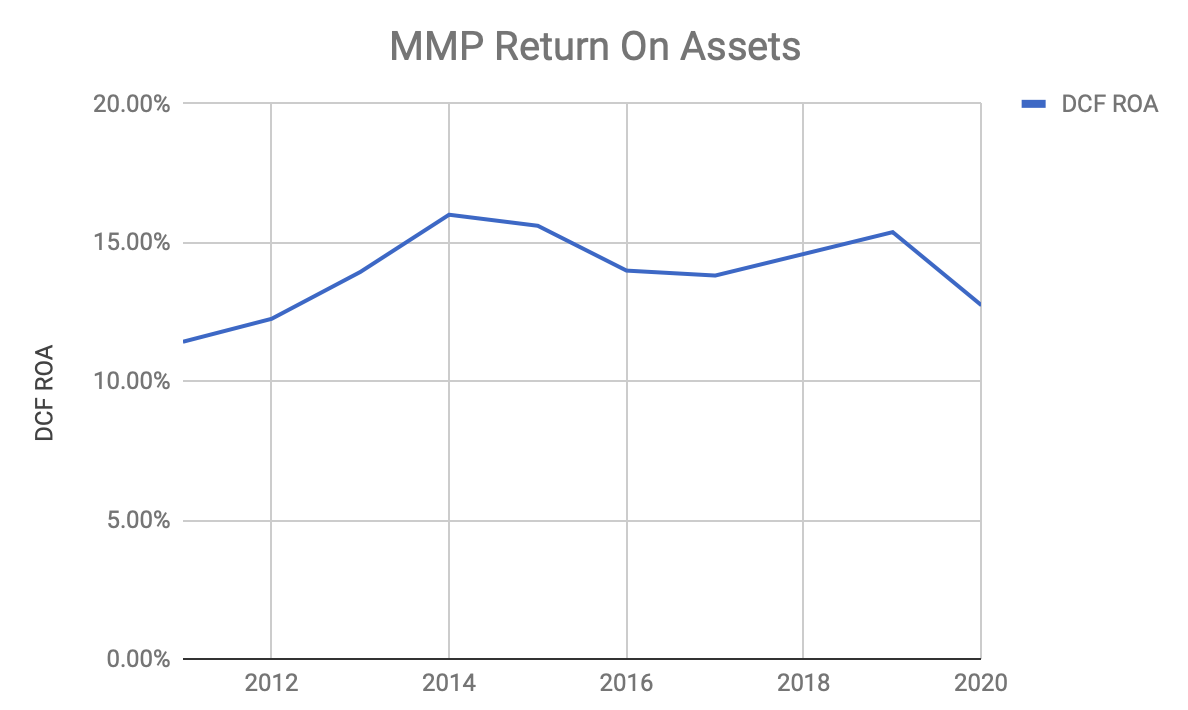 (Chart by Best of Breed, data from annual filings)
As we can see above, MMP has maintained high ROA in the double-digits even after the 2016 crash in energy prices. In my view, the ROA is the primary differentiator between MMP and peers, as it shows that the company has executed strongly on growth projects with a track record of maintaining profitability even at lower energy prices.
Is MMP Stock A Buy?
With 33% upside to pre-pandemic levels, is MMP a buy? MMP has guided for 2021 to see distributable cash flow of $1.02 billion. That suggests MMP trades at just around 10 times DCF. On the conference call, MMP suggested that 2021 capex spending might fall around $100 million - far lower than the $355 million spent in 2020. That actually suggests the distribution would be most nearly fully covered by DCF in 2021. Still, my opinion of MMP has turned for the worse. The upside seems limited - I have a hard time seeing MMP trade below a 7% yield. At current prices, that's just 30% total return upside. Due to an increasingly optimistic outlook for the growth of electric vehicles, solar panel adoption, and renewable energy in general, I have grown pessimistic regarding my forecast for oil prices and demand. I think that MMP investors may be underestimating the risk in volumes moving forward. If oil prices are pressured, then MMP's counterparties might not be able to produce profitably. This in turn may cause them to not renew their contracts with MMP. Typically one might consider midstream operators like MMP to be a "toll road," an entity that is insulated from the volatility in oil prices. That is somewhat true, but MMP investors are highly advised to pay attention to the profitability metrics of oil producers, as a prolonged steep decline in profitability might suggest future downside surprise for midstream operators like MMP. I would be more interested if MMP traded at a 12% yield, or 25% lower than current prices.
Does Magellan Midstream Partners Issue A K-1 Tax Form?
MMP does issue a K-1 tax form. Some investors may have extensive experience in K-1 tax filing and thus may not find it an issue, but others might find the hassle yet another reason to avoid buying MMP. One could theoretically avoid the K-1 tax form by owning MMP through call options instead of units, but that would forego the distribution. I view such a method as unsuitable at current prices because I expect the distribution to drive the bulk of forward returns.
Conclusion
MMP traditionally has been one of the highest quality midstream operators, but I'm concerned that it's among the highest quality in a bad space. I don't necessarily expect a rapid deterioration in financials in the near term, but I wouldn't rule out management reducing its distribution preemptively in order to bring down leverage. If the energy sector continues to perform strongly, then I wouldn't be surprised if MMP delivers robust returns for unitholders in the near term. However, I am wary of the long term outlook, as I see increasingly greater risk that some counterparties might not renew their contracts over the next several years. I am neutral on MMP at current prices.