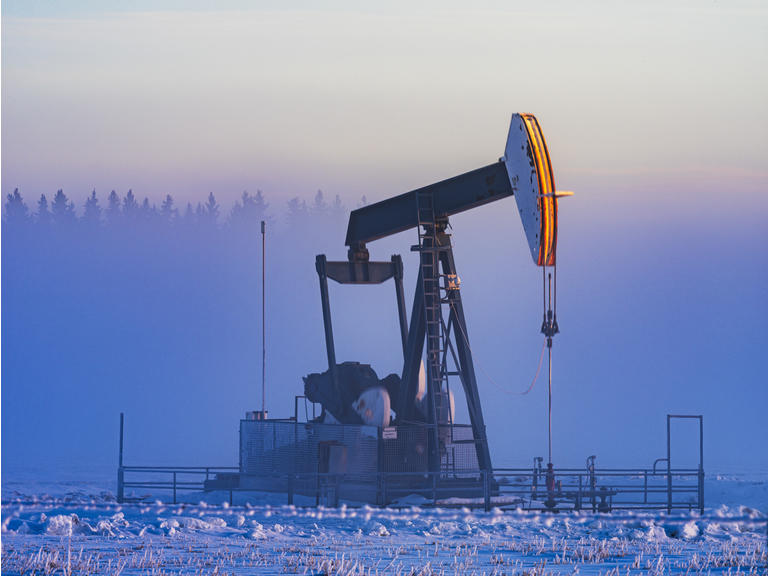 It has been a great year for the Direxion Daily S&P Oil & Gas E&P Bull 2x Shares ETF (NYSEARCA:GUSH) and the fund's future is also looking bright. So far, its bullish run has been driven by the surge in oil prices, but moving forward, the performance of its underlying holdings - the US shale oil producers - might play a big role in pushing the ETF higher. The shale drillers, many of which struggled with losses last year, seem all set to post a big jump in earnings, deliver robust free cash flows, and boost shareholder returns in 2021 with oil trading in the $60s a barrel. This might create profit-making opportunities in the Direxion Daily S&P Oil & Gas E&P Bull 2x Shares ETF for traders.
GUSH: A 2x Leveraged Oil ETF
The Direxion Daily S&P Oil & Gas E&P Bull 2x Shares ETF, or GUSH, is a leveraged fund that uses borrowed capital to give its shareholders twice as much daily investment results as compared to its underlying index. In other words, it gives investors $2 exposure for every $1 in the index - the S&P Oil & Gas Exploration & Production Select Industry Index which is one of the most popular energy sector indices that tracks the performance of all of the leading US-based oil and gas producers ranging from the oil majors like Exxon Mobil (XOM) and Chevron (CVX) to independent shale oil producers like Pioneer Natural Resources (PXD) and Callon Petroleum (CPE). The SPDR S&P Oil & Gas Exploration & Production ETF (XOP), which is one of the largest energy funds with more than $3.5 billion of assets under management, also tracks the same index. But unlike GUSH, XOP is a non-leveraged ETF that simply tracks the performance of the index on a 1:1 basis.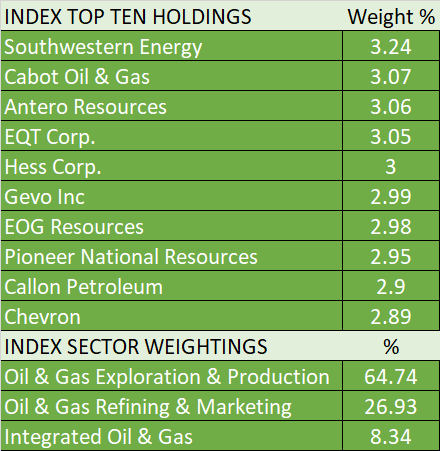 Image: Author
In my opinion, XOP might appeal to those investors who are bullish on oil prices and expect the shale drillers to perform well in the future, which I've discussed in my previous article. GUSH, on the other hand, like many leveraged ETFs, is more suitable for traders who are looking for short-term opportunities. There are some ETFs that use modest leverage of 20% to 40%, such as the InfraCap MLP ETF (AMZA) that concentrates on midstream master limited partnership, that could appeal to those who can tolerate a bit of leverage-related risk and are looking for buy-and-hold type of investments. But there are many ETFs like GUSH that use 2x, 3x, or even 4x leverage and are typically more volatile, costlier, and have a higher risk profile than other non-leveraged funds.
Besides, since GUSH seeks daily investment results, its performance over a period of more than one day can deviate substantially from its underlying index. This means that a 20% rise in XOP's shares over, say one month, might not necessarily result in a 40% (2x20%) increase in GUSH's value. The leveraged funds, in my opinion, are more suitable for active traders who closely follow market movements and can quickly move in and out of positions, as opposed to passive investors.
Time For Shale To Deliver
GUSH's performance is influenced heavily by movements in oil prices and the performance of US-based energy companies, particularly the oil producers. That's because GUSH's target index has 50 energy companies and is tilted heavily towards the integrated majors and independent oil producers who together hold a total index weight of 73%. These companies get their revenues primarily through crude oil sales. The remaining 27% are represented by oil refining and marketing companies whose performance is linked more closely with oil consumption, albeit they also have indirect exposure to the commodity's price.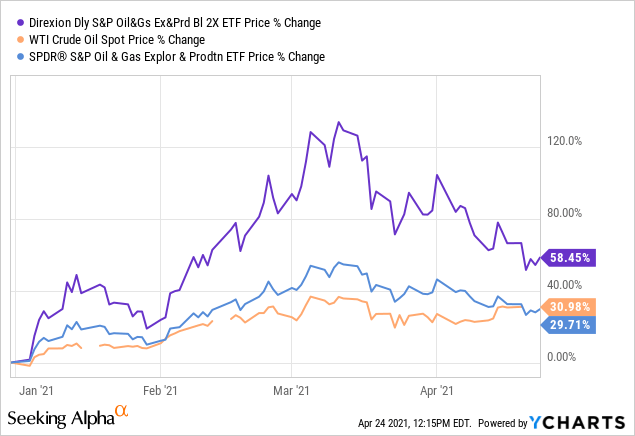 GUSH has so far posted gains of 58% on a year-to-date basis, with the rally being driven in large part by the increase in oil prices that has improved the earnings outlook of oil producers. The US oil price (WTI spot price) has climbed by 31% this year to $63 at the time of this writing. The gains came after governments around the world rolled out vaccination campaigns, global business activity started to normalize, and energy demand began to recover. The commodity also received a lot of support from OPEC and its allies. The 23-nation group, led by Russia and Saudi Arabia, kept a tight lid on supplies. The US shale drillers also reduced drilling activity and the US oil production dropped by almost 2 million bpd in 2020. But now, as the demand recovers, OPEC+ is gradually growing production.
OPEC+ will slowly bring a little more than 2 million bpd of production to the market in the coming months. The group will increase its production by 350,000 bpd in May, a similar increase in June, and around 400,000 bpd will be added in July. In the meantime, Saudi Arabia will reverse its voluntary production cuts of a million bpd. The group is exercising restraint and likely won't flood the market with additional volumes. The US oil producers are also not aggressively pursuing production growth. Instead, a vast majority of the integrated majors and the E&P companies are targeting modest growth in oil production, at best, with some of the leading E&Ps like EOG Resources (EOG) choosing to keep their production flat.
In my view, it is because of this cautious approach from OPEC+ and shale drillers that oil prices have remained strong in the $60s a barrel. But crude may have limited upside potential from the current levels if OPEC+ and the US oil producers keep bringing additional barrels to the market that might be enough to satisfy the growing demand. Oil prices have surged by 30% this year but I think a similar increase that could push WTI to $80 a barrel might be difficult in an environment where the increase in demand matches the increase in supplies. For GUSH, this means any additional gains will have to come from the performance of its underlying holdings.
The US shale drillers have grown production at a rapid pace in the previous years but burned cash flows in the process and haven't delivered meaningful returns for shareholders. After facing pressure from investors, the E&P companies have reined in spending and promised capital discipline. Several shale executives have claimed in the past few months that the era of high production growth is over and the industry is now concentrating on generating healthy returns, robust free cash flows, and boosting shareholder value. Several fast-growing shale oil producers have significantly tapered down their production growth forecasts. Pioneer Natural Resources, which has been one of the fastest-growing shale oil producers that targeted a 15% or higher increase in oil output a couple of years ago, is now eyeing 5% annual oil growth over the long term. Others like EOG Resources are keeping volumes flat, as mentioned earlier. The E&P companies have claimed that their priorities are aligned with those of shareholders and they are now more focused than ever on lifting returns. With oil now at $60 a barrel, it's time for the oil producers to deliver on their promises.
The increase in oil prices is going to lift the earnings and cash flows of oil producers. The oil producers realized low oil prices of just around $30s a barrel in 2020 and most companies, including the industry leader Exxon Mobil, incurred substantial losses. But these companies will sell their crude at a much higher price in 2021 which should push a vast majority to profits.
What's great is that shale oil producers did hold up well during the downturn. Even as oil prices crashed to historic lows in 2020, with the US oil spot price averaging as low as $16.55 per barrel in April and just $39.17 for the full year, several shale oil producers managed to preserve cash flows and protect balance sheets. Although the industry witnessed dozens of bankruptcies, the situation wasn't as bad as many feared and the mid-to-large-cap companies generally stood firm in the turmoil. The E&P companies adapted quickly to the changing environment by curtailing drilling activity, slashing CapEx, reducing production, and pushing operating costs lower.
In fact, some of the leading oil producers like Pioneer Natural Resources and EOG Resources, who are among GUSH's top-10 holdings, even generated free cash flows in 2020. Pioneer Natural Resources, which operates in the oil-rich Permian Basin region in West Texas, reported $689 million of free cash flows for 2020. EOG Resources, which pumps oil from the Permian Basin and other regions, reported $1.6 billion of free cash flows for last year. They did this while operating in a $39 a barrel oil price environment. At $60 oil, it is reasonable to assume that these companies will likely generate substantially higher excess cash in 2021. Additionally, other oil producers such as ConocoPhillips (COP), Diamondback Energy (FANG), and Callon Petroleum who have a low cash flow breakeven level of around $40 to $50 a barrel, should also generate robust free cash flows this year with oil in the $60s.
The oil producers will likely use the excess cash to reward shareholders with dividends. Some companies like Pioneer Natural Resources have adopted a fixed-plus-variable dividend model. They intend to pay a small base dividend which will be grown at a modest pace each year and a higher variable dividend which will be paid during the good times when the company sees high commodity prices. Pioneer Natural Resources has said it will return up to half of this year's free cash flows (in excess of base dividend) to shareholders as a variable dividend in 2022. Other E&Ps such as Continental Resources (CLR), who carry high levels of debt, may use a large chunk of the free cash flows for debt reduction purposes. Either way, both dividend growth, and debt reduction should have a positive impact on stock performance and valuations.
Takeaway & Risks
The US oil producers will likely grow earnings and report strong levels of free cash flows in 2021 which should help push their shares higher. That's going to have a positive effect on the S&P Oil & Gas Exploration & Production Select Industry Index's performance which will drive a rally in GUSH. I suggest investors use a combination of fundamental analysis and rely on technical factors before buying its shares. For instance, investors might want to consider buying when GUSH falls into the oversold territory, with the Relative Strength Index falling into the 30s (currently at 42).
That being said, it is important to remember that GUSH is a high-beta play and is not suited for defensive investors. Its performance, like most 2x leveraged funds, can be highly volatile. Moreover, although the ETF has the potential to deliver twice as much returns as its index, investors can also incur twice as much losses if the index comes under pressure. If, for instance, the coronavirus cases start to rise uncontrollably in major oil-consuming countries, then that could hurt oil prices. Note that we are already seeing a dangerous situation in India where the virus is taking a record toll on precious lives. If we begin to see a similar rise in other Asian countries, then that could push oil prices down. In that case, the S&P Index might decline and GUSH could fall by twice as much.