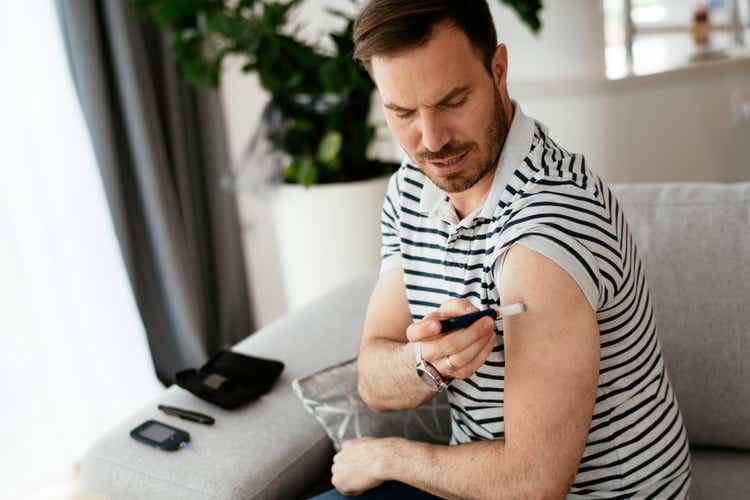 After 42 years in business, Antares Pharma (ATRS) reached a key milestone in 2020, becoming profitable over a full year for the first time, earning $0.06 per share. ATRS has had its share of setbacks over the years but now seems poised to substantially grow revenue and earnings, yet Wall Street has not shown much enthusiasm. The share price approached $5 in late 2019 and again in early 2021, but once again has retreated back to about $4. Is lack of love for a boring stock an opportunity? I am a long-term (8-year) ATRS investor. As I began to write this article I assumed I would be making a bull case. Where I ended up is convinced ATRS is fairly valued at $4 per share and share price increase is likely to be a slow grind, requiring catalysts that right now are not evident.
ATRS has two problems:
1) They operate in a crowded space with lots of competition. They develop products either as generics via the ANDA process with 6-month exclusivity if first-to-file, or by the 505((b))(2) pathway, which affords 3-year exclusivity. As soon as ATRS launches a new product, competition is just around the corner with a product that may be similar or better.
2) As a corollary to problem 1, ATRS is secretive about most products in development until they are close to launching. This secrecy is necessary for the business but makes valuation of the company impossible. Modeling revenue and income after 2022 will depend on guesswork, an comfortable situation for investors.
In the next sections we review the current and future products to understand threats and opportunities. Antares has 3 proprietary products commercialized and two in development, along with four commercial products and four development candidates that are partnered, as summarized in the image below.
Antares Portfolio of Commercial Products and Development Programs

Source: Antares Investor Presentation, March, 2021
XYOSTED
XYOSTED is a once-weekly subcutaneous injection of testosterone enanthate (50, 75, or 100 mg in 0.5 mL solution of sesame oil) provided in a single-use mini-needle autoinjector, indicated for men with low testosterone, referred to as "testosterone replacement therapy," or TRT. Testosterone enanthate is an ester that is slowly hydrolyzed to testosterone in the body, providing for steady exposure with once-weekly dosing. XYOSTED provides several potential benefits over other treatments such as topical gels and intramuscular (IM) injections, including nearly pain-free administration at home, low risk of transfer to others as compared to topical gels, and the ability to achieve and maintain steady levels of testosterone.
Antares launched XYOSTED in late 2018 after overcoming about a year delay due to a complete response letter (CROL). The image below shows the prescription build by quarter for the first two years of the launch. The blue bars represent new prescriptions and the orange bars the refills. On the 4Q2020 earnings call, CFO Fred Powell stated XYOSTED sales were $46.5 million in 2020 and $20.8 million in 2019.
Prescription Growth of XYOSTED Since Launch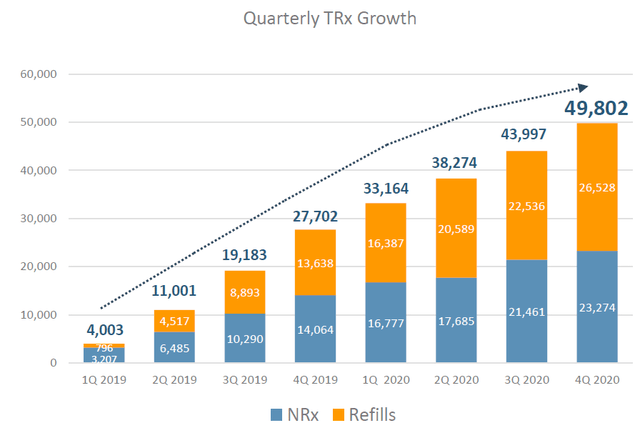 Source: March 2021 investor presentation
For investors, the key question is estimating the revenue XYOSTED will generate over the next few years. Key factors include:
product performance - patient satisfaction, doctors writing more scripts, broad insurance coverage
competition - if and when competing subcutaneous products enter the market, if competing products are superior (biweekly) or cheaper
competition from newly approved oral products
The substantial growth of the product during 2020, especially new prescriptions, is impressive given the large drop in patient visits to doctors. Refills are slowly starting to outpace new prescriptions. This is critical to growth as patients and doctors become comfortable with the product. These patients and doctors will be less likely to transition to competitors' products when they become available.
The injectable TRT market is growing rapidly, as shown in Table 1, partly driven by an uptake of XYOSTED. The good news is that XYOSTED still only accounted for 9.7% of the injectable market in 2020, so there is considerable room to grow.
Table 1. US TRT Market and XYOSTED Market Share

Year

TRT Injectable Sales (millions)

YoY growth (%)

XYOSTED Market Share of TRT Injectables (%)

2017

339.4

--

0

2018

357.7

5.4

0

2019

411.7

15.1

5.1

2020

480.7

16.8

9.7
Source: Antares 10-Ks
Significant competition could come from newly developed oral formulations. Clarus launched Jatenzo in February 2020, a twice-daily oral soft-gel formulation of testosterone undecanoate, after receiving approval in March 2019, and has been granted 3-year market exclusivity. The long delay between approval and launch was no doubt damaging as the product was launching right as the pandemic hit after already losing a year of their exclusivity. Clarus is not a publicly traded company and have not reported sales in 2020. The bigger challenge to Antares could be a sale or partnership of Jatenzo with a larger pharmaceutical company with a capable marketing group. Lipocine recently received tentative FDA approval for an oral formulation of testosterone undecanoate, Tlando, but will not be able to start selling until March, 2022.
From the growth of the TRT injectable market over the past 4 years, and despite the entry of oral TRTs, the subcutaneous TRT market should continue to grow substantially in the years ahead. The bigger question is when there will be competing subcutaneous products. With approval via the 505(b)(2) pathway, Antares received 3 years of exclusivity. This would mean competitors could gain approval as soon as October 2021. Having a 3-year head start on the competition with a first-in-class product is an advantage for Antares since they have had time to establish their brand with patients and providers.
We are estimating an increase in XYOSTED revenue from $46.5 million in 2020 to $70 million in 2021, a 50% YoY increase, or an average of 8% QoQ growth. For 2022, we are estimating 20% growth to $84 million, 10% growth in 2023 to $92 million, then flat for 2024 and 2025 as we see more competitors enter the market.
The US accounts for about 80% of the global TRT market, with 14% in Europe and 6 % in Asia. While ex-US may seem like too small of a market to pursue, TRT therapy is underutilized ex-US and could be an excellent opportunity for an improved product like XYOSTED. In August 2020 the company entered into an agreement with Lunatus to sell XYOSTED in Saudi Arabia and the UAE. We anticipate Antares will continue to pursue ex-US partnerships for approval and marketing outside the US, perhaps bundling as a urology package with NOCDURNA and ATRS-1901. As a partner with a global presence, TEVA would seem like a perfect partner for XYOSTED ex-US.
EpiPen
ATRS partner Teva (TEVA) received approval for EpiPen (0.3 mg) and EpiPen Jr (0.15 mg) in the US on August 18, 2018, nearly 4 years after their initial submission. TEVA launched EpiPen in Dec 2018 and EpiPen Jr in Aug 2019.
As shown in the image below, the launch of Teva's EpiPen has been very successful, with nearly 50% capture of the EpiPen market by the end of 2020. This chart, provided by ATRS in their March 2021 investor presentation, only includes Teva and Mylan EpiPen and not other epinephrine injector products. Amneal/Impax sells a generic version of Adrenaclick which had scripts similar to Teva and Mylan in 2020.
As noted in the 4Q2020 ATRS earnings call, the overall market over the last two years has been volatile with the pandemic curbing the need for EpiPen. Vaccinations in 2021 are likely increasing sales as the large vaccine centers are stocking EpiPen supplies to by ready to treat any subjects that might experience anaphylaxis after vaccination.
EpiPen Prescription Trends for Years 2019-2020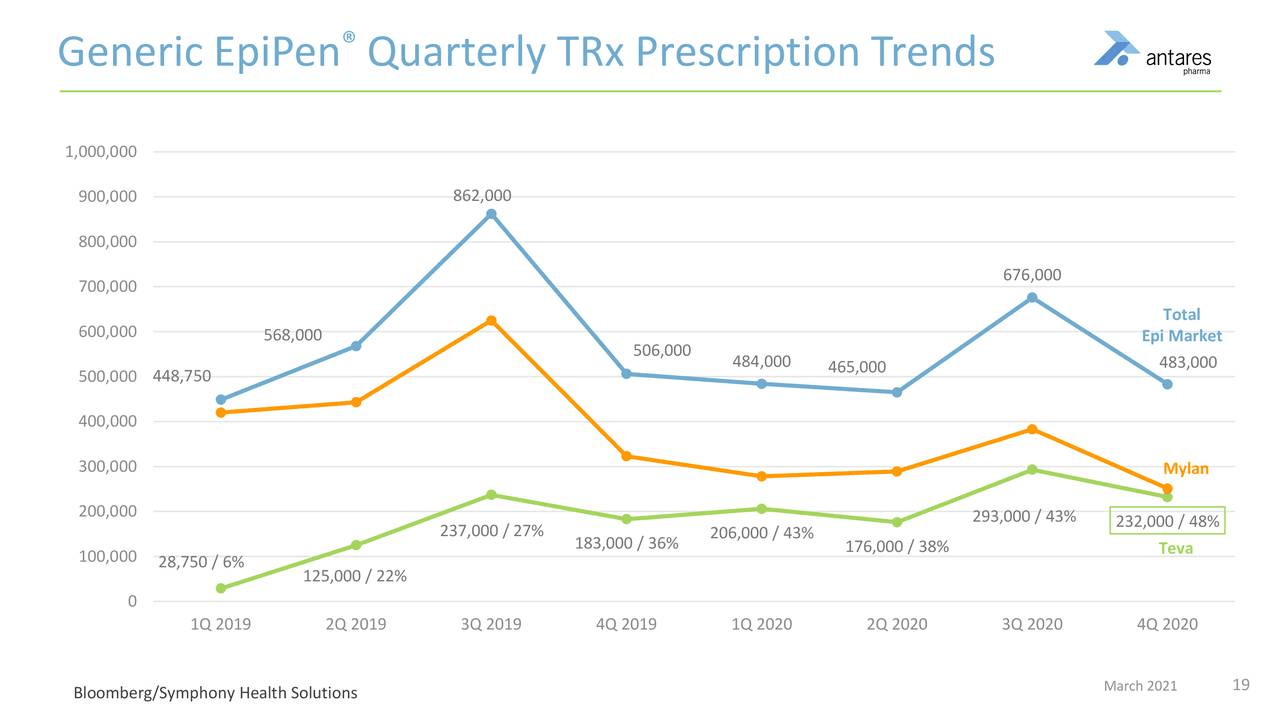 From Antares investor presentation, March 2021
The impact of the AB rating has been important since a prescription written for EpiPen can be filled with the Teva product. The FDA has approved several epinephrine auto-injector products in addition to EpiPen, including Adrenaclick (2013 approval but withdrawn), Auvi-Q (2012 approval), and Symjepi (2018). As noted above, an authorized generic of Adrenaclick is marketed by Impax/Amneal. Symjepi has captured only 1% of the market but Adamis has recently announced a deal with Walgreens that may spur sales.
Several other formulations of epinephrine are in development:
Nasal sprays from Bryn Pharma and INSYS/Hikma
More temperature stable autoinjector from Windgap Medical called ANDIPen
Smaller and more temperature stable autoinjector from RxBandz called MiniJect
Needle-free device from Crossject called ZENEO
Sublingual film from Aqeustive Therapeutics.
Based on sales of injectors and royalties, revenues from EpiPen for Antares were $50.9 million for 2020 (4Q2020 earnings call). With children returning to school in Fall 2021, prescriptions will likely increase to 2019 levels. Teva should retain close to a 50% share of the EpiPen market for 2021. We estimate an increase in sales of 10% for 2021 vs 2020, flat for 2022, then decreasing 5% per year as newer devices and delivery systems become available. The drop off could be more substantial given the level of competition and innovation that is on the horizon.
Makena
Antares developed an autoinjector for use with their partner AMAG's progestin hormone drug Makena to reduce the risk of preterm birth. The product was approved by the FDA in February 2018.
The approval of Makena was based on a clinical trial conducted in 2003 by the National Institute of Child Health and Human Development and the Maternal-Fetal Medicine Units Network. As a post-approval commitment, AMAG agreed to carry out a confirmatory study. This study failed to reproduce the original findings. In October 2020, the FDA notified AMAG that they were proposing to withdraw approval. AMAG stated that it will work with the FDA to maintain patient access to Makena. In November 2020, Covis Group acquired AMAG.
On the Antares 4Q2020 earnings call, ATRS noted that total revenue in 2020 from Makena was $14.2 million, a $10.6 million decrease from 2019. This suggests that its use has already been curtailed. We are estimating sales of $7 million in 2021 with likely withdrawal of the product and no sales beyond that.
NOCDURNA
Ferring commercially launched NOCDURNA in late 2018 upon approval by the FDA in June 2018 as a rapidly dissolving sublingual tablet that treats adult patients with nocturia. On October 1, 2020, Antares entered into an exclusive license agreement with Ferring to market NOCDURNA. Since Antares already has a sales force in the urology area for XYOSTED, this drug fits well with the urology portfolio and will allow marketing without much additional cost.
Antares has not provided any guidance on expected sales. We are taking a conservative approach with sales estimates of $5 million in 2021 and slowly rising after that. GoodRx has NOCDURNA priced at $423 for a 30-day supply. According to Antares March 2021 investor presentation, there is 80% insurance coverage at Tier 3 or better. Tier 3 is preferred brand-name drugs and requires a substantial co-payment.
New Products - Partnered
Forteo (Teriparatide)
Eli Lilly's Forteo (teriparatide) is a treatment for osteoporosis. Based on information from GoodRx, the current Forteo price is approximately $4000 for a pen containing 28 daily doses. Global sales of Forteo by Eli Lilly in 2018 were $1.6 billion. With generic competition, sales dropped to $1.05 billion in 2020.
Antares has partnered once again with Teva to bring AB rated generic teriparatide to the market. The Lilly patent expired in Aug 2019 so Teva has been waiting for US approval now for over 20 months. Approval has been granted in Canada, Israel, and 11 European countries.
The competition in the US and ex-US will be intense. Three generics in addition to Teva's have been approved and launched in the EU. One generic from Pfenex was approved in the US in October 2019 via the 505(b)(2) regulatory pathway and launched in June 2020 under the tradename BONSITY via its marketing partner Alvogen. Current pricing based on GoodRx is $1600-2000 for a 28-day supply, about half of the Forteo price. Pfenex asked for an AB rating but the FDA so far has not granted the rating and requested additional information in April 2020. Pfenex was subsequently purchased by Ligand in October 2020. Alvogen is now selling this product under the trade name Teriparatide Injection.
It is hard to get excited about this product for ATRS based on the competitive environment, the long delay in approval, and the uncertainty of the impact of an AB rating. Unlike EpiPen, teriparatide is not a life-saving medicine so we don't expect an AB rating to be as important.
To get an idea of potential revenue, the following assumptions were made:
Branded Forteo sales of $1 billion per year in 2020 will translate to a maximum of $500 million generic sales (half the Forteo price, but price competition over time will decrease total market to $350 million.
Teva will capture 33% of market ($115 million per year)
ATRS will obtain 10% royalties ($11.5 million per year.)
Injector sales will be low ($2 million per year) since volume is low (high priced drug).
Based on these considerations, I am assuming approval and launch in late-2021 and modeling ATRS revenue of $3 million for 2021 building to $14 million by 2025.
Pfizer Rescue Pen
On August 6, 2018, PFE and ATRS entered into an agreement to develop a rescue pen utilizing the Antares QuickShot auto injector and an undisclosed Pfizer drug. As reported on the ATRS 4Q2020 earnings call, Pfizer is expected to submit an ANDA for this product in 2021. Approval could come as soon as 2022 but given the backlog for ANDA approvals it could slide into 2023 or beyond. ATRS management noted that they expect this will represent a large market opportunity and, in general, we would expect a company the size of Pfizer to pursue large markets. However, since Pfizer is pursuing an ANDA for this product, it means it is a copy of a branded small molecule drug already on the market. If they were pursuing a new formulation/device they would have pursued a 505(b)(2) approach. Generics developed via the ANDA approach are rarely large market opportunities.
ATRS-1901/ATRS-1902
ATRS-1901 is a development project described as a once-weekly pen for patients in urology/oncology. A drug for prostate cancer is a reasonable guess that would fit in well with XYOSTED and NOCDURNA. Antares has guided toward a 2024 filing via a 505(b)(2) pathway, so no revenue until at least 2025.
ATRS-1902 is a development project in the endocrinology therapeutic area. They hope to file via the 505(b)(2) pathway in 2022 with a potential launch in 2023.
Selatogrel
Antares entered into an agreement with Idorsia in November 2019 to develop a QuickShot autoinjector for selatogrel, Idorsia's fast-acting P2Y12 receptor antagonist for the treatment of individuals suspected of having a heart attack. In 2019 Idorsia completed a usability and reliability study with the ATRS device and in 2020 completed a clinical bridging study. A Phase 3 study is expected to start in 2021 with an enrollment target of 14,000 subjects to investigate the efficacy and safety of selatogrel for the treatment of a suspected acute myocardial infarction (AMI) in patients with a history of AMI.
In the 4Q2020 Antares earnings call, Mr. Apple stated: "we still believe that the Idorsia development program for heart attack rescue pen could be transformational for the company." I agree it could be transformational for Antares since it will an approval via the 505(b)(1) regulatory process. To date, all of Antares products are subject to competition soon after they are launched so the best they can hope for is a few years of decent sales. Selatogrel is a new chemical entity that should have patent coverage 10-12 years after approval with steady and increasing revenue. The potential is there, but not in the near term. A Phase 3 study enrolling 14,000 patients is a monumental effort. Idorsia has not disclosed the design of the Phase 3 study but will likely require following enrolled subjects until there is a clear statistically significant difference in heart attacks from those on drug vs those on placebo or standard of care. A fair estimate is that it will take at least 3 years to run the study which means mid-2024 for the filing with approval and launch in 2025. With 7.6 million current heart attack survivors in the US, the potential is there for a large market, but any large revenue generation for ATRS will not occur until the late 2020's. A lot can happen in the mean time. This is a positive direction for the company with an opportunity for steady and predictable revenue flow, but still a great deal of uncertainty regarding timing and efficacy.
Revenue and Earnings Estimates
Table 3 provides revenues of key products and income for 2019 and 2020 with estimates for revenues/income to 2025. Assumptions for costs include the following:
Cost of goods for 2019 and 2020 were 40.8 and 42.2%, respectively. Much of this is the cost of manufacturing injectors for partnered projects. We are estimating that number remains flat at 42% for 2021-2025 as selling injectors will remain a key revenue generator for the company and the ratio of revenue from partnered and proprietary products will not change much over this period.
R&D costs were similar in 2019 and 2020, reflecting work on new products including clinical studies - we expect this to remain about the same over the 2021-2025 period.
Selling, general, and administrative expenses were also similar in 2019 and 2020 as the marketing team has been filled out and headcount growth should be minimal. We will model 5% increase per year.
With $46 million in tax credits, the company won't have to pay taxes until 2022. We model 21% tax for 2022 and beyond.
Table 3. ATRS Revenue/Income Actuals and Estimates for Years 2019-2025

Product

2019

2020

2021

2022

2023

2024

2025

XYOSTED

20.8

46.5

70

84

92

92

92

EpiPen

38.6

50.9

56

56

53

50

48

OTREXUP, Suma, Makena

57

37.7

32

24

23

22

22

R&D

7.5

14.5

15

15

15

15

15

Total Established products + R&D

123.9

149.6

173

179

183

179

177

New Products

0

0

8

15

25

40

60

Total

123.9

149.6

181

194

208

219

237

Rev growth vs prev year (%)

95

21

21

7

7

5

8

Total costs

125.9

139.7

157

166

176

184

195

Pre-Tax Income

(2.0)

9.9

24

28

32

35

42

After tax income

(2.0)

9.9

24

25

26

28

33

Earnings per Share

(0.01)

0.06

0.14

0.15

0.15

0.16

0.19
One of the key takeaways from this table is our view that current products will not grow much past 2021 due to anticipated competition for XYOSTED and EpiPen. New product introductions are required to drive growth. NOCDURNA and teriparatide sales are likely to be modest at best and we can only guess at timing and revenue for the new, undisclosed products in the pipeline. Based on our estimates, the earnings per share are not likely to grow much after this year as it will take time for new product introductions and none of the near term products are likely to be large revenue generators. The earnings per share between $0.14 and 0.18 over the next few years suggests ATRS is appropriately priced at $4 per share.
Opportunities that could change my mind:
An indication the company is serious about building/defending their flagship product, XYOSTED such as a 2nd generation injector, bi-weekly or monthly subcutaneous dosing, and/or ex-US partnerships.
Delays in XYOSTED competition allowing further entrenchment of the product with patients and providers.
A biosimilar partnership - more lucrative and higher bar to entry than competitive small molecule market.
Additional 505-(b)-1 opportunities beyond Selatogrel.
Additional opportunities like NOCDURNA to leverage their sales force.
I will continue to be a patient investor, but would like to see some creative ideas coming from management to accelerate revenue and income growth.