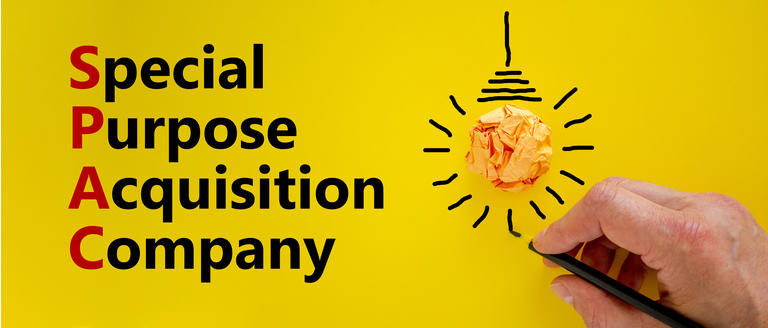 Written by George Spritzer, co-produced by Alpha Gen Capital
A Good Way To Invest Your "Safe" Money in SPACs
Because of the recent market euphoria, many investors are finding good opportunities to sell fully priced or overpriced investments. But one problem that can occur is an excessive cash build-up. And it is getting harder to find good places to earn decent returns without taking on significant risk.
In this article, I discuss a good way to invest some of your "safe" bucket in SPACs. I have chosen Archimedes Tech SPAC Partners Co. (ATSPU), a specific SPAC which falls under this strategy. SPACs are structured to offer almost no downside risk as long as you sell before the business combination is actually finalized. There is often good upside potential from warrants or rights from the more successful deals.
The basic idea is that when you buy ATSPU units, you can split them up into sub-units (NASDAQ:ATSPT) and warrants (ATSPW). If the management team can't find any type of business to acquire, investors can get their money back by cashing in the ATSPT sub-units for the $10 trust value plus interest. At the latest, this occurs by the SPAC completion date, which is March 10, 2023, for ATSPT. They either find a good IPO or they don't. If they don't, you get your money back plus a little interest.
Here is some of the key information you need to know for ATSPU:
IPO Date: March 11, 2021
Gross Proceeds: $120 Million - upsized from $100 million.
Initial Trust Value Per Share: $10.00
Unit Composition: 1 "sub-unit" plus 1/4 redeemable warrant. Each sub-unit consists of one share of common stock plus 1/4 redeemable warrant. A full warrant entitles the holder to purchase one share of common stock at $11.50.
Note: You effectively get 1/2 warrant with each SPAC unit. But the 1/4 warrant that is embedded in the sub-unit can only be exercised after the Company consummates an initial business combination. The reason they do this is to provide an incentive to shareholders not to redeem their sub-units before the shareholder vote. You would forfeit the 1/4 warrant underlying the sub-unit when you redeem early. If some shareholders do redeem early, this also reduces the dilution of the deal.
Business Target: The Company may pursue an acquisition in any business sector, but it plans to focus on identifying technology businesses in the artificial intelligence, cloud services, and automotive technology sectors.
Underwriters: EarlyBirdCapital and I-Bankers Securities. These are not considered the top-tier SPAC underwriters. But that explains why the terms offered on this SPAC are more generous than many others.
SPAC Management Team: Led by Eric Ball who is general partner of Impact Venture Capital. The CEO is Stephen Cannon who is also a COO of Global SPAC Partners (GLSPU) and Ackrell SPAC Partners (ACKIU) which has traded well above the $10 offer price.
Unit Split Date: Archimedes announced that the units could be split on April 14, 2021. The first trades in the sub-unit were on April 23, 2001. The ticker for the sub-units is (ATSPT), while the ticker for the warrants is (ATSPW). Here are the closing prices as of April 24, 2021 for the units, sub-units and warrants-
ATSPU: $10.00 ATSPT: $9.90 ATSPW: $0.91
Estimated Completion Deadline Date: March 10, 2023
Note: Most SPAC deals are consummated well before the completion deadline date. It is important to monitor the progress of the SPAC management team, since shareholder votes usually occur before that date. You will see press releases announcing any letter of intent or definitive agreement well before the shareholder vote. This gives you time to exit the SPAC sub-unit shares well before the shareholder vote while you still have the protection of the $10 trust value floor.
What is a Good Exit Strategy?
There are several good ways to exit this trade, depending on your risk profile.
If ATSPU appreciates significantly in price, you can simply sell the unit. You can sometimes earn 10% or more in a short period of time when the SPAC management team announces a proposed business combination that the market likes.
Another option available is to split up the units and then trade out of the sub-unit and warrants after they settle in your account. There are sometimes inefficiencies, so it is worthwhile to check out the math and sell when the sub-unit and warrants trade at a premium to the units.
To add a little excitement to the strategy, you may want to sell only the ATSPT sub-unit shares and keep the ATSPW warrants longer term. In this scenario, if you can often sell the sub-units for more than your original cost basis on the units. When this occurs, you are essentially "playing with house money" when you keep the warrants. Keep in mind that the warrants are high risk. But that may be OK, since you have already recouped your initial investment.
It is important to exit the SPAC sub-units (ATSPT) before the shareholder vote on the proposed business combination. Once the business combination is approved, you lose the protection of the $10 floor.
If you like the proposed business longer term, you can hold onto the warrants after the business combination as a riskier play. But investors who are risk averse or yield oriented will usually want to sell off the warrants sooner.
How do you split up SPAC units?
SPAC units can usually be split around 50 days after the filing of the IPO prospectus. To get the exact terms for any specific IPO, you would read the prospectus. But the company usually releases a press release which confirms when the unit split is effective.
The ATSPU split date was on April 23, so if you buy the units now, you can ask your broker to split them up, if you would rather trade out of the sub-units and warrants. You need to call your broker over the phone. The process of splitting the units usually takes a few business days, depending on the broker.
Broker Fees: This can range from zero to as much as $300 at Interactive Brokers. I believe that Fidelity and E-Trade offer SPAC unit splits for free.
For smaller size positions, it is usually not necessary to split up the units. But the units can be less liquid than the sub-unit or warrants. So for a larger position, it may be easier to exit using the sub-unit and warrants rather than selling the units directly.
A Brief Overview of SPAC Investing
Here are the basic stages in the life of a SPAC:
The SPAC raises money in an IPO.
The proceeds from the IPO are invested in a Trust Account that invests in short-term US Treasuries.
The SPAC management team has a defined time period to find and merge with a Private Company which takes the company public.
If they fail to find a Private Company to acquire within a defined time period (usually 24 months), the SPAC must return the Trust assets to investors with interest.
When the SPAC management finds a deal, shareholders vote whether or not to approve it.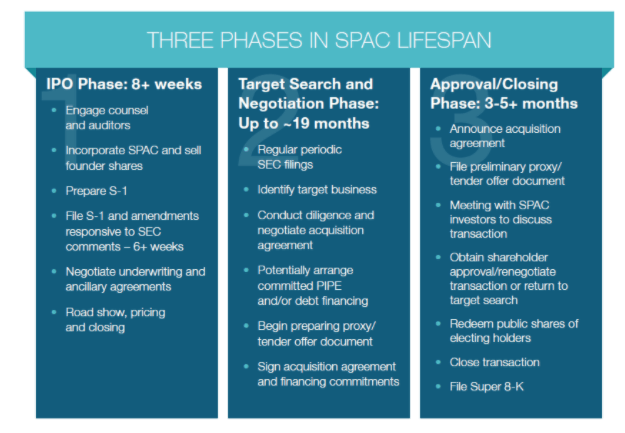 Source: corpgov.law.harvard.edu
From the investor's point of view:
Typical SPAC terms give the investor a common share and a warrant position (both traded in the market). Initially, nearly all SPACs are sold for $10 a unit. Each unit contains one common share and a combination of warrants and sometimes rights. But there are a few SPACs from high-quality management teams that do not offer warrants.
Soon after the IPO, the units are split up and the components can trade separately (units, common share, warrants, rights).
If the sponsor is unable to complete a deal, the trust account is liquidated and funds are returned to investors with interest.
When a business transaction is proposed, investors can vote "yes" or "no" on the deal. They can redeem their common shares for the amount held in trust if they are not happy with the transaction. Each vote is independent. You can vote "yes" on the deal, yet still redeem your shares.
This generally provides good upside if the acquisition is well received, but also gives downside protection because of the right to redeem the common shares or sub-units.
Both the common shares (or sub-units), warrants and rights (if any) are traded in the secondary market so investors have the opportunity to exit their positions at any time by selling.
Upon announcement of a proposed acquisition, a proxy statement is filed with the SEC and investors can review the proposed acquisition to determine their interest in holding the position or exiting.
Upon completion of the transaction, the escrow is distributed as proceeds and/or redemptions. At this point, if a shareholder decides to stay in the transaction the "SPAC" attributes are no longer applicable. The common shares and warrant may go up or down in value like any other traded security.
In many ways, SPACs are like zero coupon bonds, with the underlying return of short-term US treasuries plus the upside of a successful acquisition. But this is only true if you exit your position before the business combination is completed. After the deal is completed, post-SPAC investments can be very risky.
Unlike bonds, the excess return from early SPAC investing does not come from adding credit risk or duration risk. But excess returns can be generated if you can identify those management teams that can accomplish a successful merger which the "market" finds favorable.
In horse track betting, there is a strategy called "betting on the jockey". Investing in a SPAC IPO or buying SPAC units soon after the IPO is quite similar. But instead of a single jockey, you are betting on a SPAC management team that will also select which horse they will ride on.
What to Look For When Selecting a SPAC Unit to Buy
1) SPAC Leadership Team: As a general rule, the better SPAC teams offer less warrants in their IPOs. It is also a plus, if the management team has already done several successful SPAC deals before this one.
2) SPAC Focus: As a general rule, you would want to target "popular" areas that the market likes, such as clean energy or FinTech. It is better to avoid out-of-favor areas, unless there is a big price discount.
3) Warrant Terms: If a SPAC offers 1 warrant per unit, it is usually a lower quality team. The better management teams usually offer 1/4 warrant, 1/3 warrant or 1/2 warrant per unit, and those are good ones to focus on.
4) Upsized Deals: It is generally a good sign if the IPO amount was "upsized". I have found these "upsized" deals often perform well after the units are split.
5) Enhanced Trust Account: Some of the lower quality management teams need to offer an incentive to investors in order to complete an IPO. In some cases, the initial Trust Account is enhanced to $10.10 or $10.20, instead of the usual $10.00. In other cases, the SPAC completion date is shortened to 12 or 18 months from the usual 24 months. Both of these actions tend to increase the "yield" on the SPAC units, when you purchase the units below $10.00.
Best Times to Buy SPAC Units
You generally want to buy SPAC units in the early stages after the IPO. The ideal time to buy is when there is a "swoon" in the SPAC market like on March 25. Some of the lower-quality SPAC units traded as low as $9.70, and many higher-quality SPAC units traded at $10 or less. Some higher-quality SPAC units were trading near $11.00 just a few weeks prior and dropped over 10% in just a few days.
It is well known that many Robinhood investors invest in some of the hotter SPAC common shares. But Robinhood does not offer trading in SPAC units. So if you buy SPAC units before the unit split date, you can split your units and get to participate BEFORE any Robinhood hype potentially drives up the price of the common and warrants.
SPAC Boom May Be Cooling Off Soon
More than 500 SPACs have filed to go public so far this year. That is more than the total for all of 2020. And in 2020, SPACs raised more than every prior year combined.
John Coates is the SEC's top official for corporate filings. On April 8, he warned Wall Street that SPACs should not be used to avoid securities laws. Some SPACs have previously been marketed as a way to reduce regulatory requirements when compared to traditional IPOs.
The huge amount of recent SPAC offerings has overwhelmed those responsible for reviewing regulatory filings at the SEC. New SEC policies will be making significant changes to how SPAC warrants are treated for accounting purposes. Until all of the details are resolved, I expect there will be a sharp reduction in the number of new SPAC offerings going forward.
A reduced supply of new SPACs should help to increase the value of existing SPACs because of the basic laws of supply and demand. And the reduced competition should make it easier for SPAC management teams to find private companies to complete a merger.
Risk Discussion
If you buy ATSPU or ATSPT at the current prices or lower, you can set up a situation with no downside risk as long as you can wait until the SPAC completion date or a business combination is announced.
But there is one big caveat - you must exit the SPAC sub-units (ATSPT) before the shareholder vote on the proposed business combination. Once the business combination is approved, you lose the protection of the $10 price floor, and there can be considerable downside risk. After this stage, it is like any other equity investment.
Concluding Remarks
The best day to purchase the ATSPU units was on March 25, 2021, when the units traded as low as $9.76 and the closing price was $9.83. On that day, there was an overall "swoon" in the SPAC market. But there may be future opportunities to purchase the units well below $10.00 again, if we head into a bear market period.
At the current price level, the sub-unit ATSPT last traded at $9.90 which is below the $10.00 trust value. If you purchase it now, there is effectively no downside risk and basically a guaranteed 1% "worst case" return between now and the date of the business combination. The units at $10.00 are also a decent buy here, since they are currently trading at a small discount to the (sub-unit + 1/4 warrant).
By constructing a portfolio of low-priced SPAC issues that trade at or below the trust value, you essentially have no long-term downside risk, yet you still retain the possibility of some upside if any of these issues ever "pop-up" in price. But you do have to be careful to keep track of the SPAC completion dates and any business combinations that are proposed. By using this approach, you can create a "Heads you win a little, Tails you win more" situation. It can be a good place to park extra cash in the current market environment.