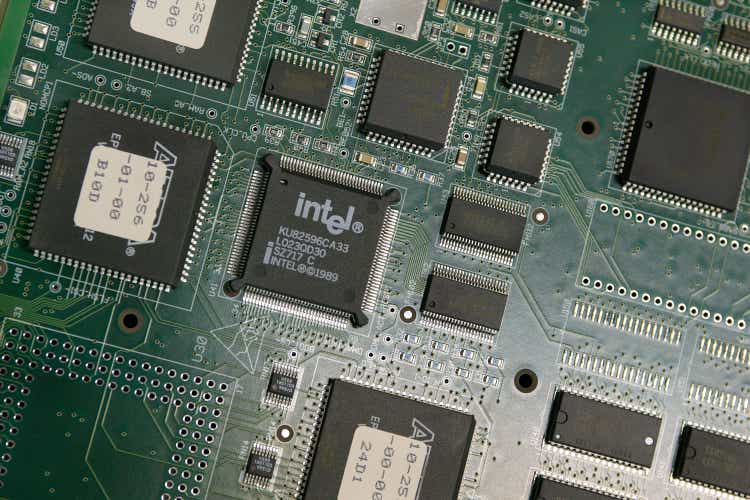 In March, Intel (NASDAQ:INTC) announced that it plans to re-enter the foundry market and spend about $20 billion to build a pair of new fabs to service foundry clients. The company will increasingly use extreme ultraviolet lithography (EUV) in a rearchitected, simplified process flow. Intel expects to tape in the compute tile for its first 7nm client CPU (code-named "Meteor Lake") in the second quarter of this year.
To accelerate Intel's "IDM 2.0" strategy, CEO Patrick Gelsinger announced a significant expansion of Intel's manufacturing capacity, beginning with plans for two new fabs in Arizona, located at the company's Ocotillo campus. These fabs will support the increasing requirements of Intel's current products and customers as well as provide committed capacity for foundry customers.
This build-out represents an investment of approximately $20 billion, which is expected to create more than 3,000 permanent high-tech, high-wage jobs, over 3,000 construction jobs, and approximately 15,000 local long-term jobs.
Is it a coincidence that Intel announced its foundry strategy on March 23 and Intel announced two weeks later it would attend a meeting with Biden on the chip shortage? If so, expect lucrative incentives from Biden for the company.
And rightly so. According to an article in Morning Consult:
"As many in the tech industry prepare for battle with the new Biden administration and Congress' increasingly bipartisan regulatory appetite, Intel Corp. is singing a different tune heading into life after Inauguration Day.

For the most part, Jeff Rittener, Intel's chief government affairs officer, is planning on building upon the work the chipmaker already does in Washington: Lobby for tax incentives to attract semiconductor manufacturing plants to the United States; push for programs that help upskill the American workforce and invest in research and development projects; and raise support for reforming several high-skilled immigration policies."
Can Intel Compete on at the Foundry Level
Turmoil at Intel
Currently only TSMC (TSM) and Samsung Electronics (OTCPK:SSNLF) have the capability of manufacturing chips at the 7nm node and smaller. That fact should not influence the decision by Biden to give money to these companies for profits to go back to their native country.
Conversely, Intel has not been able to make a 7nm chip, deferring production of its CPUs to TSMC and Samsung Electronics. In fact, TSMC produces chips for Intel rivals, and that's helped Advanced Micro Devices (AMD) steal share in the crucial PC and data center markets. Intel's overall sales for first quarter 2021 were flat but revenues from its data center business dropped 20% on year, seriously undermining the chip giant's profitability.
In mid-2020, in its Q2 earnings call, then Intel CEO Bob Swan said the company found "a defect mode" in its manufacturing process which will push back its production schedule.
Intel said the problem was related to its 7 nm process. Intel historically led the way in producing smaller and less expensive processors but has struggled with its manufacturing process.
On July 13, 2020, Intel announced that its board of directors appointed 40-year technology industry leader Pat Gelsinger as its new chief executive officer, effective Feb. 15, 2021, replacing Robert Swan.
Node Capabilities
For intel to enter the foundry business, it must compete head-to-head with TSMC and Samsung, both of which are making chips at the 7nm and below nodes. Intel's Fab 42 in Arizona was just completed 10 years after groundbreaking due to Intel management issues, and much of that fab's capacity will be used for internal production of its CPUs. Thus, sufficient capacity to enter the foundry business will be available only when Intel's planned fabs are completed in late 2023. By then, TSMC and Samsung will be years ahead of Intel in manufacturing at the 7nm and lower nodes.
One of the key factors in TSMC's dominance is its ability to manufacture chips at small nodes, in addition to its large capacity. Also, with its production capabilities at 7nm, these chips are more expensive, and hence, TSMC can charge more per wafer than competitors. TSMC's ASP (average selling price) is $3,338 per wafer, higher than Samsung's $2,490 per wafer, as shown in Table 1.

SMIC (OTCQX:SMICY), mainland China's largest foundry, has a capacity representing 11% of the overall industry. SMIC started volume production of chips using its 14 nm FinFET manufacturing technology, moving up from 28nm.
started, under U.S. sanctions, is blocked from acquiring EUV lithography systems. GlobalFoundries, on the other hand, had purchased EUV systems from ASML but returned them and terminated its 10nm program in 2018, according to our report entitled "Sub 100nm Lithography: Market Analysis and Strategic Issues."
Table 2 presents my analysis of the technology roadmaps for TSMC, Samsung, and Intel by node. It shows the quarter when R&D began at a particular node, and the quarter when High-Volume Manufacturing (HVM) began. It also shows how long it took each company at each node to go from R&D to HVM.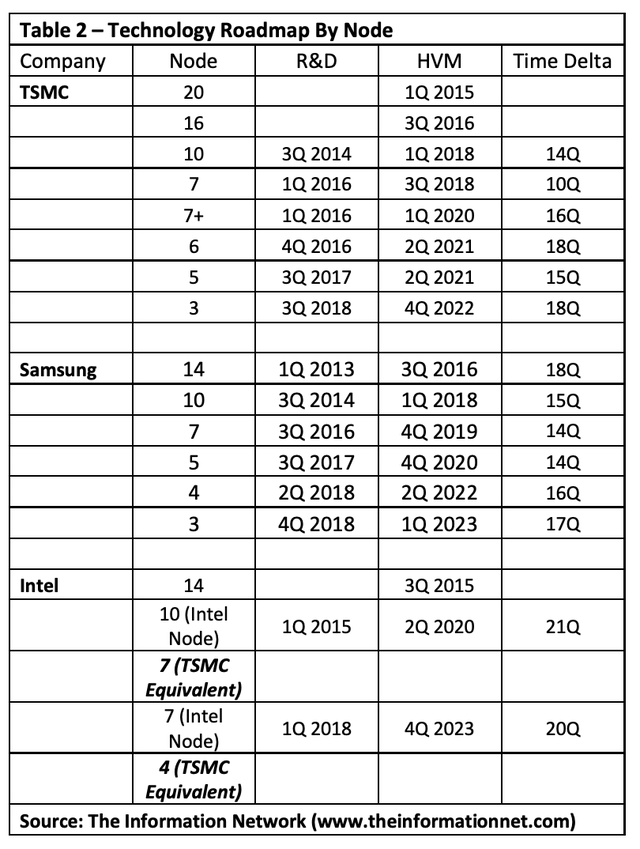 TSMC started mass production of its 7-nm N7 node in 2018. TSMC considers its 7-nm node a full node shrink over its 16-nm. Although TSMC released a 10-nm node earlier in the year, the company considered its 10 nm to be a short-lived node and was intended to serve as a learning node on its way to 7. In early 2019, TSMC introduced the second version of its N7 process called N7P which provides additional performance enhancements. With the availability of high-throughput EUV machines ready for mass production, TSMC introduced a third variant called N7+ which uses EUV in Q1 2020.
TSMC started its risk production of the 5-nm, N5, node in March 2019. The process ramped in April 2020 and went into HVM in 2Q 2021. The N5 process is a full node successor to the company's N7 node, featuring 1.84x improvement in logic density.
Samsung's V1 fab is located in Hwaseong, Korea, adjacent to its S3 line, where Samsung started initial ramp of chips made using its 7LPP technology. The company began construction of V1 in February 2018 and initiated test wafer production in the second half of 2019.
Samsung 5-Nanometer Low-Power Early (5LPE) design development completed in 2Q 2019. Unlike TSMC's 5-nm node, 5LPE is considered to be only a quarter node successor to the company's 7-nm 7LPP process, delivering 1.3x density improvement through a new standard cell library as well as new scaling boosters. The Samsung 5LPE process provides different benefits depending on the migration path selected from 7LPP.
In Table 2, it appears that Intel is several generations behind TSMC and Samsung. That's not necessarily correct, and if Intel is serious about entering the client foundry business, the first change must come from its marketing department. Intel is reportedly considering changing its process node numbering system in an attempt to look better against Samsung and TSMC.
As we've discussed in the past, process nodes are arbitrary designations intended to convey a sense of progress. It makes more sense for Intel to rebrand its arbitrary numbers to align with what its competitors are doing.
I've pre-empted Intel by investigating this issue and modifying Table 2 to reflect what Intel calls a 7nm chip based on transistor density. And it makes a significant difference in perception:
At the 10nm node, Intel's transistor density is equivalent to TSMC's 7nm node. Based on Intel's transistor density for what it calls its 7nm node, the TSMC equivalent would be 4nm.
At the 10nm node (7nm TSMC equivalent), Intel would be two years behind TSMC using DUV. But by using Intel's current nomenclature, the company would be 5 years behind TSMC.
At the 7nm node (4nm TSMC equivalent), Intel would be 1.5 years behind Samsung using EUV.
Investor Takeaway
Intel continues to have problems in gaining traction after several years of miscues. The company has changed upper management and modified its strategy with an attempt to get into the foundry business. Building new fabs to make ICs at 7nm and below and would place Intel in direct competition with TSMC and Samsung.
Indeed, even if Intel changes its nomenclature, and correctly re-brands its 7nm chip as a 4nm chip, TSMC and Samsung will have several years of experience ahead of Intel in producing chips at these nodes.
More importantly, TSMC and Samsung, have a large 300mm wafer capacity today and growing, while Intel's fabs won't be built until late 2023. Intel's Fab 42 in Arizona came online recently, but that was delayed because of the company's miscues. As a background, the fab shell was built in 2013. However, Intel decided not to use the facility for the contemporary 14nm process and it wasn't sure about sustained demand. In 2017 it decided to prepare Fab 42 for 7nm but before this plan was changed and it was decided to prepare it for 10nm to cater for more immediate demand.
Thus, Fab 42 will bear the brunt of production of its own CPUs, so that any additional capacity for foundry customers will be limited. Intel says the chip shortage will last into 2022 (which I don't agree and feel it a marketing strategy to get Biden handouts for urgent fab construction).
Most importantly, the problems Intel had in its own production fabs at 10nm (7nm TSMC equivalent in my nomenclature) resulted in upper-level technical managers fleeing the company, and a CEO change. As I said, problems at Intel also were aggravated by 10nm delay after 10nm delay. Intel originally expected to ship 10nm in 2015. Then it slipped to 2018. Then, it slipped to "holidays, 2020." Intel is only recently resolving internally its low-node production issues.
If the company was interested in using excess capacity in its old fabs to manufacture for customers at the >28nm node, I would be favorable about its strategy of becoming a foundry.
In my opinion, Intel is being opportunistic, and I suspect building these new fab at a time when Biden is concerned about shortages, he will be giving Intel significant incentives to build. Is it a coincidence that Intel announced its foundry strategy on March 23 and then announced two weeks later it would attend a meeting with Biden on the chip shortage?
On the shortage issue, there was a confluence of factors that caused it, which I discussed in an April 12, 2021, Seeking Alpha article entitled "Semiconductor Manufacturers Benefiting From The So-Called Semiconductor Shortage." I doubt that any chip shortage today would remain in 2023 when these fabs are built, which is my contention that Intel's strategy is to primarily get free handouts to build two fabs. And if it creates capacity to alleviate shortages and if it develops a foundry business, all well and good.
There's no doubt that the U.S. needs a semiconductor manufacturing infrastructure to assure supply of critical chips. By foundry location, nearly 90% of the world's foundry capacity is located in the Asia Pacific region, with the next largest region (North America) accounting for just 8% of capacity. The rest of the world makes up the remaining 3%. But if we break down the share of chips to North America:
68% come from TSMC (Taiwan)
9% come from Samsung (Korea)
9% come from GlobalFoundries (The Emirate of Abu Dhabi is the owner of the company)
5% come from UMC (Taiwan)
Last I heard, these were friendly to the U.S.
Bank of America keeps a bearish view on Intel after the company's Q1 earnings report.
"While we admire INTC's scale/incumbency/product breadth and applaud management to take up the cause of helping US improve domestic manufacturing, we remain cautious on the stock because of three major factors."
This argument agrees with my thesis. BofA points to no sales growth for Intel in a year when PC units and cloud capex are growing 14% to 15%, a gross margin trajectory continuing in a downwards slope, and thinks expansion into competitive foundry could be an expensive and unprofitable transition given its low margins and INTC's limited experience at making chips at the 7nm node and smaller.