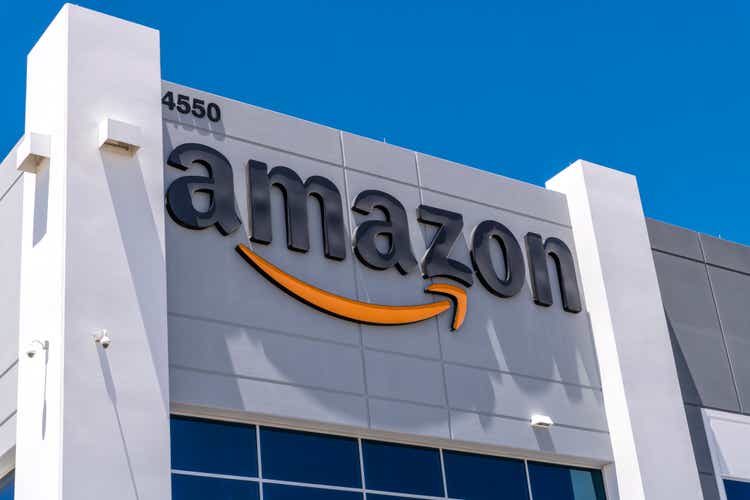 Amazon (NASDAQ:AMZN) will report its first quarter results on the afternoon of April 29. This is a stock that has gone nowhere since the middle of July, virtually trading sideways. Expectations for this quarter couldn't be higher, with earnings expected to have climbed by almost 91% to $9.54 per share, while revenue is seen having risen 38.5% to $104.4 billion.
This will likely be the last easy quarter for Amazon, though, as comparable get much tougher starting in the second quarter, with earnings estimated to rise just 5% to $10.81, on revenue growth of 22.2% to $108.6 billion.
The company doesn't have a track record that gives investors confidence when it comes to beating expectations. Over the past 12 quarters, Amazon has only beaten earnings and revenue estimates 9 times. It has to some extent been all or none type of experience, with Amazon either beating earnings estimates by the jaw-dropping amount or a bone-crushing miss.

(AMZN Earning Surprise - Seeking Alpha)
AWS
Amazon Web Services will have a big say in how Amazon fares this quarter. After all the business unit drives much of the operating income for Amazon. Analysts forecast AWS to see revenue growth in the first quarter of 29.2% to $13.2 billion. This would be a slight uptick from last quarters growth of around 28%. However, it would mark the fourth quarter in a row that revenue growth for the business unit is under 30%.

AWS is very important to Amazon as a whole because of the operating income it generates. The operating income of AWS historically represents more than 50% of Amazon's total operating income. This would mean that if AWS does not provide Amazon the needed operating income, the overall operating income for Amazon will be weakened, this could weigh heavily on Amazon's total earnings per share.

But the problem with AWS is twofold - slowing growth and plateauing operating income. This means if AWS spent a lot of these questions because of increasing competition threats, operating income could come in weaker, which means Amazon will need to lean on the rest of its business to keep operating income moving higher.

Amazon already told us in January they would be spending a lot as a total company in the first quarter. The company guided revenue to $103 billion at the mid-point of the range, while operating income was expected around $4.75 billion. That implies operating margins of 4.6%, which would be down sequentially from 5.5% in the fourth quarter. Again, this puts that much more importance on the AWS business unit.

Market Is Indicating Shares May Not Rise
There's some betting in the market that Amazon disappoints and does not push higher following results. In recent days, there have been many options traders selling calls, which would suggest they do not see the stock rising after results. It also could be part of a covered call strategy, which is when a holder of the stock sells a call and collects the premium. In the end, the implication is that the owner of the stock doesn't believe there's an upside to the shares.
For example, on April 27, the open interest for the April 30 $3500 calls increased by 2,300 contracts. The data shows most of these calls were sold for about $36.50 per contract, suggesting the stock doesn't rise in the short term. Additionally, on April 26, the $3,400 calls for expiration on April 30 rose by around 1,400 contracts. The majority of these calls were sold as well for around $52.75.
It's worth noting that some traders are betting that the stock rises over the next month following the result. For example, the May 21 $3500 calls have seen their open interest levels rise by around 1,800 contracts, and they were bought for about $78.20 per contract. Implying the stock rises to around $3580 by the end of May.
Moving Up Too Soon
The chart of Amazon had been bullish, but it appears the stock is moving in anticipation of these results. There also was a rumor that Amazon may split its stock, helping to fuel the rally. The stock is currently breaking out of a bull flag pattern, which indicates higher prices. However, the equity is about to run into a lot of resistance between $3,490 and $3,550, making it tough to advance. Additionally, the RSI on the is already around 64, which is nearing an overbought level of about 70.
It would seem to suggest the stock may have a little bit further to run ahead of results, with a sell-off potentially after results.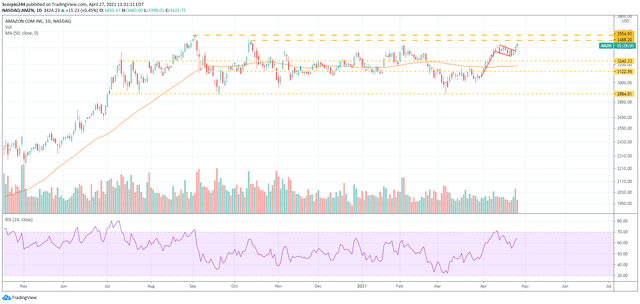 Amazon has struggled in recent months, unable to get much forward momentum, despite some really amazing quarterly results. With the comps for the company to get even harder in future quarters and more needed out of AWS, this might be the best earnings results get for some time.