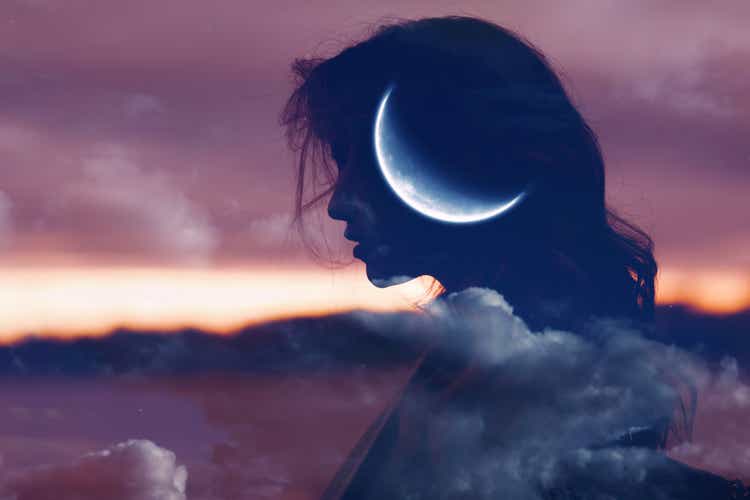 While the traditional financial media has been wringing its hands over Elon Musk's dalliance with Dogecoin (DOGE-USD), a more unsavory coin has caught fire on social media and seems to be stealing its thunder. SafeMoon has been trending across a variety of platforms including Stocktwits over the last few days. As Seeking Alpha reported, SafeMoon was the most searched cryptocurrency on Coinmarketcap for three days in a row last week. According to SafeMoon's website, the token now has over 1,300,000 holders with unique wallet addresses as of April 27th. A quick Sunday morning YouTube search this past weekend revealed over a hundred videos posted on the topic in just the prior 24-hours period. Even mainstream, non-financial media news sources are picking up on the story as well.
SafeMoon has over 30,000 followers on Stocktwits, 10x the following of UiPath (PATH), which recently went public via the third biggest software IPO of all time, or 10x the following of FileCoin (FIL-USD), one of the most interesting assets in the crypto sphere and one that has far greater utility value than SafeMoon. If you have SafeMoon's Stocktwits page open in your browser and go to check something in another tab, you'll see that there are over 100 new comments in a matter of minutes. As you might imagine it isn't exactly the most high-level financial discussion.
The most obvious analogue here for SafeMoon is penny stocks that are receiving heavy promotion. When looking at penny stocks (and don't get me wrong, I love a good OTC stock here and there) you often see their proponents (or more nefariously, their pumpers) try to lure investors in with lines of logic such as, "If this can just get from $0.01 to $1, we could all become multi-millionaires!" However, the flaw in this thinking is that with the huge number of outstanding shares, the market capitalization would have to reach an obscene level for this to actually happen.
Furthermore, it is obviously just as difficult for a stock to make a 100x gain from $0.01 to $1 as it is to go from $100 to $10,000, but psychologically investors often 'feel' like $0.01 to $1 is less of an arduous journey. As Zero Sum Gamer explained in his excellent writeup on Dogecoin, "For retail investors, there is undoubtedly a psychological satisfaction to owning many whole Dogecoins rather than a miniscule fraction of a single Bitcoin. Stocks engage in stock splits for the same reason, experienced investors know it's market cap rather than price per share that matters, but a cheap face value per unit lowers the bar for entry, making investments more accessible to retail."
The aforementioned frenzy had caused prices to go on a tear but investors would be wise to steer clear. As of 2:00PM EST on April 27th, SafeMoon's fully-diluted market cap had fallen back to $2.5 billion from a prior surge to over $4 billion, destroying $1.5 billion of token-holder value in the process.
SafeMoon promoters seem to be taking a page out of this same time-tested penny stock playbook, pounding the pavement on social media to espouse en masse that all they need is for SafeMoon to get to 1 cent. As of 2:00 on April 27th, SafeMoon is trading at $0.00000416 (which frankly feels a little bit ridiculous to even be typing out), so this would require SafeMoon to 2500X from here. The market cap this would give SafeMoon would not only exceed that of Bitcoin (BTC-USD), it would exceed that of Bitcoin, Ethereum (ETH-USD), and all other digital assets combined. Furthermore, it would actually value SafeMoon on roughly the same level as all household wealth in the United States (estimated to be $96 trillion by the St. Louis Fed in 2020) - all for a token with seemingly little utility value. With a quadrillion tokens issued and over 600 trillion in circulation as of April 27th, that is going to be a long road ahead.
As far as I can see the only utility or use (and I'm using the terms generously here) that SafeMoon has is that it charges holders a 10% fee to sell it, with 5% of these proceeds being burned and 5% being distributed to the remaining holders. According to Coinmarketcap, "The SafeMoon white paper describes the following: a total supply of 1,000,000,000,000,000, with 223,000,000,000,000 burned dev tokens and a fair launch supply of 777,000,000,000,000. The SafeMoon protocol, according to the white paper, works in the following way: in each trade, the transaction is taxed with a fee of 10%, which is cut in half. While 5% of the fee is redistributed to all of the token holders at the time, the other 5% is then split in half again, with 50% sold by the contract into BNB, and the remaining 50% automatically paired with the aforementioned BNB and added to PancakeSwap as a liquidity pair."
The 5% that is redistributed to holders is distributed in proportion to the amount of SafeMoon that they own, which as you might imagine, is great for the founders and early investors of SafeMoon, so in many ways this doesn't sound much different from a run of the mill multi-level marketing scheme. (I'm not going to go as far as to say that that's what it is, but I'll let readers draw their own conclusions). There is also a lot of bandying about of popular crypto buzzwords like NFTs and smart contracts amongst the SafeMoon community on social media but I don't see any noticeable traction in these endeavors at this point in time.
This isn't to say that someone trading SafeMoon right now can't theoretically make a quick profit on it, and some speculators who started trading it in March have certainly earned some decent profits over the last few weeks, but people who started buying over the past several days have already endured a large downdraft and could find themselves further in the red as volume dries up. As of the afternoon of April 27th at 2:00 PM EST, the unit price of SafeMoon is already down over 30% from when I wrote the first draft of this article on Sunday. As stated above, this means that about $1.5 billion of value has already been destroyed and is unlikely to come back. With these types of tokens, there is little barrier to entry to create a similar project, and little to stop potential investors from moving on to the next shiny new toy once the initial wave of interest cools off. Already, there are similar tokens like 'SafeMars' cropping up. Once the crowd moves on and volume disappears, remaining holders will be left with a token that's value has declined substantially and which has little chance of regaining this value in the future. Eventually there is only one direction that this is going in and it is not going to be to the moon.