On Thursday March 15, 2012, shares of Apple Inc. (NASDAQ:AAPL) crossed the $600 price mark for the first time ever, registering an intraday record high price of $600.01. Although the shares closed at $585.57 on 3/16/2012, following the increase in Apple's target price by several analysts, how long will it take for the shares to reach the next milestone of $700?
Apple went public on December 12, 1980. Its stock price did not reach the $100 mark on an intraday basis until 26 years and 4.5 months later on 4/26/2007. It crossed the $200 mark 8 months thereafter on 12/26/2007. The $300 mark followed 2 years and 10 months later on 10/13/2010. It crossed the $400 mark 9.5 months later on 7/25/2011, to be followed by the $500 mark 6.5 months later on 2/13/2012. The latest $600 mark was touched one month later on 3/15/2012 although Apple shares still have not closed at or above such level as of 3/16/2012.
Apple Inc. Stock Price Chart 1980 - 2012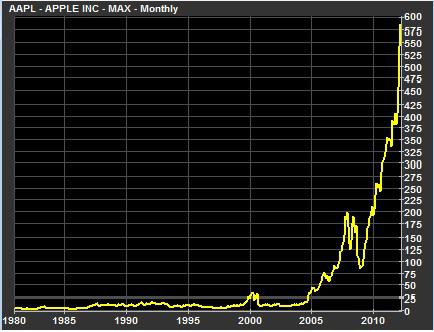 Source: Fidelity Investments
From a historical perspective, whenever Apple had reached the next $100 price increment, it did not necessarily close above such level on that same day; Apple stock reached $200 on an intraday basis on 12/26/2007, but it did not close above such level until almost 2 years later on October 21, 2009. However, since 2010, Apple shares have been reaching their next $100 price increment milestone faster and faster, with the latest milestone taking merely one month.
Apple Inc. stock - $100 price increment milestones
| | | |
| --- | --- | --- |
| Stock price milestone | Date when shares first reached milestone on an intraday basis | Date when shares closed at or above milestone |
| $100 | 4/26/2007 | 5/2/2007 |
| $200 | 12/26/2007 | 10/21/2009 |
| $300 | 10/13/2010 | 10/13/2010 |
| $400 | 7/25/2011 | 7/26/2011 |
| $500 | 2/13/2012 | 2/14/2012 |
| $600 | 3/15/2012 | ? |
| $700 | ? | ? |
Information derived from data provided by Yahoo Finance on a split adjusted basis
With current earnings expectations at $43.13/share for the current fiscal year and $48.36/share for the next fiscal year, Apple's forward P/E ratio stands at 13.6 and 12.1, respectively. If Apple was trading at $700, its forward P/E ratio would be 16.2 and 14.5, respectively. It seems such P/E ratios would be a stretch and would certainly present a speed bump in the road to $700 unless earnings turned out to be higher.
Alternatively, if Apple is to retain its current forward P/E ratios of 13.6 and 12.1, then with a hypothetical stock price of $700, its earnings would have to be $51.47/share and $57.85/share, respectively. As Apple's fiscal year ends in September, that would mean that Apple would have to grow its earnings for the next three quarterly releases through September 2012 by an average of 77% year-over-year. That seems quite a large increase.
However, considering that Apple increased its earnings by over 115% year-over-year during the quarter ending December 2011, then it is very possible that Apple may indeed reach such milestone. It would then have to increase its net earnings by a much more reasonable 12.4% for the next fiscal year to reach $57.85/share in net earnings.
Given such math, it is highly unlikely that Apple shares will reach $700 prior to the next earnings release date in April. Current estimates are calling for earnings of $9.59/share, an increase of 49.8% year-over-year. If Apple meets or misses expectations, then the stock will most likely trade lower, and the $700 price target may not be possibly reached until next year, in case Apple provides a stellar performance for the quarter ending December 2012. Otherwise, if Apple beats estimates by 15% to 20% or more for this quarter, then Apple shares may very well reach $700 by May 2012. Finally, if Apple beats estimates by 5% to 15%, then it may reach $700 by September 2012.
According to Crossingwallstreet.com, Apple shares have averaged an increase of 1% per week for the past 8.5 years as of October 2011. Although such data would exclude the most recent acceleration in the share price appreciation of Apple, in order to increase by 17% to reach $700/share, it would take Apple 17 weeks to reach $700 with an average increase of 1% per week. It should be noted that Apple shares actually averaged an increase of 5% per week to reach $600 from $500 in about one month, although it is highly unlikely such momentum will be maintained.
There are a lot of other variables out there that may affect Apple's stock price appreciation such as a possible stock split. Today, Apple announced a quarterly dividend of $2.65/quarter starting in July 2012. In addition, Apple announced a stock buyback program of $10 billion to be executed over the span of three years. This has caused the shares to jump higher, past $600 again, while it remains to be seen if the shares will actually close above such level.
In an article we published on 2/21/2012, "3 indications Apple shares haven't peaked" when Apple was trading at about $502, we wrote that Apple was most likely to make new highs, with our target set at $660 per share, while momentum may carry the shares further to $750. In the stock market, there is logic and there is momentum. It is indeed very difficult to predict where momentum may carry a certain stock price, as witnessed in the internet bubble years.
Given Apple's actual earnings, Apple shares certainly are not in a bubble at these prices. However, if its share price starts running substantially faster than its actual current and near term financial performance, then once again we may be in uncharted and unpredictable territory. At the same time, given Apple's latest stock dividend and buyback announcement, it is possible that some skeptics may claim Apple shares will now start to decelerate, and possibly drop, as many buyers who have purchased shares expecting such event may book their profits; in essence, skeptics will claim that most of the good news for Apple is now out.
However, at the end of the day, we believe the main driver will be earnings. We favor a scenario where Apple may beat earnings estimates of $9.59/share for this quarter by more than 10%, and may reach $700 by May to September 2012, unless a major market wide sell-off develops.
Disclosure: I have no positions in any stocks mentioned, and no plans to initiate any positions within the next 72 hours.