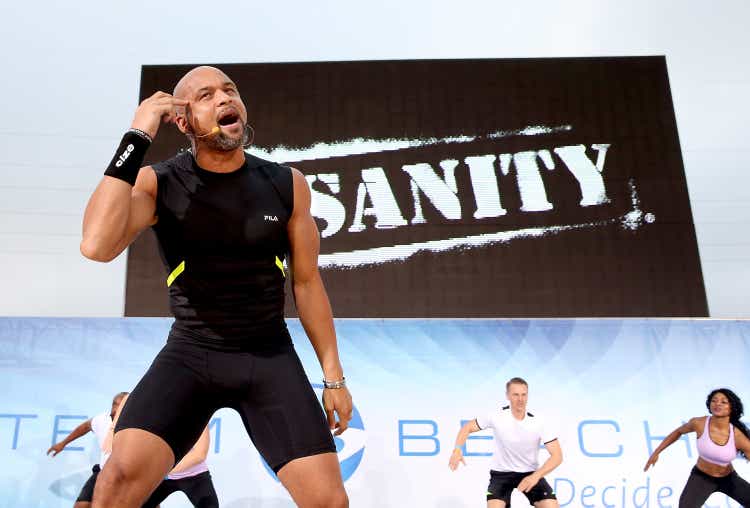 Investment Thesis
The fitness industry is massive and going through major structural changes due to the pandemic. While gyms suffered, companies with digital offerings, such as Beachbody, flourished during the pandemic.
Even though Beachbody is in a great position to enjoy the megatrends of digital subscriptions, connected fitness, and rising health awareness, the industry is highly saturated and Beachbody may find it difficult to grow as fast as management claims. Furthermore, its controversial marketing tactic may hurt the company in the future.
I rate Beachbody as a Hold.
The Beachbody Company and MYXfitness Going Public Through A 3-Way SPAC Merger
On 10 February 2021, The Beachbody Company and MYXfitness entered into a definitive agreement to complete a 3-way merger with Forest Road Acquisition Corp. (FRX), a special purpose acquisition company, or SPAC. FRX is led by three former Disney (DIS) senior executives - Tom Staggs, Kevin Mayer, and Salil Mehta - and has been touted as a "celebrity" SPAC.
As a result of the merger, The Beachbody Company will be the ensuing parent company. Beachbody will receive $525 million of gross proceeds, which consists of $300 million from FRX's cash held in trust and $225 million of private placement of public equity, or PIPE, led by Fidelity Management & Research Company LLC and Fertitta Capital.
The combination will leave Beachbody with an equity value of $3.4 billion, or $2.9 billion enterprise value, at $10 per share. The company is expected to trade under the ticker symbol, "BODY".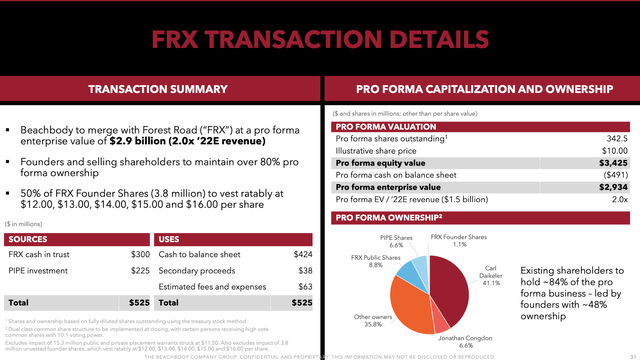 (Source: The Beachbody Company and FRX Investor Presentation)
The Fitness Industry
At the beginning of the pandemic, lockdowns and social-distancing measures forced gyms to shut down - temporarily, but for some, permanently. According to International Health, Racquet & Sportsclub Association (IHRSA), revenue in the fitness industry dropped by 58% in 2020 with 17% of fitness facilities permanently closed in the US alone. Bankruptcies piled in with some of the major fitness franchises filing for Chapter 11 restructuring. Gold's Gym and 24 Hour Fitness were the notable ones.
While the pandemic has ravaged the retail scene, gym and fitness equipment companies enjoyed a surge in sales. Stay-at-home orders prompted gym addicts, fitness enthusiasts, and health-conscious customers to turn to online stores such as Peloton (PTON) and Rogue Fitness to get the necessary equipment to exercise while staying at home. In addition, fitness influencers in social media can be seen posting how-to videos such as "5 Dumbell Back Exercises You Can Do At Home" or "How To Set Up A Home Gym". Social media definitely contributed to the shopping frenzy for gym and fitness equipment online.
That said, while the offline fitness world saw pandemonium, the online fitness world experienced nirvana.
Nonetheless, the fitness and nutrition market is huge - estimated to be about $1.5 trillion combined, according to Beachbody's Analyst Presentation. The online fitness market is also expected to grow rapidly from $6 billion in 2019 to $59 billion in 2027.
Most importantly, there are major changes in consumer behavior in the fitness industry, as a result of the pandemic. For example, Wall Street Equity Research found that 55% of respondents do not plan to go back to the gym. While that may sound extreme, it is perfectly possible given the vast options for highly-interactive at-home fitness solutions.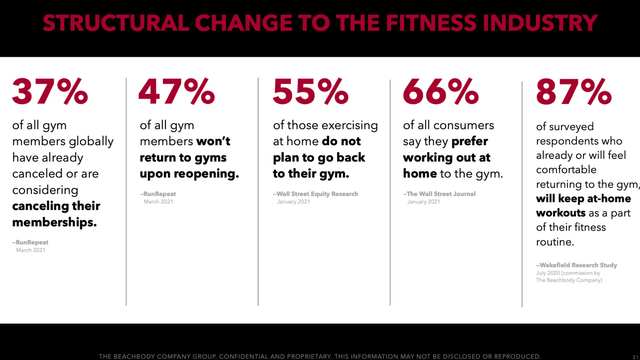 (Source: The Beachbody Company Analyst Day Presentation)
Highly Saturated Industry
A large addressable market naturally leads to a large number of industry participants, especially when there are low barriers to entry. This is what we're seeing in the fitness industry.
In the home gym equipment space, we have Peloton, Beachbody's MYXFitness, SoulCycle, Echelon Fitness, and many more. Lululemon (LULU) has even entered the space by acquiring Mirror, an interactive smart gym that mounts on the wall like a mirror.
Virtual workout plans and live streaming are also gaining traction in the fitness industry. Apple (AAPL) introduced Apple Fitness+ in December 2020, which brings studio-style workouts, all accessible through Apple's devices. In the Apple App Store, you can find countless other independent apps that offer virtual workout plans, live streaming, tracking, and diet plans.
Budget gym franchise Planet Fitness (PLNT) has also partnered with iFit to develop a mobile app to provide free Home Workouts for planet fitness members. Netflix (NFLX) could also launch a dedicated section for Fitness. I wouldn't even be surprised if we see Disney characters live streaming workouts for kids.
All these fitness solutions have very similar business models: selling services in the form of digital subscriptions. Peloton bikes cost at least $1,895, plus $39/month to get access to online classes and live workouts. Apple Fitness+ costs $9.99/month. Echelon Fitness charges $39.99 a month. The fitness industry is clearly adopting a digital subscription business model to generate as much recurring revenue as possible.
With so many similarities and overlaps between companies, it is becoming extremely difficult to differentiate themselves. When one company innovates, others are quick to copy. Take Peoloton's case for example - the company has filed multiple lawsuits against competitors for patent infringement.
As such, having a point of differentiation is key in the fitness industry. For Beachbody, that means offering as many products and services as possible.
Beachbody: Future Fitness Conglomerate?
Post de-SPAC transaction, The Beachbody Company will be the parent company of three businesses: Beachbody On Demand (BOD), Openfit, and MYXfitness. BOD is the largest and oldest of the three and it was founded by Carl Daikeler and Jon Congdon in 1998. It offers on-demand workout videos and plans, as well as diet plans and nutritional products. BOD is the owner of popular brands such as P90X, INSANITY, and Shakeology. I think of BOD as the Netflix for Fitness.
In 2019, Beachbody launched Openfit, the all-in-one digital streaming platform for fitness, nutrition, and wellness — Jon Congdon took the position of the CEO. Openfit users have access to on-demand and live classes led by macro-influencers and celebrity trainers such as Shay Mitchell (32+ million followers). In late 2020, Openfit acquired Ladder, a sports nutrition company founded by bodybuilding legend Arnold Schwarzenegger and NBA legend LeBron James. I think of Openfit as the BOD for millennials.
Fast-forward to early 2021, MYXfitness came into the picture, to merge with Beachbody in the SPAC deal. MYXfitness was founded in 2017. The company sells studio-grade bikes and other basic equipment such as dumbbells and kettlebells. MYXfitness is often dubbed as the "best Peloton alternative." Ultimately, MYXfitness is aimed to offer connected fitness content that bundles with BOD and Openfit offerings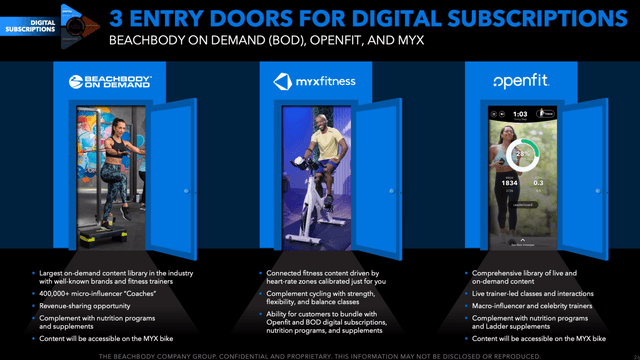 (Source: The Beachbody Company Analyst Day Presentation)
With the three businesses, Beachbody aims to be the go-to platform for all things fitness, nutrition, and wellness, capturing three megatrends at the same time: digital subscription, connected fitness, and rising health awareness. Beachbody is not going to stop with just three companies under its name - management highlights that opportunistic acquisitions will be one of their key growth strategies. With that in mind, could Beachbody be a future fitness conglomerate in the making? Maybe.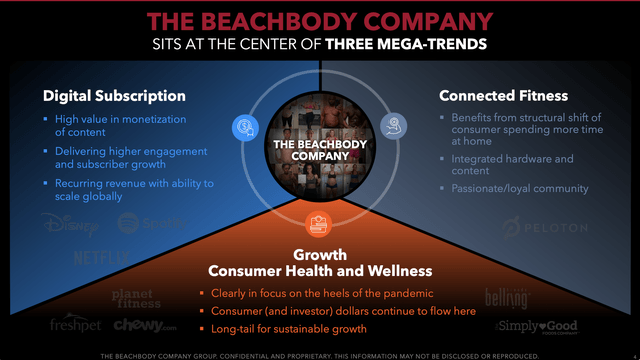 (Source: The Beachbody Company Analyst Day Presentation)
The Business Model
With a brief description of the company out of the way, let's take a look at how Beachbody makes money. A big positive about the company is that it makes 75% of its revenue from recurring subscription revenue. Overall, their revenue is broken down into 3 main categories:
Nutrition and supplement subscription (~50%)
Digital subscriptions (~40%)
Connected fitness equipment (~10%)
The slide below shows a quick summary of the different segments and how they generate revenue along with their prices.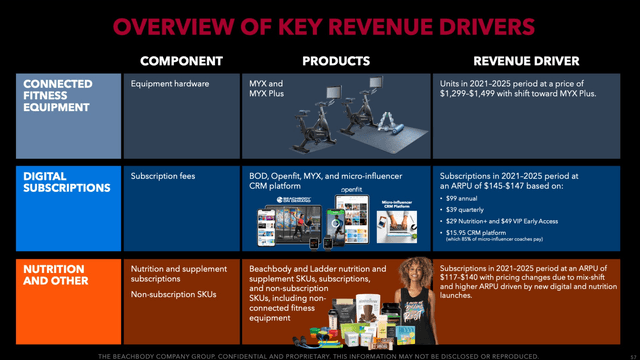 (Source: The Beachbody Company Analyst Day Presentation)
The Ugly Truth
Beachbody, as a whole, offers products, services, and content that are actually good. However, during my research, I discovered an ugly truth about the company. Beachbody also runs a multi-level marketing, or MLM, business under the name Team Beachbody.
For those unfamiliar with MLM, here's a quick definition from Wikipedia:
Multi-level marketing, also called network marketing or pyramid selling, is a controversial marketing strategy for the sale of products or services where the revenue of the MLM company is derived from a non-salaried workforce selling the company's products or services, while the earnings of the participants are derived from a pyramid-shaped or binary compensation commission system. An MLM strategy may be an illegal pyramid scheme.
Beachbody calls its "non-salaried workforce" its "Coaches". The company boasts that it has 400,000+ Coaches.
Beachbody's thought-process behind this strategy is using word-of-mouth marketing, which is one of the most effective marketing tactics out there. To get started as a Coach, one has to make an upfront investment of $39.95, which provides the individual with the necessary resources to run his or her "business". After 30 days, Coaches will have to pay $15.95 per month to continue their Coach business.
But what's in it for them? Commissions.
How do they earn commissions? By recruiting or selling Beachbody products and/or memberships.
When a Coach recruits a new Coach to his or her Beachbody Challenge Group, the Coach gets $38-$150 of commission depending on the package the new member chooses. If the Coach sells a product, they get a 25% commission from the retail price. Finally, if the Coach convinced a customer to sign up for a BOD membership, the Coach gets a 40% commission.

(Source: Team Beachbody Compensation Plan Highlights)
This is only the first level - there is also a Team Bonus. As the team grows and sells more products, the team will be rewarded accordingly. Thus, the goal of a Coach is to recruit more, sell more, and get his or her team to do the same, because the success of his or her team members will drive more commissions for the entire group. The incentive structure is quite complex so I won't go into detail. But here's a snapshot of it.

(Source: Team Beachbody Compensation Plan Highlights)
The point is: an MLM structure is driven by money and greed. That means Coaches are more likely to throw sales pitches than to help a friend or family get in better shape.
I don't like that one bit.
For example, an MLM company approached me a few years ago. The members started to sell me the idea of "running a business that produces 5-figure passive income per month" and that all I have to do is recruit as many new members and sell as much of their products as possible. They want me to feel like an "entrepreneur", a "go-getter", an "initiative-taker". They even brought in a "senior executive" who made a 6-figure income from the business, to make me feel important and to prove a point that it is possible. It was a well-delivered pitch, to be honest. But I soon realize that it was the most pretentious business practice I've ever seen. The culture did not fit me - so I walked away.
While it is possible for people to make decent money and earn a living as a Beachbody Coach, the majority of people who join MLM companies actually lose money. According to a study by the Federal Trade Commission, 99% of people who join MLM companies actually lose money.
In my opinion, selling impossible dreams to average consumers is unethical and that may backfire in the future. In fact, there are many anti-MLM videos and articles posted on social media as of late.
Financials
Controversial business practices aside, Beachbody actually posted some very impressive numbers. Growth in the paid digital subscriptions has been nothing short of spectacular, growing from 0.3 million in 2015 to 2.6 million today. Digital subscriptions is operating at 89% gross margins, with a 96% retention rate, which means consistent cash flow for the company.
Beachbody is projecting 2025E revenue to be about $3.3 billion, up from $0.9 billion in 2020 - a bit of a longshot but achievable in my opinion.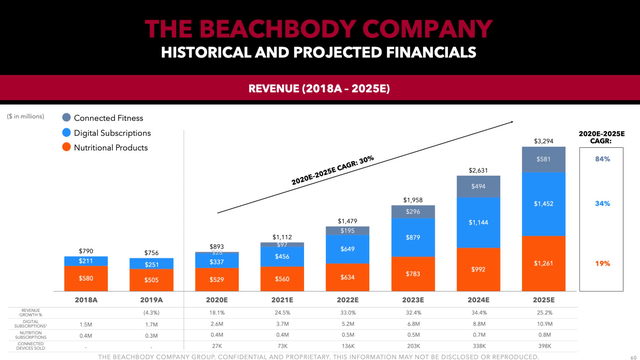 (Source: The Beachbody Company Analyst Day Presentation)
Compared to peers, Beachbody has a high gross margin. However, EBITDA margin is pretty lackluster at only 4% by 2022.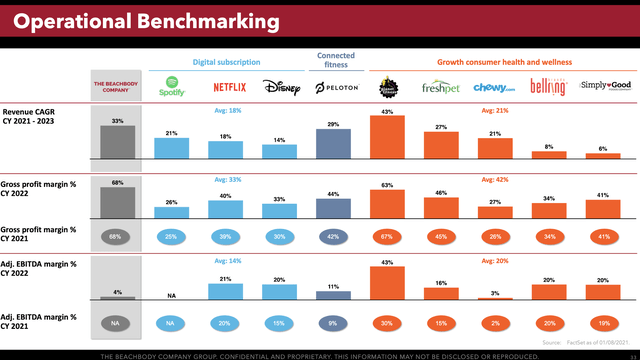 In terms of valuations, Beachbody is attractive compared to closest peer Peloton. Peloton trades at a 9.8x EV / TTM Revenue multiple while Beachbody is trading only at 3.3x at $10 per share. Investors who believe in the future of online fitness may find Beachbody as an attractive investment alternative to Peloton.
Opportunities
International expansion
Expansion to other verticals such as mindfulness, sleep, and nutrition tracking
Cross-sell products across the different platforms
Potential acquisition target by media giants: Netflix, Disney, or AT&T (T).
Acquiring smaller, fitness-related companies
Possible merger with gyms such as Planet Fitness, to create an all-inclusive fitness experience.
Risks
Online fitness engagement decreases as pandemic fears fade and people go back to gyms.
Patent infringement cases against MYXfitness bikes
MLM strategy may damage brand image and reputation
Too much competition
Low barriers to entry
Low switching costs
Conclusion
While I'm bullish on the fitness, nutrition, and wellness industry, I do not see a strong enough competitive moat in Beachbody. Sure, the company has a strong brand, a huge library of content and product offerings, a highly engaged community, and a strong celebrity backing. But there are too many risks involved with the company, including how saturated the sector is and how easily it is for competitors to imitate one another.
Furthermore, I am not a big fan of the MLM/revenue-sharing strategy - I think it is unethical. There may come to a point where the anti-MLM movement gets too large for Beachbody to handle. I think this is why management launched Openfit, as a starting point for the company to rebrand itself.
Short term, Beachbody seems to be valued attractively. But for a long-term hold, it doesn't align with my values. With that said, I'm not a believer in this company. I'll pass on this one.