Intel Mobileye Debuts World's First Commercial Autonomous Driving System
Summary
Intel's Mobileye, arguably the global leader in autonomous driving and robotaxis, will enter the autonomous last-mile delivery market starting in 2023.
Intel also unveiled its Mobileye Drive self-driving system powering its AVs. This hence marks the industry's first commercial autonomous driving solution.
While other players operate in small, unscalable, geofenced areas, Mobileye is achieving world domination in AVs.
As the only company to solve the geofence problem yet, this means Mobileye remains the only serious, viable investment in the upcoming multi-trillion-dollar autonomous driving revolution.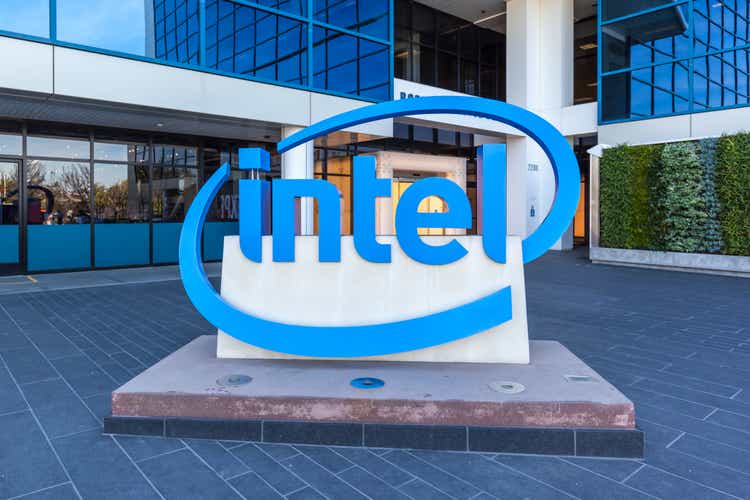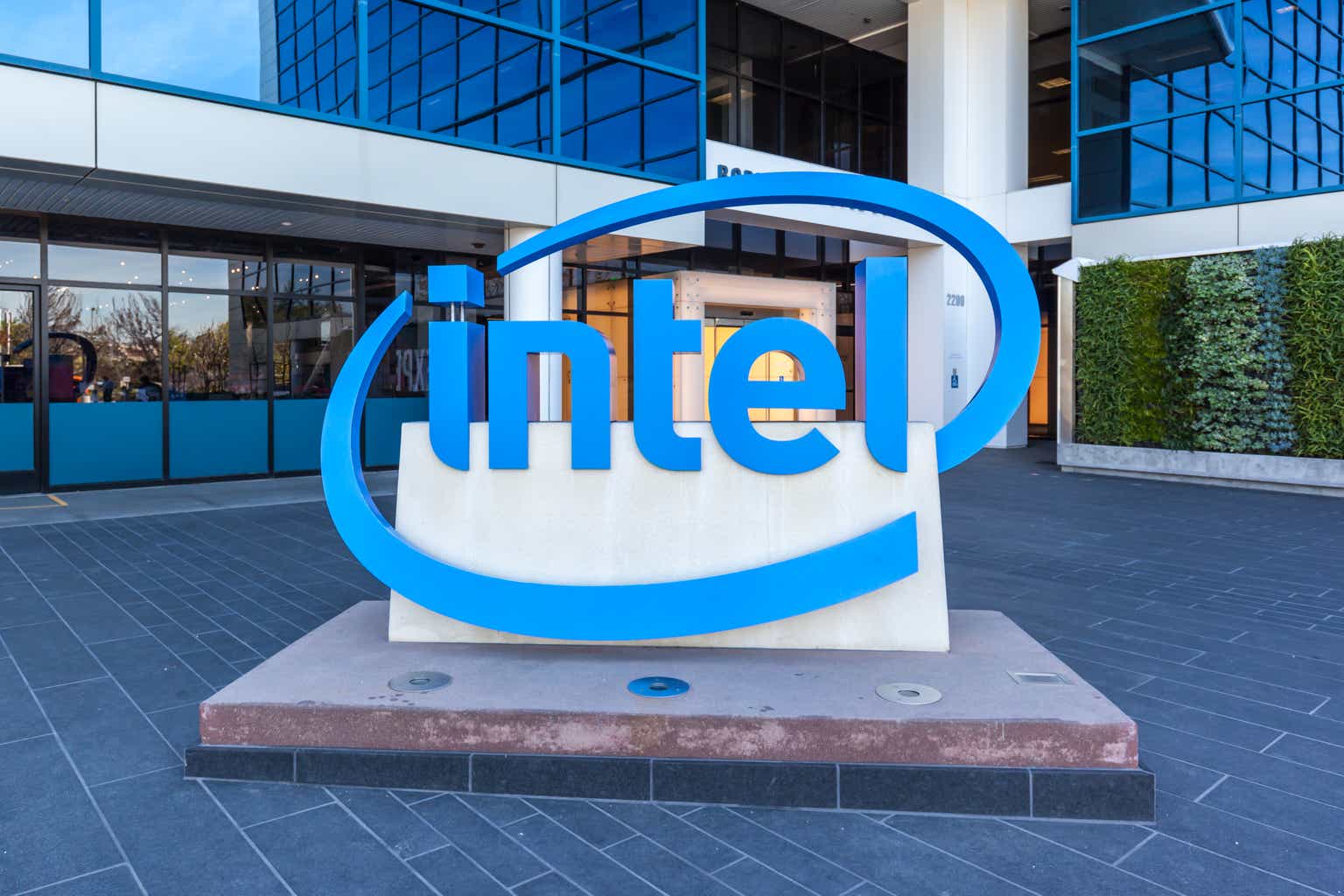 Investment Thesis
Intel (NASDAQ:INTC) Mobileye has recently further expanded the scope of its autonomous driving business, signing a deal for entering the autonomous last-mile delivery space in 2023.
In the last year or so, while many others have seen delays, Mobileye has both continued to execute on its autonomous driving strategy and further expanding in scope.
The largest bull case for Mobileye is that due to its proprietary "REM" HD mapping solution, leveraging millions of crowdsourced vehicles, Mobileye is able to target a global roll-out for its self-driving systems in both consumer AVs and robotaxis. Meanwhile, others like Google (GOOG) (GOOGL) Waymo are still mostly constrained to small, geofenced areas. The latter approach will never scale and hence doomed to fail significantly.
Entering last-mile delivery
Intel recently announced the deal with Udelv. Mobileye's self-driving system will power the latter's next-gen autonomous EV: Transporter. The vehicle is categorized as L4-capable and is targeted for 2023. The size of the deal already encompasses over 35k Mobileye-powered AVs between 2023 and 2028. In fact, already 1,000 of these Transporters have been pre-ordered (by Donlen), which may be the largest such order for autonomous delivery vehicles yet.
As Intel further remarked, this latest partnership signals that Mobileye's self-driving system is ready for commercial deployment:
Today's news is believed to be the first large-scale deal for a self-driving system and signals that Mobileye Drive is ready for commercial deployment in solutions involving the autonomous movement of goods and people.
And Udelv's CEO further explained why Mobileye is uniquely able to deliver this capability (i.e. why Udelv stopped development of its own self-driving system to instead transition to Mobileye's turn-key solution):
Daniel Laury, CEO and co-founder of Udelv, said: "Mobileye is the only company providing a full-stack self-driving system with commercial viability and scale today. The readiness of Mobileye Drive™, along with its vast map coverage of North America, Europe and Asia, will allow us to ramp up the production and deployment of Udelv Transporters and rapidly offer the service at scale to our expanding list of customers."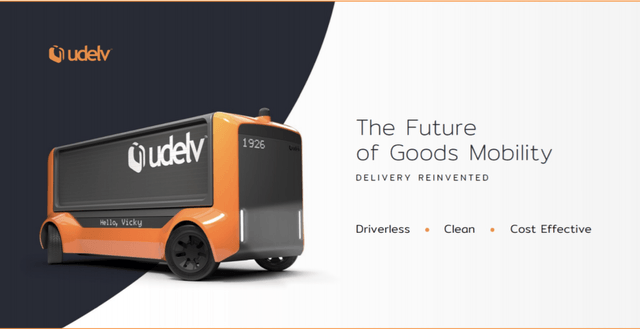 As indicated, this deal means that after robotaxis, self-driving shuttles and autonomous vehicles for consumers, Mobileye is now also entering the market for autonomous last-mile delivery, which is accounting for ~50% of the total delivery cost for goods. Additionally, the significant increase in e-commerce due to COVID-19 has further increased the demand for delivery vehicles and, more significantly, for drivers.
Hence, autonomous delivery addresses these issues in a disruptive way (by removing the driver). Udelv's customers expect to deploy the Transporter for all possible kinds of goods.
Mobileye Drive
Also as part of the announcement, Mobileye announced Mobileye Drive (PDF). This is the brand for Mobileye's full-stack L4/L5 self-driving system. The name may sound reminiscent to Google Waymo's Driver.
In other words, due to the partnership with Udelv, this means Mobileye Drive has officially reached commercial availability in what Mobileye calls the industry's first such commercial autonomous driving system ("The Industry's Premiere Commercial Full-Stack Self-Driving System"). As described, it is targeted for both MaaS (robotaxis), ADS (autonomous delivery) and consumer AVs.
Note that Tesla (TSLA) still classifies its FSD as L2.
In terms of technology, there are no real surprises. It is based on all technology Mobileye has already disclosed. This includes its EyeQ5 chips, camera as well lidar + radar subsystems for "True Redundancy", its RSS driving policy, and REM maps. The lidars are initially sourced from Luminar (LAZR).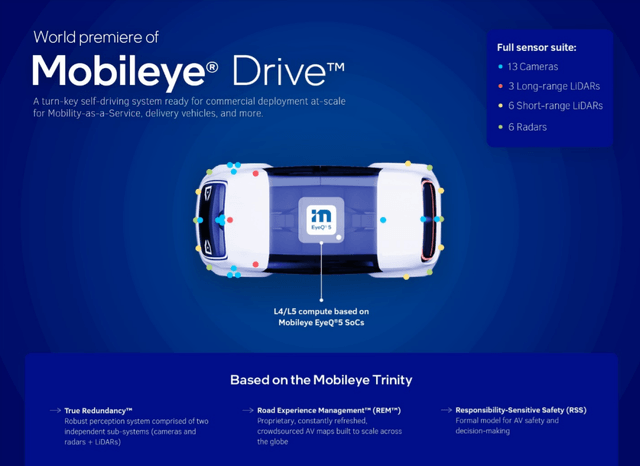 Entering autonomous shuttles
In late February, Mobileye also announced it would enter the market for autonomous shuttles in a partnership/collaboration with a few others. These self-driving shuttles are likewise targeted in 2023. While not announced at the time, this should hence also leverage Mobileye Drive.
As a reminder, Mobileye's robotaxi business will be its first commercialization of its self-driving system, which will start in early 2022 in Israel, and scale out further over time. Other geographies already announced include UEA, France, Japan, South Korea and the U.S.
Analysis
The Mobileye Drive announcement follows just two quarters after Mobileye announced its L2++ SuperVision. Whereas SuperVision was an ADAS solution (targeted for Q3/Q4 launch) using only cameras, Drive consists of Mobileye's full-stack first-generation self-driving system based on two separate subsystems: one based on cameras, and one based on lidar and radar. This initial launch for last-mile delivery vehicles should undoubtedly pave the way for larger-scale fully autonomous consumer AVs to follow in 2024 or 2025.
The two latest announcements, with Mobileye entering last-mile delivery of goods as well as a partnership for autonomous shuttles, further demonstrate Mobileye's comprehensive strategy and investments. In other words, if any kind of transportation could benefit from autonomous driving, then Mobileye is already proving it is the go-to provider for these solutions.
This ability to pivot into smaller niches within the overall autonomous driving market further proves Mobileye's leadership.
In the larger competitive landscape, as indicated, Mobileye's largest advantage, besides its full-stack approach for an end-to-end self-driving system, is its global scope. This is unmatched since most other players remain constrained to rather small, geofenced areas: these are the areas where dedicated vehicles have mapped the area. The latter approach simply is unscalable. It may never work at all at any meaningful scale.
What enables this advantage is Mobileye's crowdsourced "REM" HD map. It is built by leveraging millions of regular ADAS-equipped vehicles. Mobileye expects to scale this to map 1B km/day in a few years. In fact, since Mobileye is the only company with such a capability, I would hypothesize that others (such as Waymo, Amazon (AMZN) Zoox, etc.) may eventually turn to Mobileye to license its REM map to scale their own solution beyond geofenced areas.
Financials
Mobileye has recovered quickly from COVID-19, and more recently has been less impacted by the shortages than others. Mobileye followed up its multi-year momentum with accelerated 48% growth in Q1.
Investor Takeaway
The advent of autonomous driving will likely be disruptive in more ways than most investors can imagine. This is a multi-trillion-dollar opportunity in the long term. As such, the best way to capitalize on this revolution is by investing in the leader in this space. As the recent expansion yet again demonstrates, that is Mobileye.
Mobileye's major announcements are keeping up with an almost quarterly cadence: SuperVision, expansion of autonomous driving testing to global locations, as well as entering the markets for autonomous shuttles and delivery with Mobileye Drive.
In particular, with its latest foray into autonomous last-mile delivery, Mobileye adds a further $85B TAM by 2030 (according to Mobileye). Mobileye even estimates middle-mile TAM to reach $1T over time. Such numbers further provide some direction for my thesis that Mobileye is on track to become Intel's company-wide largest business unit over the next few decades. Especially if its competitors fail to figure out how to move beyond their geofenced areas.
This article was written by
With an engineering background, looking for companies with expertise to be well-positioned for growth and leadership.
Analyst's Disclosure: I am/we are long INTC. I wrote this article myself, and it expresses my own opinions. I am not receiving compensation for it (other than from Seeking Alpha). I have no business relationship with any company whose stock is mentioned in this article.
Seeking Alpha's Disclosure: Past performance is no guarantee of future results. No recommendation or advice is being given as to whether any investment is suitable for a particular investor. Any views or opinions expressed above may not reflect those of Seeking Alpha as a whole. Seeking Alpha is not a licensed securities dealer, broker or US investment adviser or investment bank. Our analysts are third party authors that include both professional investors and individual investors who may not be licensed or certified by any institute or regulatory body.