Intellia Expands Its In Vivo Advantage
Summary
Intellia has optimized its core LNP technology to work across multiple targets within the liver.
Now the company is branching into in vivo targets in bone marrow and HSC.
Intellia is years ahead of its CRISPR competitors with its LNP technology.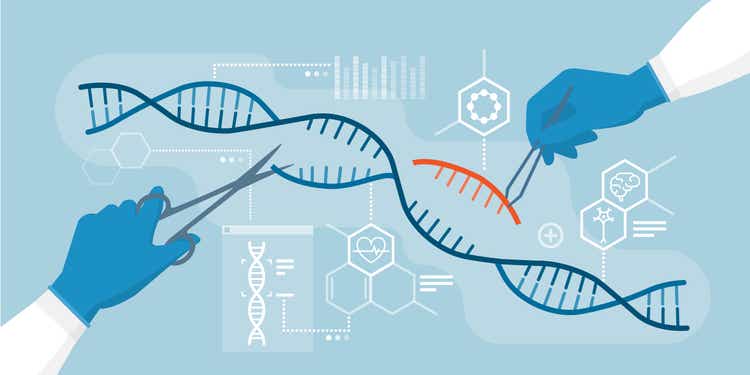 Over the past several years, Intellia (NASDAQ:NTLA) has been developing the most advanced CRISPR in vivo platform in the industry. While CRISPR Therapeutics (CRSP) has captured the market's attention with their industry leading treatment for sickle cell and beta-thalassemia (CTX-001), Intellia has presented by far the most advanced in vivo data to this point and has a new encouraging treatment paradigm that could ultimately capture and treat the largest share of the sickle cell disease population. This article will illustrate the company's in vivo advancements and show how Intellia could end up being the most successful CRISPR company.
Early In Vivo Advancements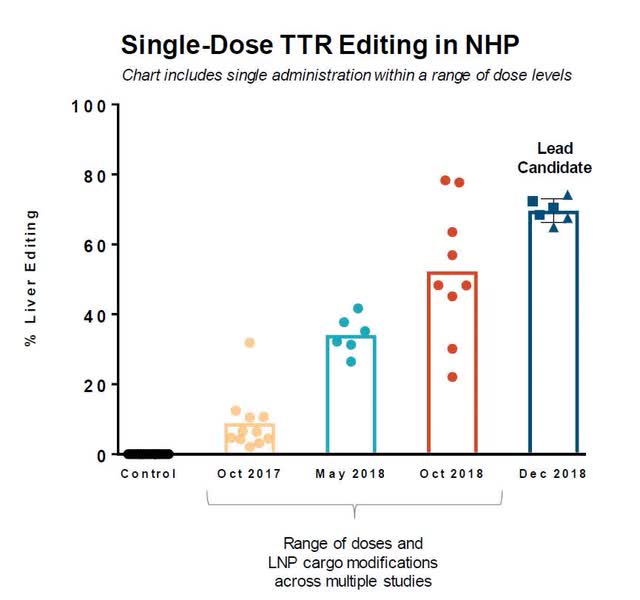 Source: Intellia Presentation 2018
In late 2018, Intellia made an in vivo advancement to their lipid nanoparticle (LNP) cargo components that resulted in a huge gain in efficacy. The advancement was so good, the company decided to delay their IND submission for their lead candidate, NTLA-2001, by roughly 6 months and push it out until 2020. A pre-clinical biotech company, significantly delaying their lead candidate by 6 months, is usually a huge red flag, but in the case of Intellia it provided the groundwork for their entire in vivo platform. The delay allowed the company to include the enhanced cargo components into their lead candidate. The enhancements resulted in a very predictable spread of high levels of editing using a lower dosage than previous iterations. The result was editing in the liver of nearly 80% and TTR protein knockdown of around 95%.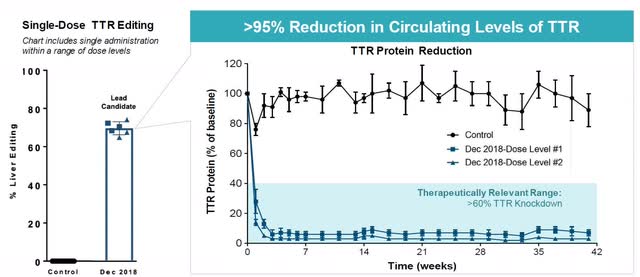 Source: Intellia Presentation 2021
Intellia knew NTLA-2001 was the proving ground for their entire platform focused on the liver and delaying its lead program by 6 months would have tremendous advantages for subsequent targets in the liver. Additional liver targets would use the same LNP technology and only require minor edits to the guide RNA. Intellia quickly followed its ATTR candidate with new work on hereditary angioedema (HAE). Here, the company utilized its initial LNP optimization for ATTR and applied it directly to the HAE program with only having to change a small portion of the guide RNA. The preclinical results show the same magnitude of efficacy of around 95% of target protein knock down.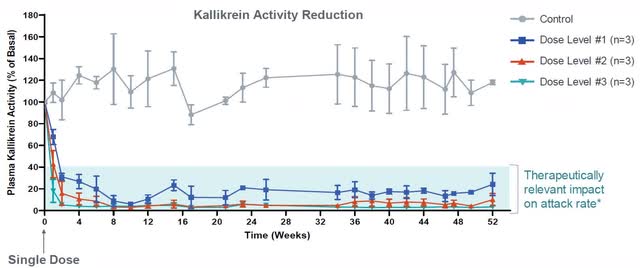 Source: Intellia Presentation 2021
Intellia has laid out focusing on the liver before branching out to other organs or systems in the body. Most recently, the company announced a major advancement that largely flew under the radar. Intellia presented data showing the ability to target bone marrow with a newly optimize bone marrow-tropic LNP. The company is aggressively advancing its LNP technology into bone marrow targets, so it can pursue sickle cell disease and potentially avoid major obstacles that conventional bone marrow transplants face.
Intellia's New Sickle Cell Disease Approach
Through its partnership with Novartis (NVS), Intellia already has a CRISPR therapy targeting sickle cell disease in clinical trials. However, Intellia has further advanced its LNP technology to potentially create a much improved second generation sickle cell disease candidate, which could capture the majority of the sickle cell disease market.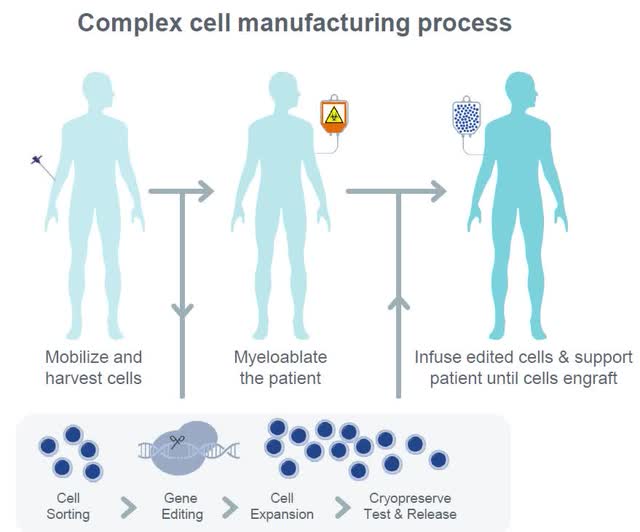 Source: Intellia Presentation 3/10/2021
The current CRISPR therapies in clinical trials treating sickle cell by Intellia/Novartis, CRISPR/Vertex (VRTX), and Editas (EDIT) are all ex vivo platforms that require complex cell manufacturing and severely invasive procedures that pose significant risk to the patient. Currently, these treatments involve harvesting cells from the patient, which are then shipped to a cell manufacturing facility where they are edited with CRISPR. These cells are then expanded, tested, cryopreserved and shipped back to the patient. During this time, the patient undergoes chemotherapy to myeloablate the remaining bone marrow to make room for the new edited cells. During this time, the patient is immunosuppressed for over a month, leaving the patient vulnerable to infections. The chemotherapy drugs also have underlying risks including malignancy which, although rare, has led to leukemia. Younger patients are also at risk of infertility from the chemotherapy. During this whole process, the patient requires constant monitoring which requires prolonged hospitalization. While the potential benefits of these new CRISPR treatments are massive, they may also be limited to the most severe cases of sickle cell due to the invasive process and will struggle to treat patients in resource poor areas.
Intellia's new in vivo approach to treating sickle cell avoids chemotherapy, the complex process of harvesting and editing cells and the long hospitalization time. As a result, it could become the mainstream treatment option for sickle cell. Intellia's simplified process involves an IV infusion of LNP that would target and edit the patient's bone marrow and hematopoietic stem cells (HSC). The early pre-clinical data has shown therapeutic benefit after just one dose.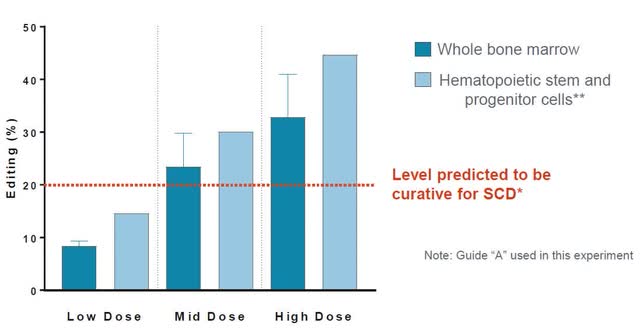 Source: Intellia Presentation 3/10/2021
Perhaps the most exciting data presented was the ability to increase bone marrow and HSC editing levels through multi-dosing. Due to the low immunogenicity of the LNP delivery system, multiple doses can be given to treat the patient in a stepwise fashion to meet the desired level of editing. This means if the initial dose doesn't meet desired therapeutic level, additional doses could be given to meet the desired target. Here is where many gene therapies have failed due to their reliance on viral delivery methods and the inability to even consider re-dosing.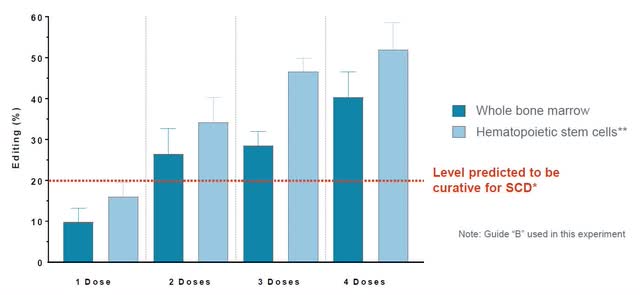 Source: Intellia Presentation 3/10/2021
Another important data point presented by Intellia was the bone marrow-tropic LNP was able to target hematopoietic stem and progenitor cells, which is important because these cells will provide a long lasting effect and give rise to all other blood cell types. These edited cells retain regenerative potential reproducing with CRISPR edits carried through lineages. The next step for the company will be to progress this work into non-human primates and then submit an IND before it can take this program to the clinic. This means it'll likely be another 24 months before, this program has the potential to reach human trials.
Take Away
This advancement in potential sickle cell treatment is a giant step for Intellia. First of all, the company proved it can advance its LNP platform to targets outside the liver. Up to this point, most LNPs in the industry had been geared toward the liver. The fact that Intellia has successfully demonstrated a bone marrow-tropic LNP is in itself a big step forward in expanding its in vivo pipeline. Second, the potential market for a CRISPR based therapy for sickle cell disease is huge. Vertex recently paid CRISPR Therapeutics $900 million up front with an additional $200 million upon regulatory approval for an extra 10% of revenue from their CTX-001 treatment of sickle cell and beta thalassemia. $1.1 billion for an extra 10% of revenues gives the upfront value of CTX-001 at $11 billion. If Intellia can successfully develop an in vivo treatment for sickle cell disease that avoids the drawbacks of current ex vivo CRISPR treatments, it would be a game changer for not only the company, but also for patients across the globe. The unmet medical need for sickle cell disease is huge. While the current clinical trials are a huge step forward for patients suffering from sickle cell, its application could be limited given the invasive nature, associated risks and long hospitalization requirements.
Intellia is furthering its in vivo advantage. No other CRISPR company has demonstrated true in vivo CRISPR applications to the extent that Intellia has done. The key to this success has been the company's ability to optimize its LNP. The company optimized its liver-tropic LNP over 18 months to the point where it can reduce a target protein by 95% with little variation in multiple targets. Now the company can pursue targets in the bone marrow, starting with a second generation sickle cell treatment.
As with all biotech stocks, the risks are high and lack of efficacy or concerning safety data could decimate the stock price. Intellia is well capitalized with $597 million in cash on hand, but the company would likely take advantage of positive news with new share offerings and dilute current shareholders. As I laid out in my previous article on Intellia, the company is at a critical juncture. The company expects to release initial data from clinical trials treating patients with transthyretin amyloidosis (ATTR) sometime over the next 3-4 months. If the company can show successful levels of editing and a greater than 80% knockdown of the TTR protein, the stock will break out to higher levels.
This article was written by
Research investment analyst for Chicago consulting firm until 2009. In this role I was the lead analyst on large 401k plans, pensions and endowments totaling over $20 billion in assets. I also headed analyst research on fixed income and hedge fund of funds portfolios. Today, I focus my research on finding value stocks with sound fundamentals and healthy cash flow. I concentrate my personal portfolio on quality dividend growth stocks and keep an active watch list of over 150 stocks to add on pull backs or at an attractive valuation. I exited the finance industry in 2010 to follow my dream of becoming a firefighter. I now live and work in Texas. I invest mainly in long-term growth trends and under appreciated sectors.
Analyst's Disclosure: I am/we are long NTLA. I wrote this article myself, and it expresses my own opinions. I am not receiving compensation for it (other than from Seeking Alpha). I have no business relationship with any company whose stock is mentioned in this article.
Seeking Alpha's Disclosure: Past performance is no guarantee of future results. No recommendation or advice is being given as to whether any investment is suitable for a particular investor. Any views or opinions expressed above may not reflect those of Seeking Alpha as a whole. Seeking Alpha is not a licensed securities dealer, broker or US investment adviser or investment bank. Our analysts are third party authors that include both professional investors and individual investors who may not be licensed or certified by any institute or regulatory body.