Enjoy: The Uber Of Retail
Summary
Enjoy has a novel experiential retail offering with no direct competition.
The market is potentially very large, although Enjoy has only proven its business model in the mobile phone market at present.
There are clear first mover advantages that would enable significant growth if Enjoy succeeds in creating this new market.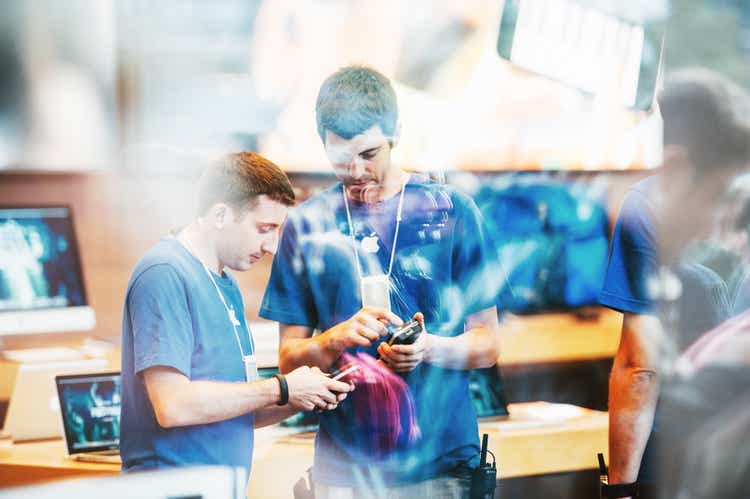 Introduction
On 4/28/2021, Enjoy Technology announced that it would be going public via SPAC merger with Marquee Raine Acquisition Corp (MRAC). The combined company has an enterprise value of $1.2B and will eventually trade under the ticker ENJY.
Enjoy is in the early stages of creating a new retail model in which "mobile stores" (i.e. think Uber meets Apple Store) bring high end retail experiences directly to an end customer's home. Enjoy has no direct competitors and the market is potentially very large, but at the same time, the idea is unproven and quite frankly sounds a little strange. On that note, this company reminds me a lot of Uber (UBER) in the early days and this recent SPAC merger gives investors a chance to invest in this company in what would be roughly equivalent to Uber's Series C funding round.
Business Overview
Enjoy describes itself as a "technology-powered service platform reinventing 'Commerce at Home'". The basic idea is that Enjoy works with large consumer goods sellers (e.g. Apple) to provide last mile product delivery by a technology "Expert" who can provide the end customer a white glove unboxing experience. This Expert helps the end customer to set up the product, learn product features, and also acts as a salesperson to upsell additional services or products. This process is outlined in the slide below, which shows the basic steps: (1) the end customer places an order at a partner website and has the option to add on Enjoy's service, (2) the last mile fulfillment is achieved with the same level of transparency as one might expect from Uber or DoorDash (DASH), and (3) the at-home experience is delivered by a trained Expert.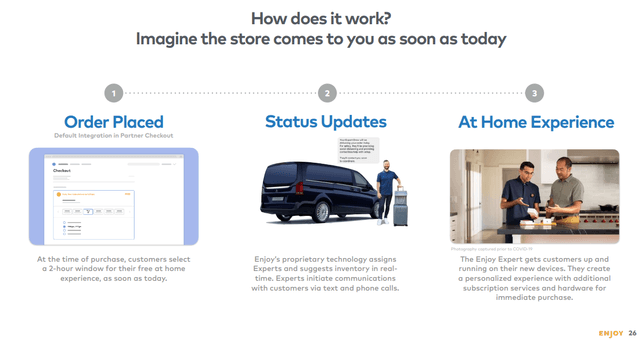 Source: Enjoy Investor Presentation
Enjoy refers to this new retail concept as the "mobile store". As described further in the Enjoy Investor Presentation Enjoy carries inventory on consignment that is delivered by trained employees (i.e. not gig workers). In geographies where Enjoy has enough scale, this type of model can enable same-day delivery. Underlying this delivery model, Enjoy has developed a technology platform that helps to manage the backend logistics (e.g. inventory, routing, etc).
One of Enjoy's key selling points is that they are able to enhance the consumer experience by providing Expert assistance during unboxing. Enjoy measures this using Net Promoter Score, which they report to be 88. For those unfamiliar with NPS, 88 is considered a high score which indicates a high level of customer satisfaction. For reference, this score puts Enjoy's customer experience somewhere in between Apple and Tesla. Enjoy specifically lists target customer personas that Enjoy believes will have high value for their services: millennials and gen Z, busy parents, work from home, demanding pros, and the not-so tech savvy.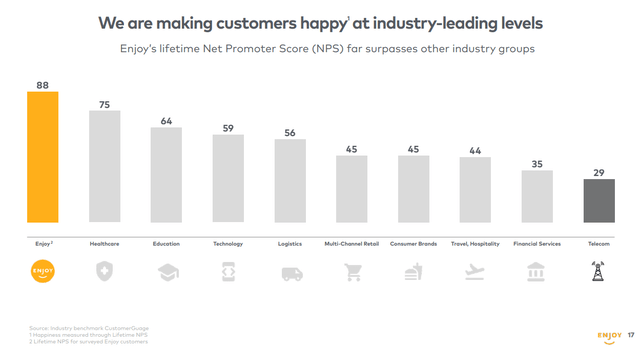 Source: Enjoy Investor Presentation
Enjoy refers to the vendors whose products Enjoy is delivering to end customers as "partners". So far, Enjoy has focused primarily on mobile phone vendors. They started with AT&T (T) in 2015, added EE in 2018, and Rogers and Apple (AAPL) in 2019. Enjoy points out that these are the market leaders in their respective categories / geographies: AT&T in the US by revenue, EE in the UK by subscribers, Rogers in Canada by wireless, and Apple in the US by mobile devices.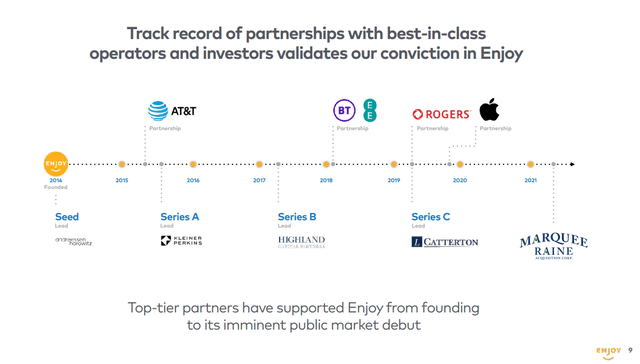 Source: Enjoy Investor Presentation
The choice of consumer electronics partners as Enjoy's initial market is strategic. Consumer electronics are a natural fit for Enjoy's business model because they are compact (i.e. easy to maintain inventory in a delivery vehicle), high value (i.e. margin), complex (i.e. benefits from their Expert service), and have a lot of potential for add on services or accessories (i.e. additional revenue streams for Enjoy). Enjoy's business model is (1) Enjoy earns a fee for the delivery and setup of the product with the end customer, and (2) Enjoy earns revenue for incremental hardware, services, etc. sold during the visit.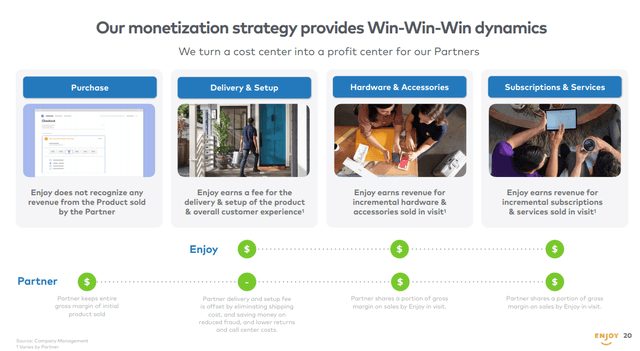 Source: Enjoy Investor Presentation
Key People & Investors
Enjoy's founder and CEO is Ron Johnson, who is credited with founding the Apple Store and positioning Target as a more hip retailer (e.g. through the introduction of the Michael Graves product lines). The Enjoy Investor Presentation emphasizes this as a key selling point. It should be noted that Ron Johnson was CEO at JC Penney for 18 months before being fired over a failed turnaround attempt.
Enjoy also boasts some notable investors, including Andreesen Horowitz, Kleiner Perkins, Google, and two of Enjoy's partners BT and Rogers. It is unclear whether if any of these investors participated in the PIPE for the SPAC merger.
Financials
Unlike many SPAC presentations, Enjoy presents metrics going back to 2018. One can see that Enjoy has been steadily growing revenue since 2018. This includes growing revenue year over year during COVID, which is impressive for a company whose business model is based on in-person interaction.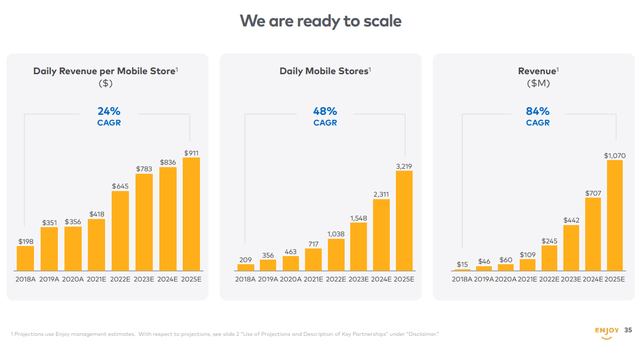 Looking forward, management expects revenue to reach $1B by 2025, which is an ambitious growth strategy. However, management believes that the addressable market for just expanding with its current partners into new regions is $48B. Furthermore, Enjoy has no direct competitors in this space.
At $10/share, the transaction gives Enjoy a total equity value of $1.6B and an enterprise value of $1.2B. Enjoy provides some useful valuation comparisons in the slide below. If one believes the growth projections provided by Enjoy, then the current valuation is quite attractive.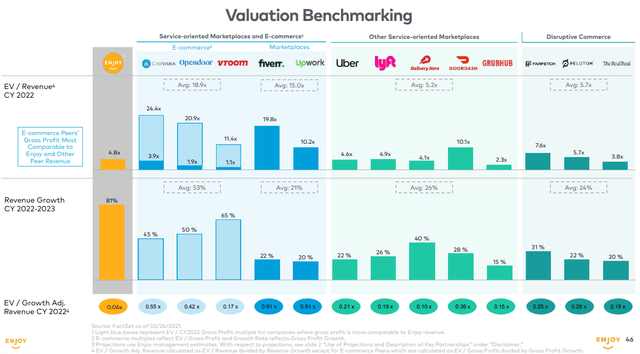 Conclusion: Investment Thesis & Risks
Thesis
The market for mobile stores is potentially very large.
Enjoy has a very low valuation relative to the size of the potential market.
Enjoy has no direct competition for this type of in-home experiential retail.
Scale in both large customer partnerships and geographic presence is required for the unit economics of this business model to be profitable. This creates a barrier to entry that could give Enjoy a significant first mover advantage.
Early growth is a proof point that there is consumer demand for this type of retail experience.
Enjoy has a highly qualified founder / CEO and well-known investors.
Risks
It is unclear how large the market is for customers that would value this experience. Enjoy has demonstrated that it is larger than 0, but it is unlikely that 100% of consumers would value this service.
It is unclear if this service would be useful for products beyond mobile phones (Enjoy's first market). Enjoy has a relatively strong value proposition for phones because they have many features / complexities such that consumers could benefit from expert consultation.
It is unclear if this business model would be profitable for other products beyond mobile phones. Mobile phones are an ideal product because they are small but high value, which enables positive unit economics for a mobile store that is limited in the number of transactions per day and inventory that can be carried). Furthermore, phones have the potential for many add-on services that create additional revenue for Enjoy.
Recommendation
The biggest risk facing Enjoy is how much of the retail market will actually adopt this type of experiential retail approach. Enjoy has made a strong case that Enjoy's mobile store concept has value in mobile phones, but has yet to demonstrate the ability to extend across other products. Nevertheless, the potential market is very large, Enjoy has no direct competitors, and there is a compelling first mover advantage to this business model. Given that Enjoy's valuation is relatively low even on a near term basis (i.e. vs. 2023 gross profit), I believe the upside is worth this risk.
Additional Resources
Below are some additional resources that I found helpful in preparing this article to show the evolution of this company over time and some additional perspective.
This article was written by
I am a PhD with a quantitative engineering background. For many years I have leveraged Seeking Alpha to improve my personal trading activity and starting 2019 I have decided to contribute my own insights. My goal is to help continue growing this great community and collaboratively develop new ideas!
Analyst's Disclosure: I am/we are long MRAC. I wrote this article myself, and it expresses my own opinions. I am not receiving compensation for it (other than from Seeking Alpha). I have no business relationship with any company whose stock is mentioned in this article.
Seeking Alpha's Disclosure: Past performance is no guarantee of future results. No recommendation or advice is being given as to whether any investment is suitable for a particular investor. Any views or opinions expressed above may not reflect those of Seeking Alpha as a whole. Seeking Alpha is not a licensed securities dealer, broker or US investment adviser or investment bank. Our analysts are third party authors that include both professional investors and individual investors who may not be licensed or certified by any institute or regulatory body.