Forget Netflix - Buy These 2 Out-Of-Home Recovery Stocks Instead
Summary
Netflix has been one of the best-performing investments of the past decade, and its growth only accelerated in 2020.
Many investors were quick to extrapolate this recent growth far into the future, but we think it is a mistake.
As we put the crisis behind us, Netflix will face great challenges that aren't yet fully reflected in its share price. We recommend buying out-of-home entertainment stocks instead.
Looking for a portfolio of ideas like this one? Members of High Yield Landlord get exclusive access to our model portfolio. Learn More »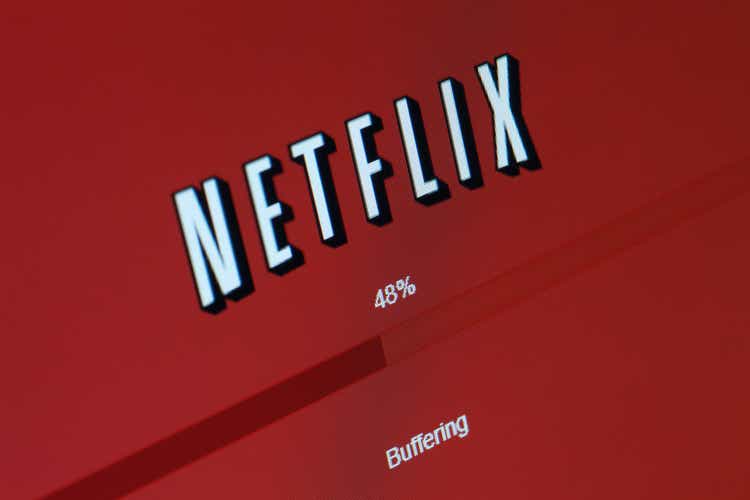 Netflix (NFLX) has been one of the best-performing stocks over the past 5 years, earning nearly 4x the returns of the S&P500 (SPY):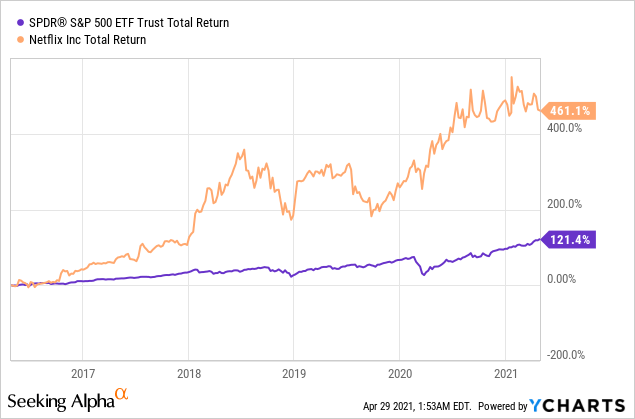 This outperformance was the result of rapid growth in memberships, which more than doubled over this time period, and also the expansion of its valuation multiple.

2020 was a particularly good year for Netflix, growing memberships even faster than in the previous years.
Investors were quick to celebrate these results and reprice Netflix at an even higher valuation.
But is this growth really sustainable?
The main reason why 2020 was such a good year is that people were locked inside due to the pandemic.
For most of the year, out-of-home entertainment venues were closed or restricted... We couldn't travel... And in some cases, entire countries were (and still are) on lockdowns.
This was the perfect environment for Netflix.
The real world was out-of-business, giving Netflix and its peers a temporary monopoly for all entertainment needs.
But now the world is changing again
42.2% of the total US population has already received at least one shot of the covid vaccine, and with more than 3 million people receiving a shot each day, we are set to reach 70%+ herd immunity in ~1.5 months.

Source: Twitter (TWTR)
That doesn't mean that the crisis is over, but we are likely to see a significant decline in the number of new cases, hospitalizations, and death.
That's very good news for a lot of companies, but it is potentially very bad news for Netflix.
Now the real world is gradually coming back to life. Malls are reopening, movie theaters are showing new blockbusters, people are traveling again, concerts are coming back, so are sporting events, etc.
I suspect that many people signed up for Netflix because it was the only game in town during the heights of the pandemic, but as the world returns to normal, they will see less value in keeping their memberships.
I myself canceled my membership as things started to reopen. After a year of isolation, the last thing that I want to do is spend my time watching Netflix unless I really have no other options.
And I am not alone to feel this way.
Netflix's recent quarterly results showed barely any growth, causing its share price to drop by 10%:

Is this just a one-off miss or is this the beginning of more difficulties?
The pandemic is not even over yet, and they are already feeling the pain of its end. There is a lot of pent-up demand for out-of-home entertainment options (traveling, dining, shopping, etc.) and this has not been fully unleashed yet.
That will weigh on Netflix's results in the coming quarters as we put the pandemic behind. Even then, its valuation is pricing it for rapid growth, which appears to be slowing down.
Rather than invest in Netflix, which will suffer from the end of the pandemic, we suggest that investors consider out-of-home recovery plays instead.
In what follows, we will highlight two of our favorite pandemic recovery investments, which we expect to easily outperform Netflix in the coming years:
EPR Properties (EPR)
EPR is a REIT that specializes in experiential properties such as movie theaters, golf complexes, ski areas, water parks, etc.: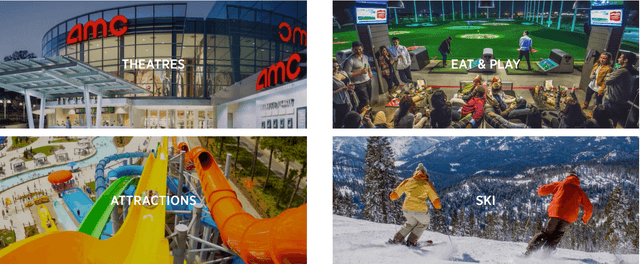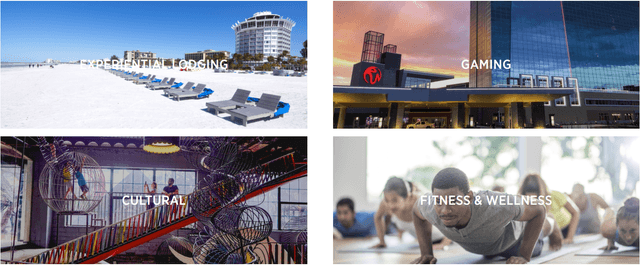 As the landlord of these properties, EPR suffered tremendously during the pandemic. Its tenants were not able to properly operate their businesses, and as a result, they were forced to suspend rent payments to preserve liquidity.
But now, the end of the pandemic is approaching, restrictions are slowly being lifted, and this will lead to a recovery in rent collection rates.
EPR has already addressed most of its missed rent payments through deferral agreements, and therefore, we can expect a return to ~100% rent collection in the second half of this year, and a reinstatement of its dividend.
EPR makes it clear in their investor presentation: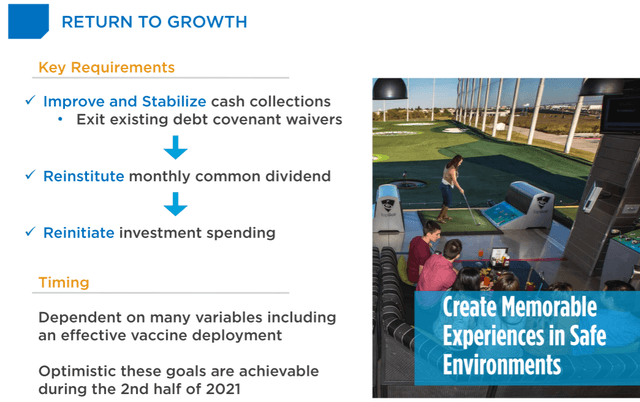 These are some of the businesses that will benefit the most from the end of the pandemic. According to McKinsey:
As consumer confidence returns, so will spending, with 'revenge shopping' sweeping through sectors as pent-up demand is unleashed... The bounce back will likely emphasize those businesses that have a communal element such as entertainment venues. - McKinsey, January 2021.
EPR is a net lease landlord, which means that its leases are very long at >10 years, include fixed rent payments that increase annually by 1-2%, and the tenants are responsible for all property expenses.
Therefore, as the landlord, you don't need to be extremely bullish on the underlying tenants. As long as they can turn a profit, your rent gets paid, and given that the tenants covered their rent by ~2x before the pandemic, there is good margin of safety.
Right now, EPR is priced at 11x expected normalized AFFO, which is nearly 2x lower than some of its high-quality net lease peers. That remains a great value and as EPR recovers from this crisis, reinstates the dividend, and returns to growth, we expect to reprice at closer to 15x FFO. As the dividend returns, you can also expect to earn a 4-6% yield starting in a few months from now.
That makes EPR a great covid recovery play.
Macerich (MAC)
MAC is the owner of the highest quality mall portfolio in the US. These are Class A, highly urban properties, that are located in wealthy and fast growing neighborhoods.
Santa Monica Place: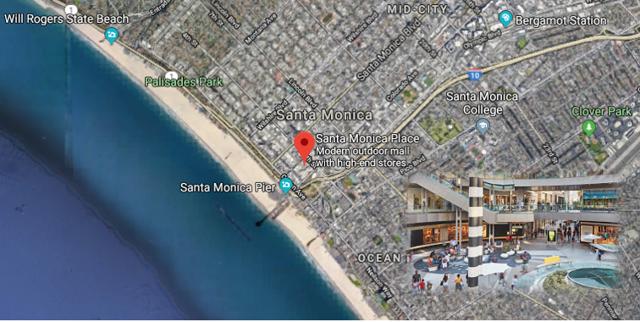 Scottsdale Fashion Square: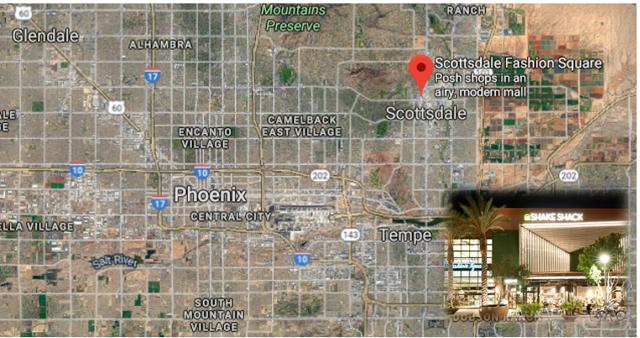 Just like EPR, MAC suffered a lot over the past year.
For a long time, its malls were closed, tenants didn't pay rents, and many retailers went bankrupt, leaving it with vacant space.
MAC suffered even more than EPR because its high leverage forced it to raise equity, which diluted shareholders.
While it reduces future upside potential, it allowed the company to avoid a worst-case scenario, which is what 3 out of 6 mall REITs had to go through. CBL & Associates (OTCPK:CBLAQ), Pennsylvania REIT (PEI), and Washington Prime (WPG) are all still trading at near-$0 due to covenant breaches, overleverage, and the risk of a complete equity wipe-out. By raising equity, MAC is likely to have escaped this outcome, which bought time for the business to recover and rebuild from here, and we have good reasons to be optimistic because:
MAC has already signed ~500k square feet of new leases and it is working on another ~435k, which implies a 400+ basis point occupancy gain.
The fourth quarter leasing activity was nearly as strong as before the crisis.
Its Arizona properties are back to ~99% of pre-covid sales. These properties serve as a proxy for other malls because they suffer the least restrictions.
Nearly all 2021 lease expirations are already handled. 70% are committed and the remaining 30% are under LOI.
Rent collection rates have recovered to 94% and trending positively.

Its tenant watchlist is the shortest in many years.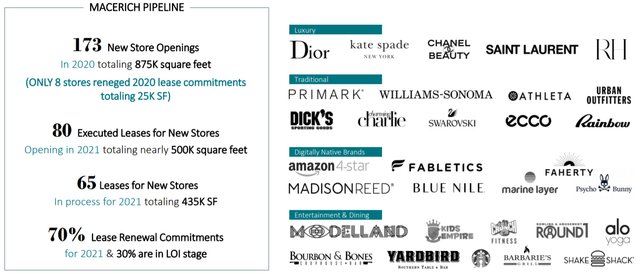 MAC owns the best properties in its peer group and it is well-reflected in the rapidly recovering fundamentals.
Priced at a 70% discount relative to our estimate of NAV, we believe that MAC has the potential to double from here, and while you wait, you earn a 4.2% dividend yield.
The mall space remains hated, but not all malls are created equal, and high-quality malls are here to stay. In fact, Amazon (AMZN) is a tenant in many of MAC's malls.
Bottom Line
Owning Netflix and other tech stocks was very profitable over the past year.
But trees don't grow to the sky, and as we put this crisis behind, Netflix will have a much more harder time to grow.
We think that out-of-home entertainment venues such as golf complexes, water parks, movie theaters, and class A malls, have a lot more to gain than Netflix.
It is by investing in this type of discounted opportunities that we have managed to materially beat market averages over the past months, and we think that this is just the beginning:

Source: Interactive Brokers
If you want full access to our Portfolio and all our current Top Picks, feel free to join us for a 2-week free trial at High Yield Landlord.
We are the largest real estate investment community on Seeking Alpha with over 2,000 members on board and a perfect 5/5 rating from 400+ reviews:

For a Limited-Time - You can join us at a deeply reduced rate!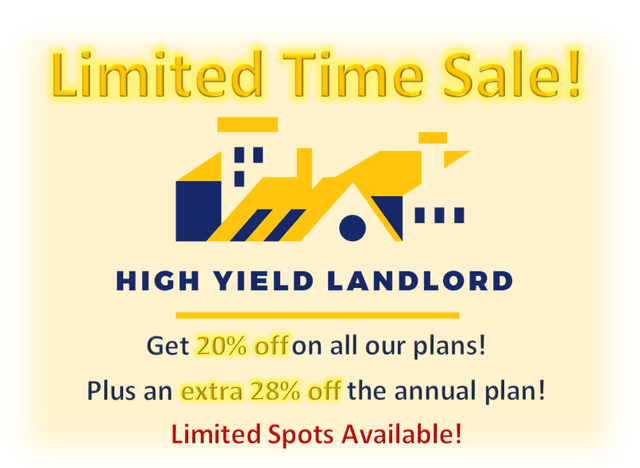 This article was written by
Jussi Askola is the President of Leonberg Capital, a value-oriented investment boutique that consults hedge funds, family offices, and private equity firms on REIT investing. He has authored award-winning academic papers on REIT investing, has passed all three CFA exams, and has built relationships with many top REIT executives.
He is the leader of the investing group
High Yield Landlord
, where he shares his real-money REIT portfolio and transactions in real-time. Features of the group include: three portfolios (core, retirement, international), buy/sell alerts, and a chat room with direct access to Jussi and his team of analysts to ask questions.
Learn more
.
Analyst's Disclosure: I am/we are long EPR; MAC. I wrote this article myself, and it expresses my own opinions. I am not receiving compensation for it (other than from Seeking Alpha). I have no business relationship with any company whose stock is mentioned in this article.
Seeking Alpha's Disclosure: Past performance is no guarantee of future results. No recommendation or advice is being given as to whether any investment is suitable for a particular investor. Any views or opinions expressed above may not reflect those of Seeking Alpha as a whole. Seeking Alpha is not a licensed securities dealer, broker or US investment adviser or investment bank. Our analysts are third party authors that include both professional investors and individual investors who may not be licensed or certified by any institute or regulatory body.