Rover: Capitalizing On The Pet Care Services Super Niche
Summary
Rover is going public through a SPAC merger, valuing the company at $1.63 billion.
Pet adoption surged during the pandemic, offering growth opportunities for the underpenetrated pet care services subindustry.
Rover's business model seemed to be un-Amazonable, un-Uberable, and un-Fiverrable.
Rover's market leadership in a highly niched category will serve as a moat against the competition.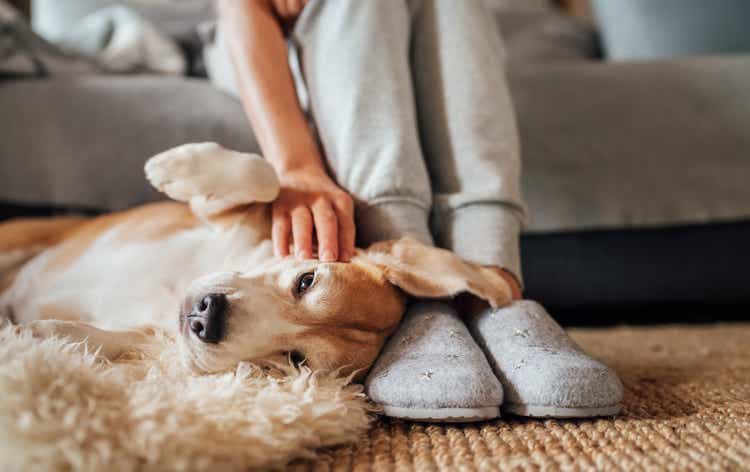 Investment Thesis
In a time of great uncertainty and stress, many home dwellers turned to pets to keep them company during this struggle. As a result, pet adoption rates surged, providing a catalyst for the pet care services industry to grow.
Rover aims to capture this opportunity. With a strong brand, an unrivaled business model, and an underpenetrated submarket, Rover offers a compelling investment case for pet-friendly investors.
Rover Going Public Through A SPAC Merger
On 11 February 2021, Rover, the leading online marketplace for pet care, has signed a definitive agreement to merge with the True Wind Capital-sponsored SPAC, Nebula Caravel Acquisition Corp (NEBC). Upon closing of the business combination, the combined company will trade under the ticker symbol "ROVR".
As a result of the merger, Rover will receive $325 million of gross cash proceeds, which includes $275 million from NEBC's cash held in trust and $50 million private placement of common stock.
The business combination will leave Rover with a $1.63 billion equity value, or $1.36 billion enterprise value, at $10 per share.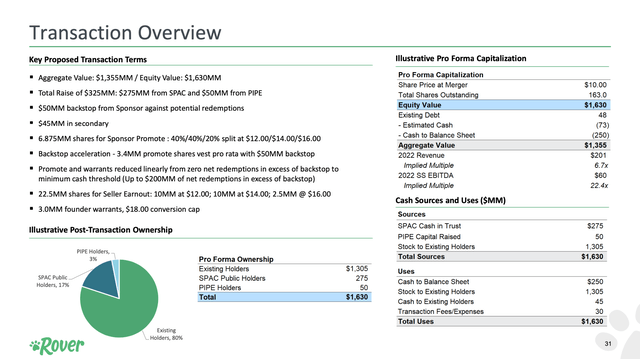 (Source: Rover and NEBC Investor Presentation)
Pandemic Puppies
As a result of the pandemic, fear and rules forced people to stay at home more than ever. Introverts enjoyed the solitude, extroverts craved interaction. For some, loneliness took a toll on their mental health, spurring them to turn to little (or big) furry animals to keep them company. No, I'm not talking about Dogecoin (DOGE-USD). I'm talking about pets.
Loneliness, stress, and boredom inspired people to get a pet of their own, whether through a purchase or adoption. Package Facts reports that 8% of Americans adopted a dog or a cat in the second quarter of 2020 when lockdowns were most prominent. In fact, an estimated 67% of US households own a pet, which equates to approximately 85 million homes. In 2019, the pet adoption annual growth rate was 9%. In 2020, it's 35%, almost 4 times more.
People were buying and adopting so many pets that a term was named for this phenomenon: pandemic puppies.
My older brother took part in this phenomenon by adopting a dog of his own. I can tell that the new family member brought so much joy to him - research points that he is not alone. According to American Pet Products Association, 72% of owners said that their pets helped reduce stress during the pandemic. My brother's dog, called Lobster (don't ask me how he got that name), certainly had a positive impact on me as well.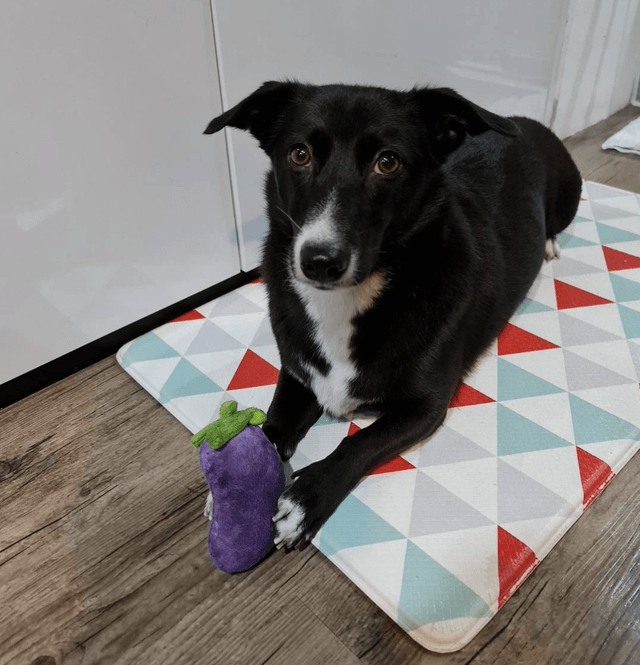 (Source: Lobster)
The pet industry is often regarded as one of the most defensive industries, even during turbulent times such as the recent black swan event that surprised everyone last year - basic pet care is a consumer staple like food, water, and electricity. The market size is large as well, worth about $95 billion in the US alone. This figure is predominantly made of basic pet needs such as food, treats, and veterinarian services. However, there's a relatively untapped submarket that is now attracting investors: the pet services market.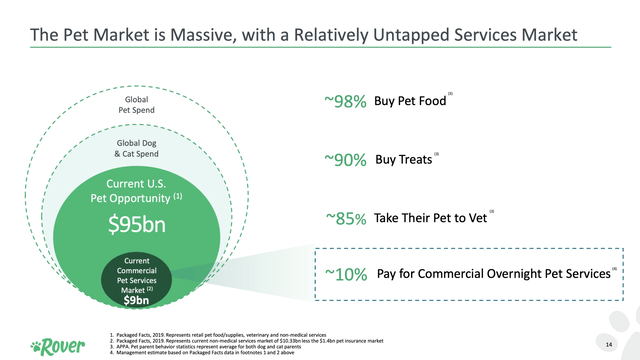 (Source: Rover and NEBC Investor Presentation)
Traditionally, pet care is done by family and friends. For example, when my brother goes to travel, he leaves Lobster with me so I can keep an eye on her. Or, he can reach out to his friends. Other possible methods include dropping Lobster off at a dog hotel or find someone on Craigslist to take care of her for a few days. The problem with the last solution is that there's a low level of trust and security.
Pet owners want to offer the best for their pets. They treat them like a family member. There's also the trend of prioritizing and humanizing pets more. For example, walking in the streets and malls of Bangkok, I see dogs with dedicated clothing and strollers. Organic ingredients are also coming their way into the pet foods aisle.
The pet services market is underpenetrated. However, the rise of pandemic puppies and increasing humanization of pets will increase the demand for pet services. While only valued at $9 billion, the pet services market may only be in the early innings, and thus, presents an opportunity for growth. Pets have all the hard goods from Chewy (CHWY), Amazon (AMZN), or Freshpet (FRPT). However, both pet owners and pets lack the services they need.
That's where Rover comes in.
Rover To The Rescue
Rover is the leading online marketplace for pet care. The company claims that "Rover is the world's largest network of 5-star pet sitters and dog walkers." The company was founded in 2011 by Aaron Easterly, Greg Gottesman, and Philip Kimmey. Since its inception, Rover booked more than 2 million pet parents on the platform with more than 500,000 signed up as pet care providers. Rover is available in North America and Europe, and currently offers 6 types of services:
Dog boarding
House sitting
Dog walking
Doggy daycare
Drop-in visits
Pet grooming (pilot project)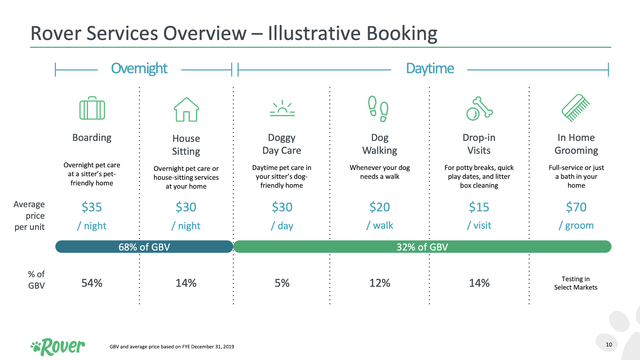 (Source: Rover and NEBC Investor Presentation)
Before the pandemic, dog boarding and house sitting were the two most popular services, accounting for 68% of the gross booking value, or GBV. However, with pet owners staying at home due to travel restrictions and work-from-home policies, demand for these two services suffered. Nonetheless, we can see that Rover services are quite affordable. At the same time, Rover pet care providers can profit from their passions.
The process of booking a service in Rover is straightforward: a pet owner chooses the type of service they need, searches for the pet care provider that he or she likes based on reviews and personality, books and pays, and finally receives the service. This is very similar to how freelancing websites Fiverr (FVRR) and Upwork (UPWK) work. Rover customers also get the Rover Guarantee which covers the "costs arising from certain injuries or damages that occur during a service booked and paid through Rover."
In addition, in-app features allow pet owners and pet care providers to communicate with one another through in-app messaging and photo sharing. The Rover app also has a dog walking map feature.
Customers are loving the Rover marketplace as they share their Rover experiences with families and friends. Since 2015, marketing spend as a % of GBV decreased from 22% to just 7% in 2020. This shows that Rover has a strong brand presence and that the company can improve operating margins through lower customer acquisition costs. With lower marketing spend the company can invest the savings elsewhere to expand their customer base.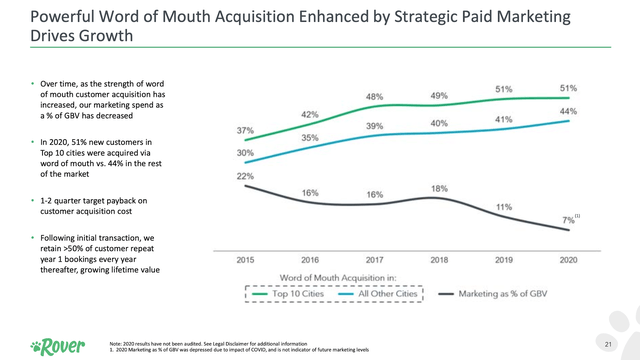 (Source: Rover and Analyst Day Presentation)
Having more customers means more sales. Rover generates revenue by charging pet owners a 7% fee of the service price. Similarly, Rover collects 20% of the service price earned by pet care providers. Such take rates are similar to freelance websites Fiverr and Upwork as well as on-demand platforms like Uber (UBER) and Lyft (LYFT). All are hovering around a 20% take rate.
With a large market, strong brand, and good value proposition, Rover has the potential to grow further. However, given its small market cap of only $1.63 billion, competitive threats need to be assessed. How does Rover stack up against industry giants?
Let's take a look.
Un-Amazonable, Un-Uberable, Un-Fiverrable
When I think of competition for Rover, I think of 4 categories. By order of least relevant to most relevant, they are:
Retail - B2C
Marketplace - C2C
On-demand services - C2C services
Freelance services - C2C online services
Retail competitors include Chewy, Petco (WOOF), and Freshpet. These companies are specialty retailers as well given that they cater specifically to pet owners and their pets. While they belong in the same industry as Rover, they do not pose as threats to Rover. The reason being is that they operate completely different business models - Rover operates C2C while the rest operate B2C. That said, Chewy, Petco, and Freshpet have low threat levels.
Marketplace business models include Amazon, eBay (EBAY), and Etsy (ETSY) - they connect buyers and sellers together. While Rover is also a marketplace, a platform, it is different from these companies because Rover offers services while the other platforms only allow hard goods to change hands. When I analyze a company, I always ask myself: is the company Amazonable? For Rover, it is clearly un-Amazonable as it is geared towards the services sector.
On-demand services platform is another marketplace type of business. Example companies include Uber, Grab (AGC), and DoorDash (DASH). These companies are C2C marketplaces for the services sector, but there is one feature that Rover has that differentiates it from these companies: customers get to choose who their service provider will be. For Uber and co., the algorithm selects the service provider by proximity, historical performance, and more. Customers will never know who their service providers will be, which raises safety and trust issues. For Rover, the selection process is all on the customer; they get to see service provider reviews, bio, and more. Thus, Rover is basically un-Uberable.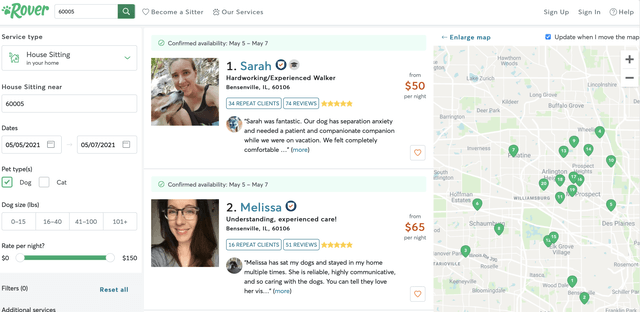 (Source: Rover Test Search)
The final category is freelance services. Fiverr, UpWork, and even Airbnb (ABNB) belong in this category. These companies belong in the "gig" economy and they have very similar business models with Rover. However, there are differences. Airbnb is operating in the real estate industry while Rover is in the pet industry. Fiverr and Upwork only offer online services while Rover is focused on offline gigs. Furthermore, it is unlikely for Fiverr to expand to in-person pet services as that will require a team of pet specialists to run through background checks and pet-sitting capabilities - Fiverr does not have a screening process. On the other hand, Upwork has a screening process. However, Upwork is still designed for online-only gigs. Thus, Rover is also un-Fiverrable.
To put it simply, Rover offers such a highly-niched marketplace that industry giants are unlikely to offer services in pet care services due to conflicting business models and difficulty of execution.
However, it is important to note that Rover has direct competitors in the space, including Wag! and Fetch! Pet Care. The three of them offer overlapping services and look like copies of each other. Despite the similarities, Rover takes the cake in terms of market leadership and size, by a large margin.
Financials
Looking at the financials, we can see how disappointing 2020 performance was. Bookings, GBV, revenue dropped substantially by 45%, 47%, and 49%, respectively. 2020 revenue was only $48 million. 2020 onwards, management expects performance to surpass pre-pandemic levels by 2022. In fact, they expect revenue to more than double that of 2019 levels. EBITDA is also expected to be positive by 2022. This is, of course, based on the assumption that travel volume returns to normal by 2022.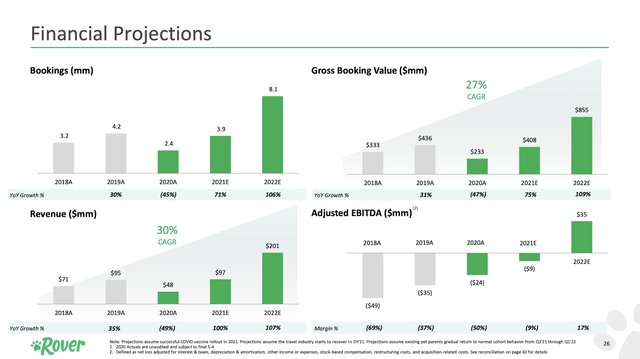 (Source: Rover and NEBC Investor Presentation)
Turning to 2021 Q1 results, we can see that Rover is on track to reach pre-pandemic performance. In the first two months of 2021, bookings and GBV were 30% to 45% below 2019 levels. However, in March, bookings and GBV are only 15% and 12% below 2019 levels, a sign that people are getting more comfortable traveling and leaving their pets with strangers as vaccines continue to roll out. In fact, the average stay length for overnight services booked in Q1 was 4 nights, the same as Q1 2019.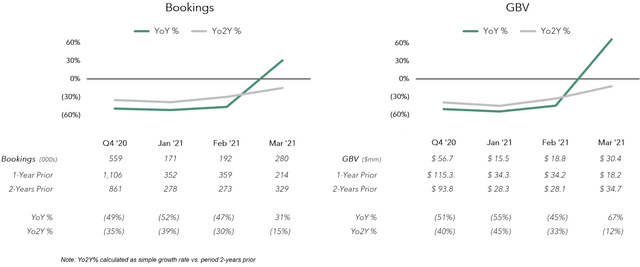 (Source: Rover Q1 Results)
In the update, management also pointed out that pandemic puppies continued to grow. In Q1 2021, the percentage of puppy profiles is up 38% over Q1 2019 while existing Rover users added about 30% more puppy profiles than in Q1 2019. Furthermore, new customer daycare bookings for puppies shot up by 64% compared to Q1 2019, an all-time high. As a result, we can expect robust demand for Rover services going forward.
However, growth may be limited. In 2018, revenue grew by 65%. In 2019, on the other hand, revenue only grew by 33%, indicating a steep slowdown in growth. Yet, management expects revenue to be more than double 2019 levels. This may be too ambitious of a target. Nonetheless, Rover has high gross margins of more than 70% to allow the company to invest in expansion and growth. With a strong brand presence and strategic R&D, Rover may be able to reach the targets that management has set.
At $10 a share, Rover is valued at about 14.0x EV to 2021 Revenue, or 6.7x EV to 2022 Revenue - quite expensive. But compared to peers Fiverr and Airbnb (due to similar business models), Rover looks attractive.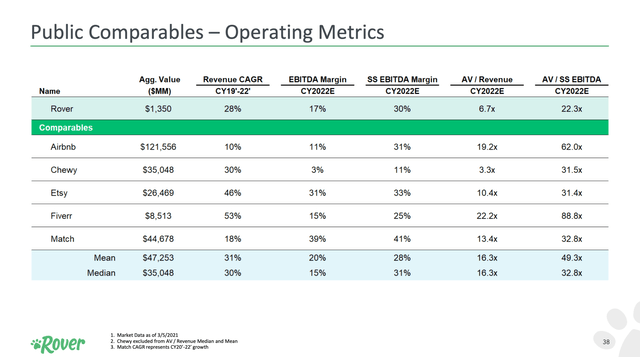 (Source: Rover Analyst Day Presentation)
Opportunities
Post-pandemic travel surge may increase demand for overnight pet-sitting.
Expansion to other countries.
Expansion to other pets: cats, birds, etc.
Expansion to other services: medications, transportation, grooming, pet training, and telehealth consultation.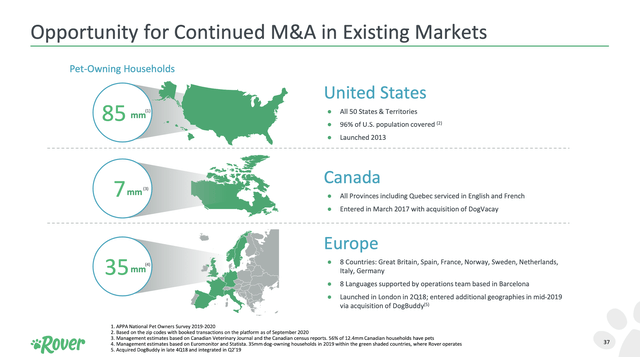 (Source: Rover and NEBC Investor Presentation)
Risks
Fiverr or Uber launching pet services - unlikely.
Growth depends on pet owners not staying at home - travel, going back to the office, etc.
More affordable pet hotel options may reduce demand for Rover services.
Conclusion
To conclude, Rover looks like a compelling investment case. It reminds me of Etsy vs Amazon or Pinterest (PINS) vs Facebook (FB). Etsy and Pinterest were new players compared to their incumbent counterparts, but they were so highly-niched that they were able to withstand the competitive forces and grow even further. Rover is highly niched as well, which may provide a defensive stance against the competition.
Rover's first-mover advantage in a super niched category may be the catalyst that allows the company to continue dominating the pet care services industry for years to come. With a favorable moat characterized by a unique business model, an underpenetrated market, and decent growth opportunities, Rover is a good investment opportunity for pet lovers and growth investors alike.
I'm paw-sitive on that.
This article was written by
My goal is to help you find the companies of tomorrow.I am a long-term growth investor in search of innovative companies that make the world a better place. My investment strategy revolves around finding what I call "divergent stocks" — disruptive companies that have strong fundamentals and long growth runways, but depressing prices.You can find me on YouTube as well:https://www.youtube.com/@riyadosofian
Analyst's Disclosure: I/we have no positions in any stocks mentioned, and no plans to initiate any positions within the next 72 hours. I wrote this article myself, and it expresses my own opinions. I am not receiving compensation for it (other than from Seeking Alpha). I have no business relationship with any company whose stock is mentioned in this article.
Seeking Alpha's Disclosure: Past performance is no guarantee of future results. No recommendation or advice is being given as to whether any investment is suitable for a particular investor. Any views or opinions expressed above may not reflect those of Seeking Alpha as a whole. Seeking Alpha is not a licensed securities dealer, broker or US investment adviser or investment bank. Our analysts are third party authors that include both professional investors and individual investors who may not be licensed or certified by any institute or regulatory body.