Philip Morris: The Best Tobacco Play For The Next 25 Years
Summary
Philip Morris takes advantage of the lucrative tobacco business model by selling into international markets that are often under regulated.
The company's IQOS technology is a landmark for the company, and the early returns are pointing to long-term success and adoption.
With a growing business and international positioning (a hedge against a weakening US dollar), Philip Morris is positioned to keep raining large dividends down on its investors.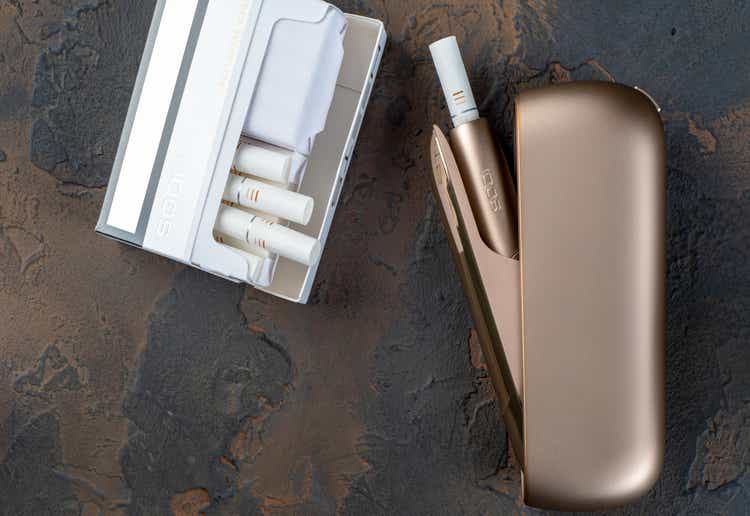 Tobacco has been a resilient industry for centuries, but these days the story around tobacco stocks is all about transitioning to the future. While increasingly fewer cigarettes are consumed each year, the future isn't necessarily bleak for all of the industry's players. Philip Morris International (NYSE:PM) is a leader in bringing nicotine consumption to the future via reduced risk products. Additionally, its broad geographic footprint gives it a diverse business that is poised to continue growing for years to come. We will drill into Philip Morris, and outline the thesis that makes Philip Morris the best tobacco stock for the next 25+ years.
Company Overview
Philip Morris International is the world's largest publicly traded tobacco company, and third largest tobacco company by revenue. Philip Morris sells tobacco products into roughly 180 markets around the world, the United States not being included in that. Philip Morris was part of Altria Group (MO) prior to 2007 when the combined entity's international business was spun off to operate on its own under the Philip Morris International name. Philip Morris International does about $29 billion in annual sales.
As a result of this spin off, Philip Morris markets and distributes a handful of tobacco product brands to its global market base. These include Marlboro (the leading tobacco brand in the world), L&M, Chesterfield, Philip Morris, Parliament, and its in-house developed reduced risk products IQOS and IQOS Veev.
We will talk about IQOS in its own discussion later on, but I want to note ahead of time that Philip Morris International is aggressively pushing reduced risk products in its markets as it tries to transition away from traditional cigarettes.
This effort has created an interesting balance between the company's legacy cigarette business, and the emphasis on reduced risk products such as IQOS that are going to sustain the company over the decades to come. We will talk about each as their own topic below, but they currently co-exist to drive revenue growth for Philip Morris.
Tobacco Cash Flows Drive A Wonderful Dividend
The tobacco business itself is a truly unique business model. There might not be an industry that is more divisive, controversial, but profitable than "Big Tobacco". Tobacco is an incredibly high margin business. The product is addictive, and costs very little to produce. This gives tobacco companies the ability to constantly increase their product prices to offset secular declines in usage (fewer people smoking over time).
This also results in the company producing massive streams of cash flow. It's this characteristic of tobacco companies that makes them so popular with dividend investors. With huge streams of cash and little capital requirements, the cash flows into the pockets of shareholders. At the time of this writing, Philip Morris is giving investors a dividend totaling $4.80 per share on an annual basis ($1.20 per quarter). The resulting yield of 5.0% is vastly higher than what investors can find with savings accounts, or treasury notes.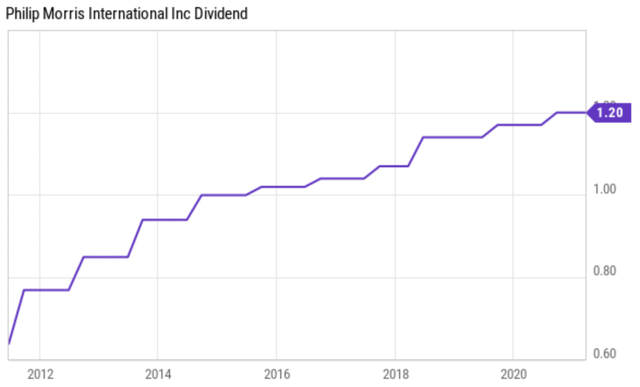 source: Ycharts
Philip Morris has been able to consistently grow its dividend, but an unfavorable currency exchange rate resulting from a strong US dollar has pinched the company's ability to grow its dividend payout. Over the past five years, the dividend has been increased at an average annual rate of 3.4%. This pace at least keeps up with inflation, so investors are enjoying a high yield that maintains purchasing power at the same time. As Philip Morris enjoys some potential tailwinds moving forward, I think that we will see Philip Morris be able to accelerate that dividend growth some.
When we look at Philip Morris and its payout ratio, it becomes evident why the dividend has only been minimally raised in recent years. In 2014 the dividend's payout ratio jumped to almost 100% because of an increase in the strength of the US dollar. It's not that Philip Morris became a weaker business on an operating basis, but with a strong dollar, revenues don't exchange favorably when converting from foreign currency to US dollars. In other words, Philip Morris saw its revenues become worth less, and it trickled down through the financials.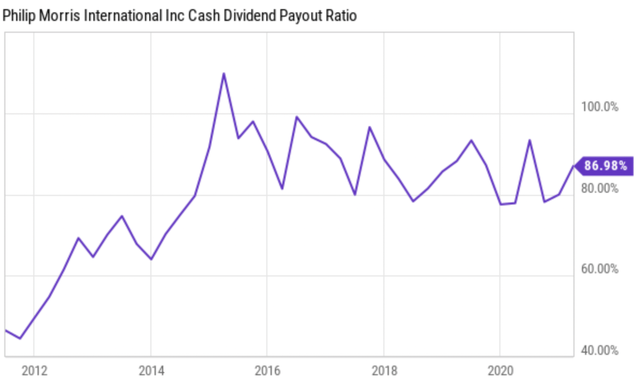 source: Ycharts
We see that the payout ratio has started to ease down from near 100%, to roughly 85%-90%. The dollar remains strong (it has weakened since Covid), but Philip Morris has grown enough to increase its cash flow despite the unfavorable currency exchange rates. We will discuss the US dollar and its implications on Philip Morris more in a few minutes.
In the meantime, I want to look at the balance sheet of Philip Morris as we do when we inspect every dividend paying company. Philip Morris is currently holding cash on its balance sheet totaling $3.9 billion against total long-term debt of $29.4 billion. The company's leverage ratio of 2.4X is right at the cautionary threshold I use (2.5X) to flag companies that take on too much debt.
Despite this, I see the dividend itself being safe for two primary reasons. First, the dividend is more important to a tobacco company than arguably any other company/industry in existence. Dividends are typically the only reason that investors hold tobacco stocks. Tobacco company management is well aware of this. Second, the tobacco business model is extremely resilient. They are virtually recession proof, and their customers are extremely predictable. I don't anticipate cash flows being severely disrupted in a way that would threaten the dividend. On the other hand, I expect cash flows to continue to increase as Philip Morris grows for a number of reasons that I will outline next.
Emerging Markets Support Cigarette Business
It's no secret that smoking cigarettes has become quite taboo in Western societies. In these markets the percentage of people smoking over the decades has steadily declined. Smokers pass away (often from the long-term health implications of tobacco use), and fewer people are picking up the habit to replace them. The below chart illustrates the shift in cigarette consumption over the past 36 years.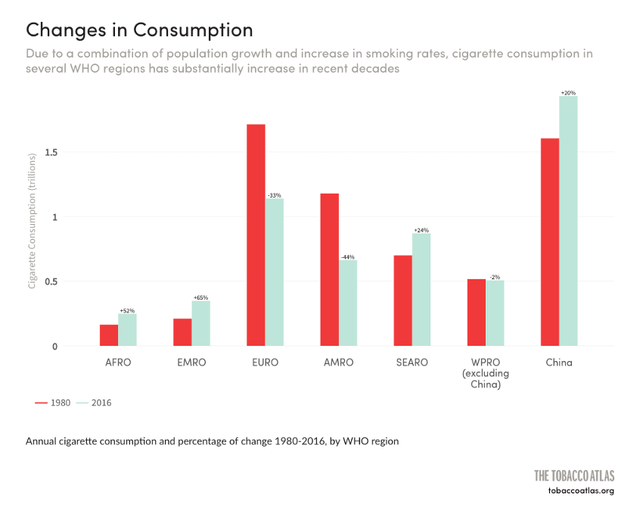 source: TobaccoAtlas.org
We see that in developed markets such as the Americas (AMRO) and Europe (EURO), cigarette consumption has drastically declined. However, Philip Morris has less exposure to these declines than its peers such as Altria or British American Tobacco (BTI) because the company doesn't directly sell into the United States. Philip Morris has seen growth in regions such as Africa, the Eastern Mediterranean, and South East Asia. These are largely emerging markets with far less aggressive anti-smoking policies in place. In these markets, smoking is highly likely to be prevalent for a while yet. The decline in smoking in the United States has taken decades to occur, and I expect a similar slow (eventual) decline in these emerging markets. For the time being, the cigarette business is strong in these places.
But there is much more to Philip Morris than whether or not people will continue to smoke cigarettes. Philip Morris is actively rolling out "reduced risk" products to transition customers away from cigarettes. These efforts are a bridge to the long-term future of the company's business model, and this transition will accelerate the decline of cigarette consumption over time.
IQOS Is Setting Up A Bright Future
For investors holding Philip Morris for the long term, a big driver of future returns is going to be the company's reduced risk product portfolio, centered around IQOS technology. Reduced risk products are tobacco products that carry a lesser degree of health risks compared to traditional cigarettes.
The flagship reduced risk product for Philip Morris is IQOS. IQOS is a heated tobacco product. The below diagram details the innards of the system and how it works. The idea is that there is an IQOS device that consumers buy. The IQOS device accepts little tobacco cylinders called "HEETs". When a user inserts a HEET into the IQOS, a little blade punctures the tobacco and heats it up to a temperature hot enough to generate a vapor, but NOT hot enough to cause combustion. This technology is referred to as "heat, not burn".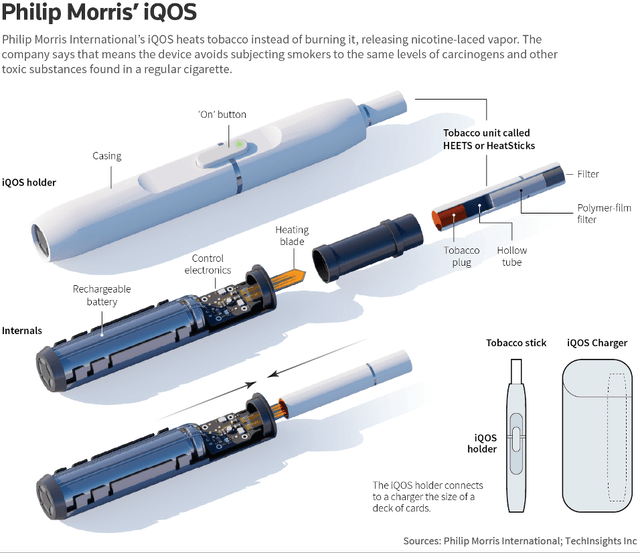 source: Reuters
The idea is that the vapor that a "heat, not burn" device generates is cleaner, and less harmful for users to inhale than traditional cigarette smoke. Because they are using actual tobacco, it gives a user experience much closer to smoking than an electronic cigarette would. This makes IQOS feel more familiar to existing smokers. Again, IQOS is NOT the same thing as electronic cigarettes, or "vapes".
As part of the marketing of IQOS as this "cleaner" technology, Philip Morris has aggressively pushed for IQOS to be acceptable in public spaces such as restaurants (in designated areas), where cigarettes have been banned. The company's mission critical objective has become to convert existing smokers from cigarettes to IQOS.
Philip Morris originally began developing IQOS technology while still a part of Altria but took it with them when they were spun off. Philip Morris is licensing IQOS to Altria for Altria to sell in the United States. Philip Morris technically does have an electronic cigarette variant of IQOS called "IQOS Veev". The IQOS and IQOS Veev systems are Philip Morris' means of ushering in new long term nicotine consumption in forms that are healthier for consumers and more socially acceptable.
So how do we determine how successful IQOS has been to date, and what it means for investors? First, let's look at how successfully Philip Morris has been at converting smokers to IQOS. The company began rolling out IQOS in 2014 and has steadily grown the user base incrementally. Today there are 19.1 million users of IQOS. Of that user base, 73% of users have stopped smoking cigarettes completely and have switched to IQOS.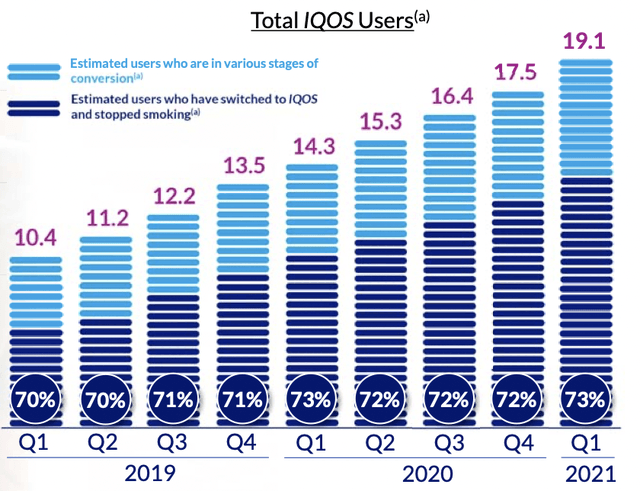 source: Philip Morris International
Furthermore, the broad rollout of IQOS has been a multi-year process that still has quite a bit of runway left. IQOS is available in 66 of the 180 or so markets that Philip Morris conducts business in, and many of the present markets still have yet to see full penetration. There is a long runway ahead for the growth of the IQOS footprint.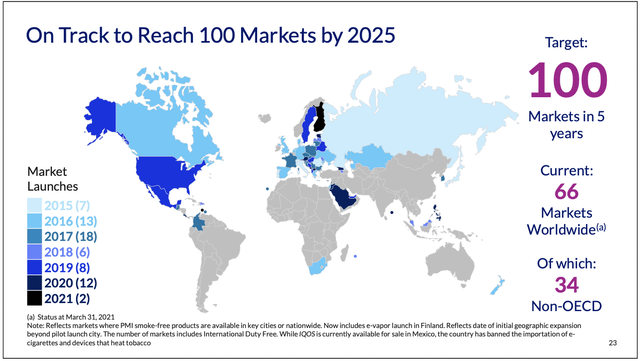 source: Philip Morris International
As the rollout of Philip Morris continues, it's going to impact the company's financials to an increasing extent. Fortunately for investors, IQOS isn't some desperation move that is acceptable only because its better than the extinction of the cigarette industry. IQOS is a truly beneficial innovation to Philip Morris, and the numbers show that.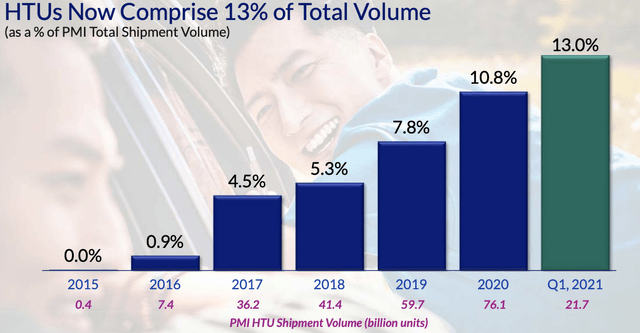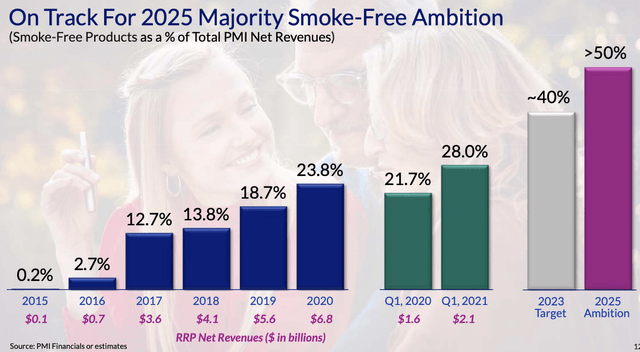 source: Philip Morris International
The HEET sticks used in IQOS devices now make up 13% of Philip Morris volumes. However, reduced risk products (which are virtually all IQOS) contribute 23.8% of total revenues. What does this mean? It means that IQOS is a positive margin contributor to the business.
Cigarettes are an incredibly high margin product, but the "razor blade" like model of IQOS is proving extremely lucrative for Philip Morris. After consumers invest in the IQOS device, the HEETs that it uses are a high margin, recurring revenue stream.
A higher revenue concentration in HTUs were the company's largest driver of margin expansion in their last quarter. As IQOS continues to grow and contribute a larger portion of revenues, margins will continue to expand.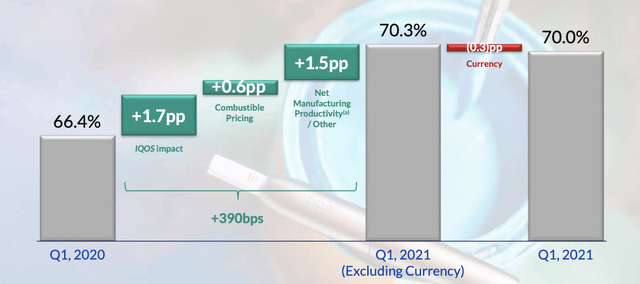 source: Philip Morris International
While it isn't yet a notable factor, sister company Altria is in the beginning stages of rolling out IQOS in the US. They are paying royalties to Philip Morris, so this will become an additional passive income stream for Philip Morris International over time. In 2020 the FDA approved IQOS for marketing with a modified risk label, giving Philip Morris and IQOS another leg to stand on as it pushes to make IQOS a nicotine delivery system that is more socially acceptable.
In all, IQOS appears to be a hit. The product has steadily grown since launch in 2014. The IQOS product is gaining traction as a safer alternative to cigarettes. The product could help users live longer, which will only strengthen the nicotine business model for Philip Morris and other tobacco companies. On top of all of that, it's more profitable overall than traditional cigarettes. Faced with a dying business, it appears that Philip Morris has been able to innovate into a brighter future.
Backdoor Hedge Against The US Dollar
One of the interesting aspects of Philip Morris is the company's exposure to the fluctuations of the US dollar. The company generates virtually 100% of its revenues outside of the US yet reports in USD. This means that all the revenues that Philip Morris generates across the world, must ultimately be converted to USD. When the US dollar is strong, the revenues that the business generates are worth less than they would be if the US dollar was a weaker currency. The US dollar has been quite strong since about 2014, and it has impacted Philip Morris by creating headwinds and even forcing the company to stop buying back stock.

source: Marketwatch
In the chart above, we can see how the US dollar index (weighing the US dollar against a basket of foreign currencies) drastically rose in 2014 and has remained at largely elevated levels since. This has created unfavorable exchange rates for Philip Morris, reducing its profitability.
With the Coronavirus causing so much economic disruption and the FED/Congress pumping so much stimulus money into the economy, a rise in inflation that weakens the dollar would be a bullish development for Philip Morris. The company would directly benefit from a weakened US dollar. This isn't something to hang your investment thesis on, but something to at least be aware of. Sort of like a back door hedge on the weakening of US currency.
Investment Risks To Consider
While I am bullish on Philip Morris as the leading tobacco company moving forward, there are some risks that investors need to keep in mind. The company has long enjoyed a leading market position with the Marlboro brand. However, as reduced risk products come to market, Philip Morris faces competition from both iterations by competing companies and new products/brands coming to market as alternatives to combustible cigarettes. An example of this would be nicotine pouches such as Zyn. Philip Morris must essentially rebuild its market share in the reduced risk product category, though it is leveraging its Marlboro brand within IQOS to do that.
Another risk that Philip Morris faces is of course regulatory in nature. While western countries took many decades to turn the tide against smoking, emerging markets could adapt faster now that it's known that smoking is bad for your health. Regulators in emerging markets could seek to more tightly regulate the tobacco industry, seeking to take a page from western countries. In other words, change could happen faster because regulators are skipping the "learning curve" that western regulators went through.
Valuation Is Reasonable Despite Momentum
Philip Morris is currently trading near 52 week highs, at just below $95 per share. After the stock has fallen as low as $63 over the past year, the current price momentum is certainly strong. However, the stock's price is not that far off from where it traded in 2013. Philip Morris has seen its share price dulled by the strong USD and bearish market sentiment towards tobacco stocks since 2017.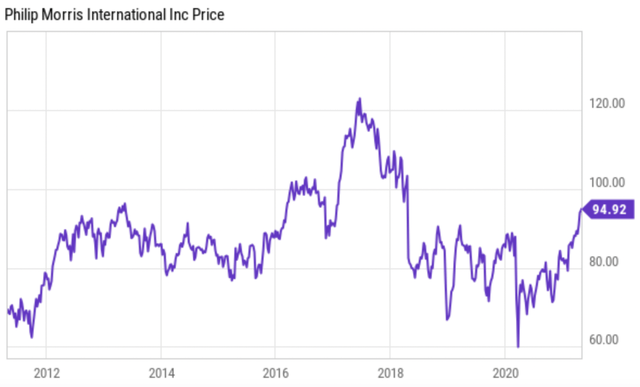 source: Ycharts
While price action has been disappointing for a number of years, the fundamentals have continued to improve. In 2013 the company had no path beyond combustible cigarettes. Today, IQOS is a major factor in operating results and the company's future. In 2013 Philip Morris earned $5.26 per share. Philip Morris is estimated to earn roughly $6 per share in 2021, and $6.62 next year.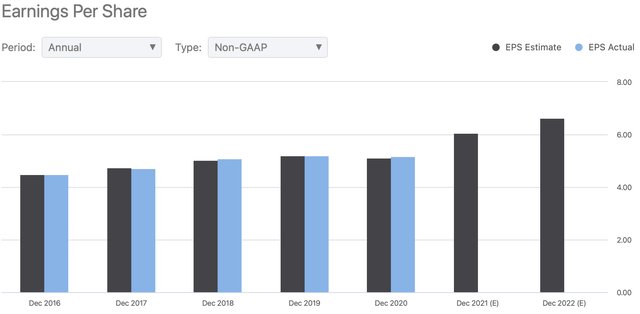 source: Seeking Alpha
This puts Philip Morris at an earnings multiple of 15.8X this year's earnings, and 14.3X next year's earnings. The stock has a historical average PE of 17.2X. So despite trading at a discount to the stock's historical average, I would make an (easy) argument that Philip Morris is a stronger business than at any point in the past decade. If anything, I think you could put a premium valuation on Philip Morris International. The stock remains attractively valued as a result, despite the price momentum the stock has already seen.
Wrapping Up
Philip Morris is the best pure tobacco stock available to investors. It wields the dominant Marlboro brand, and is bringing an extremely lucrative IQOS product to market to usher in a new era of nicotine consumption.
The dividend yield is massive, and the trademark resiliency of tobacco should ensure that investors are cashing those dividend checks for years to come. A boost from reduced risk products and a weakening dollar over the coming years would be added bonuses as well. When you add all of this up, Philip Morris fits the bill as an excellent company, paying a huge dividend, at a solid price.
This article was written by
Using fundamental analysis and common sense, I provide straightforward insights on stocks and markets. https://www.threads.net/@wealth__insight- Bachelor's degree in Business Administration with a concentration in Financial Analysis. Been investing and following the markets for more than a decade.- Wealth Insights is an investor and investment author. His content is not geared to anyone's investment goals, time horizons, or risk tolerance. Content is for illustrative purposes only and is not intended to displace advice from a fee-based financial adviser. It is not to be taken as investment advice or influence investor decision-making. The accuracy of data is not guaranteed.
Analyst's Disclosure: I/we have no positions in any stocks mentioned, and no plans to initiate any positions within the next 72 hours. I wrote this article myself, and it expresses my own opinions. I am not receiving compensation for it (other than from Seeking Alpha). I have no business relationship with any company whose stock is mentioned in this article.
Seeking Alpha's Disclosure: Past performance is no guarantee of future results. No recommendation or advice is being given as to whether any investment is suitable for a particular investor. Any views or opinions expressed above may not reflect those of Seeking Alpha as a whole. Seeking Alpha is not a licensed securities dealer, broker or US investment adviser or investment bank. Our analysts are third party authors that include both professional investors and individual investors who may not be licensed or certified by any institute or regulatory body.