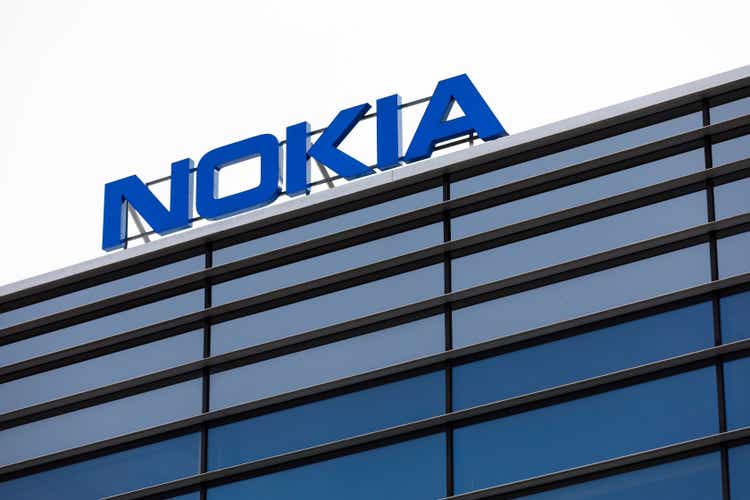 Shortly after Nokia (NYSE:NOK) traded to multi-year highs in January, investors locked in profits and the stock moved nowhere. The 20% return since February is modest, outpacing the S&P 500's (SPY) 7.4% rise in that time.
After posting strong quarterly earnings results that markets did not expect, should investors buy the stock after the rally?
First Quarter Beats Expectations
Nokia posted revenue growing by 3.5%, adjusted gross margins of 38.2%, and non-GAAP earnings beating consensus estimates. It forecast net sales in the range of EUR 20.6 to EUR 21.8 billion.
As shown on the second page of the release of the results, Nokia is bullish for full-year 2023:

Source: Nokia Q1 2021 Presentation
The "clearly positive" free cash flow outlook is a key data point. The company is hinting that cash flow strength will increase steadily this year and next. Although it could reinstate dividends at its next approval meeting, Nokia does not need to win back income investors. Rival firm Ericsson (ERIC) only offers a dividend that yields 1.45%. Its shares enjoy an uptrend that rewarded investors with a 63% yearly return despite the low yield.
Nokia is better off building its 5G market share with the growing pile of cash. Plus, it may buy back shares at current levels to shrink the dilution. Competitors will put pressure on Nokia, especially after one of its competitors announced a lightweight massive MIMO product.
Nokia has new radios coming to market. This will follow with a new massive MIMO radio. Chief Executive Officer Pekka Lundmark said on the conference call that the launch will be at around the same time as the competitor launch.
CEO Lundmark also confirmed its first common baseband for 4G and 5G. Already, customers validating the baseband platform gave positive feedback. Nokia will ramp up the product now or in the second quarter.
Dividend a Secondary Priority
Investors may anticipate a dividend resumption after the surge in net cash in Q1. But the early payment from customers and timing of a lack of inventory increases distorts the rate. Still, Nokia expects cash flow improvements in the current (second) quarter.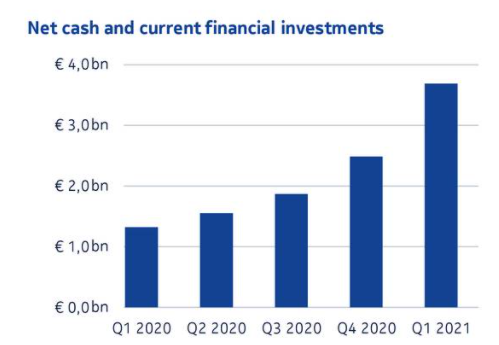 An unexpected resumption in its dividend would only lift investor confidence. Cisco Systems (CSCO) pays a dividend that yields 2.91%. Juniper Networks (JNPR) stock yields 3.15%.
Opportunity
Nokia's stock rallied from the 50-day and 200-day moving average from around $4.00 to trade at just below $5.00. Investors will have to pay around 18% more to price in the Q1 results beat. The stock could pull back again, just as it usually does in the weeks following strong results.
Nokia scores an "A" grade on value: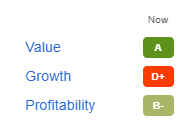 Scores courtesy of Seeking Alpha Premium
Readers may assign a conservative discount rate in this five-year discounted cash flow revenue exit model below. Furthermore, assume a terminal revenue multiple of just 1.6 times: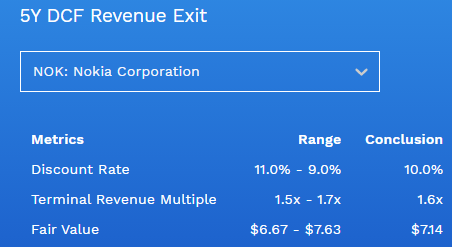 Readers may click on the above link to change the assumptions. The forecast already assumes revenue barely growing, contrary to Nokia's forecast:

The fair value of Nokia stock is around $7.00, for an implied upside of almost 50%.
Risks
Nokia is still in a turnaround phase. After a few years of investor disappointment, the company still needs to "reset" its leadership team and operations. Costs are still too high, despite a forecast of stronger margins ahead: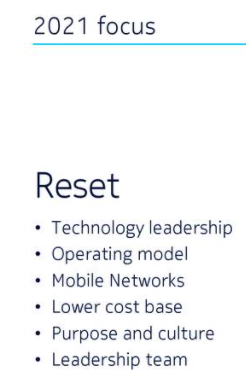 Source: Slide 15, Nokia Q1 Presentation
Last quarter, Nokia's management hiring only added to the layers slowing the company's agility.
By next year, the company will enter the "accelerate" phase of the turnaround: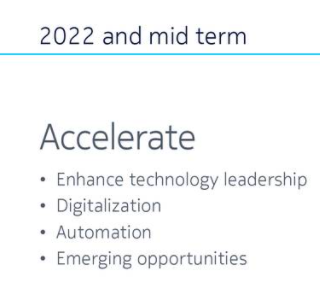 Nokia shareholders earned the long-awaited rebound. Chances are good that the 2-3 year returns are positive. Conservative investors may want to wait one more quarter before taking a full position. Until then, the stock remains a turnaround investment.
Please [+]Follow me for coverage on deeply-discounted stocks. Click on the "follow" button beside my name. Join DIY investing today.