Netflix: Dominance, Doubt, And The Demystification Of Competition
Summary
Netflix missed subscriber forecasts in Q1 2021 by two million and is guiding for only one million paid net adds in Q2 2021.
Management is blaming pull-forward effects and weak content for the miss. They see no material change in competitive intensity and point to the huge opportunity in front of them.
Independent research data suggests that Netflix's dominance in streaming is fading. Are we seeing a changing of the guard in streaming?
I believe that Netflix is still in the best strategic position in streaming and will continue to dominate the market. Competition is increasing but Netflix will handle it.
Shares are out of favor for quite some time now which presents a good buying opportunity for investors.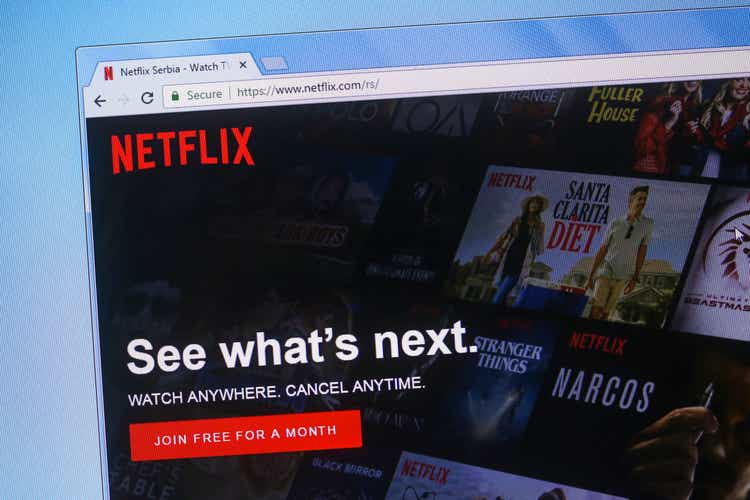 Netflix (NASDAQ:NFLX) posted Q1 2021 earnings last week. The company missed on its subscriber additions and issued very soft guidance of only 1 million net adds for the next quarter.
Understandably, and deservedly, the shares are down on this news. In the past, investors worried about bad content, debt, and a lack of free cash flow. Nowadays, concerns about competition and the changing of the guard are in vogue. Let's see what really happened this quarter.
Subscriber Wobbles
Netflix shareholders have become very accustomed to the following graph: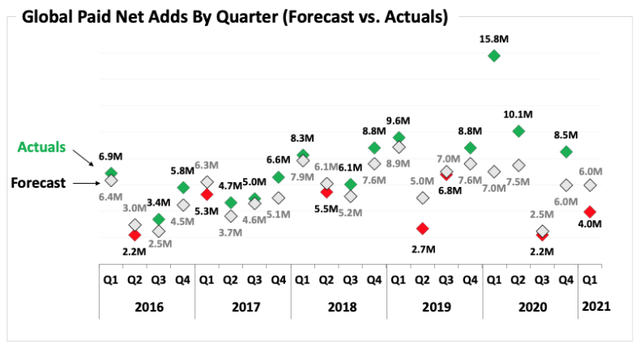 Source: Netflix Shareholder Letter Q1 2021.
Again, Netflix missed on subscriber growth and, looking forward, the picture looks even bleaker: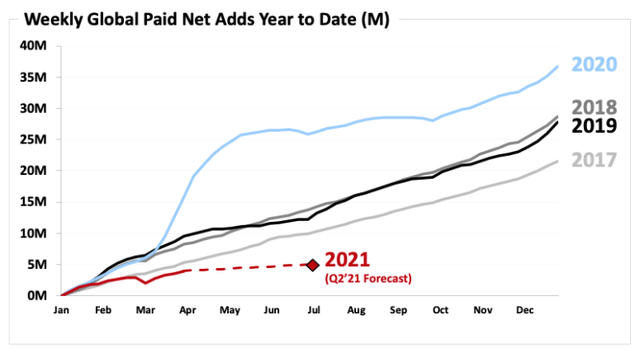 Source: Netflix Shareholder Letter Q1 2021.
This quarter's miss of 2 million was the second-worst on record. Only in Q2 2019, the company missed its forecast by a wider margin (by 2.3 million). Interestingly, the reasons for the misses sound very similar in both quarters. From the Q2 2019 shareholder letter:
We don't believe competition was a factor since there wasn't a material change in the competitive landscape during Q2, and competitive intensity and our penetration is varied across regions (while our over-forecast was in every region). Rather, we think Q2's content slate drove less growth in paid net adds than we anticipated. Additionally, Q1 was so large for us (9.6m net adds), there may have been more pull-forward effect than we realized. In prior quarters with over-forecasts, we've found that the underlying long-term growth was not affected and staying focused on the fundamentals of our business served us well.
And here the quote from the recent Q1 2021 shareholder letter:
In Q1, paid net additions of 4m were below our 6m guidance (and the 16m net additions in the year ago quarter) primarily due to acquisition, as retention in Q1 was in line with our expectations. We don't believe competitive intensity materially changed in the quarter or was a material factor in the variance as the over-forecast was across all of our regions. We also saw similar percentage year-over-year declines in paid net adds in all regions (see our Regional Breakdown table below), whereas the level of competitive intensity varies by country.
Management added to that in the Q1 2021 earnings call:
As you know, the extraordinary events of COVID have had a big impact on the world, continue to have a big impact on the world. And for us, at a minimum, creates just some short-term kind of choppiness in some of the business trends that we see in our business. So in particular, we had this huge pull forward in 2020 in terms of our subscriber additions, nearly 40 million paid net adds in 2020. And we also had a near-global shutdown in production, which we have been ramping safely and at scale through much of last year and into this year, but it did push some key title launches into the back – kind of the back end of this year. So, the combination of those two things does create some noise.
So there you have it: A pull forward effect and weak content. We have seen it before, and I am sure we will see it again. The big takeaway is that subscriber misses in certain quarters are normal and no reason for panic. Management, again, highlighted the huge opportunity in front of them (several years ago pay television peaked at about 800 million households – Netflix currently has 208 million subscribers) and they also commented on their strong pricing power (Netflix's overall churn rate was down year-over-year and CFO Spence Neumann noted that despite recent price hikes, the U.S. region is seeing below pre-price change churn levels).
And while Reed Hastings acknowledged that subscriber growth is a "little wobbly" right now, in financial terms the company is doing extremely well: Overall revenue growth came in at a smooth 24.2%, EPS grew by 139%, and Free Cash Flow was up 327% on the heels of last quarter's announcement that they no longer have a need to raise external financing for their day-to-day operations.
Netflix vs. Everyone
As for the competition, Netflix continued to be reluctant to draw a connection between new entrants like Disney Plus (DIS), HBO Max (T), and Peacock (CMCSA) and their subscriber misses. As Reed Hastings pointed out, Netflix has been competing with Amazon Prime (AMZN), Hulu, and YouTube (GOOG) for more than a decade. And, as described above, in Q2 2019 Netflix missed on subscriber forecasts when the new streaming services from Disney, AT&T, and Comcast did not exist yet.
At the same time, The New York Times recently reported about Netflix's dominance starting to slow. The article cited data from Parrot Analytics indicating that Netflix's share of global demand for original programming has been decreasing from 65% in Q1 2019 to slightly above 50% in Q1 2021. This is a trend to watch, of course, but commanding more than half of the global demand for original programming is still a very dominant position to be in.
Furthermore, last year Netflix saw the biggest yearly increase in subscribers in its history, exactly at the time when these other services launched very successfully. The narrative that competing streaming services are pulling away subscribers from Netflix in a meaningful way is not really supported by facts. What is true is that competition is high, but it was always high in the entertainment industry.
We are seeing now that the streaming market could be big enough for many streaming services to do well. Which raises a more interesting question: If many streaming services can be successful, will Netflix really be the aggregator in the entertainment industry?
The fact that seemingly everyone in the industry has jumped on the bandwagon to compete with Netflix has helped one company in particular: Roku (ROKU).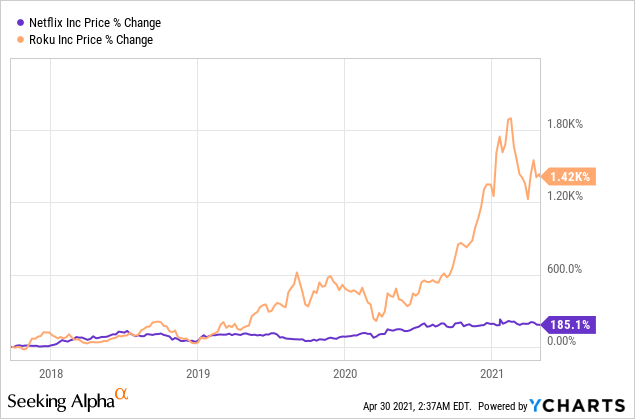 Roku has seen phenomenal success in recent years. It has established itself as a neutral platform in streaming, the operating system of TV if you will, and as such, some analysts think that Roku will be the winning aggregator of TV and film. Roku simply takes its small cut from every subscriber and every eyeball, while those other streaming providers battle it out competing, and overpaying, for the best content.
When streaming services like Disney Plus and HBO Max came to the market Roku was in an especially great position. Roku TVs have roughly 40% of the market share in the US. It is clear that streaming apps had to be available on Roku's platform at launch. In this situation, Roku asked for the price, and eventually, it had to be paid.
It will be interesting to see how this "frenemy"-dynamic between Roku and its customers/partners will play out in the long term. Right now new streaming services have to pay the toll on Roku's terms. But if these services become successful, Roku may find itself on the other side of the power games it is currently winning. Or have you ever heard of Roku successfully dictating terms to Netflix or Google?
Roku is a great marketing tool, has tailwinds from the rise of Connected TV advertising, customers love the platform, and it tries to solve a real pain point in streaming – finding the right content across multiple streaming services. I think it will remain a successful company in the long term. However, I disagree that Roku is becoming the most powerful company in streaming.
Why Content Is King And The High Price For Streaming
One thing I have realized over the years of occasionally writing about Netflix is the importance of quality content. In the past, I have focused a lot on Netflix's first-mover and scale advantages. And these are still crucial.
But discounting the importance of content turned out to be quite wrong. This quarter again showed the need to produce hit content in very short cycles. The success of Disney Plus as well as Roku's recent effort to push its own original content are evidence of the power of strong content. As are the mega content deals, like Netflix making deals worth more than $100 million with TV creators like Shonda Rhimes, Disney paying $15 million per episode for the Mandalorian, or Amazon reportedly spending $465 million on the first season of the Lord of the Rings series.
According to Parrot Analytics, content creators and distributors can agree upon at least two truths: First, consumer attention is finite and, second, good characters and good storytelling are invaluable. As media analyst Rich Greenfield noted in 2019, "Originals are the No. 1 reason you sign up for an SVOD service". He thinks they are critically important. While catalog titles like Friends and Grey's Anatomy give you a reason to stick around and increase engagement, nobody is signing up for Netflix to watch Friends.
It turns out that the scarce resources in TV and film entertainment are quality talent and user attention. There are only so many Streeps, Rhimes, and Scorseses in the world and only so many hours a day to watch them. Attracting and empowering talent is one of the key challenges for streaming services and has become one of Netflix's biggest strengths (being the top distributor at the Oscars 2021 and again dominating the Emmy's in 2020).
This also means that competing in streaming requires deep pockets to be able to bid for the original content that captures user attention. This is great news for Netflix in the long term. They can afford to pay big amounts of money for the best talent. And it already makes economic sense for them to do so since they can spread the costs over their large subscriber base, making the per-subscriber cost of content sustainable.
However, they needed to reach 200 million global subscribers to get to that point. This is why I argued for example in AT&T's case that their strategy to try to beat Netflix may not be the right fit and could cost the company a lot of money. Becoming profitable in streaming is not easy, and as streaming services grow in scale it could become harder and harder for everyone to compete. In other words, the jury is still out as to which streaming services will become sustainable in the long term. In the meantime, Sony's (SONY) recent deals with Disney and Netflix show how legacy studios can play the "streaming wars" from a different, quite profitable, angle.
This also brings me back to my opinion that Roku will not be the most powerful company in streaming. They simply can not afford it, both financially (TTM platform revenue of $1.3 billion is too little to compete with deep-pocketed streaming services) and strategically (by pushing the Roku Channel more they thwart their neutrality and create complicated partner/customer/competitor relationships with the streaming services).
Closing Thoughts
In my last Netflix article, I wrote that you cannot expect life-changing returns from Netflix but that it is still a very strong company and worth buying. I still believe that but, unfortunately, my call is momentarily lagging the market (7.51% return vs. 29.22% for the S&P since July 2020). Netflix has been a bit of a laggard for even longer. Over the last 3 years, it has barely outperformed the market and has been significantly outperformed by Disney, which comes as a surprise to me since Disney is facing so many challenges (handled very well so far, though).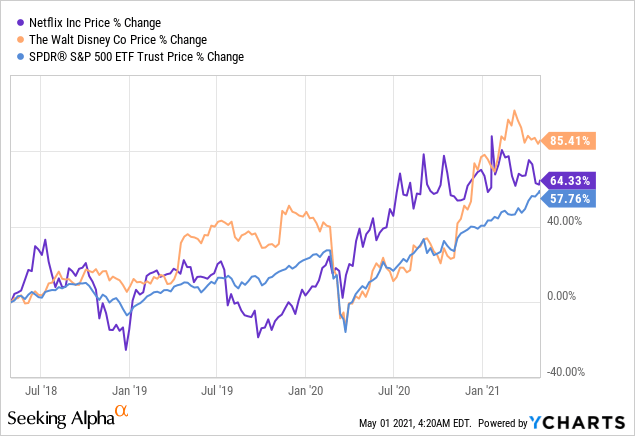 Netflix's stock has clearly fallen out of favor with investors in recent years. I am a believer in the wisdom of the crowd and therefore I take notice when the market is trying to tell me something. In Netflix's case it clearly is saying: Things are a bit complicated right now.
Ben Thompson noted years ago that the streaming wars could be a transitory phenomenon, and eventually, the big studios could return to license their content to Netflix, if they fail to reach scale. It turns out this transitory phase could last longer than initially expected. Ironically, this was supported by COVID-19 which gave competing services a nice head start in their subscriber bases. The good news for Netflix is that this competitive pressure from legacy studios is mostly felt on the content acquisition side and comes at a time when Netflix can already afford it. Having to share the original content-pie with so many other companies will, however, slow down Netflix in the medium-term in my opinion.
On the user attention front things remain as competitive as ever. Youtube just reported revenue of $6 billion in Q1 2021, up from $4 billion in the year-ago quarter (up 48.7%). Compare that to Netflix's Q1 2021 revenue of $7.16 billion (up "only" 24.2% from Q1 2020) and you can see the real competitive threat to Netflix. It comes mostly from the "new media", and not from legacy TV and film studios. This competition has always existed for Netflix, and it has done extremely well regardless.
I believe that the current worries over competition are overblown which presents a good buying opportunity for investors. Netflix's management seems to agree that shares are attractive at this level and is planning to return capital to shareholders via stock buybacks. This should further enhance the unfolding EPS growth story which, eventually, should lift the share price to new highs.
This article was written by
I am an individual investor from Europe. My investment decisions are based on fundamental analysis and long-term thinking. My goal is to find and invest in companies with the potential to yield high returns in the long term. I study earnings releases, conference calls, announcements, and basically everything I can find about the stocks I own. When I find the time, I like to write down some of my thoughts. My portfolio (as of December 2022): AAPL, AMZN, CRWD, DDOG, GOOG, MA, MDB, MNDY, NET, NFLX, OKTA, PYPL, SHOP, SNOW, UPST, ZM, ZS. My content is intended to be used and must be used for informational purposes only. It is very important to do your own analysis before making any investment decisions.
Analyst's Disclosure: I am/we are long NFLX, GOOG, AMZN. I wrote this article myself, and it expresses my own opinions. I am not receiving compensation for it (other than from Seeking Alpha). I have no business relationship with any company whose stock is mentioned in this article.
Seeking Alpha's Disclosure: Past performance is no guarantee of future results. No recommendation or advice is being given as to whether any investment is suitable for a particular investor. Any views or opinions expressed above may not reflect those of Seeking Alpha as a whole. Seeking Alpha is not a licensed securities dealer, broker or US investment adviser or investment bank. Our analysts are third party authors that include both professional investors and individual investors who may not be licensed or certified by any institute or regulatory body.