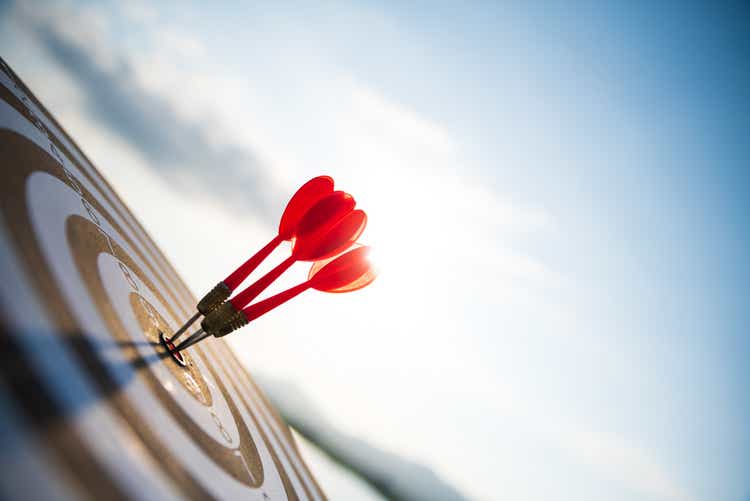 We just watched the US tech titans deliver once again a series of outstanding earnings.
Companies like Apple (AAPL), Amazon (AMZN), Alphabet (GOOG) (GOOGL) or Facebook (FB) have several things in common:
A size that defies gravity.
Unfathomable returns generated

for shareholders.

Recurring periods of adversity leading to extreme drawdowns.
In hindsight, it seems obvious that the best investing decision was to buy shares of these companies years ago and simply hold them through thick and thin.
Alas, many investors keep avoiding them. They are focused on the counter-intuitive traits that can make these stocks look undesirable:
"Overvalued" based on (insert arbitrary financial multiple).
"Already too big," making people doubt there is much upside left.
"Already up a lot," inducing fear of mean reversion.
I previously wrote about the 10 semi-controversial traits of some of the best stocks. And these three traits are on the list.
Interestingly, many investors have owned these stocks in their portfolio - at least at some point. Unfortunately, many also have made the mistake of selling or trimming them, eventually.
Just this past weekend, Warren Buffett expressed regret over his sale of Apple stock last year. He admitted:
That was probably a mistake.
I've been guilty of the same mistake in the past, trimming my positions in Amazon, Netflix (NFLX) or Salesforce.com (CRM) way too soon. I recently shared it in more detail in my article about 3 Investment Mistakes I've Made (So You Don't Have To).
What I want to cover today is what it really takes to hold on to big winners.
What kind of drawdowns do you need to be prepared for?
What mindset is required to even have a chance to be a reluctant seller?
How to maintain a focus on what truly matters in the heat of the moment?
Let's review.
A history of drawdowns
Charlie Munger said in a BBC interview during the financial crisis:
If you can't stomach 50% declines in your investment, you will get the mediocre returns you deserve.
This quote perfectly encapsulates the investor's dilemma.
On the one hand, the temptation to seek higher returns.
On the other, the desire for limited drawdowns.
You can't really escape the possibility of a significant market correction (a drop of 10% or more from its previous high) or a bear market (a drop of 20% or more). That's the business you are in when you invest in equities.
The graph below shows the sell-offs investors in the S&P 500 (SPY) had to deal with in the past 70 years. In the 21st Century alone, the market dropped three times by more than 30%, including last year's decline in March.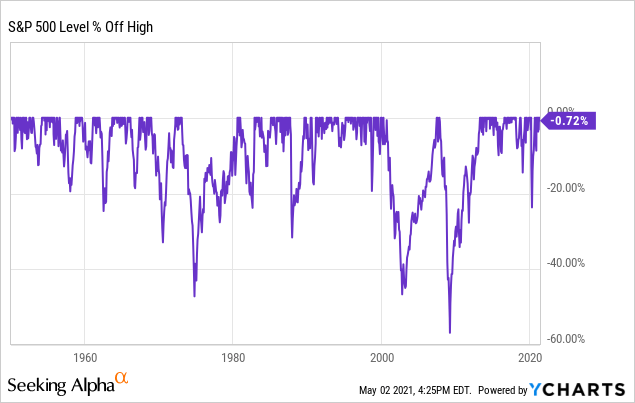 But if you held on throughout these large market declines over the past 70 years, you achieved about 11% annual returns on average (including re-invested dividends), beating inflation by 8%.
Now, if we zoom in on individual companies, the drawdowns become even more challenging.
Take Apple in the past 40 years:
The stock has fallen more than 75% from its previous high several times.
During the financial crisis, the stock fell more than 60% in January 2009.
In January 2019, more than a year before COVID, AAPL was trading almost 40% down from its previous high in the context of tariffs on Chinese goods and a lower revenue guidance.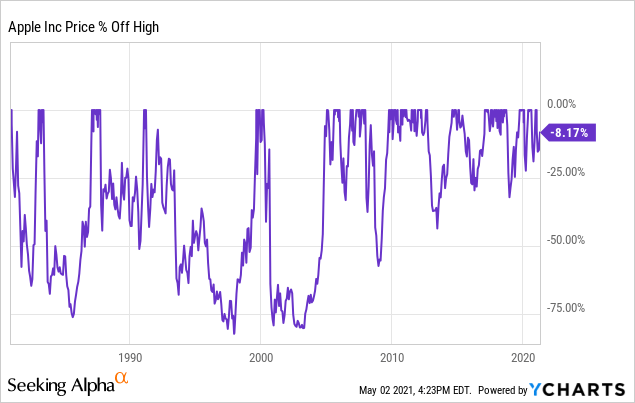 And we are talking about one of the biggest businesses in the world in the past decade. The volatility tends to be stronger for companies of a smaller size.
Now, let's look at Amazon:
Amazon is a 17-bagger just in the past 10 years.
Over that time alone, it fell by 30% or more three times.
End of 2018, AMZN took a big hit and took more than a year to recover.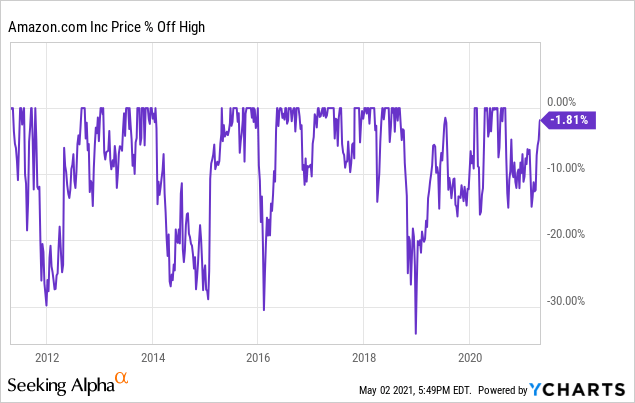 Tesla (TSLA) was down more than 60% from its previous high in early 2020, right before jumping 1,000%.
And this isn't just a peculiarity of tech titans.
Look at the companies below:
Nike (NKE) took more than seven years to recover from its 1997 sell-off.
Disney (DIS) took 11 years to recover from its 2000 sell-off.
Bristol-Myers Squibb (BMY) took 17 years to recover from its 1999 sell-off.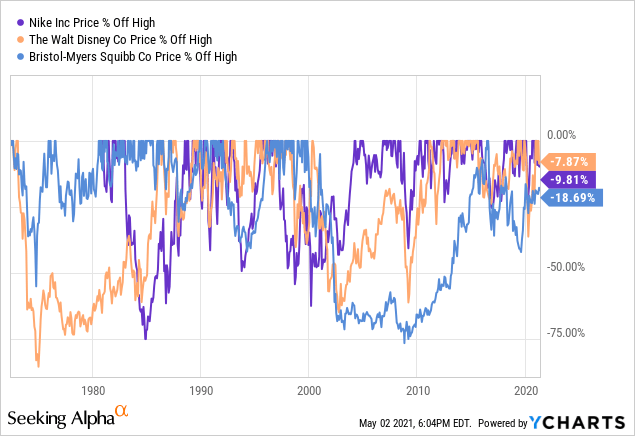 These companies are among the best market performers of the past few decades. But who has time to watch a stock underperform for 17 years? Probably nobody.
Understanding the magnitude of past drawdowns as well as their duration is a very sobering exercise. Holding through the pandemic-induced sell-offs in 2020 was almost nothing compared to what some investors had to experience just a few decades ago.
The stories that are so hard to cope with
Now, I want to discuss the stories that come with the types of drawdowns we just discussed. Holding a stock that's heavily beaten down is not just a matter of coping with volatility.
In the context of the entire market falling apart like it did in March 2020, keeping a long-term view doesn't require a lot of imagination. The drawdowns that are truly challenging your temperament as an investor are the ones that are company specific.
When a stock is down close to 50% from its previous high without it being directly connected to a giant market sell-off, the implication is that the market has started to extremely dislike the prospects of the company.
It can come from many reasons, and I want to cover recent examples that may be fresh in some readers' memory to help illustrate that it can be extremely difficult to stay cool-headed under these circumstances.

Maybe you remember the Qwikster debacle in September 2011 that caused Netflix (NFLX) to drop almost 80% from its high. Even after the project was cancelled, this is what you could have read in the press at the time:
The misstep suggests to the public that Hastings is out of touch with what his customers want, a perception that a CEO cannot afford to have. Netflix is still a damaged, blemished company in the wake of Hastings' four months of mistakes.
Netflix is a 25-bagger since then.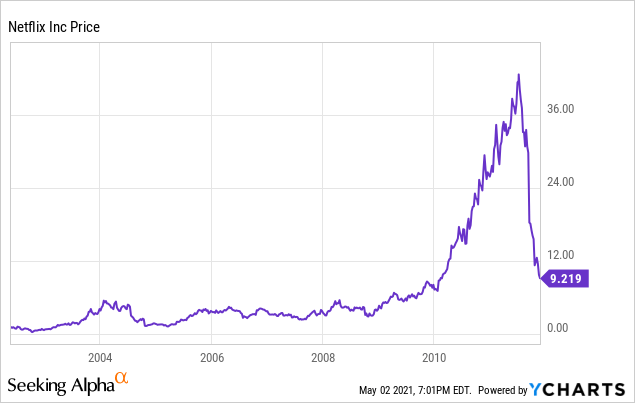 In April 2020, Zoom Video (ZM) faced security woes. You might remember talks about "Zoom bombing." The company saw an increase in scrutiny on its policies, specifically around its data security and encryption. At the time, CEO Eric Yuan had to issue a mea culpa and it forced the company into improving its security features.
At the time, this was a serious wrinkle in Zoom's momentum, particularly for its contracts with government agencies that tend to put an emphasis on security over quality.
This is the kind of environment you are dealing with when a company is down close to 30% from its previous high.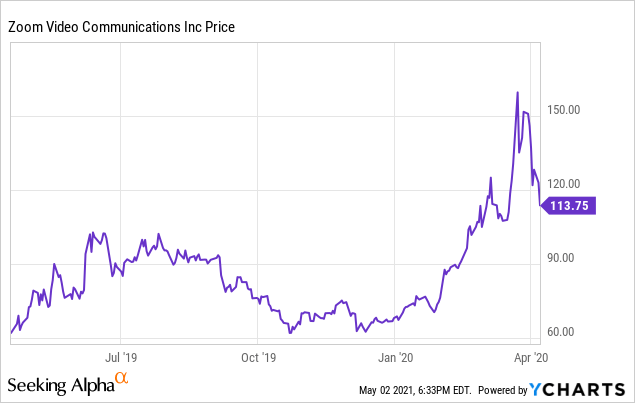 The stock has been a 6-bagger the following 12 months, before giving back almost half of the gain in recent weeks. We're still looking at almost a triple from this period of high uncertainty. But to get there, you needed to be able to ride the previous period of uncertainty and negative sentiment.

I recently discussed how challenging it was to hold Chipotle (CMG) in my portfolio back in 2017. At the time, the stock was more than 60% down from its 2015 high. There was a constant flow of bad news with a series of foodborne illness outbreaks.
Holding onto a position in CMG required dealing with a relentless stream of bad news. The company was attempting to persuade fleeing customers that its food was safe.
Yet, it was the absolute best time to buy shares as they were hitting close to a 10-year low. The stock became a 6-bagger in the following three years.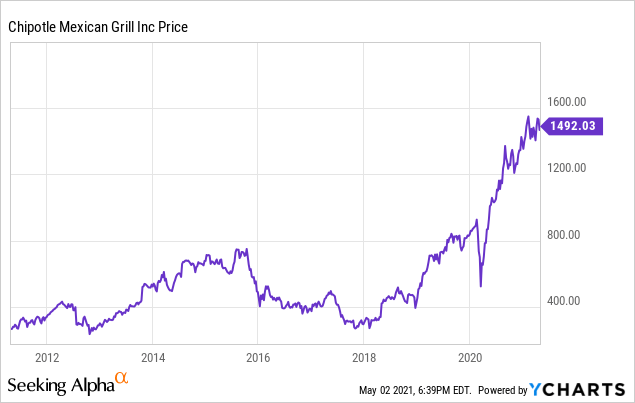 Stocks that are being punished by the market tend to have something that is simply not going their way. Instead of seeing it as a reason to sell, you must recognize that all winners have a rough patch, eventually.
Looking back, it's easy to see these moments as golden opportunities to buy. In reality, merely holding through these heart-wrenching declines required nerves of steel and the imagination to look past the daily flow of negative news.
Context, always context
Investors are often confronted with an avalanche of news to deal with.
It can be a daunting task to tune out the noise while keeping your fingers on the pulse of your investments.
I believe the key is to always contextualize the news you are dealing with.
Increasing your standards for what you should read and care about goes a long way in helping you manage the daily wave of business developments.
I particularly enjoyed this recent tweet from Morgan Housel about the best reading filter.

To use a recent example, I've seen a lot of discussions on Twitter around the recent contract dispute between Roku (ROKU) and Alphabet.
This dispute was brought up to me by several members of my community since I own both ROKU and GOOG as part of my portfolio.
As a result of the dispute, YouTube TV (the TV streaming service that includes live TV from 85+ broadcast, cable, and regional sports networks) has been removed from Roku's channel store amid accusation that Google made anti-competitive demands.
Among the important details, the channel will still be available for existing YouTube TV customers. Only new users who want to download the app from Roku's channel store will no longer be able to do so.
Here's an example of how I would contextualize this news:
Existing customers are not affected.
YouTube TV had about 3M subscribers as of Q3 2020.
Roku had 51M active accounts as of end of 2020.
How big is the overlap between Roku account and YouTube TV subscribers? Hard to say, but certainly less than 100%. Even assuming that, somehow, all YouTube TV subscribers use Roku (they don't), we'd be looking at about 6% of Roku users. Better yet, since existing Roku accounts that have already downloaded the app are not affected, the potential impact would be only on a forward-looking basis.
All-in-all, as an investor in ROKU, this news is somewhat irrelevant to my bullish thesis and too small to care about.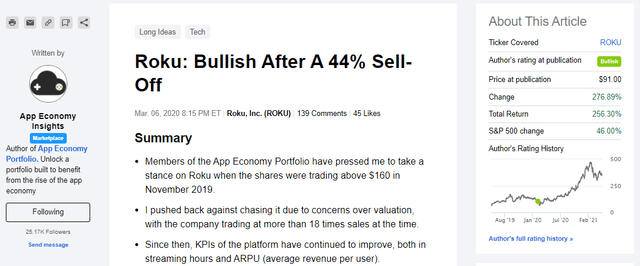 The key to your sanity is to rigorously contextualize how troublesome a piece of news really is.
It can be tempting to fall down rabbit holes and read everything you come across about one of your large positions. You can convince yourself all day that you are doing your homework. But it can increase the temptation to tinker with your position.
As explained previously, more often than not, it will turn out to be a mistake.
What does it take to hold winners, really?
Buying them.
Holding them.
Simple, right?
Yet, I keep coming across investors who are bullish on a company but turn bearish the following month. They use a recent development as a reason to sell. More often than not, these are excuses to justify our over-trading.
I discussed many times the importance of journaling as an essential step in an investment process. Writing down your bullish thesis can save you a world of unnecessary worries.
There will always be a reason to trim a position or sell it entirely:
The guidance was slightly lowered.
Product XYZ's launch has disappointed.
There is a new competitor in the space.
The last quarter fell short of expectations.
Executive so-and-so is leaving the company.
The list goes on.
If the new business development has limited connection to the original bullish thesis, there is usually no call to action.
To hold your winners through thick and thin, recognizing that there is no call to action 99% of the time, is an essential step. One that is incredibly challenging to truly embrace.
Focus on the business, not the stock
In 100-baggers, Chris Mayer quotes Thomas Phelps:
"To make money in stocks you must have the vision to see them, the courage to buy them and the patience to hold them. Patience is the rarest of the three."
Assuming you've been capable of finding a compelling business and had the courage to invest, it's easy to lose sight of the fact that the most challenging part is to sit on your hands for years.
While it's easier said than done, ignoring any non-business-related items is an easy step to remove noise from the equation.
If one of your main qualities as an investor is likely to be a reluctant seller, identifying reasons that should never educate your selling decision is an essential step.
Here are examples of factors that would never influence my selling strategy:
Valuation.
Insider selling.
High short interest.
Size of the company.
Stock price movements.
News unrelated to my bullish thesis.
Here again, ask yourself "Will I still care about this a year from now?"
Many amazing companies are currently suffering from heavy negative sentiment. In hindsight they might look incredibly attractive.
Is Teladoc (TDOC) a broken business after seeing its stock traded sideways for an entire year? Probably not.
Will Zoom Video (ZM) never hit a new high ever again? I don't think so.
Is Fastly (FSLY) going to stay 55% down from its previous high forever? Time will tell.
Gamify your long-term approach
A few years ago, David Gardner came up with an interesting framework to think about your position in outstanding winners such as US big tech companies.
He called it the FANG score.
His idea was that you should add up the number of years you have held each of the FANG stocks. This mental model is a simple gamification technique encouraging to opt for a longer holding period that can result in improving your "score." And you can naturally apply this model well beyond the US tech titans.
We've reviewed what it really takes to hold winners:
An iron stomach ready for crushing drawdowns.
A willingness to contextualize challenges along the way.
A reluctant-seller approach with a focus on the business.
What about you?
What are the big winners you've been holding over the years?
How did you manage to keep your position through thick and thin?
What mental models or self-reminders helped you maintain your position?
What's your FANG score?
Let me know in the comments!