DISCLAIMER: This note is intended for US recipients only and in particular is not directed at, nor intended to be relied upon by any UK recipients. Any information or analysis in this note is not an offer to sell or the solicitation of an offer to buy any securities. Nothing in this note is intended to be investment advice and nor should it be relied upon to make investment decisions. Cestrian Capital Research, Inc., its employees, agents or affiliates, including the author of this note, or related persons, may have a position in any stocks, security or financial instrument referenced in this note. Any opinions, analyses, or probabilities expressed in this note are those of the author as of the note's date of publication and are subject to change without notice. Companies referenced in this note or their employees or affiliates may be customers of Cestrian Capital Research, Inc. Cestrian Capital Research, Inc. values both its independence and transparency and does not believe that this presents a material potential conflict of interest or impacts the content of its research or publications.
The Song Remains The Same
If you want to learn fundamental analysis, there are worse places to start than the classic Securities Analysis by Graham & Dodd. Try the sixth edition, with the foreword by their junior analyst, one Warren E Buffett. In it you will learn the joys of why - oh no! - mistaking a redeemable preferred stock, callable at the company's sole option, for a nonredeemable preferred, could cost you big over the seven years you might have held the security. And you will learn the merits of balance sheet assessment, such that the 5.25% yielding common stock you bought, issued by your local railroad, might continue to pay out to your expectation, rather than be wiped out by the refinancing of a soon-to-be-due senior secured loan. Don't laugh. In some circumstances, this matters. If you invest for income, if you like REITs, if cashflow matters to your investing style, you need to know this stuff. It might not in and of itself make you big money, but it can help you avoid losing big, and that is more than half the battle, as you know.
But it turns out that if you just like rockets and the idea of stocks that can go, yes, to da moon, it really doesn't much matter what you call a warrant or where on the financial statements, if anywhere, it should go.
Vector Acquisition Corp, the SPAC shell company in the process of merging with Rocket Lab refiled their accounts yesterday. This follows some unexpected SEC attention on the way in which some SPACs have accounted for the warrants issued both as part of the units and as standalone securities.
The new filing can be found here. It's worth reading because you can see the humble pie that VACQ has been made to eat here. Indeed they have been forced to admit their sins against disclosure on page one. We have been very bad people, it says. "The company has determined that its disclosure controls and procedures for such periods were not effective with respect to the classification of the company's warrants as components of equity instead of as derivative liabilities". Now THAT is a negotiated sentence if ever there was one. "We are only bad people with regard to the technical nonsense that you found to lob at us, we still consider ourselves good people", is what it might as well say.
Normally such a refiling would crater the stock. The news though, is that none of this matters. The damage to the stock prices in this category has already taken place. The SEC has sought in recent weeks to cool the rate of new SPAC issues and cool the rate at which SPAC stocks churn from one shareholder group (pre merger announcement) to another (post merger announcement). The warrant issue seems to have been the one picked as a tool to do so. What the correct treatment of such warrants is, doesn't matter - that the SEC has been able to persuade VACQ and others to issue statements like the above is what matters. And creating the fear of adverse consequences has certainly hit the securities prices of the yet-to-merge SPAC names in our world. Here's how a few of them have performed of late.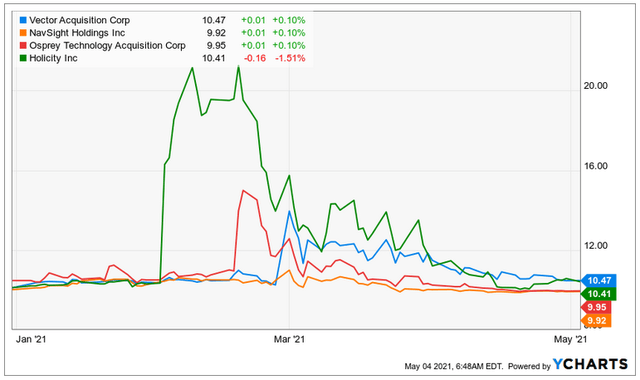 Vector (pending merger w/Rocket Lab), NavSight (pending Spire Global), Osprey (pending BlackSky) and Holicity (pending Astra) all more or less back to the pre-deal $10-ish level that defines the cash value of SPAC stocks lately.
Now this to us spells opportunity. In the above list, both Rocket Lab and Spire Global are real companies with real revenues, real growth, wide open market opportunities, and strong management teams running the show. And the relevant SPACs are back to trading at cash value. (That doesn't mean you get to buy the operating company at cash value. It means that if you buy those SPAC stocks now, you're paying more or less book value for the SPAC. You're still paying a big ol' valuation for your resulting shares in hot space companies).
As a reminder, here's what the VACQ / Rocket Lab deal looks like. As SPAC deals go, we think it's a good one. It's pure speculation, like all these deals, but, we think that Rocket Lab can go places and we don't mind putting a little money to work behind that idea.
Right now you have a beaten-down SPAC sector that is very much out of favor among institutions, you have the merger pending with one of the very top new space companies around, and you get to buy VACQ stock at a price reflecting the investor desertion that has taken place. Our bet - and that's all it is, a bet - is that over time, Rocket Lab will prove to be a good long term hold, and we think that when the sector is so out of favor, it's worth considering opening a new holding in the name, or perhaps adding to an existing holding. This remains a venture capital type investment, so you should consider that carefully when you think about how much of your account you put to work in such names, and how to react to the inevitable extreme price volatility. We ourselves remain bullish on the name.
Cestrian Capital Research, Inc - 4 May 2021.
To learn more about our popular 'Marketplace' service The Fundamentals, click here.

Our Marketplace service provides:
'Cloud Decade' long-term, 10-year picks.
'CyberSecurity-36' medium-term, 3-year picks.
'New Space Race' long term picks.
Short-term trade ideas in the stocks we cover.
Extensive investor education content.
Vibrant, supportive chatroom featuring subscribers from many walks of life.
We run a real-money service publishing the research we conduct to invest personal account funds. Subscribers get alerts on any planned buy or sell order in covered stocks, before we place our orders.