Splunk: Reaching Unreasonably Low Prices
Summary
Utilizing big data is becoming the inevitable future.
Splunk's transition into a SaaS company is almost complete.
Splunk is extremely undervalued today.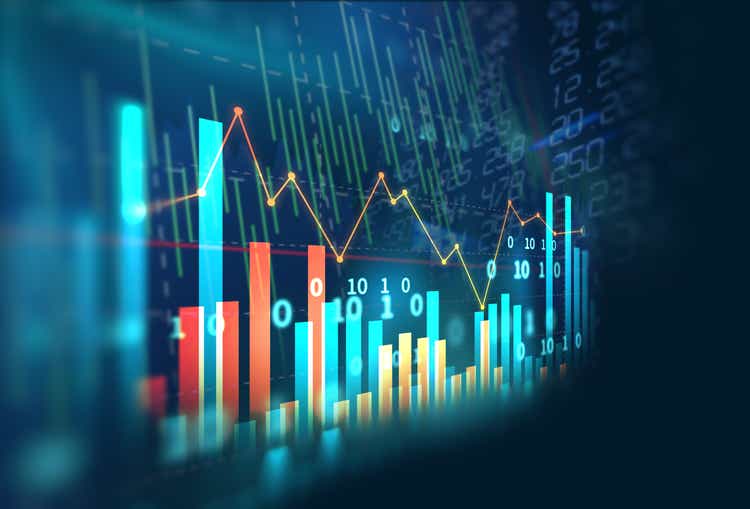 Investment Thesis
Shares of Splunk (NASDAQ:SPLK) have been free-falling recently because investors did not like that Splunk's year-over-year revenue declined and its forward guidance was extremely low. However, there were valid reasons behind low guidance and temporary decline in year over year revenue; thus, I think the share price of Splunk is in extremely undervalued territory for the following reasons:
Data is the oil of the 21st century; the demand for utilizing ever-increasing amounts of data will create immense opportunities for Splunk.

Splunk's transition from selling licenses to being a SaaS company is nearly complete. Shareholders can finally see year-over-year revenues increasing in the next few months.

The current share price of Splunk is extremely undervalued compared to its peer.
Big Data, The New Oil
Since the beginning of the industrial revolution, oil was one of the most important commodities. With the rise of the 4th industrial revolution, data will become the new oil. People know that data is extremely valuable. For example, we are using Facebook's (FB) social media for free by providing the company with our data. We are using Google (GOOG) for free by providing Google with our search data. Like these examples, data is extremely valuable; in fact, it is enough to create one of the biggest conglomerates in the modern world. Thus, I can reasonably argue that data is becoming the oil of the 21st century.
Tech giants are not the only companies that are utilizing data. Companies like Domino's (DPZ) utilized their data using Splunk's software to become the most successful and innovative pizza chain in the world. Domino figured out what ingredients customers preferred and what kind of experience their customers wanted when ordering. This might sound simple but numerous data need to be utilized behind the scene. For example, Domino will need to know how much each customer spent on average making their custom pizza, or the average amount of tip that customers gave to delivery personals for different delivery times. I can go on and on discussing why data is important in a pizza business. Imagine the possibilities Splunk has as more companies from all different industries realize the importance of utilizing their data. After all, more and more valuable data is created each passing day.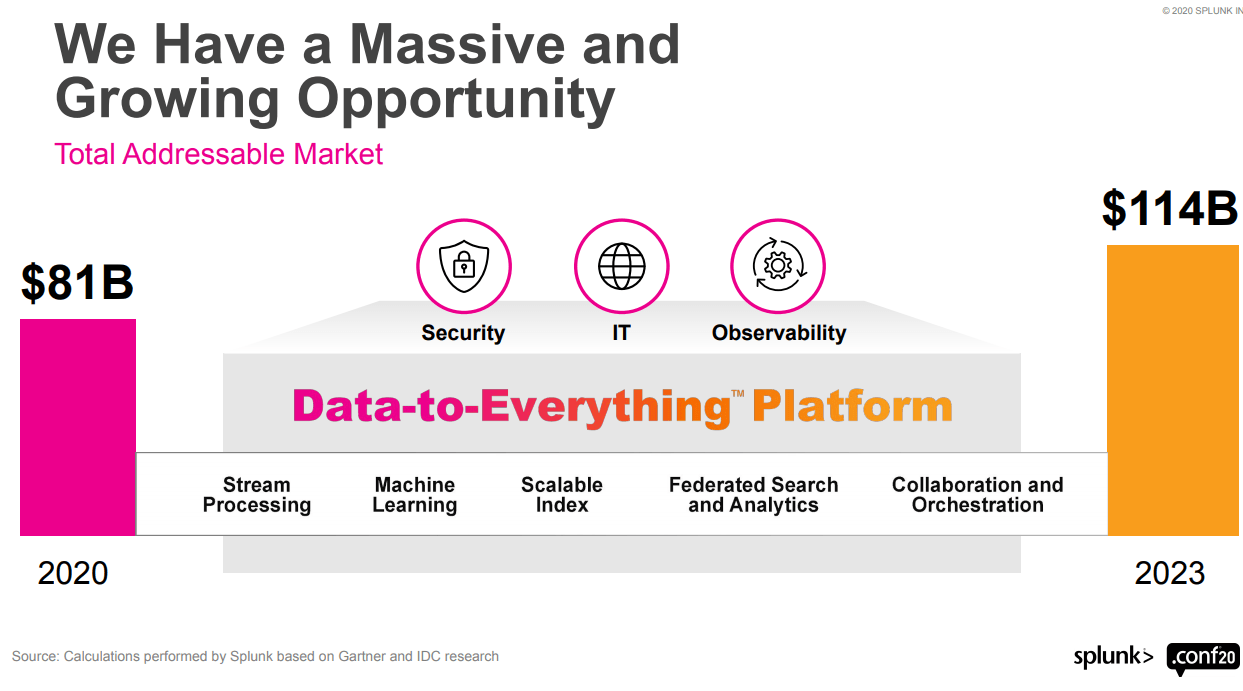 [Source -> Slide 65]
Splunk's management revealed their TAM, which is increasing from 81 billion dollars in 2020 to 114 billion dollars in 2023. The industry clearly is growing fast at about 40% during these 3 years. Thus, it is very clear that Splunk is in a position to benefit from this growing industry.
Splunk's Transition Phase Is Almost Over
Many bears or skeptics pointed out that Splunk's transition into a SaaS company is causing the company's growth and current revenue to decline. If one is looking at the company from a short-term perspective, this might be bad news. However, for investors who are seeking long-term opportunities, the recent decline in share prices is only creating more opportunities because switching to a SaaS business model is clearly not a bad decision. Splunk may seem like they are struggling because they are not receiving a one-time big payment from their customers. However, the company is being paid regularly allowing Splunk to easily increase the duration of the contracts, increase the subscription fee, and sell more services. Thus, a short-term decline in revenue is actually a great thing for the company. Once, the transition is complete, investors will start seeing annual revenues grow again, and the stock, most likely, will rebound (SaaS companies are valued higher than other companies as well).
Why do I think the transition is almost over?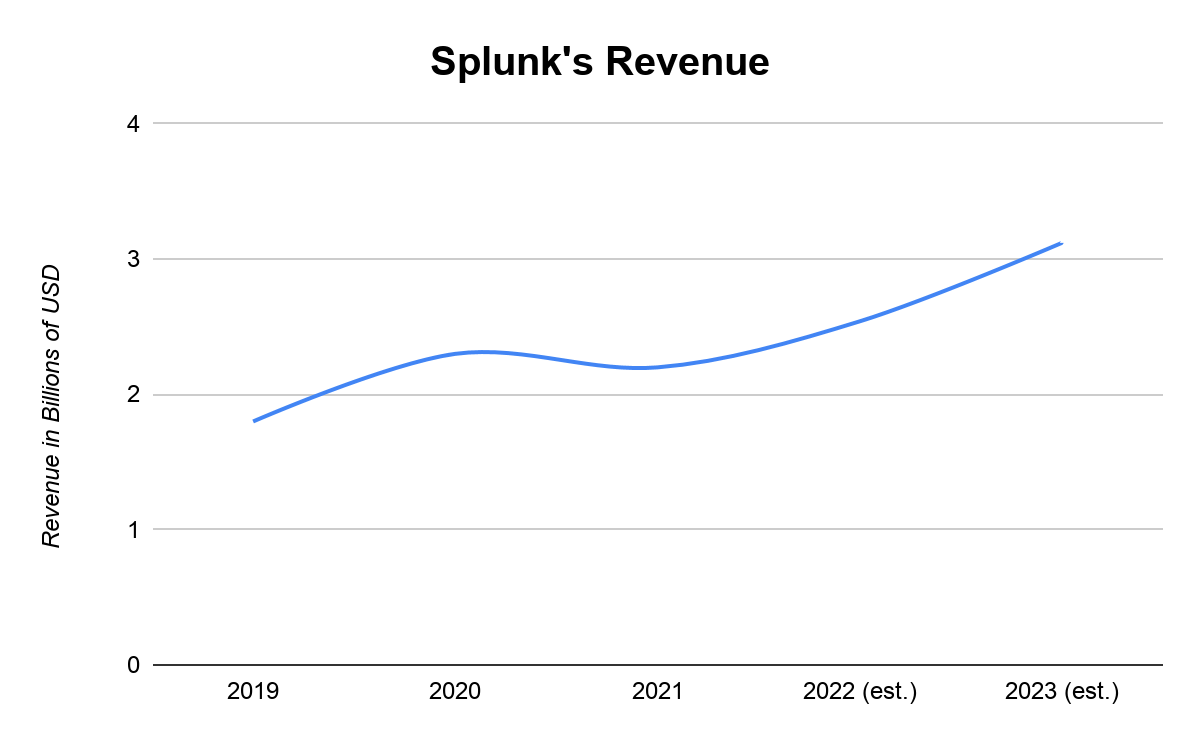 [Chart created by author using source-1 and source-2]
The yearly revenue decreased from FY 2020 to 2021 because of the transition phase. Look closely after 2021, Splunk's revenue is estimated to grow and accelerate again; thus, since Splunk is about to report their 2022 Q1 earnings report, I believe Splunk's decline is nearly over. In a few months, investors will realize that Splunk's decision to switch to the SaaS model was a great transition for the company.
Also, Splunk's subscription business is growing at an exponential speed. Customers paying more than 1 million dollars for Splunk's service increased 44% in FY 2021, and Splunk's cloud ARR (annually recurring revenue) rose 83% while total ARR was up 41%. Most likely Splunk will generate even more revenue from existing customers by selling them additional services like the cloud service. This proves that the revenue seemed low because of Splunk's transition only. With the transition almost nearing its end, I think Splunk has more upside than downside for the next few months.
Valuation and Financials
[Source]
Splunk, in my opinion, is extremely undervalued compared to its peers. Splunk has a price-to-sales ratio of only 8.81. Remember this is a SaaS company with ARR rising 41% year over year. However, Datadog (DDOG) has a 42 price to sales ratio. Datadog is also worth about 28 billion dollars with only 600 million dollars in annual revenue. That means Datadog is valued about 40% more than Splunk even though Splunk is reporting about 4 times more revenues. Splunk's total revenue growth is indeed lower than its competitor, but that is because of its existing license revenue that has a big upfront cost for Splunk's customers. As Splunk adapts subscription-based models, growth will accelerate as the up-front costs decrease.
Splunk has a relatively decent balance sheet for a growing tech company. Splunk is still an unprofitable company, but Splunk has about 1.8 billion dollars in cash and short-term investments. Also, Splunk has a total asset of 5.8 billion dollars and 4.2 billion dollars in total liability. The liability to asset ratio (L/S) is fairly high at about 72.4%, but when considering the net loss has been consistently decreasing since April 2020, Splunk's balance sheet with both immense cash and debt seems decent for a tech company (I also took SaaS business model as a consideration because SaaS tends to have a higher operating margin).
Risks
Splunk has serious risks from competitors like Datadog. Although Splunk is going through some changes, Datadog is growing extremely fast at about 30~40%. Considering that these businesses have high customer retention rates, investors interested in Splunk should keep a close eye on Datadog. Another risk, in my opinion, is the short-term risks from the market. Almost all major indexes are at their historical highs while the money is flowing out of tech and going into value stocks. This trend might not reverse for the foreseeable future because of the increasing inflationary pressure due to commodity prices and supply chain disruptions. I think this risk is very real for the short term.
One thing investors should know about Splunk and Datadog is that both platforms are very similar in service, which means that there is a huge possibility that both companies will benefit from the coming data trend by having healthy competition amongst them. This might not be the case if too many competitors enter the market, but that does not seem to be the case for now.
Conclusion
I think Splunk's stock prices are reaching unreasonably low prices considering its future potential and near-complete transition into a SaaS company. The value of the data will only increase over time potentially providing more opportunities for Splunk. Also, the fact that Splunk is finally nearing the end of its transition into a SaaS company reinstates my bullish thesis because the year over year revenue will start to normalize and investors will come back in a few months. I believe that Splunk will reward patient shareholders, but be cautious of some risks involved with this company. I would advise investors to be cautiously optimistic about Splunk.
This article was written by
I am a young private investor seeking to find advice and knowledge through my journey in Seeking Alpha. I primarily focus on growth companies and the disruptive future they may bring. Through the rise of technological capabilities, I believe that the world will undergo a massive transition in the coming decade.
Analyst's Disclosure: I/we have no positions in any stocks mentioned, but may initiate a long position in SPLK over the next 72 hours. I wrote this article myself, and it expresses my own opinions. I am not receiving compensation for it (other than from Seeking Alpha). I have no business relationship with any company whose stock is mentioned in this article.

I may not add any shares in the next 72 hours, but I am highly interested in starting an initial position after April's CPI data is released on May 12th.
Seeking Alpha's Disclosure: Past performance is no guarantee of future results. No recommendation or advice is being given as to whether any investment is suitable for a particular investor. Any views or opinions expressed above may not reflect those of Seeking Alpha as a whole. Seeking Alpha is not a licensed securities dealer, broker or US investment adviser or investment bank. Our analysts are third party authors that include both professional investors and individual investors who may not be licensed or certified by any institute or regulatory body.