NIO Autonomous Driving: Too Good To Be True
Summary
NIO unveiled its 'NIO Autonomous Driving' platform in January, leaving little to the imagination.
However, more recent comments indicate that NAD's feature set initially may be limited to little more than highway driving.
This implies NAD (at least initially) may still be more of an ADAS system than a real L4/L5 system. NIO appears to be taking a similar approach as Tesla's Autopilot/FSD.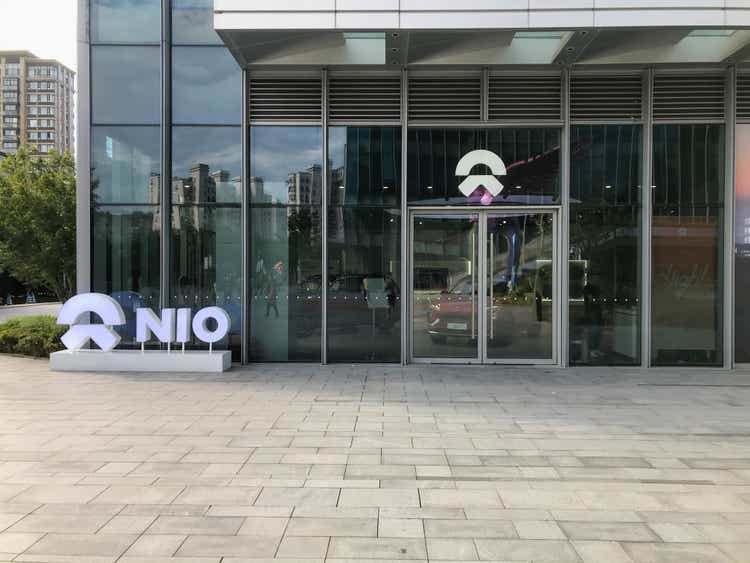 Investment Thesis
While the overall NIO (NYSE:NIO) thesis is still bullish (based on selling EVs), this article revisits the NIO Autonomous Driving (NAD) platform announced at NIO Day 2020 in January. In particular, given some new information that was disclosed, it appears that the NAD initially won't be fully autonomous L4/L5.
Hence, while NIO is definitely leading the industry with the introduction of NAD and ADaaS (Autonomous Driving-as-a-Service) in early 2022, NIO's approach seems more akin to how Tesla (TSLA) is gradually improving its "Autopilot" than launching a really feature-complete package.
NAD
For a brief refresher, NIO announced its NIO Autonomous Driving (NAD) in January as part of the unveiling of its ET7, which will launch in early 2022. NAD represents NIO's next-gen ADAS/self-driving platform and represents a huge feature upgrade. NIO will move from a mostly off-the-shelf Mobileye (INTC) solution to an autonomous driving platform based on Nvidia's (NVDA) hardware and many, various sensors. As NIO described at its earnings call:
Based on NIO's in-house full-stack autonomous driving technology platform, ET7 will be equipped with NAD, NIO Autonomous Driving, consisting of NIO Aquila Super Sensing and NIO Adam supercomputing. NIO Aquila Super Sensing system has 33 high-performance sensing units, including 11 8-megapixel high resolution cameras and one high-resolution LiDAR with a detection range of 500 meters. The computing power of NIO Adam is up to 1,016 TOPS. The sensor suite and the computing power of NAD far surpass other competitors and will expedite the mass production progress of the autonomous driving industry.
However, the earnings call also revealed some new information, which was not initially disclosed; after all, the NAD acronym leaves little to the imagination.
NAD will provide a safer and more relaxing AD experience from point A to point B, gradually covering highway, urban, parking, charging, swapping and other use cases to free-up time and to reduce accidents. In addition, NIO NAD will be the first AD system offered through a monthly subscription service or AD-as-a-service, so more people can try out and enjoy NIO NAD.
What may be somewhat concerning is the phrase "gradually (…)". If the ET7 really were a fully autonomous vehicle, and if NIO had really suddenly leapfrogged many years of development from the likes of Waymo (GOOG) (GOOGL), and even its current supplier Mobileye, then one would not expect the feature-set of the ET7 to "gradually" expand over time.
In other words, the ET7 may not be much more than an L2+ vehicle at launch, with more features added over time perhaps. That would not be unlike Tesla, whose "Autopilot" certainly isn't L4 or L5 yet by any means. For comparison, Mobileye itself announced its L2++ SuperVision system in late 2020 (for a late 2021 launch).
Mobileye has said the only difference between SuperVision and L4/L5 is what is expected from the driver: SuperVision is only classified as L2++ because it still requires the driver to pay attention (it isn't verified to have the reliability for L4). For the rest, it uses the same hardware and software stack of its camera-based subsystem for its upcoming robotaxis.
There is one last data point that may give some indication. In early 2021, the latest annual disengagement data from autonomous vehicles in California was released. It showed Nvidia – whose hardware NIO uses, although it is not sure if and how much of the software NIO uses as well – to be somewhere in the middle of the pack. In other words, Nvidia certainly doesn't have a leadership position in developing autonomous vehicles. (While Nvidia's hardware is certainly among the most powerful, the hardest challenge for developing autonomous vehicles is the software, which determines the ultimate reliability.)
For better or worse, NIO has since clarified that it is all-in on developing its own full-stack software for autonomous driving, which suggests that NIO is primarily using Nvidia's hardware.
Further risks
In the Tesla article linked to above, I indicated that despite the efforts by many, given the many challenges involved, few may ultimately succeed in developing their own in-house autonomous driving stacks.
To that end, I noted how in the last few quarters, both Uber (UBER) and Lyft (LYFT) have sold their respective divisions for autonomous driving (even though they were investing quite significant resources into those efforts). Additionally, Udelv, which was working on autonomous last-mile delivery, also stopped its efforts to switch to Intel (INTC) Mobileye.
If even Uber couldn't pull it off, then that may (or may not) provide some indication of the chance of NIO succeeding.
From that view, as discussed previously, it perhaps remains a bit unclear why NIO went this route even though it had already signed a deal with Mobileye in 2019. (Mobileye hasn't encountered any delays since then, and will launch its robotaxi service in early 2022, the same time as the launch of the ET7.)
Takeaway
NIO launched its NAD 2.0 platform with much fanfare in January. Given its amount of sensors and hardware, it quite certainly has the technical feature set for autonomous driving. However, the most recent statements by NIO indicate that NAD, in fact, may not be L4/L5 capable – at least initially. For example, if it would only cover highway autonomous driving, that would not really set it apart all that much from competitors such as Tesla Autopilot/FSD, Mobileye SuperVision, and perhaps others.
Given the general progress in the field of autonomous driving – which is still mostly focused on robotaxis in the near-future – the above should not be immensely surprising. There still won't be a lot of L4 or even L3 vehicles in 2022, so any autonomous features will provide some level of differentiation.
But it is still important for investors to distinguish between a real autonomous vehicle (one that in principle doesn't even need to have a steering wheel), and one that is only partially autonomous (i.e. ADAS).
A second takeaway is that some investors may question the development choices of NIO. Around late 2019, NIO got itself into funding issues, but with those issues solved, it is doubling down on developing its own autonomous driving system. This not only increases the development costs for NIO, but it may also increase the general risk given the complexity of developing a fully autonomous system. Depending on how "gradual" NIO's progress is, worst-case, it could actually be years behind by the time it has a complete L4 system.
In particular, investors may note how NIO had initially signed a deal with Mobileye for a 2022 self-driving vehicle, before opting to switch to Nvidia for hardware and in-house software; the Mobileye route may actually have yielded the most advanced solution, and as a turn-key system would also have been the least risky and costly option.
Summing up, when the ET7 launches, even if it is the industry's first vehicle with a subscription model for its "autonomous driving", investors should be wary that the system itself may still be more of classical L2++ driving assistance rather than a fully autonomous L4/L5 vehicle.
This article was written by
With an engineering background, looking for companies with expertise to be well-positioned for growth and leadership.
Analyst's Disclosure: I am/we are long NIO. I wrote this article myself, and it expresses my own opinions. I am not receiving compensation for it (other than from Seeking Alpha). I have no business relationship with any company whose stock is mentioned in this article.
Seeking Alpha's Disclosure: Past performance is no guarantee of future results. No recommendation or advice is being given as to whether any investment is suitable for a particular investor. Any views or opinions expressed above may not reflect those of Seeking Alpha as a whole. Seeking Alpha is not a licensed securities dealer, broker or US investment adviser or investment bank. Our analysts are third party authors that include both professional investors and individual investors who may not be licensed or certified by any institute or regulatory body.