Unity Software: Why I'm Buying The 40% Correction
Summary
Unity Software has fallen 40% over the past few months.
This move makes sense as the whole group of speculative software stocks have been getting pounded.
However, Unity is much higher-quality than many of its peers and should find buyers at these levels.
Investors viewing this purely as a gaming play are missing its multiple other shots on goal in 3D graphics.
Looking for more investing ideas like this one? Get them exclusively at Ian's Insider Corner. Learn More »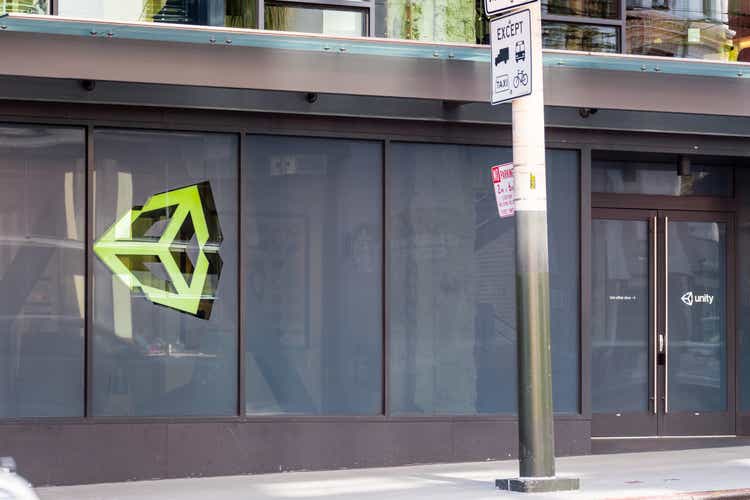 While the stock market is making new all-time highs, not all companies are participating equally. Specifically, after dominating in 2020, tech stocks have been a slump. The mega-cap tech stocks are still doing alright, however anything that is more speculative and not yet profitable has seen shares pull back sharply.
Admittedly, a lot of the things that went up, such as SPACs and electric vehicle stocks, were by and large not high-quality investments. It's understandable why people have dumped something like Cathie Wood's Ark Innovation ETF (ARKK):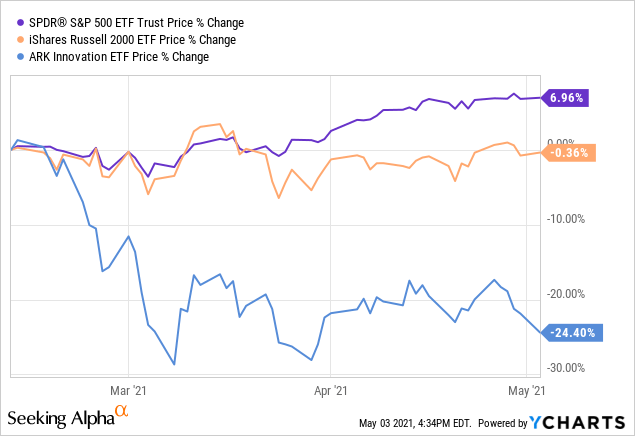 Since February, speculative stocks have gotten slammed, even as both large-caps and small-caps in general have done alright.
Still, this sort of selling causes some good companies to get pitched out amid the general rush to unload.
To that end, I've been buying C3.ai (AI), Berkeley Lights (BLI) and Unity Software (NYSE:U) to profit from the market's current disdain for growth stocks. As you can see, these three have gotten hammered in recent months: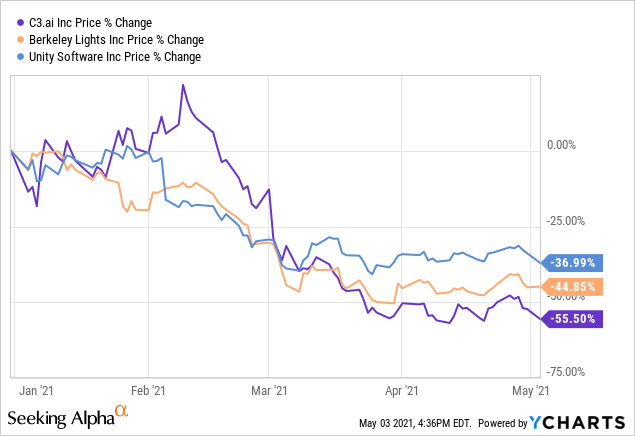 For today's article, I'll zoom in specifically on Unity.
A Dominant Gaming Company
Unity's core product is a software program that makes it easy to work with 3D graphics. Historically, the company has used this in the video gaming arena.
Game developers can put their characters and objects into Unity and program player interactions, physics, lighting, and other such integral parts of the game-making process. It's also easy to share objects such as cars, trees, buildings, and people from one developer to another, it makes it far easier to put together a professional game in a short period of time.
To give an example of this, an independent new developer put together Valheim, a Norse-themed survival game with just five people working on the game's development team. Valheim has sold more than 6 million copies so far in 2021, becoming this year's top-seller on Steam. Not bad -- more than one million copies per staff person that put the game together. No longer do you need a large budget and dozens of developers to put together a game that can compete with Electronic Arts (EA).
This is the sort of magic developers can get working with Unity. By streamlining so much of the dirty work in assembling the game, it gives developers more time to flesh out the characters, lore, and unique elements of their project rather than reinventing the wheel within the game engine.
Unity is hardly just for PC gaming, either. In fact, its strongest category is mobile gaming. The company estimates that 70% of top grossing mobile games use Unity. Meanwhile, in the emerging augmented and virtual reality category, Unity's market share is even higher. Developers also use Unity for PC and console games, though it has significantly lower market share in those categories.
This makes Unity a leader in the race to own the Metaverse. That is to say, a virtual reality where users live out alternate lives. We've had many attempts at a metaverse previously, but having them tethered to desktop PCs really limited adoption. Now, though, if a game can run on a phone (Unity's strong suit) it can be played anywhere.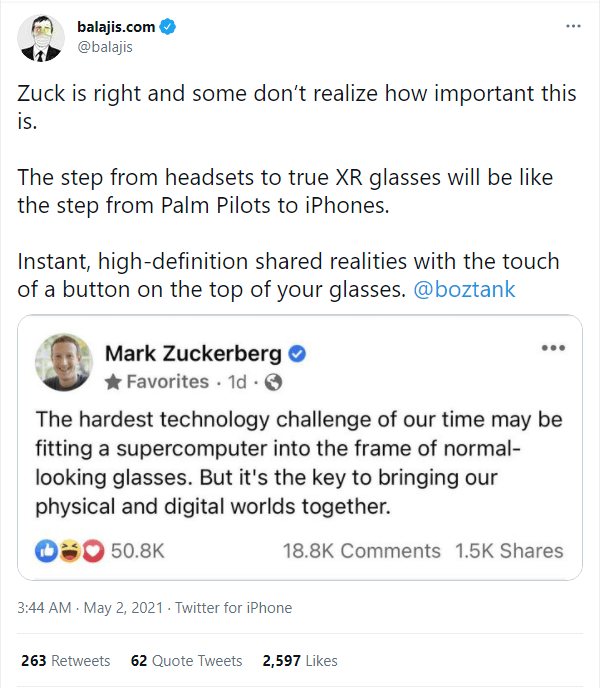 That will become even more true once virtual reality is available everywhere, say through glasses as Facebook (FB) is currently working on.
Unity: An Irreplaceable Asset
Speaking of Facebook, it reportedly attempted to buy Unity outright several years ago. A book quoted Zuckerberg highlighting the reasons to buy Unity in a letter to other senior Facebook employees:
"Over time someone will need to tightly integrate all of the software and hardware components of [VR/AR] and Unity is at the right level of the stack to do this for most developers. If we own Unity, we can ensure this always happens well, happens quickly and happens with our systems […] If we don't own Unity, then at best we can incentivize [Unity] and […] everything will just move more slowly. At worst, someone may acquire [Unity] and block this from happening at all or with us."
Zuckerberg goes on to say how owning Unity would give Facebook the ability to seamlessly integrate things such as avatars, log-ins, and marketplace services. Furthermore, all developers would have to work with Facebook since it would own Unity. This would also put pressure on Unity's main rivals, chiefly Unreal, to cooperate closely with Zuckerberg or risk getting boxed out of VR altogether.
Obviously, this merger never came to fruition. That's not terribly surprising, given the antitrust push against the big tech giants nowadays. However, Facebook's loss is our gain; we now have the opportunity to own Unity as a standalone entity.
There's far more than just gaming as well. Unity has one of the world's leading 3D graphics engines, and as a result, it's rolling it out for far more than just games.
Unity already has efforts going in movie production, online real estate transactions, and digital architecture, among other initiatives. Most promisingly, Unity is partnering with e-commerce sites to allow customers to try on clothing and accessories digitally and see themselves in 3D reality. The upside here is potentially huge as VR/AR goes mainstream. This seems like a nearly inevitable development within e-commerce and since Unity already owns the VR/AR space in gaming, it's only a small jump to extend its leadership across the VR platform.
Unity already has a large advertising business within its mobile games division. If a developer builds a mobile game, one main way to monetize is to put ads in it. Unity serves the ads and then runs a revenue-share with the developer. In this way, Unity gets its cut of the phone gaming pie, regardless of which games win mindshare. Once Unity rolls out a similar arrangement with e-commerce firms for apparel, analysts will start seeing a whole different ballgame in terms of total addressable markets.
Skeptics will look at Unity and see the revenue growth rate is too low now to justify the valuation. There's also current risk to the ad business due to Apple's privacy changes. Going forward, users will have to opt-in to targeted ads, whereas before, the default was to accept tracking. This could hurt revenues. That said, since Unity sells to most mobile game studios, it should do alright even as winners and losers develop in the new game publishing ecosystem. Also, Apple and Unreal -- Unity's chief rival -- are in a nasty legal fight, so Unity is arguably in a better comparative position.
Zooming back, Unity has only really penetrated one aspect of its business -- gaming. As it rolls out 3D software for many adjacent fields it will see a huge runway ahead of it, all while the core gaming business continues to expand at a favorable clip. I find it astounding that something like Roblox (RBLX), which is a niche gaming platform with little upside optionality beyond its core business, sells at a greater valuation than Unity.
Valuation: But Isn't Unity Too Expensive?
I'm not going to beat around the bush here. Unity is an extremely expensive stock. There's a good chance I'm overpaying buying shares here at $100. And folks that paid $175/share earlier this year required truly courageous amounts of optimism to make the math work at that point.
That said, I don't think Unity is quite as crazy as it first seems.
Two of Unity's bigger peers -- assuming it becomes a general 3D software play instead of just gaming -- are Adobe (ADBE) and Autodesk (ADSK).
Historically, both those names have traded at similar price/sales ratios. And since 2015, their valuations have soared. Adobe in particular made the transition from one-time license fees to recurring revenues, and Wall Street positively adores a good recurring revenues story: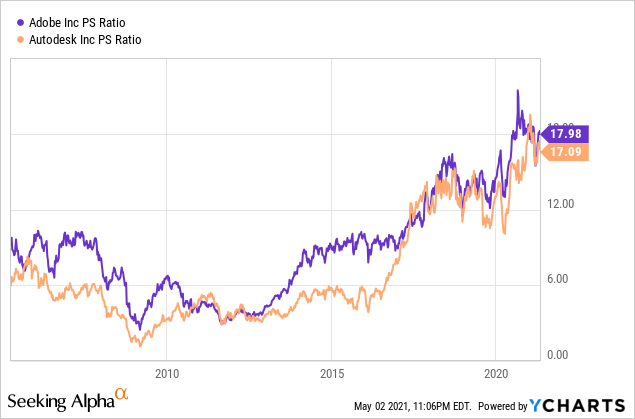 Now both Adobe and Autodesk sell for around 18x revenues. And, importantly, both those multiples have gone up a ton even as their businesses have gotten bigger.
So is Unity at 30x 2021 sales defensible? Maybe. Maybe not. I'm generally a growth at a reasonable price investor and I'm not sure I can really argue this price is 100% reasonable.
That said, there aren't very many companies like Unity. It dominates in gaming, including in virtual and augmented reality, which should become a simply massive field over the next decade. And there are all sorts of adjacent uses for their software outside of gaming that the company has barely scratched the surface on. There isn't really a publicly-traded alternative that offers the same sort of profile/growth optionality on this theme that Unity does.
This is one of the few companies I can see growing revenues at 30%+ annually for quite a long time and which would be hard to disrupt. When mature firms like Autodesk and Adobe are going for such massive price/sales multiples, what's the right price for a much newer company with more growth possibilities like Unity worth?
3D graphics are such as obvious megatrend that it's really compelling to buy this sort of stock on this huge pullback and let the growth catch up to the valuation. With folks such as Cathie Wood of Ark Investments owning Unity, there's always the possibility that its valuation will remain elevated going forward, as well. After all, the speculative stocks are still down sharply from their February highs, and at some point, Ark names may come back into favor again.
If I'm wrong and the valuation multiple does collapse, at least U stock wouldn't be a total wipeout. It already has a large revenue base across multiple types of customers and revenue formats (royalties, ads, and so on). The in-game advertising business is particularly compelling. So this is the sort of stock where downside is probably more like 33-50% if tech stocks wipeout soon, rather than 80-100%, as we saw with many dot-coms in 2000-2 and will see with many SPACs and electric vehicle stocks going forward.
I think valuations are quite high for pure growth stocks, even after this correction. So I'm not making them large pieces of my portfolio. However, it's hard to allocate zero percent of a portfolio to aggressive growth names either. Thus, I'm willing to take a position on a large established high-growth company like Unity when its shares are already down more than 40% from its 52-week highs. I may still be overpaying, but if you want to own a hyper-growth stock, you're rarely going to get it at a fire sale price either.
If you enjoyed this, consider Ian's Insider Corner to enjoy access to similar initiation reports for all the new stocks that we buy. Membership also includes an active chat room, weekly updates, and my responses to your questions.
This article was written by
Ian worked for Kerrisdale, a New York activist hedge fund, for three years, before moving to Latin America to pursue entrepreneurial opportunities there. His Ian's Insider Corner service provides live chat, model portfolios, full access and updates to his "IMF" portfolio, along with a weekly newsletter which expands on these topics.
Analyst's Disclosure: I am/we are long U, AI, BLI, FB. I wrote this article myself, and it expresses my own opinions. I am not receiving compensation for it (other than from Seeking Alpha). I have no business relationship with any company whose stock is mentioned in this article.
Seeking Alpha's Disclosure: Past performance is no guarantee of future results. No recommendation or advice is being given as to whether any investment is suitable for a particular investor. Any views or opinions expressed above may not reflect those of Seeking Alpha as a whole. Seeking Alpha is not a licensed securities dealer, broker or US investment adviser or investment bank. Our analysts are third party authors that include both professional investors and individual investors who may not be licensed or certified by any institute or regulatory body.