Google Stock In 5 Years: What To Consider
Summary
GOOGL is firing on all cylinders.
The company generated strong top and bottom line growth, even after adjusting for unrealized investment gains.
GOOGL has $135 billion in cash on its balance sheet and appears to finally be buying back shares.
I view GOOGL as one of the best risk-reward opportunities in the market right now.
Looking for a portfolio of ideas like this one? Members of Best Of Breed get exclusive access to our model portfolio. Learn More »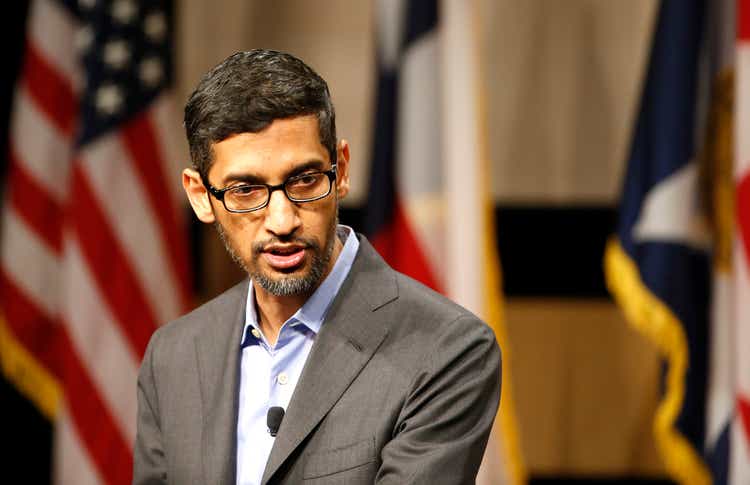 Alphabet (NASDAQ:GOOGL) (NASDAQ:GOOG) has been a prime beneficiary of the pandemic, not only due to robust financial growth but also due to some multiple expansions. The company has seen strong growth in YouTube and Google Cloud, while the "Other Bets" division seems to hold significant promise. GOOGL has a fortress balance sheet and appears willing to finally reward shareholders with material share repurchases activity. The stock trades cheaply after adjusting for cash and losses from the Other Bets division. I rate shares a strong buy with 25% upside over the next 12 months.
Google Stock Price
While GOOGL saw its stock price drop around 30% to the $1000-level amidst the pandemic, the stock has rebounded strongly in the triple-digit range ever since.

In spite of the strong performance, the fundamentals suggest that there is more upside to come.
Alphabet Stock Earnings
GOOGL's recent earnings report showed stellar growth. Revenue grew 34% to $55.3 billion. That included 48.7% growth at YouTube and 45.7% growth at Google Cloud.
Net income grew 163% to $17.9 billion or $26.29 per share. However, adjusting for $4.8 billion in unrealized gains, net income was $13.1 billion or $19.24 per share. That was still 75% higher than the prior year. The company repurchased $11.4 billion of stock in the quarter - up from $8.5 billion the year prior. Share repurchases made up 85% of free cash flow, up from 46% in the fourth quarter and 72.7% last year. On April 23, GOOGL authorized a new $50 billion share repurchase authorization. I previously was critical of GOOGL's allowing its cash hoard to accumulate instead of repurchasing shares - it appears that the company has undergone a change in capital allocation policy for the better. Incidentally, cash declined slightly to $135 billion.
Google Stock Forecast
What can we expect moving forward? While few doubt the strong moats in GOOGL's core search and YouTube, investors should not underestimate the opportunity in the cloud market - GOOGL estimates that the market can grow to over $760 billion in less than 5 years.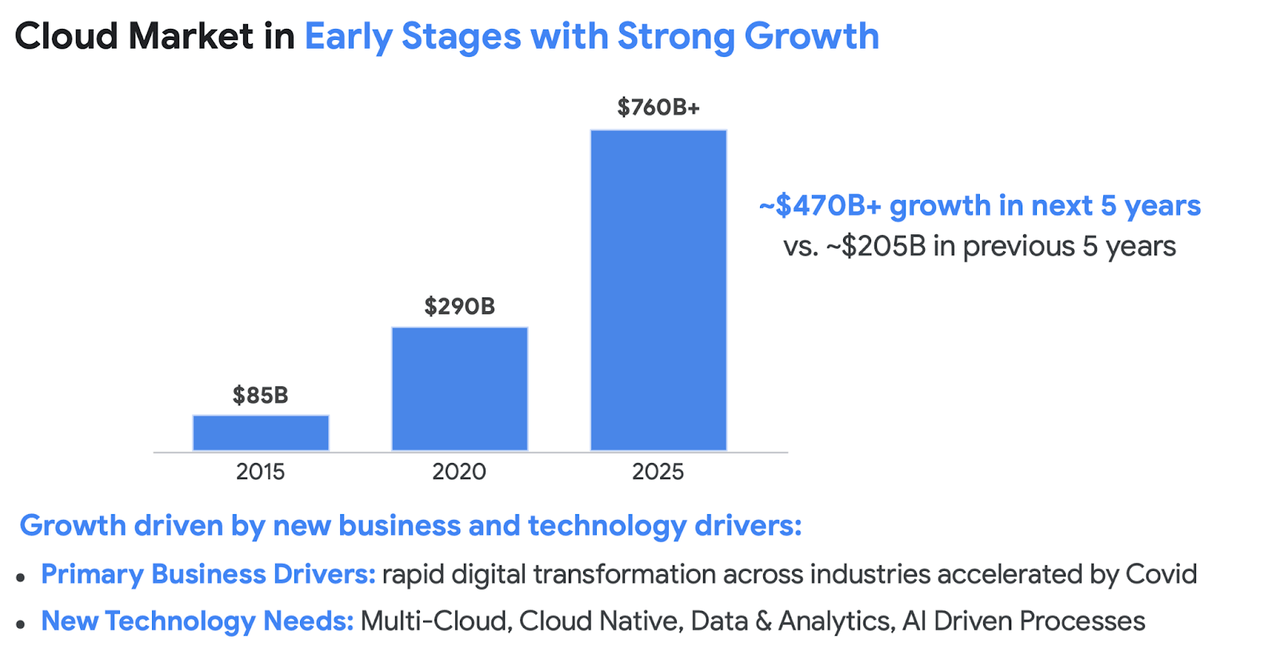 While most of Wall Street seems focused on Amazon Web Services (AMZN) or Microsoft Azure (MSFT), one shouldn't count out Google Cloud, as the company has successfully won the business of some of the top companies in the world.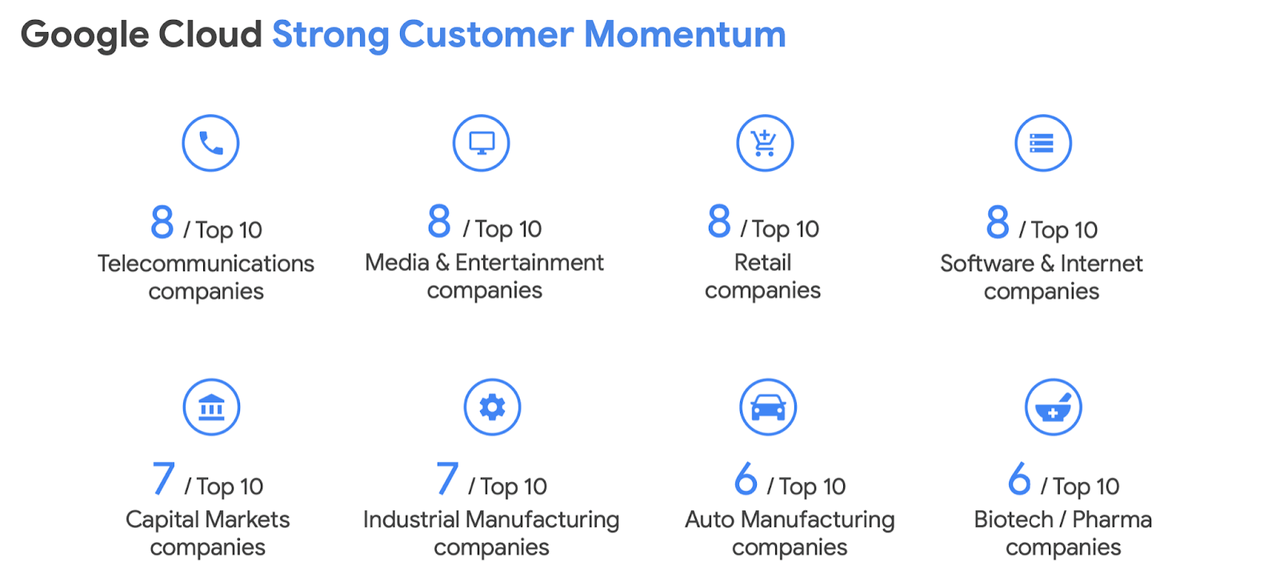 Wall Street analysts are expecting the core businesses to drive strong earnings growth over the next several years, including 19% growth beyond 2021 (that is, even after the projected recovery this year):

Many readers are likely concerned with the potential for greater regulatory risk to GOOGL. To their effort, they stated the following on the conference call:
We have added a new metric to our transparency reports called the Violative View Rate, which will help us estimate what percentage of views on YouTube come from content that violates our policy. In Q4 of last year, YouTube's Violative View Rate was between 16 and 18 views out of every 10,000. This is down over 70% compared to the same quarter in 2017, in large part, thanks to our investments in machine learning.
Further, one mustn't forget the "Other Bets'' division, where GOOGL has historically stored its ultra-long-term lottery shot ideas. At least, one idea seems to have promise. Waymo, GOOGL's autonomous vehicle division, is providing hundreds of rides per week in its public riding hailing service in Phoenix. In San Francisco, Waymo has begun testing with employees. It is an understatement to say that the future appears very bright for GOOGL - and as we discuss next, for its shareholders as well.
Is Google Stock A Good Buy For The Long Term
What about now? Is it time to buy GOOGL? I think the answer is yes.
Based on trailing earnings (I further adjust for unrealized gains on investments), GOOGL trades at 41 times earnings. That doesn't appear cheap at first glance, but there's more to the story.
As of the latest quarter, GOOGL has $135 billion in cash & equivalents, $25.3 billion in non-marketable securities, and $13.9 billion in debt. Accounting for just the debt, GOOGL has $198 in cash per share. Adjusting for cash, GOOGL trades for 37 times per earnings.
Next, we must account for the "Other Bets" division, which includes Waymo as referenced above. Other Bets has generated $4.5 billion in losses over the last year. Using that negative number would imply that the Other Bets division is worth a negative value, which in reality it is arguably worth a significantly positive value. If we ignore Other Bets losses, then that adds back $6.60 in earnings per share, and the stock is trading at 33 times earnings. This multiple is arguably too cheap in light of the aggressive forward growth rates. I could see GOOGL eventually trading up to 40 times earnings or higher over the next 5 years. If GOOGL even trades at 35 times forward earnings, then GOOGL would trade at $3,000 per share or 25% higher.
Risks
I may be underestimating the regulatory risk. It is possible that any of GOOGL's businesses may be investigated for monopolistic practices. It may be possible that GOOGL is forced to break apart its businesses. It is possible that new data privacy laws are enacted which hurt GOOGL's ability to monetize its users. It is possible that other advertising platforms take market share from GOOGL. My judgment is that GOOGL will be able to manage through all of these potential risks, but investors may wish to pay closer attention to these risks as the stock has experienced significant multiple expansion.

GOOGL might squander its cash balance. While I am interested in any potential acquisitions it might undertake, it is possible that the acquisition will be done in a value-destroying manner. In this case, the value of the cash position would not be $198 per share, affecting our fair value estimate.

It is possible that the fear of regulatory risks leads to multiple compression, causing the stock to move the opposite direction towards 40 times adjusted earnings. While long-term shareholders would cheer GOOGL's ability to repurchase its stock at lower prices, readers are advised that this is a long-term story.
Conclusion
GOOGL has generated strong returns for shareholders, and its strong collection of businesses suggests that the strong results may continue moving forward. The company maintains a $135 billion cash hoard, but I am encouraged by the fact that the cash hoard is not growing and the company seems to be making a concerted effort to direct more free cash flow towards stock buybacks. While the stock doesn't appear obviously cheap trading at 40 times trailing earnings, one is advised to adjust for cash and losses from Other Bets. With the stock trading at 33 times adjusted earnings, I am predicting significant multiple expansion from current levels to reflect the quality of future growth. I rate shares a strong buy.
The High Conviction List
GOOGL features rapid growth at a reasonable price. Want more stocks like GOOGL?
At Best of Breed, my portfolio includes over 25 stocks projected to crush the market over the next decade.
Get access to my highest conviction ideas. There's a 2-week free trial available.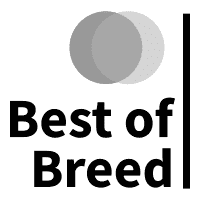 This article was written by
Julian Lin is a financial analyst. He finds undervalued companies with secular growth that appreciate over time. His approach is to look for companies with strong balance sheets and management teams in sectors with long growth runways.
Julian is the leader of the investing group
Best Of Breed Growth Stocks
where he only shares positions in stocks which have a large probability of delivering large alpha relative to the S&P 500. He also combines growth-oriented principles with strict valuation hurdles to add an additional layer to the conventional margin of safety. Features include: exclusive access to Julian's highest conviction picks, full stock research reports, real-time trade alerts, macro market analysis, individual industry reports, a filtered watchlist, and community chat with access to Julian 24/7.
Learn more
.
Analyst's Disclosure: I am/we are long GOOGL, AMZN. I wrote this article myself, and it expresses my own opinions. I am not receiving compensation for it (other than from Seeking Alpha). I have no business relationship with any company whose stock is mentioned in this article.
Seeking Alpha's Disclosure: Past performance is no guarantee of future results. No recommendation or advice is being given as to whether any investment is suitable for a particular investor. Any views or opinions expressed above may not reflect those of Seeking Alpha as a whole. Seeking Alpha is not a licensed securities dealer, broker or US investment adviser or investment bank. Our analysts are third party authors that include both professional investors and individual investors who may not be licensed or certified by any institute or regulatory body.