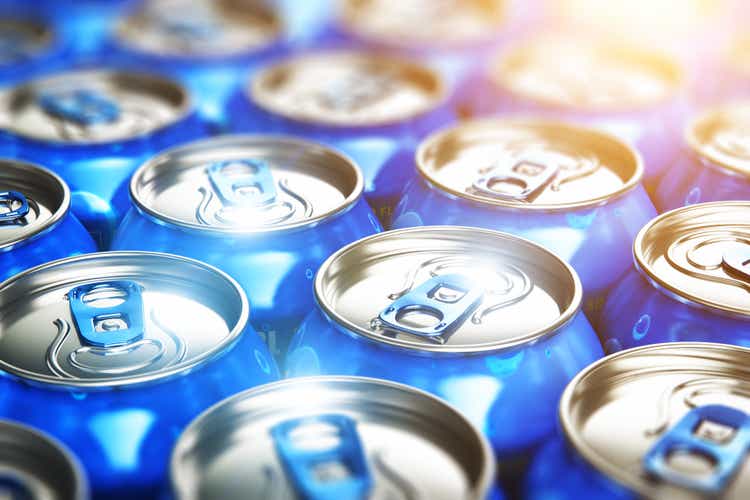 PepsiCo, Inc. (NASDAQ:PEP) was able to successfully navigate the COVID pandemic with a globally diversified business across snacks and beverages. A theme over the past year has been the strong sales of packaged foods with consumers stocking up on groceries while spending more time at home, balancing disruptions from other sales channels that were closed. The company has been able to drive profitability with a focus on operating efficiency through higher margins. The setup here is that with signs the pandemic is ending, we expect PepsiCo to maintain this momentum while it also benefits from a wave of reopening supporting outside-the-home demand for core products. We are bullish on PepsiCo which is a high-quality consumer staples leader with overall solid fundamentals and a positive long-term outlook. We see value in shares at the current level and expect more upside in the year ahead.

(source: company IR)
PEP Earnings Recap
PepsiCo reported its fiscal 2021 Q1 earnings on April 15th with GAAP EPS of $1.24 which beat expectations by $0.13. Revenue of $14.8 billion climbed 6.8% year-over-year and was similarly above the consensus estimates by $280 million. The sales growth on an organic basis, ex-acquisitions, was a more moderate 2.4%. While the gross margin declined to 55% from 55.9% in the period last year based on some weaker trends in beverages due to the ongoing pandemic impacts, we note that SG&A expenses remained flat which helped to drive earnings. The operating profit climbed 20.2% year-over-year while EPS was 29% higher from Q1 2020.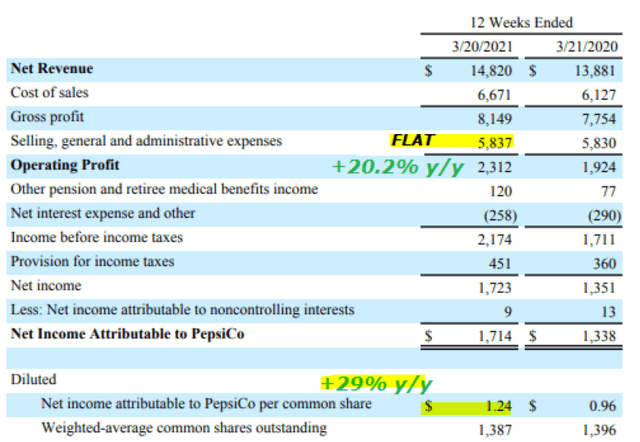 (source: company IR)
Operationally, despite 1% lower unit volume in the Frito-Lay North America segment which represents about 29% of the total business, the company was able to generate 3% higher organic revenue based on the sales mix and the pricing side. This was also the case with PepsiCo Beverages North America where unit volumes declined 3% compared to Q1 2020, while organic revenue was up 2%. Smaller regions like Africa, Asia, and China were strong points for the company in Q1 with both higher unit volumes and profit.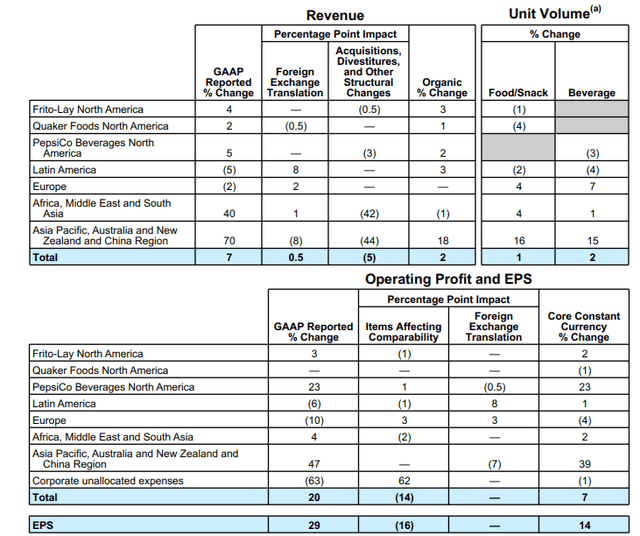 (source: company IR)
On the volumes side, a lot of the weakness goes back to the pandemic disruptions. Anecdotally, we can think about all the various sales channels that have been closed like office workplaces and school campuses, along with entertainment venues which are traditionally places people buy and consumer PepsiCo products. In this regard, the higher revenue and operating income in Q1 are impressive considering the circumstances.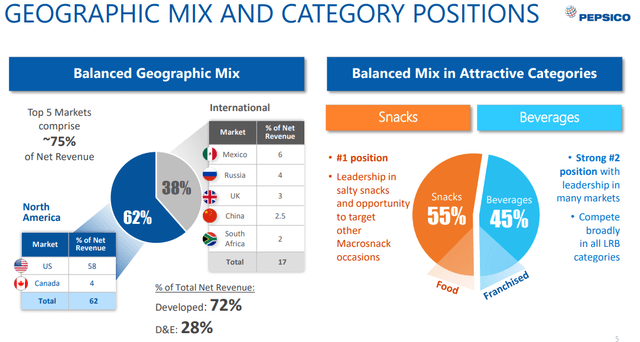 (source: company IR)
Looking ahead, a trend of reopening with greater mobility by people is expected to support a recovery in volumes towards pre-pandemic levels which should also add to the gross margin. This includes everything from a return of travel and leisure, and more people going back to office workplaces and in-person learning at schools which are all places that represent sales opportunities for snacks and beverages. This is a theme discussed by management which noted some ongoing uncertainties related to the timetable for a full recovery but was overall optimistic. Form the conference call:
We are seeing consumers in the U.S., obviously, moving around much more, which has a positive impact by definition in consumption trends in both large format and small format. So, we are seeing much more single-serve growth in both channels large format and small format. So, those are all some trends that we are seeing. There is still uncertainty around in-home consumption, I think and we are going to have more information about consumer behavior in the next few months as consumers decide how much they go back to working offices, how much they venture out for some of their meals during the day. So, we have obviously a lot of insights and we are – all our future projections are based on those insights. I think the consumer will show us more as we go along in the next, I would say, 6 to 9 months yes.
Finally, the company ended the quarter with $6.6 billion in cash and equivalents, against $39 billion in long-term financial debt. Considering and adjusted EBITDA over the past year of approximately $15 billion, we calculate a net debt to EBITDA leverage ratio of around 2.2x which we believe is stable and supported by underlying cash flows.
PEP Dividend
It's worth mentioning that PepsiCo hiked its quarterly dividend by 5% in February to a new quarterly rate of $1.075 per share. This represents the 49th consecutive year of an increase in the annual rate. A dividend increase next year in 2022 would move PepsiCo to the exclusive group of companies that have increased dividends for 50 or more consecutive years, collectively known as "Dividend Kings". Our take is that PepsiCo with a current 2.9% dividend yield and growth profile adds to the company's investment quality profile.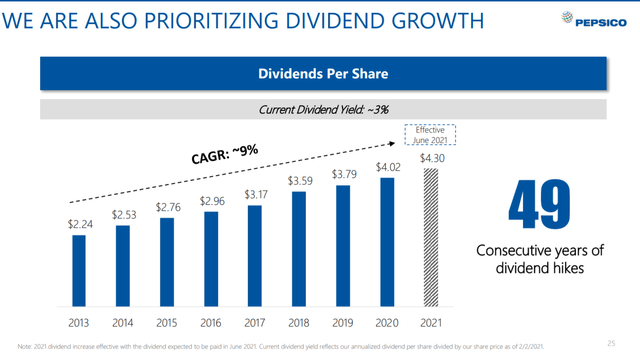 (source: company IR)
PepsiCo Management Guidance
For 2021 management is reiterating guidance issued during the 2020 Q4 earnings report. The company is targeting organic revenue growth in the mid-single digits "MSD" while core EPS can climb in the high single-digits "HSD". This encompasses an outlook that the trends from 2020 can continue with a recovery in volumes through the post-pandemic reopening. $5.9 billion in cash is being returned to shareholders which is primarily the dividend and a small $106 million of share repurchases completed in Q1.

(source: company IR)
Long-term, PepsiCo maintains targets for organic revenue growth between +4% and 6%, while +20-30 basis points of operating margin expansion can support core constant currency EPS growth in the high single-digit range. The company's dividend policy as expressed here is to target a dividend yield of around 3% long term. This means investors can expect annual increases at least in line with earnings growth.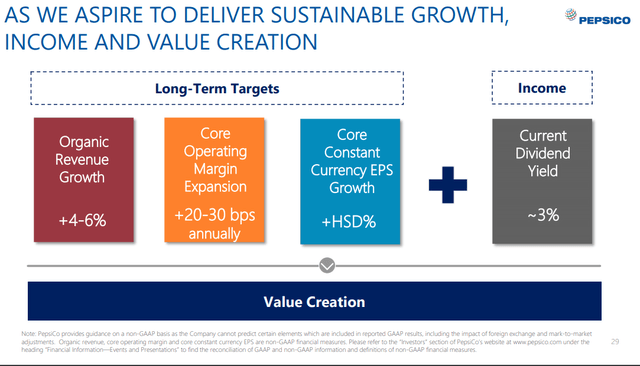 (source: company IR)
According to consensus estimates, the forecast is for PepsiCo to generate top-line revenue growth for the full year of 7.2% compared to 2020, consistent with management guidance. The estimate for EPS to reach $6.08, up 10% y/y benefits from the ongoing margins expansion. The expectation is that these trends continue with revenue growth above 4% in 2022 and 2023 while earnings are leveraged higher in the 8% growth range.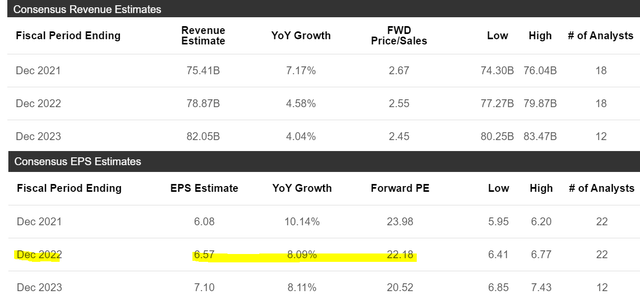 (Seeking Alpha)
Analysis and Forward-Looking Commentary
There's a lot to like about PepsiCo which is bearing the fruits of a strategy groundwork that has been built over the last decade. The company notes that it has filled out its product lineup to compete in all segments including the core soft drinks and market-leading snack brands along with more niche products in growing categories. This is important as compared to significant M&A activity conducted over the last several years, there is a sense the company has filled any strategic gaps in its portfolio which implies it will be able to spend less going forward which can add to cash flow and earnings momentum.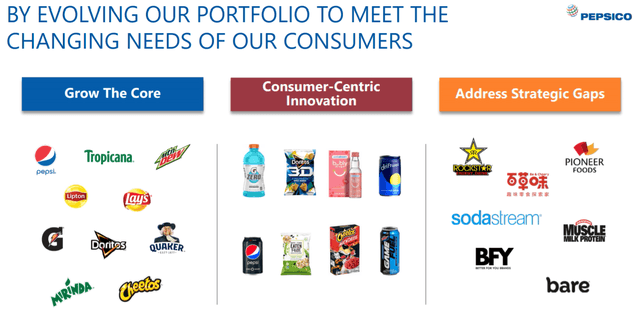 (source: company IR)
Against the consensus estimates, the bullish case for the stock is simply that the company can exceed expectations while benefiting from macro trends like the strengthening global economy with a particular focus on international markets including developing countries that offer high-growth potential. We believe the estimates may even be conservative against more structural trends with growing demand for packaged food and the ability of PepsiCo to consolidate and grow its market share.
Is PEP Overvalued?
In terms of valuation, our take is that the stocks actually undervalued. The efforts to drive margins coupled with consistent growth are working based on the recent financial results. Compared to a 5-year average P/E ratio of 26x, the current consensus EPS estimates for 2021 and 2022 implying a forward P/E of 24x and 22x, each year respectively, shares are trading at a discount. We believe PepsiCo here can benefit from multiples expansion to drive the valuation higher.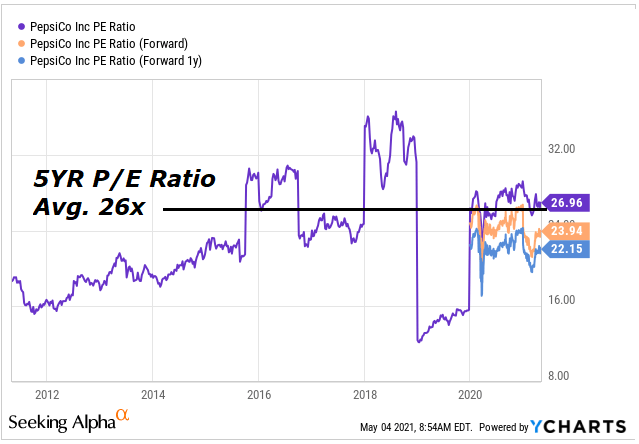 PEP versus KO
Any time when discussing PepsiCo, the first comparison that always comes to mind is its perennial competitor in beverages with Coca-Cola Co (KO). Even as KO remains the leader in "sodas" across most major markets, the strategy PepsiCo has pursued over the last few decades to focus more on the snacks and packaged foods business has proven to be effective. While Coca-Cola faced significant disruptions with its business more tied to consumers dining out and outside-the-home sales venues, the results over the past year have highlighted the advantages of diversification by PepsiCo. For context, in 2020 PepsiCo was able to grow organic revenues by 4.3% in contrast to a 9% decline by Coca-Cola. Similarly, PepsiCo generated positive earnings growth compared to what have been weaker results from KO.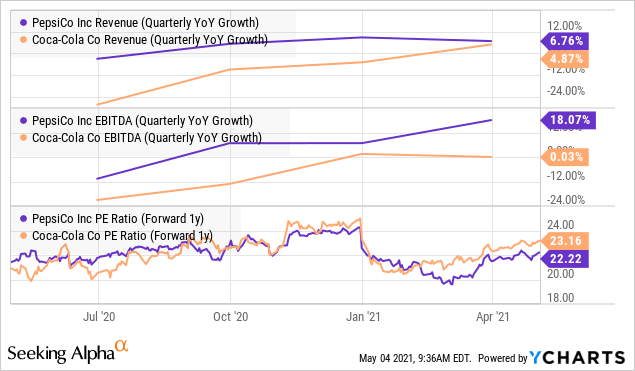 Based on current EPS estimates for next year in 2022, which we use as it considers a more normalized operating environment next year for both companies, PEP trades at a 5% discount to KO in terms of its 1-year forward P/E. Recognizing that both of these "consumer staples" businesses are different, there is a case to be made that PepsiCo deserves a premium for its greater growth consistency, lower volatility in earnings which adds to its quality profile. For this reason, we favor PEP and believe it can climb higher to ultimately trade at a premium to KO in terms of earnings multiples.
Is PEP Stock a Buy or Sell
Overall, we are bullish on PepsiCo with an expectation that there is underlying long-term growth momentum. We rate shares of PEP as a buy with a price target of $165 based on 27x earnings multiple on consensus 2021 EPS or 25x looking out towards 2022. Long-term, shares can climb higher with continued earnings momentum.
Shares of PEP have traded in a relatively tight range between $130 and $145 over the past year. The stock traded at $147 in early 2020 before the pandemic and is again testing that level now. We believe that the ongoing post-pandemic reopening will ultimately be a boost to the operating environment which can help the company outperform expectations.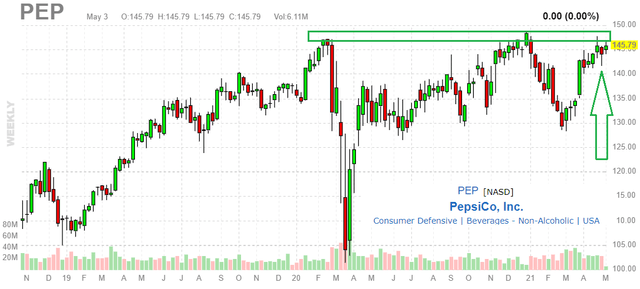 (finviz.com)
The risk here is the potential for deterioration to the global macro outlook which could result in weaker than expected growth. While management has mentioned that cost-side inflationary pressures are already factored into its guidance, the risk emerges that this ends up adding to expenses. It will be important for PepsiCo to maintain the trend in operating margins as a key monitoring point for investors.
Add some conviction to your trading! We sort through +4,000 ETFs/CEFs along with +16,000 U.S. stocks/ADRs to find the best trade ideas. Click here for a two-week free trial and explore our content at the Conviction Dossier.