Taiwan Semiconductor And Intel: Together On '60 Minutes' But Far Apart On IC Business Strategy
Summary
Intel's CEO and TSMC's chairman appeared separately on CBS 60 Minutes with vastly different timelines on the chip shortage.
Intel thinks the shortage will take years, while TSMC thinks it will end in eight months (end of 2021) to alleviate.
It may take a minimum of five years until Intel is able to be competitive in sub 7nm production to TSMC and Samsung.
Automobile IC manufacturers continue to make money on chips, as revenues grew 4.5% QoQ following a 5.3% YoY growth.
I present an argument that much of the shortage of ICs is due to stockpiling in China.
This idea was discussed in more depth with members of my private investing community, Semiconductor Deep Dive. Learn More »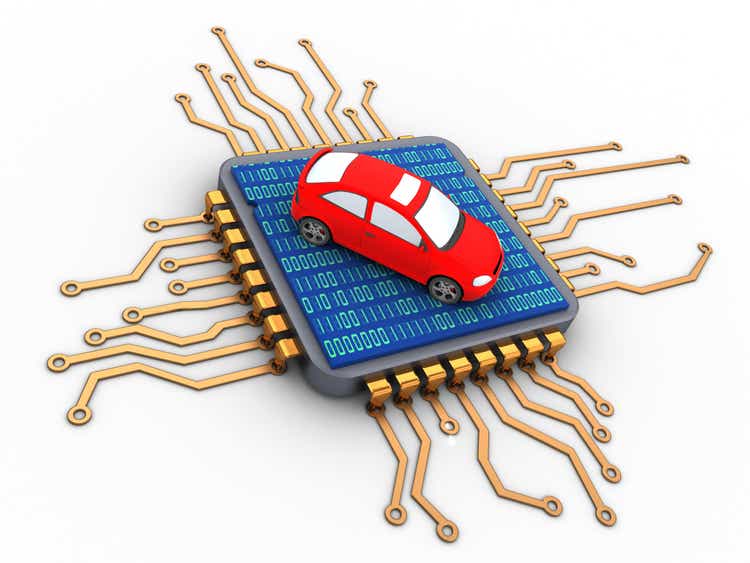 On a May 2, 2021, CBS 60 Minutes Show, we had the opportunity to listen separately to Intel's (NASDAQ:INTC) new CEO Pat Gelsinger and TSMC (NYSE:TSM) chairman Mark Liu.
The airing provided viewers a glimpse on the strategies of both companies on numerous company policies, but it homed in on the current chip shortage and company strategies. I discussed this shortage in a March 1, 2021, Seeking Alpha article entitled "Automotive Semiconductor Companies Are Benefiting From Chip Shortage." I refer readers to this article for an in-depth analysis of this shortage.
Below I've provided excerpts from the show by Gelsinger and Liu. It provides insights into company philosophies and strategies at a time when Intel plans to compete directly with TSMC by starting a foundry business and use capacity at two new fabs to be built in Arizona.
60 Minutes Commentary
Intel
Intel CEO Pat Gelsinger stated:
"Intel doesn't presently make many chips for the auto-sector but because of the shortage it's planning to reconfigure some of its fabs to start churning them out."
CBS reporter Lesley Stahl replied:
"I'm wondering, if we're going to continue to have shortages, not just in cars, but in our phones and for our computers, for everything?"
Pat Gelsinger replied:
"I think we have a couple of years until we catch up to this surging demand across every aspect of the business."
There are two takeaways from this comment:
Intel plans to make chips for the automobile sector and reconfigure its fabs. That may be well and good because Intel has a lot of fabs making chips at the >28nm node using fully depreciated equipment.
Gelsinger's timeline on the chip shortage is longer than TSMC (discussed below) and comes at a time when Biden held a virtual meeting with the executives on the shortage. Remember that Intel plans to spend $20 billion on fabs for sub 7nm chips, and I argued in my April 27, 2021, Seeking Alpha article entitled "Intel: Making Chips For Others It Can't Make For Itself," that Intel's strategy is to primarily get free handouts to build two fabs.
In fact, shortly after this virtual meeting on April 12, 2020, Gelsinger began a European tour and was cited by Reuters as asking EC Internal Market Commissioner Thierry Breton for 8 billion euros ($9.7 billion) in public subsidies towards building a semiconductor factory in Europe.
In an additional 60 Minute comment, Gelsinger pointed out that despite plans to compete head-to-head with TSMC as a foundry, Intel currently can't do it. With a fab taking two or more years and then another three years to go from R&D to high volume production (See Chart 2 of my Intel article referenced above), it may be a minimum of five years until Intel becomes competitive with TSMC.
Gelsinger noted:
"Well, they're pretty happy to buy from some of the Asian suppliers. Actually, they don't always have a choice. For chips with the tiniest transistors - there is no "made in the U.S." option. Intel currently doesn't have the know-how to manufacture the most advanced chips that Apple and the others need."
Intel's Fab 42 in Arizona came online recently, but that was delayed because of the company's miscues. As a background, the fab shell was built in 2013. However, Intel decided not to use the facility for the contemporary 14nm process, and it wasn't sure about sustained demand. In 2017, it decided to prepare Fab 42 for 7nm but before this plan was changed and it was decided to prepare it for 10nm to cater for more immediate demand.
TSMC
TSMC is the world's most advanced chip manufacturer, producing chips that are 30% faster and more powerful than Intel's. In contrast to Gelsinger's comments, TSMC chairman Mark Liu stated:
"We heard about this shortage in the December timeframe. And in January, we tried to squeeze as more chip as possible to the car company. Today, we think we are two months ahead, that we can catch up the minimum requirement of our customers. Before the end of June."
Lesley Stahl:
"Are you saying that the shortage in chips for cars will end in two months?"
Mark Liu:
"No. There's a time lag. In car chips particularly, the supply chain is long and complex. The supply takes about seven to eight months."
Lesley Stahl:
"But Pat Gelsinger at Intel talks about a need to rebalance the supply chain issue because so much, so many of the chips in the world now are made in Asia."
Mark Liu:
"I think U.S. ought to pursue to run faster, to invest in R&D, to produce more Ph.D., master, bachelor students to get into this manufacturing field instead of trying to move the supply chain, which is very costly and really non productive. That will slow down the innovation because - people trying to hold on their technology to their own and forsake the global collaboration."
The Chip Shortage
Stockpiling a Major Factor
Work/stay/study-at-home edicts change the dynamics of the semiconductor industry in early 2020, resulting in huge demand for chips for more bandwidth, PCs, and gaming. Automakers have been the most visible industry impacted by the shortage.
China imported 543.5 billion integrated circuits in 2020, a year-on-year increase of 22.1%. Imports amounted to US$350.04 billion, a year-on-year increase of 14.6%. The 22.1% increase in 2020 during the COVID-19 pandemic is up from just a 6.6% increase in 2019, according to our report entitled "Mainland China's Semiconductor and Equipment Markets: Analysis and Manufacturing Trends."
Table 1 shows that, prior to 2020, the yearly difference imports of ICs were less than 50 billion chips per year into China. In 2020, that number doubled, and 98.4 billion ICs above 2019 shipments were recorded.
It must be remembered that automobile manufacturers buy their electronic modules (housing ICs) from manufacturers in China. Thus, stockpiling by suppliers to automobile manufactures have impacted the shortage to companies such as General Motors (GM) and Ford (F).

Automotive Semiconductor Companies Continue to Benefit From the Chip Shortage
In my March 1, 2021, Seeking Alpha article entitled "Automotive Semiconductor Companies Are Benefiting From Chip Shortage," referenced previously, I discussed the top automotive IC manufacturers and their quarterly revenues through Dec. 30, 2020.
Table 2 shows automotive IC revenue for 2020 vs. 2019 for the Top 10 manufacturers. The average growth for the top 10 companies was 5.3%. However, According to WSTS, the industry consortium, the worldwide semiconductor market sales were $440 billion in 2020 - an increase of 6.8% from 2019.

Investor Takeaway
In their interview on 60 Minutes, Intel CEO Gelsinger and TSMC Chairman Liu presented stark contrasts in company mentality, philosophy, strategy, and success. In this article, I provided their quotes and my commentary and analysis of them.
In my opinion, this issue in the U.S. has taken on political overtones:
Biden as a new president using a chip shortage as a catalyst to promote a U.S. infrastructure of chip manufacturing as part of a $4 trillion spending spree when, for 40 years in public office he didn't broach the topic.
Gelsinger as a new CEO establish himself with grandiose plans to build new fabs and enter the foundry race, going head-to-head against TSMC and Samsung Electronics (OTCPK:SSNLF) while at the same time being opportunistic and looking for handouts in the U.S. and Europe.
This issue of the infrastructure plans takes on increased significance because:
We don't have quantitative data on what chips are in shortage, where they are made, and if this is all due to stockpiling or capacity or both, and whether a shortage would have occurred IF the proposed infrastructure was in place.
I suspect some or all of the shortage is due to stockpiling of chips by Chinese companies such as Huawei because of U.S. sanctions, which Biden continues to maintain.
Currently, only 5% of ICs are manufactured by the Chinese, and all are for items made in China. Chart 1 shows the share of ICs by region for different types of chips, according to the industry consortium SIA.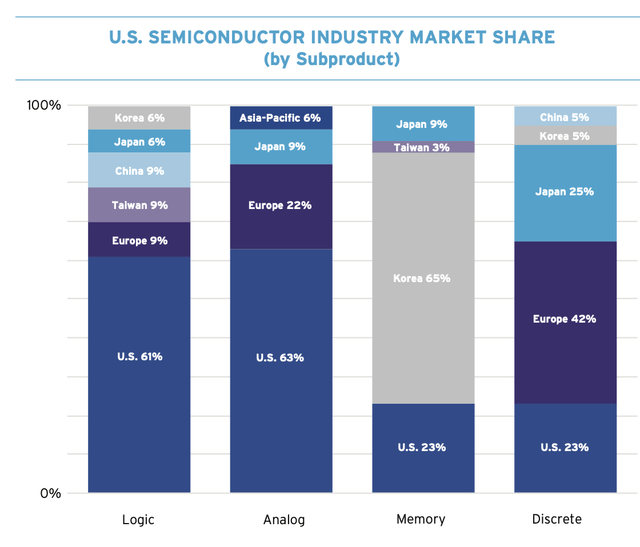 Chart 1
According to the SIA, 47% of chips are made by U.S.-based companies, while 19% are made by South Korean-based companies, 10% by Japan, 10% by Europe, and 6% by Taiwan. Last I heard, these were all friendly to the U.S.
This free article presents my analysis of this semiconductor sector. A more detailed analysis is available on my Marketplace newsletter site Semiconductor Deep Dive. You can learn more about it here and start a risk-free 2-week trial now.
The Marketplace article of the same title includes 5 tables and 2 charts instead of 2 tables and 1 chart in this free article
This article was written by
Robert Castellano has 38 years of experience analyzing the semiconductor markets.
He runs the investing group
Semiconductor Deep Dive
. It provides investors with recommendations for stocks with the greatest near- and medium-term growth potential. Members receive detailed analysis and research tools to make investments in semiconductor and tech stocks.
Learn more
.
Analyst's Disclosure: I/we have no positions in any stocks mentioned, and no plans to initiate any positions within the next 72 hours. I wrote this article myself, and it expresses my own opinions. I am not receiving compensation for it (other than from Seeking Alpha). I have no business relationship with any company whose stock is mentioned in this article.
Seeking Alpha's Disclosure: Past performance is no guarantee of future results. No recommendation or advice is being given as to whether any investment is suitable for a particular investor. Any views or opinions expressed above may not reflect those of Seeking Alpha as a whole. Seeking Alpha is not a licensed securities dealer, broker or US investment adviser or investment bank. Our analysts are third party authors that include both professional investors and individual investors who may not be licensed or certified by any institute or regulatory body.