Altria Is Misdirecting Investors About Regulatory Risk
Summary
Altria reported mostly solid results. Smokable products had 8% net price realization growth. Marlboro gained 4 tenths of retail market share.
JUUL lost market share yet again. Altria can start competing with JUUL soon if the valuation of its ownership position falls slightly more.
2021 will be a big year for IQOS. Marlboro HeatSticks will be sold in areas representing 25% of cigarette volumes by the end of the year.
Altria's management misdirected shareholders twice on the call. The FDA does not plan to criminalize menthols on the consumer level.
Furthermore, the FDA isn't on board with shifting consumers to Altria's portfolio of non-combustibles such as IQOS and JUUL.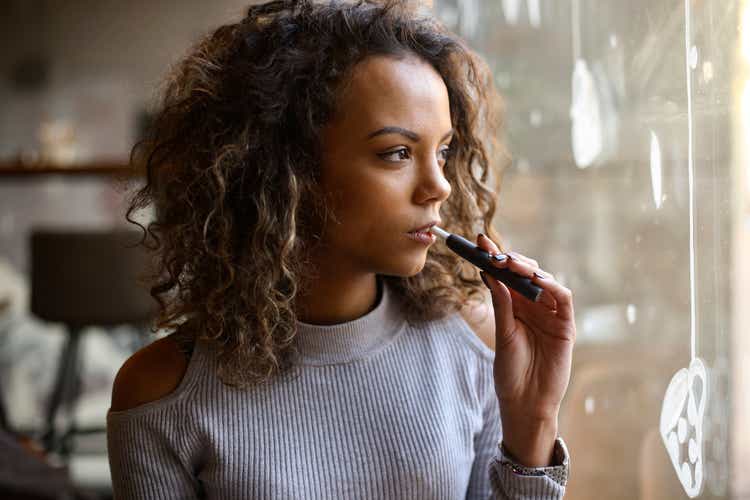 Altria Reports Mostly Solid Results, But Risks Stay In Focus
Altria (NYSE:MO) reported mostly good Q1 results, but these numbers were never in doubt. This is why the stock didn't react much to them. The worries are over the transition to non-combustibles and the future regulatory framework. In this article, I will discuss my takeaways from the quarter along with the difference in commentary from the FDA and Altria.
Altria's management hadn't seen the latest FDA statement on its goal to ban menthol cigarettes and cigars when the call was going on, but they had an idea of what was written because these bans have been discussed for years. I'm intently focused on the vast difference between the regulators and Altria. The FDA is trying to get people to quit smoking, not switch to e-cigs/vapes. Altria wants smokers to shift to safer alternatives. Altria's management tries to spin the narrative to suggest the government is in agreement with them, but I'm not seeing US policymakers supporting e-cigs or vapor products.
Altria Buys The Rest Of on!
Obviously, Altria has had issues with acquisitions in the past few years. Management paid too much for JUUL and Cronos (CRON). However, let's not forget on! which has worked out very well. The firm acquired the final 20% of the company for $250 million. This should be a good year for on! because Altria will complete its distribution rollout by the middle of this year (stores covering 90% of oral tobacco volume). on! is in 93,000 stores and has annualized manufacturing capacity of 50 million cans.
The brand has 3.1% market share (in the past 12 months) of the oral tobacco category in stores with distribution which was up from 2.4% last quarter. It has 1.7% share in the US (up from 1.1% in Q4). Its overall share of 1.7% should get close to its 3.1% share in stores with distribution once full distribution is complete. Very soon the only way to gain market share will be to deepen share in stores with distribution because almost all stores will have it. That hasn't been a problem so far.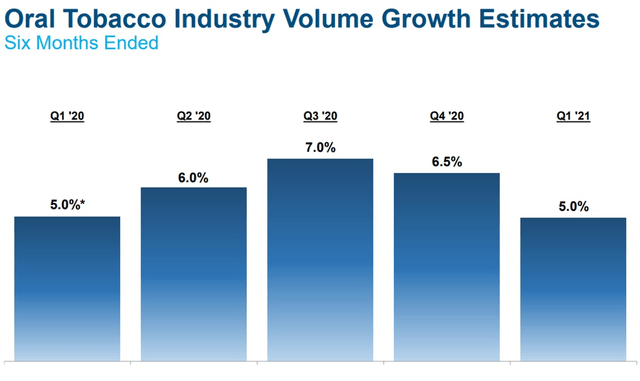 Source: Altria's Quarterly Metrics Slide
The one negative for Altria is oral nicotine pouches are taking share from Copenhagen and Skoal. They lost 2.2% and 1.5% of market share, respectively (down to 30.2% and 12.9%). The chart above shows the oral nicotine industry grew just 5% in the past 6 months. Pouches grew faster than the overall industry. That explains the vast difference between this growth rate and Altria's guidance for 25% CAGR growth for pouches.
Marlboro Gains Share, But JUUL Loses Share
The best part of this quarter was the market share gains by Marlboro. This may have sent the stock higher 10 years ago when we were further away from the transition to non-combustibles. That being said, near-term investors focused on the stock's dividend growth in the next few years should be very impressed with this figure. Marlboro gained 4 tenths of retail market share from last year which brought its share to 43.1% (same as Q4).
At first, I thought this might have been because of stronger consumer sentiment. However, deep discount gained 5 tenths (10.4%) and branded discount lost 4 tenths (14.9%). Marlboro gained share from last year because this quarter lapped Q1 2020 when older smokers switched from vapor back to cigarettes and went with discount brands.
The vapor category is starting to pick up steam, but JUUL continued to lose share. I cut JUUL slack in prior quarters because it was one of the first brands to eliminate flavors. I figured a few quarters after the FDA banned all pod flavors except menthol (Q1 2020) that JUUL would regain share, but it hasn't happened. The category grew 7% quarterly and 24% yearly to 490 million units. However, JUUL's market share was down 2 points sequentially and 6 points yearly to 33%. This acquisition is continuing to be a nightmare.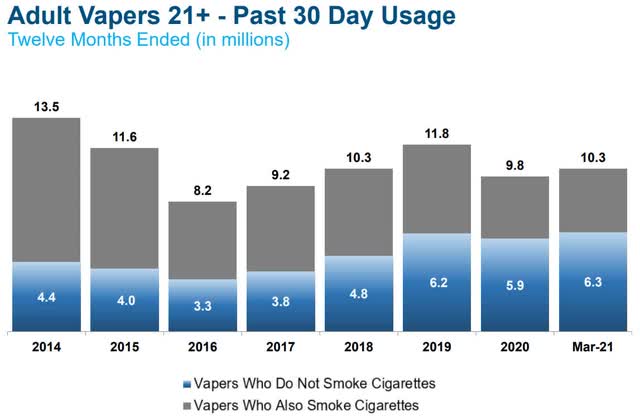 Source: Altria's Quarterly Metrics Slide
The chart above shows more vapers than ever are vaping without smoking. Altria needs to quickly roll out IQOS to get ahold of this trend because JUUL isn't doing the job. On the call, an analyst smartly mentioned that if Altria's JUUL investment is written down to be worth slightly less than $1.3 billion, Altria can compete with JUUL again.
This is an amazingly ironic situation because the FTC trial versus Altria is set to start in June. The FTC believes Altria was acting anti-competitively by pulling back on its vapor product as part of its deal with JUUL. Sure enough, within a few months, Altria might be free to compete again anyway, rendering this entire lawsuit pointless. Altria will give up some minority rights if it competes with JUUL. However, I don't see much value in minority rights in a brand that keeps losing share. JUUL represents the pitfalls vapor products face. None of them have the brand loyalty that Marlboro has with cigarettes. That's why investors are so uneasy about this transition to non-combustibles (along with regulatory headaches).
Altria isn't going to purposely lower the value of its investment in JUUL to trigger this clause. I doubt anyone would accuse Altria of this anyway. JUUL simply has been in decline.
Continuation Of The IQOS Rollout
Altria continued to slowly roll out its IQOS heated tobacco product in Q1. I give management credit for sticking to the plan of rolling it out slowly despite investor concerns about the transition to non-combustibles. They aren't overreacting like they did when they made their big investment in JUUL a few years ago. The biggest news from IQOS is the newest version came out which has faster charging and a longer battery life. Altria is reaping the rewards of PMI's investment to create the product. Altria said 25% of sales in Q1 were to customers upgrading from version 2.4 to 3. These are clearly dedicated customers.
In a previous article, I mentioned that Altria is trying to present IQOS as a luxury product the way Apple (AAPL) markets the iPhone. On the call, management stated it sells IQOS in select retail channels to get a high-quality look. The better the branding, the higher price Altria can charge and the more loyal customers will be.
As of the end of April, HeatSticks were being sold in Georgia, Virginia, North Carolina, and South Carolina. Altria will expand in 3 metro markets in 2021. Marlboro HeatSticks will be sold in areas representing 25% of cigarette volumes by the end of this year. The firm isn't waiting for state tax agreements to continue with the launch. I can understand why because the federal government is trying to tax vapor products the same way as cigarettes. The government doesn't want to promote the transition to non-combustibles like Altria does.
HeatSticks had 1.1% share in Atlanta which was up 2 tenths from Q4. It had 1% share in Charlotte, which was up 3 tenths from Q4. Altria claimed it has an industry leading engagement system. The firm is pushing the benefits of IQOS to customers on getIQOS.com and Marlboro.com. As you can see from the chart below, getIQOS.com doesn't get a lot of views. It is the 593,830th most popular website; its ranking has been falling in the past 90 days.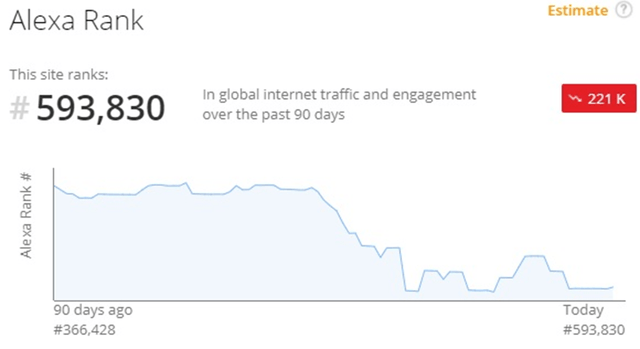 Source: Alexa
Marlboro.com gets much more views because it's the company's cigarette brand. The firm is offering discounts to smokers to try IQOS. As you can see below, Marlboro.com's views are down from 7.5 million in October to 3.8 million March. However, that's probably related to the pandemic coming under control. The pandemic was a unique time to educate consumers about IQOS because they checked Marlboro.com more often.

Source: SimilarWeb
Altria Should Have Been A COVID-19 Stock
It's ok if you're confused by Altria's stock in the past 14 months. Most investors are confused. The stock was weak in most of 2020, even though cigarette volumes benefited from people switching from vapor back to cigarettes and pantry stuffing. As you can see from the chart below, adjusted cigarette volumes were flat in Q2 and up in the 2nd half of 2020. The stock then rallied sharply in 2021 before the recent negative regulatory headlines despite the return to industry volume declines (down 2% in Q1).
Altria acted like a reopening stock even though it was helped by the shutdown. Furthermore, you can argue it's hurt by higher rates. Higher rates increase the carrying cost of its debt. Plus, bonds become more competitive with dividend stocks when yields rise. The 10-year yield is still dramatically below Altria's yield. I'm just saying all else equal, higher yields and a reopening aren't positives for Altria.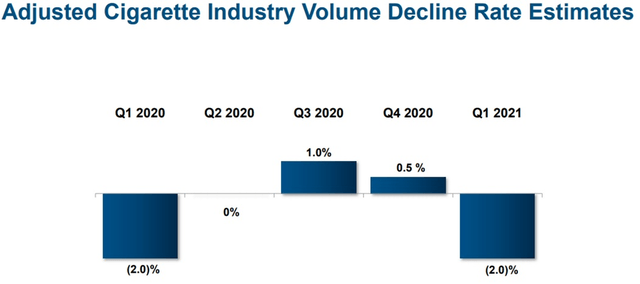 Source: Altria's Q1 Slide Deck
Q1 was a return to normalcy. The smokable products segment had an 8% increase in net price realization. This continued Altria's march to raise prices to counteract volume declines.
Regulators & Altria Are Far Apart
The government and Altria are very far apart. The government wants to raise taxes on cigarettes and non-combustibles, while Altria believes it's a tax on the poor. One can argue smoking itself is a tax on the poor since it's an addiction that costs money to maintain.
Everyone knows by now that the FDA stated its goal is to ban menthol cigarettes and cigars. I have spoken with many people on Twitter about this topic. Many are against it because they think individuals will get in trouble if they smoke menthols, which is incorrect. The FDA will stop manufacturers from producing them and retailers from selling them; it won't criminalize individuals smoking. There appears to be misdirection from Altria which supports this faulty premise. On the call, the firm said,
"Where we disagree is prohibition just doesn't work. It has unintended consequences, and criminalizing menthol has significant consequences."
This is a mischaracterization of the FDA's plan. I'm aware that Altria didn't have time to read the press release before the call. However, we have known for a while that the FDA doesn't intend to criminalize menthol. The FDA stated in its press release,
"If implemented, the FDA's enforcement of any ban on menthol cigarettes and all flavored cigars will only address manufacturers, distributors, wholesalers, importers and retailers. The FDA cannot and will not enforce against individual consumer possession or use of menthol cigarettes or any tobacco product."
The biggest difference between Altria and the FDA is that Altria wants to push people to non-combustibles, while the FDA wants people to quit altogether. Altria misdirects investors by suggesting the government will push people to non-combustibles like its IQOS product.
Management on the call stated,
"We have a common goal, which is to transition the adult cigarette consumer to a non-combustible future. We think a better approach is to have an established marketplace of FDA authorized non-combustible products."
The FDA is far from pushing consumers to non-combustibles based on my reading of this press release. Don't be confused between what makes sense and what will happen. It could make sense to push people to harm reduction products, but that's not what the FDA is signaling it will do.
In its press release, the FDA discussed quitting programs for people impacted by menthol bans. The FDA stated,
"The agency also recognizes the importance of ensuring broad and equitable access to all the tools and resources that can help currently addicted smokers seeking to quit, including those who smoke menthol cigarettes and would be impacted by these public health measures. The FDA will work with partners in other federal agencies to make sure the support is there for those who are trying to quit. Smokers interested in quitting today should visit smokefree.gov or call 1-800-QUIT-NOW to learn about cessation services available in their state."
The smokefree website doesn't push people to vapor products. It only includes nicotine replacement therapy such as a patch, gum, lozenge, inhaler, or nasal spray. The FDA isn't supporting vaping. Furthermore, in the press release, the FDA stated,
"The FDA has also made a significant investment in a multimedia e-cigarette public education campaign. The campaign targets nearly 10.7 million youth aged 12-17 who have ever used e-cigarettes or are open to trying them, and highlights information about the potential risks of e-cigarette use."
The FDA is laser focused in trying to stop teen e-cig use. It's not trying to get adults to start using e-cigs. Therefore, Altria is misdirecting investors when they claim Altria and the FDA have a common goal. They don't have a common goal.
The final issue between the government and Altria is the possibility of nicotine reductions. Some Altria investors believe it's a victory that the FDA didn't mention nicotine reductions in this press release, but that was never going to happen. It's a pretty big deal for the FDA to ban menthols. It was never going to add another proposal on top of this. However, that doesn't mean it's not a long-term risk for Altria. On the call, Altria's management stated,
"The better approach is to have that established portfolio of FDA authorized non-combustible products. In addition to that, we don't think it's practical or feasible from a standpoint of what's been suggested… There are significant hurdles there from a science and evidence base that it has the impact that they have suggested."
Altria believes a portfolio of non-combustibles is a better alternative to getting people to quit via nicotine reductions because Altria wants to keep its customers addicted to its products. I sold my Altria shares because of this long-term risk. Switching people to non-combustibles doesn't de-risk Altria if the government restricts nicotine. This is a long-term risk that is many years from going into effect. If the FDA succeeds in banning menthols, it will gain momentum to go after big tobacco further. I think investors will price in a higher risk of nicotine reductions if the menthol ban is executed.
Altria's Valuation & Buyback
Altria trades at a discount to the overall market because of regulatory risks along with the risk the switch to combustibles doesn't go smoothly. The stock trades at a forward PE multiple of 10.6 (using mid-point of guidance). Many Altria investors are ok with this because Altria pays a hefty dividend. If the stock stays with a suppressed multiple and the dividend regularly increases with earnings in the low to mid-single digits, many shareholders will be fine. Altria is one of the rare stocks with a yield above 7% (it's now at 7.11%).
The biggest positive future catalyst for the stock is the potential sale of its stake in Anheuser-Busch InBev (BUD). The money would probably go straight to buybacks. The firm bought back $325 million in shares in Q1. It has $1.7 billion of its $2 billion repurchase program remaining. That will be amended if the firm sells its BUD stock. I am strongly in favor of the company selling its stake now that BUD stock is near its 52-week high. This is great timing. The pandemic is ending which is leading to increased outings to pubs.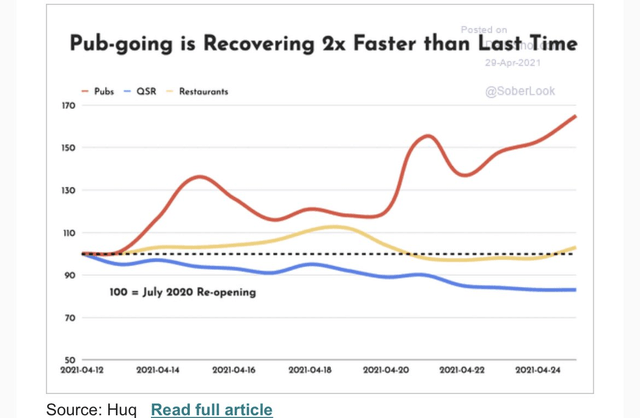 Source: The Daily Shot
The Bottom Line
Altria reported mostly good results. Smokable pricing increase, Marlboro's market share increased, it purchased the rest of on!, and it continued the rollout of IQOS. However, JUUL continued to lose market share. It's doing so badly that Altria might be able to compete with it again. The valuation of Altria's stake needs to fall to 10% of its original value to trigger this clause. That's a little below $1.3 billion (it's currently $1.5 billion). This is incredibly ironic because the FTC is suing Altria for not competing with JUUL.
Altria's biggest risks surround the shift to non-combustibles and regulations. JUUL is a painful reminder that consumers can switch e-cig/vapor preferences quickly unlike with cigarettes. That's why Altria is focusing so hard on branding IQOS as a premium product.
The government is gunning for Altria. Legislators want to raise taxes on cigarettes and non-combustibles. The FDA wants to ban menthols. Down the line, nicotine might be reduced. Altria is misdirecting investors in two ways. Firstly, it is claiming menthol bans criminalize individuals smoking them, but the FDA is focusing its attention on manufacturers and retailers. Secondly, Altria suggests the US government wants smokers to switch to non-combustibles (vapes/e-cigs), but the FDA isn't promoting this as a solution.
If you like Altria for the dividend, you are in luck. The company will likely continue to pay a strong dividend for many years. The menthol ban is at least a couple years away, and the nicotine reduction plan is even further in the future. However, I owned it for capital appreciation. The regulators have gotten too aggressive for me to be confident that the multiple will expand. Therefore, I sold my position.
This article was written by
I'm currently looking for an analyst position. If you like my posts, please shoot me a DM on here or email me at interviewsalexpitti@gmail.com.
Analyst's Disclosure: I/we have no positions in any stocks mentioned, and no plans to initiate any positions within the next 72 hours. I wrote this article myself, and it expresses my own opinions. I am not receiving compensation for it (other than from Seeking Alpha). I have no business relationship with any company whose stock is mentioned in this article.
Seeking Alpha's Disclosure: Past performance is no guarantee of future results. No recommendation or advice is being given as to whether any investment is suitable for a particular investor. Any views or opinions expressed above may not reflect those of Seeking Alpha as a whole. Seeking Alpha is not a licensed securities dealer, broker or US investment adviser or investment bank. Our analysts are third party authors that include both professional investors and individual investors who may not be licensed or certified by any institute or regulatory body.