5 Years Late To U.S. Cannabis (Podcast)
Summary
Red White and Bloom CEO Brad Rogers talks aggressive strategy after being 5 years late to the cannabis game.
Establishing presence in the US with strong brands in compelling states.
Canadian players without a US strategy will be left behind. US MSOs building formidable moat.
Subscribe to The Cannabis Investing Podcast on Apple Podcasts, Google Podcasts, Spotify, and Stitcher.
Brad Rogers started in the cannabis industry in Canada as part of the team that built one of the first commercially scaled production facilities in the world for medical cannabis. He later served as President of CannTrust, left before it ran into legal issues and started Red White & Bloom (OTC:RWBYF) to take advantage of the immense opportunity in the US cannabis landscape. For investors' edification, here is yesterday's response from RWB after it had to delay earnings this past week.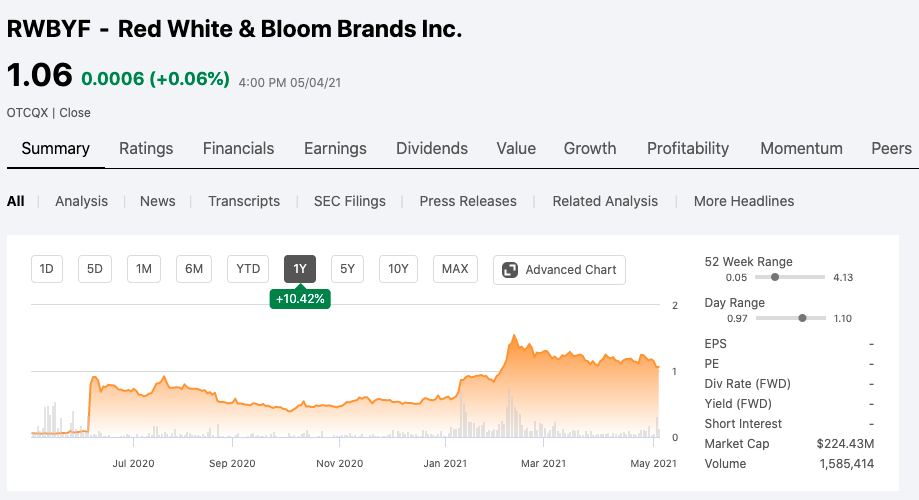 Brad started in cannabis in Canada, including as former President at CannTrust. Saw arbitrage opportunity in US and started Red White & Bloom. In Canada it went from top down, in US it was bubbling up from individual states. Started in Michigan with 2 stores; raised more capital; closing on a license in Illinois, bought Platinum Vapes - 30-35% of vape market in Michigan; just closed deal with Acreage (OTCQX:ACRGF) in Florida and have presence in California with Platinum Vapes.
Lessons learned from CannTrust - importance of following rules and regulations; infractions came after Rogers left the company. Difference between operating in US vs Canada.
What happens to Canadian LPs (especially those with optionality in the US) when cannabis becomes federally legal in US. Importance of brands and Canada can't brand. Existing presence of High Times and Platinum Vapes brands in the cannabis culture. Starting up in Arizona and presence in sleeper state Oklahoma.
Discussing valuation and strategy moving forward. Closing accretive deals. Focused on building in the markets where they currently are.
This article was written by
On The Cannabis Investing Podcast, host Rena Sherbill provides actionable investment insight and the context with which to understand the burgeoning cannabis and psychedelics industries. C-level executives, analysts and sector experts share portfolio picks and help you think through your investing approach.