Fiverr: 5 Qualitative Factors That Could Make It Successful
Summary
I hadn't heard of Fiverr until recently when my uncle from Pakistan told me about it (more on this in the article).
As I looked at the company, I realized there are many great articles on Seeking Alpha that analyze the company quantitatively.
Hence, I present an analysis of 5 qualitative factors that lead me to believe the company can be successful long term.
The 5 qualitative factors include but are not limited to: the importance of a global marketplace, network effects at play, and whether the company is a "rule-breaker".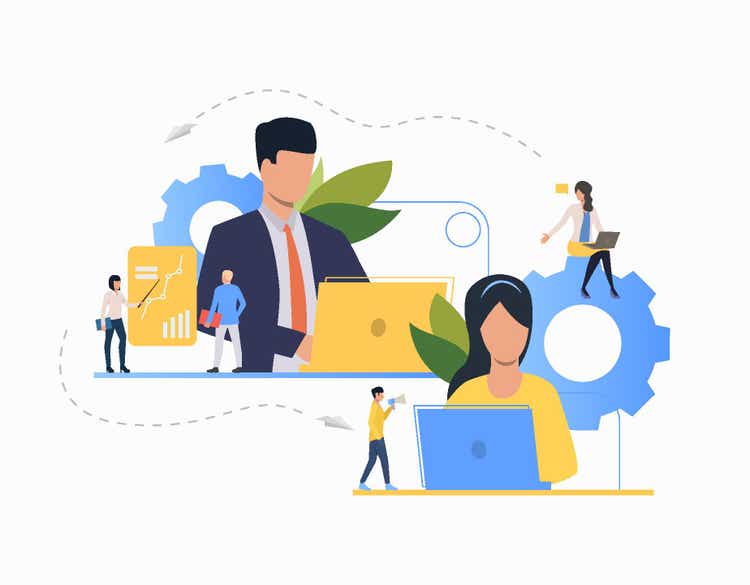 Fiverr (NYSE:FVRR) has been covered multiple times by multiple authors with most pointing to a great growing business with some potential risks and valuation concerns (I agree). Today, I don't want to focus on the financials, competition, or risks as there are many great articles that have already done that. Instead, I want to discuss 5 qualitative reasons why Fiverr can be successful. Let's get started.
1. Importance of a Global Marketplace
I'll be honest, I hadn't heard of Fiverr until recently (not sure what rock I was living under). Nonetheless, how I heard about Fiverr matters more than when I heard about it. I'm from Pakistan and my immediate family immigrated to the U.S when I was ten years old. Why am I telling you this? Well, the other day, I got a message from my uncle back in Pakistan to check out his wife's brother's Fiverr service. I immediately had 3 questions:
Wait, what are you talking about uncle that I haven't spoken to in over a year?

What the heck is Fiverr?

Is it a public company?
As a good nephew and out of curiosity, I decided to check out Fiverr. I was amazed to find this two-sided global marketplace that connects freelancers and businesses for digital services (graphics, writing, programming, marketing, and much more). This shouldn't have been a surprise to me as the gig economy has been revving up for quite some time with the likes of Uber (UBER) and Lyft (LYFT). But for some reason, I didn't expect to hear about Fiverr from my almost 60-year-old uncle.
Why didn't I expect to hear it from him or anyone from Pakistan for that matter? Well, like a lot of countries, Pakistan is a Third World country. I remember when I lived there (almost 15 years ago), we didn't even have electricity for the most part of the day. Undoubtedly, things have changed quite a bit since then. However, what hasn't changed in the past 15 years is how hard it is for people to find jobs and ways to make money in a suffering economy. As soon as I remembered that, it made me realize how important Fiverr can be in the way people and businesses work all around the world today and in the future.
While some people in the U.S. and other developed countries might consider Fiverr a side gig or a hobby, to others it is a real job with recurring revenue that would not be achievable without a marketplace like this. I asked myself the question, if my uncle's wife's brother is using Fiverr, how many others are and will in the future? This helped me think about the market opportunity ahead, the second reason why I believe Fiverr will succeed.
2. Large Market Opportunity
Fiverr has done extremely well through COVID-19 returning ~400% over the last year compared to S&P 500's ~50%. There is no doubt people flocked to the platform to find work during a challenging time around the world, helping to boost the performance of the stock. But that doesn't mean the trend is over. I believe the shift to digital and remote work is a secular trend just beginning and Fiverr is positioned right in the middle of it.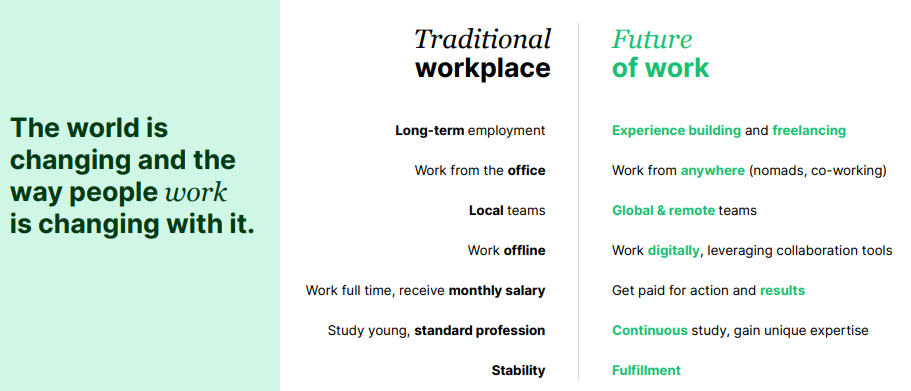 Management is estimating the Total Addressable Market (TAM) at $115 billion. With $190 million in revenue in 2020, Fiverr has literally penetrated 0% of this market. Not only that, there are multiple opportunities for long-term growth:
International expansion - Expanding Fiverr's footprint to unlock growth potential in non-English speaking countries like Pakistan.
Expansion of gig catalog - Fiverr has over 500 categories currently and adds about 30 every quarter.
Move up-market for buyers and sellers - buyers willing to spend more (larger businesses for example) likely equals less churn.
Bring new buyers onto the platform
Innovate technology and services
Some authors have argued that the TAM might be overestimated. That could be the case but it's hard to deny that this is a colossal industry absolutely ripe for disruption.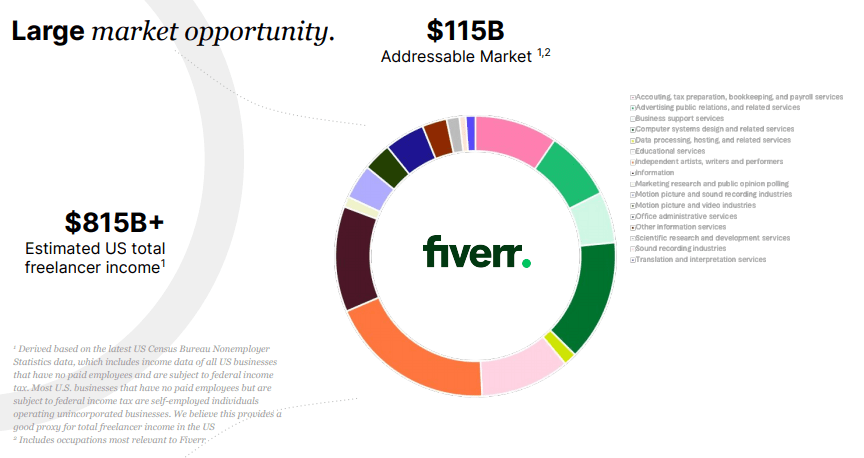 3. The Management, Mission, and Business Model
Fiverr is headquartered in Tel Aviv, Israel with offices across the US and Europe and is a founder-led company which bodes well as founder-led companies tend to outperform the rest. Founder and CEO Micha Kaufman is highly rated on Glassdoor with overwhelming approval from employees, a great sign for the company moving forward.

He compares what the company wants to do to what Amazon (AMZN) did by taking commerce to e-commerce, to what Airbnb (ABNB) did with hospitality, and what Uber and Lyft have done with transportation. Just like all of these successful disruptors, Fiverr is tapping into an existing and sizable market (freelancing) with a high degree of friction and inefficiencies that can be fixed with software. Ultimately, Fiverr wants to "change how the world works together". If that doesn't inspire you or make you interested in the company, I'm not sure what will.
Fiverr started with the simple idea that people should be able to buy and sell digital services in the same fashion as physical goods on an e-commerce platform. That is exactly what Fiverr does today, creating an enormous competitive advantage. Freelancing services traditionally and even today are based on word of mouth, recommendations from friends, take time and negotiations, require exchange of information, have payment uncertainty, and other inefficiencies. Fiverr completely removed the friction and the inefficiencies that came with this process by creating an Amazon-like e-commerce platform where you are not hiring a person per hour, but essentially buying a product by simply searching for what you want, browsing, and clicking buy.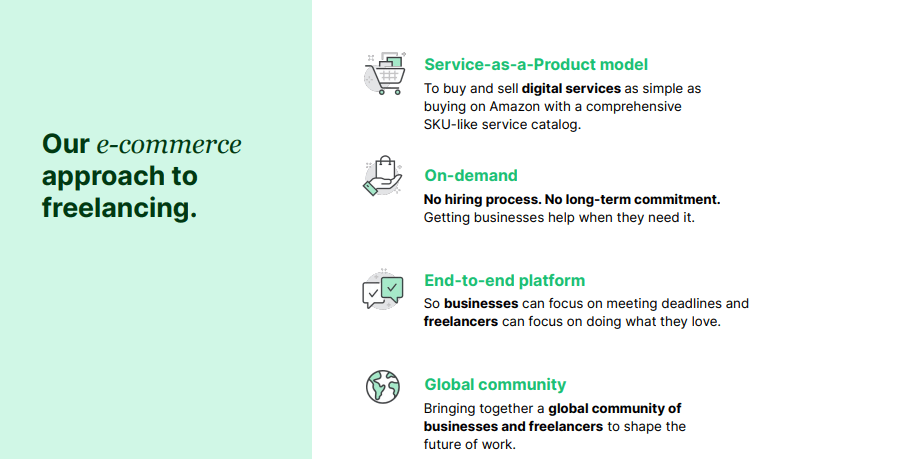 4. Network Effects
Just like Amazon, Etsy (ETSY), and other two-sided marketplaces, once you buy a service from a seller, you can leave reviews, essentially forming a community of sellers and buyers and creating a two-sided marketplace with sellers looking to sell their services and buyers looking to buy. As you can imagine, this type of platform benefits from tremendous network effects over time. For example, as more sellers join the platform, they will be able to offer more unique services, attracting more buyers. Not only that, buyers leaving reviews on sellers' services can bring more traffic to the platform and help existing buyers make the decision to buy. This virtuous cycle can continue for a long time period as it has with Amazon and Etsy.
However, Fiverr has to retain its sellers and buyers in the first place, otherwise, the network effects break down. So far, Fiverr is doing just that by giving sellers the freedom of not only working at any time and anywhere but also the ability to name their skill and price. As a result, Fiverr has a net promoter score of 79 with sellers, which is considered best of breed. On the buyer side, the number is high as well at 67. Fiverr is keeping sellers and buyers happy and that should continue as the company improves its platform.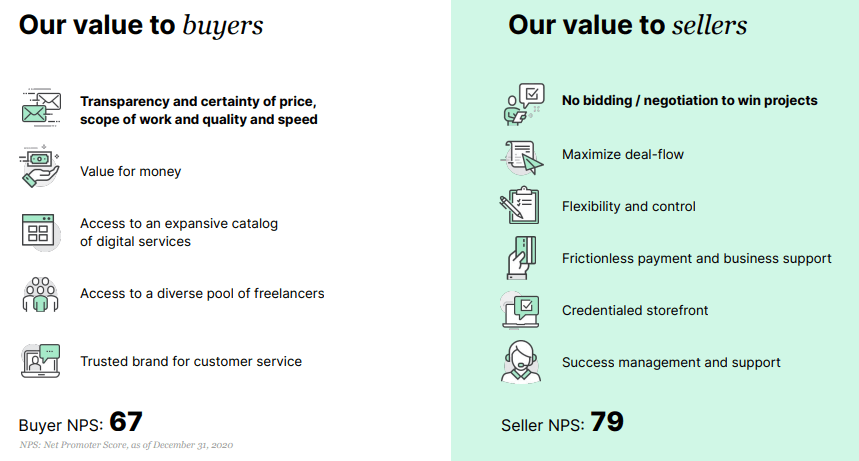 Is Fiverr a Rule Breaker?
In the book, The Motley Fool Investment Guide, David Gardner breaks down the concept of a rule-breaker - a company that breaks the rules of how business is being done. David Gardner has employed this investing style in many of his great stock picks. Have they all been winners? No. But his portfolio has beaten the market by a wide margin over a long period of time. From time to time, I like to use his rule breaker approach when analyzing growth companies. There are six attributes of rule breakers and we'll put Fiverr to the test to see if it fits the bill.
| | | | |
| --- | --- | --- | --- |
| Rule | Name | Description | Fiverr |
| 1 | Top dog and first mover in an important emerging industry | Think of companies like Amazon, Netflix (NFLX) and Tesla (TSLA) | Check - only major competitor is Upwork (UPWK) and upcoming Microsoft's (MSFT) LinkedIn marketplace. We'll have to wait and see how that plays out but Fiverr has first-mover advantage. Not only that, since the market is so big, I believe there's room for all to grow. |
| 2 | Sustainable advantage | Gained through business momentum, patent protection, visionary leadership | Check - business has been performing well especially during COVID-19 with revenue growing 77% YoY in 2020 with an improving operating margin and bottom line. The company was also growing revenue in mid 40s range before the pandemic boosted performance and the guidance for 2021 is strong with expectation of 46-50% revenue growth and continued improvement on adjusted EBITDA margin. |
| 3 | Past price performance | Winners keep on winning | Check - up ~400% over the last year alone and almost a 5-bagger since IPO. |
| 4 | Good management | Do people like working at the company? Does the company innovate? | Check - highly rated founder and CEO and great reviews on Glassdoor by employees. The company adds about 30 categories every quarter. |
| 5 | Strong consumer appeal | Powerful brand expressed by customer loyalty and pricing power | Check - demonstrated by NPS of 79 with sellers and 67 with buyers. Take rate has also increased 40 bps YoY as of 4Q20 to 27.1% indicating pricing power. Lastly, if my uncle's wife's brother is using the platform in Pakistan, it's safe to assume Fiverr is starting to get recognized. |
| 6 | Looks overvalued | Rule breakers are not "fairly valued" and usually carry a high valuation | Check - I don't think you'll find many sources that claim Fiverr is not currently overvalued. |
Takeaways
Fiverr is giving people the freedom to show their skills and earn money where they might not have been able to do so before, ultimately addressing a large and untapped market.
With a founder-CEO at the helm, an inspiring mission, an innovative business model that includes network effects, and what I would consider a rule-breaker company, I believe Fiverr can be successful long term.
Does that mean you should invest in Fiverr? Well, it depends. I personally would be comfortable taking a very small position of my overall portfolio at this high valuation with the goal of building on my position at more favorable valuations. However, if you are not comfortable losing money short term as the stock could easily go lower, that is your prerogative. I believe Fiverr is disrupting an age-old industry with plenty of runway ahead. I plan to slowly dollar-cost average into a bigger position over time as I see the company growing for the next decade.
Let me know in the comments what your view is, notably the following aspects:
What do you think about Fiverr and the future of freelancing?
Do you plan on taking advantage of this secular trend or wait for a more favorable entry point?
What qualitative factors would you add to this list?
This article was written by
I am a long-term investor focused on macro trends that are shaping the future of our world in the next decade. Within those macro trends, I carefully place micro bets keeping in mind patience and discipline required to fully tell the story of growing businesses.https://twitter.com/BullofStDisclosure:All contributions to Seeking Alpha are my opinion and should not be taken as investment advice. Please do your own due diligence prior to making any investment decisions.
Analyst's Disclosure: I am/we are long FVRR, AMZN, ETSY. I wrote this article myself, and it expresses my own opinions. I am not receiving compensation for it (other than from Seeking Alpha). I have no business relationship with any company whose stock is mentioned in this article.
Seeking Alpha's Disclosure: Past performance is no guarantee of future results. No recommendation or advice is being given as to whether any investment is suitable for a particular investor. Any views or opinions expressed above may not reflect those of Seeking Alpha as a whole. Seeking Alpha is not a licensed securities dealer, broker or US investment adviser or investment bank. Our analysts are third party authors that include both professional investors and individual investors who may not be licensed or certified by any institute or regulatory body.