Tesla: Bad News Is Good News
Summary
When contextualised, the Q1 delivery figure was a remarkable feat that signals Tesla's trajectory for the remainder of the year.
Gross margins are indeed expanding, economies of scale underway and just getting started.
Tesla on track to deliver almost double consensus deliveries for 2022.
Europe is a red herring. Tesla's "shortcoming" will be resolved permanently once German production commences; meanwhile, they have already reclaimed Europe EV market share for 2021.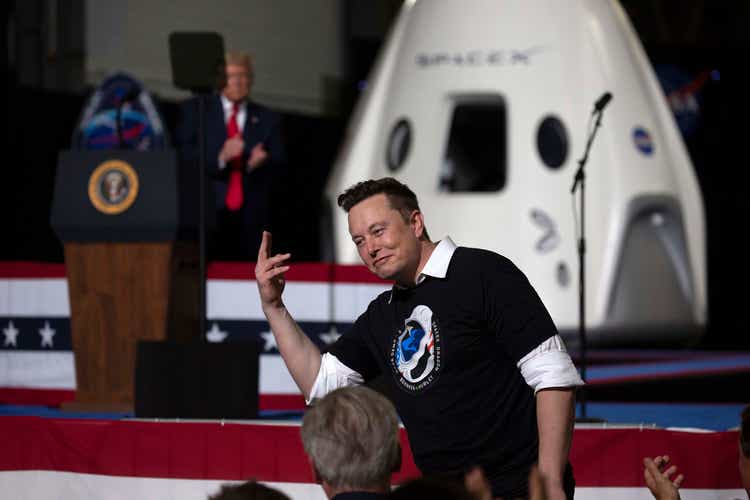 The best part about investing in Tesla (NASDAQ:TSLA) is that I'm always happy. When the price surges I feel vindicated; when it pulls back, I take advantage of the sale and add to my position. How have I developed such a level of conviction that some of you may deem brash and naive? I've been interested in electric vehicles from a young age, even bringing my own rendition of an EV to school for show and tell in third grade a couple decades ago. I took a toy Ford Mustang and retrofitted it by popping a 9V battery in the trunk, thinking I had somehow invented a novel technology. My interest in Tesla specifically, grew from an appreciation of their designs and loosely following the company's post-IPO journey. It wasn't however until I read this article on WaitButWhy that I truly became invested in the business model and mission.
Over the past few years I have witnessed the market and public respond to Elon Musk in peculiar ways, conjuring negative connotations from this photo instead of drawing optimism from this or this.
It is truly irrational that an individual responsible for leading the transition to EVs and the space renaissance, could have their credibility overridden by inhaling a legal substance one time on a podcast - despite these accomplishments (and more). But alas, "bad news" can be good news as I am happy to reap the benefits of irrational reaction - I view these opportunities as a corrective mechanism and you should too. The idea today is to address some more recent events where the market has been drawing negative connotations on Tesla.
2021 Q1 Earnings
First things first: Tesla's Q1 earnings. The outcome was not welcomed by the market with open arms, but I believe there's a lot of good happening under the hood, which I will attempt to decipher. Consensus for deliveries was between 168,000-178,000 (depending on which data provider you look at) and Tesla topped all forecasts by delivering over 184,000 vehicles in Q1. This all took place during a period of semiconductor shortages that left other auto manufacturers like Ford cutting Q2 planned production in half. This is also the same quarter where Tesla produced zero of the Model X or Y due to part shortages and retooling preparations for the refreshed models.
Q1 Seasonality
Some Tesla bears like Gordon Johnson @ GLJ Research (ranked #7,248 out of 7,490 analysts on TipRanks) have emphasized that Tesla only saw a mere QoQ delivery growth of 2%, from Q4 2020 to Q1 2021. What Gordon and others fail to mention, despite Elon reiterating this fact during the earnings call, is that automotive sales are highly subject to seasonality. Here is a snapshot of the pattern in global automotive sales from Q4 to Q1 over the past few years:
Q4 2017 -> Q1 2018 | 22.2M -> 20.8M = -6.3%
Q4 2018 -> Q1 2019 | 20.5M -> 19.5M = -4.9%
Q4 2019 -> Q1 2020 | 20.3M -> 14.6M = -28%
Q4 2020 -> Q1 2021 | 20.6M -> 17.8M = -13.6
It is no secret there is a seasonal trend in car sales which always dips at the beginning of the year, making it all the more meaningful Tesla managed to conversely increase sales in Q1. When seasonality is involved, any seasoned investor knows it is more appropriate to compare apples to apples by taking a YoY calculation. Comparing Tesla's Q1 2020 results to Q1 2021 gives us an astonishing YoY delivery growth of 108%. While Tesla is a fast growing company and it is advantageous to take an earlier base period, YoY Q1 growth from 2019 to 2020 was "only" 40%, for context. Bottom line, supply and demand is ramping up fast. Tesla should have no problem hitting the milestone of 1M deliveries with Model X/S returning to volume production and Texas and Berlin factories coming online in the latter half of the year.
Market Reception and Silver Lining
The market was disappointed because of a perceived dismissive tone towards FSD (full self driving), as well as lack of explicit guidance. I believe much of the tempering of expectations for FSD was principally motivated from a PR standpoint, due to the recent crash in Texas. Between the amount of miles already ingested and progress on their Dojo supercomputer, FSD seems to be moving along just fine in the background. I'm sure we will be hearing more on this later this year, possibly as early as July during the anticipated AI day event. As for guidance - while Tesla may not have provided explicit guidance, they did drop some particularly insightful clues on the Model Y. Tasha Keeney at ARK Invest did some nice work to reverse engineer Tesla's implied Model Y expectations:
In its first quarter earnings call last week, Tesla stated that the Model Y could become the best-selling vehicle globally based on revenue in 2022 and on units in 2023. For context, in 2019 the Toyota Corolla topped the list with 1.5 million units, roughly triple the number of all Tesla vehicle sales last year. Because the Model Y is roughly twice as expensive as the Corolla, Tesla seems to be forecasting 750,000 units in 2022 and 1.5 million units in 2023, nearly 10X and 20X the 86,000 units sold, respectively, in 2020.
If Tesla fulfills this target and we also account for production of S, X, 3 and Cybertruck (for which there is already well over half a million pre-orders), they should have no problem delivering at least 2M vehicles in 2022. This is almost double market consensus of 1.1M deliveries for 2022, which poses massive upside as long as they stay on track.
Germany Risk
There seem to be no speed bumps for the Texas factory, however in Germany Tesla has faced environmental and regulatory delays, despite rapid structural progress on the Berlin-Brandenburg factory. While Tesla maintains that production would be pushed to later this year, German publication Automobilwoche suggested early 2022 as a more realistic timeframe. Even in this worst case scenario I see a high probability of hitting the 2M mark next year, as it would be highly unlikely the delays extend further into 2022 with the factory itself near completion.
Gross Margins
One last point I want to highlight from Q1 earnings is automotive gross margins, which increased from 24.1% to 26.5%. The bears are quick to blame this on the $101M profit from their Bitcoin sale. The issue is this fails to consider that the Bitcoin gains were more than offset by the $200M hit resulting from the S & X shutdown and retooling, which was mainly embedded in COGS. The argument also fails to consider that the S and X have significantly higher margins and were excluded from the mix. So if we strip things down to recurring margins, Tesla is clearly continuing to expand as they realise economies of scale. Tesla now enjoys a lead over the entire automotive industry and they're just getting started (last FY data):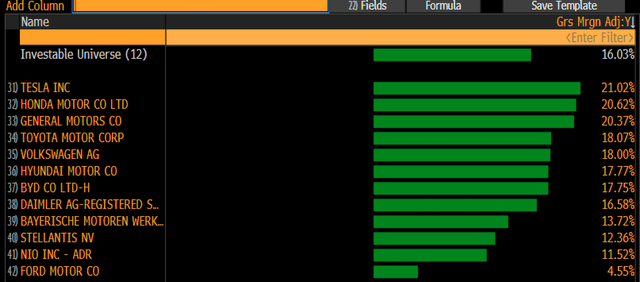 Source: Bloomberg
The Europe Fallacy
I have recently noticed Tesla bears like Gordon Johnson, or Peter Garnry at Saxo Bank, resorting to Tesla's European market share as a supposed proxy for concern. When you take a closer look however, you discover that Tesla's 3rd place position in Europe is only temporary and almost entirely attributed to vehicle price. With production currently in the US and China, transport costs and high EU automotive tariffs mean Tesla prices will be temporarily inflated until the completion of their manufacturing facility in Germany. Kudos to Budget Direct for putting together this Tesla Worldwide Index, which is like a Tesla version of the Economist's Big Mac Index. Their visualization depicts the average cost of buying a Tesla by country, adjusted for currency: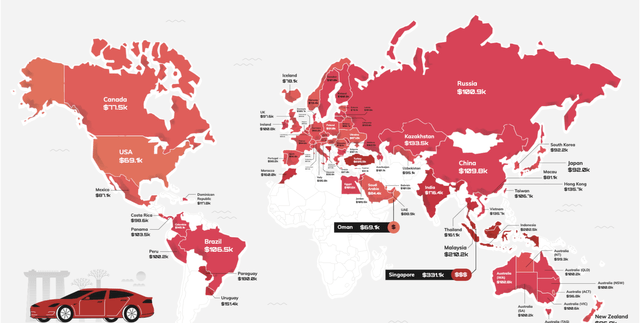 Source: Budget Direct
Those darker colors in Europe give us an abstract view of how much pricier it is to buy a Tesla in Europe. More precisely, in key European markets like Germany, France and the UK - the average price of a Tesla is at least 34% higher than in the United States.

Source: Bloomberg
Looking at the underlying EV models, we can see why Volkswagen (OTCPK:VWAGY) and Renault (OTCPK:RNSDF) have initially outpaced Tesla in terms of sales in Europe. In Germany, a VW ID.3 starts at €29,430 whereas a Tesla Model 3 base model is €43,800 - almost 50% more expensive. In France, a Model 3 costs more than double a Renault Zoe (€20,700) at €43,800. Given the price elasticity of demand between these pricing levels, I'm honestly shocked Volkswagen and Renault have not widened the gap further. There is also drastic variance between Model 3 pricing in Europe vs North America. In the UK for example, the Model 3 starts at $57,000 which is 46% higher than in the US.
Simply put, Teslas are massively overpriced in Europe. This will all change once Tesla begins production at their Berlin-Brandenburg facility later this year (check out the progress so far). Once there is production on European soil, Tesla will be able to ship Model 3s and Ys (to start) across the continent at much more competitive prices. Given all relevant specs on the Model 3 and Y are superior to the discussed competitors, I see no reason that Tesla should not reclaim a sustained lead. To top it off - the Model 3 has already crushed its competition from the previous quarter by more than double: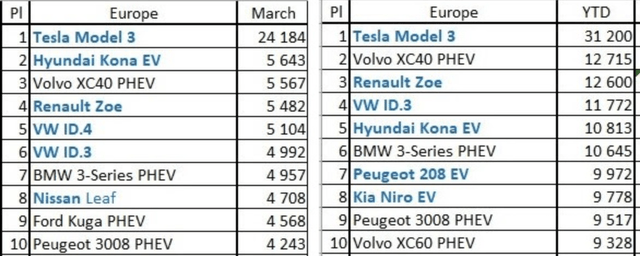 Source: InsideEVs
ARK Invest
I still see Tesla getting negative press whenever ARK Invest sells shares. On the surface, I can appreciate the irony of a firm selling their highest conviction position. The reality however is that ARK doesn't just own Tesla, they also trade it. Anyone identifying the recent sale of shares as a negative signal must have overlooked ARK's major buying activity during the dip in February, when they picked up more than 240,000 shares across multiple funds. With the stock recovering since, ARK's funds inevitably became highly concentrated in Tesla, so it only made sense to take profits. The same logic followed for ARK's sale of shares back in May last year, when the share price skyrocketed and they became overly concentrated. ARK has always kept Tesla as the top position in any fund they hold it in at around 10%, but anything more would be too concentrated - in the words of Cathie Wood: "That would not be wise portfolio management".
In Closing
We hardly scratched the surface, as we have yet to properly discuss FSD - same goes for energy, solar roofs, robotaxis, manufacturing & process innovation, neural nets and the rest of Tesla's roadmap. A long-term comprehensive overview of Tesla is coming, so stay tuned. In the meantime, when it comes to bad press on Tesla (or anything for that matter), I encourage you to challenge yourself and determine what is material - and what is not. If all else fails, you can always count on this one:
It Ain't What You Don't Know That Gets You Into Trouble. It's What You Know for Sure That Just Ain't So. - Mark Twain
This article was written by
I believe we are amidst one of the largest transformative eras of humankind, stemming from disruptive changes to energy, transportation, health care, manufacturing and the workforce - to name a few. I'm interested in organizations that will contribute to our most positive and productive trajectory forward.
Analyst's Disclosure: I am/we are long TSLA. I wrote this article myself, and it expresses my own opinions. I am not receiving compensation for it (other than from Seeking Alpha). I have no business relationship with any company whose stock is mentioned in this article.
Seeking Alpha's Disclosure: Past performance is no guarantee of future results. No recommendation or advice is being given as to whether any investment is suitable for a particular investor. Any views or opinions expressed above may not reflect those of Seeking Alpha as a whole. Seeking Alpha is not a licensed securities dealer, broker or US investment adviser or investment bank. Our analysts are third party authors that include both professional investors and individual investors who may not be licensed or certified by any institute or regulatory body.