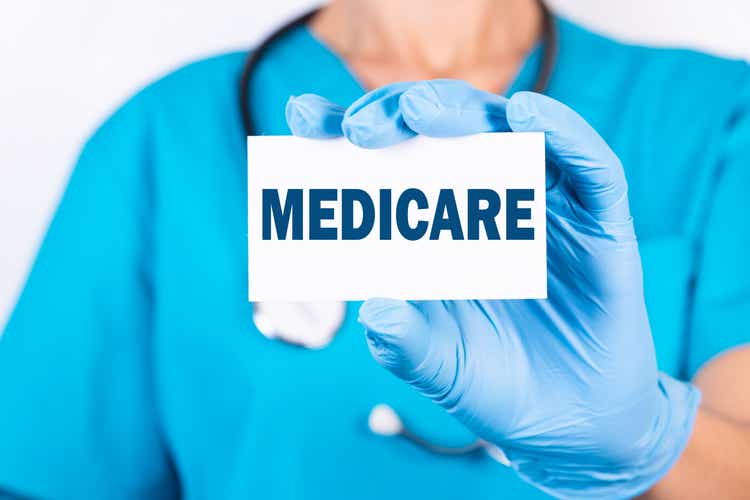 Investment Thesis
Clover Health (NASDAQ:NASDAQ:CLOV) has fallen about 43% from its early January high, but the stock is still much more expensive compared to its larger competitors. The Clover Assistant platform has done well to penetrate established markets so far against the much larger incumbents, but it may not be enough due to slower projected revenue growth. Growth-oriented investors must consider the high price volatility if they intend to add the stock. However, at the current price point, it may be prudent to wait for another retracement first.
Company Overview
Clover Health Investments, Corp. is a Medicare Advantage (MA) insurer. The company utilises its proprietary CA solution to drive down healthcare costs, and improve outcomes for members under its program.
The company has a geographical reach across 108 markets in 7 states, with a membership numbering about 66,000 as of February 2021. Most of their members are elderly, and as of 31 Dec 2020, 96% of the membership was concentrated in New Jersey.
Clover Health believes that it operates within a huge total addressable market (TAM) of about $270B in annual spending within the MA segment. The company expects this annual spending to increase to $590B by 2025. At the broader Medicare market, membership numbers exceeded 60M as of 2020, and annual spending is expected to reach $1T by 2025.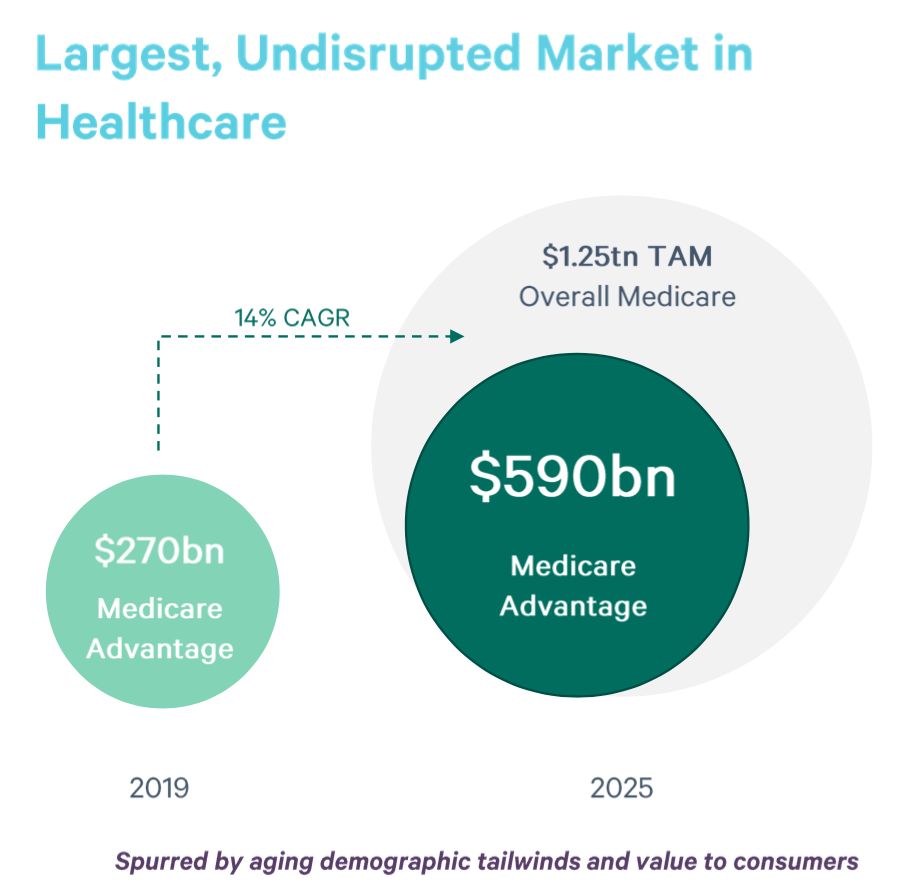 Source: Clover Health Deep Dive Presentation
The company's core belief behind CA is that they operate a superior proprietary platform that is capable of providing immense benefits to both the members, as well as their clinical partners alike, which together with the continuous iteration and improvement of the CA platform, will provide a "flywheel-like" benefit in driving down patient costs, improved healthcare management efficiency, less variable and better outcomes, and higher payments for healthcare providers.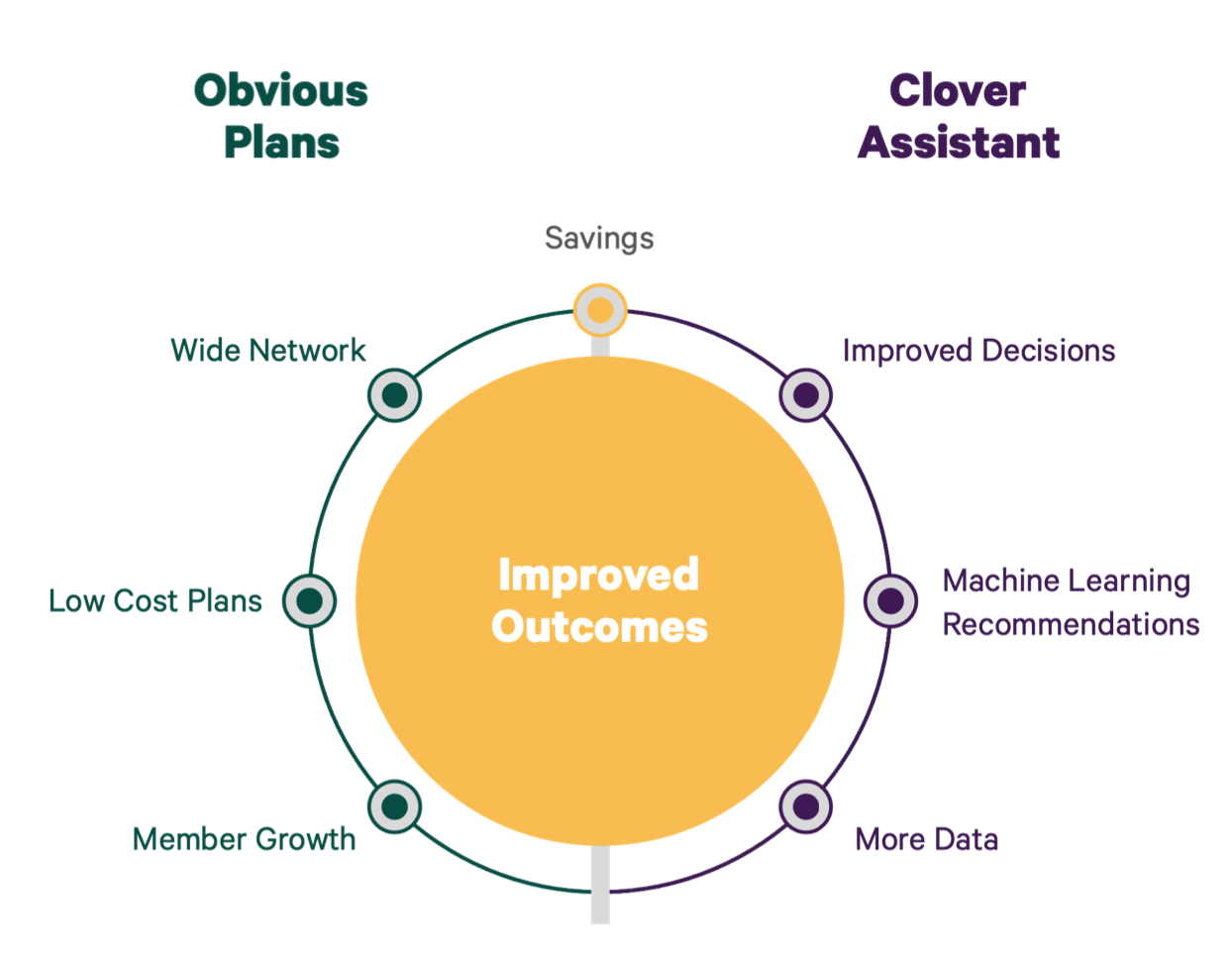 Source: Clover Health FY2020 Annual Earnings Shareholder Letter
As of FY 2020, CA penetration within its current membership totaled about 56%, which represented a 43% YoY increase. So even within its current membership profile, Clover Health believes that there is still ample opportunity for further CA penetration due to the immense benefits that it offers to its stakeholders. The company aims to achieve a long-run CA penetration rate exceeding 70% (Source: Clover Health FY2020 Annual Earnings Shareholder Letter).
Clover Health has also recently joined the Direct Contracting (DC) model on 1 Apr 20, through a CMS initiative. Through this participation, the company is expected to gain access of up to 200,000 Medicare beneficiaries, and the management further clarified that based on their modeling, "200,000 will be ratable." (Source: Clover Health Q4'20 Earnings Call Transcript)
Financials
Clover Health derives 80% of its revenue from its "on-the-ground" direct sales force. These are usually independent brokers who are paid commissions, and usually have their own books and able to independently generate leads. The company calls them their "ground game". The company further indicated that they have "very little marketing and brand spend", although this is likely going to change moving forward as they intend to expand their channel reach beyond the broker's channel. (Source: Clover Health Q4'20 Earnings Call Transcript)
A notable matter is that even though the company achieved remarkable revenue growth rates in the past 2 FYs (See chart below), the company guided for FY 2021 revenue to be within the range of $820M to $850M, of which $30M is expected to be attributed from DC. (Source: Clover Health Q4'20 Earnings Call Transcript)
This represented expected revenue growth of between 18.8% to 23.2% YoY for FY 2021, which marks a significant departure from the pre-listing high growth years. Although the fanfare from the DC participation needs to be taken into account, it is not expected to be a major contributor to their total revenue yet, and investors must be careful to attribute significant interest to this development in the near term. It should be regarded as a long-term project by the company to further expand its penetration into the broader Medicare market.

Source: Created using data sourced from S&P Global Market Intelligence
Clover Health uses the Medical Care Ratio (MCR), to determine the profitability of its platform. The MCR is defined as "total net medical claims expenses incurred divided by premiums earned" (Source: Clover Health 10-K), and the ratio is generally higher for new members, and also higher for members who are not served by Primary-Care Physicians (PCP) using the CA. Clover Health's FY 2020 Normalized MCR was 90.5%. It expects FY 2021's Normalized MCR to be within the range of 89% to 91% and therefore we should not expect any significant improvement in margin in the near term. (Source: Clover Health FY2020 Annual Earnings Shareholder Letter)
In addition, MCR for DC is also expected to be 100%, and therefore this segment is not expected to be profitable in the near term. It also must be noted that even when adding new members in established or new MA segments, MCR ratios are expected to be high in the near term, and expected subsequently to fall as CA is being adopted and used.
Even though the company narrowed its net loss in FY 2020 (See chart below), the company is expected to make more investments to expand its distribution channels beyond the main broker channel, in addition to improving its technological edge. This is expected to contribute towards the widening of the company's net loss in FY 2021 to between $170M to $210M. (Source: Clover Health FY 2020 Annual Earnings Shareholder Letter)
It should be noted that Clover Health is not targeting income profitability in the near term as it continues to scale up its expansion into more MA segments, as well the DC participation which remains the most important priority in order to further penetrate their large TAM.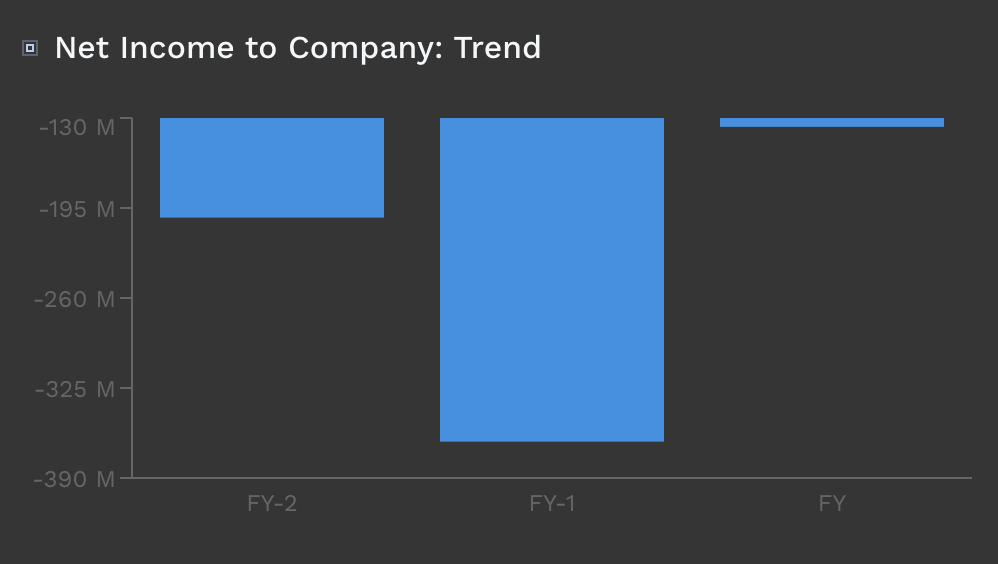 Source: Created using data sourced from S&P Global Market Intelligence
Key Growth Drivers and Risks
Clover Health's plan to scale up and penetrate the MA and the broader Medicare market is predicated on their belief that the CA's platform is superior against that of its larger competitors such as UnitedHealth Group (NYSE:UNH), and CVS Health (NYSE:CVS).
The company believes that it can gain access to markets that currently have little penetration from their bigger competitors, and retain them well. As mentioned earlier, retention is a very important target for Clover Health, as MCRs are expected to be lower for returning members as compared with new members, and that will improve the company's profitability over time when their retention rate is high even as they gain new members.
Even though the Medicare opportunity provided through DC may likely lead to losses in the near term as they admit new members, the size of the TAM is large enough even for a smaller player like Clover Health to capture and grow sustainably. The key priorities right now are for the company to add more members, and more physicians to its CA network across more states and markets.
Clover Health expects its MA membership to grow between 17% to 21% YoY to about 68,000 to 70,000 for FY 2021. Investors should maintain a keen eye on its membership numbers on FY basis in order to evaluate the market penetration performance of the company.
As Clover Health's success is very much predicated on the success of the CA platform, I find it hard to attribute a significant moat to a company whose key success factor is very much based on a single platform. Therefore I would consider the CA platform to be one of the main risk factors for Clover Health. If the company's bigger competitors were able to develop a competing technology that surpasses the superiority of the CA, Clover Health's supposed competitive advantage they are enjoying now could be seriously eroded.
In addition, if Clover Health is not able to successfully achieve its targeted retention ratio of its members, the company's profitability is likely to be affected to a large extent as they are unable to meet their expected MCR. As mentioned earlier, this is because MCR for new members is likely going to be very high, as compared with returning members.
As Clover Health's revenue distribution is heavily concentrated within New Jersey, any unfavourable changes in competition, regulations, policy benefits costs for members, or reimbursement costs to healthcare partners could disproportionately affect the company's operating results. It's thus imperative that the company continues to expand its geographical coverage beyond New Jersey.
Nevertheless, Clover Health has made significant inroads in their established markets (See chart below), and they seemed to be able to hold their own against their much bigger competitors. Investors should continue to pay attention to Clover Health's market share grab, as it competes against much bigger competitors who had already achieved profitability.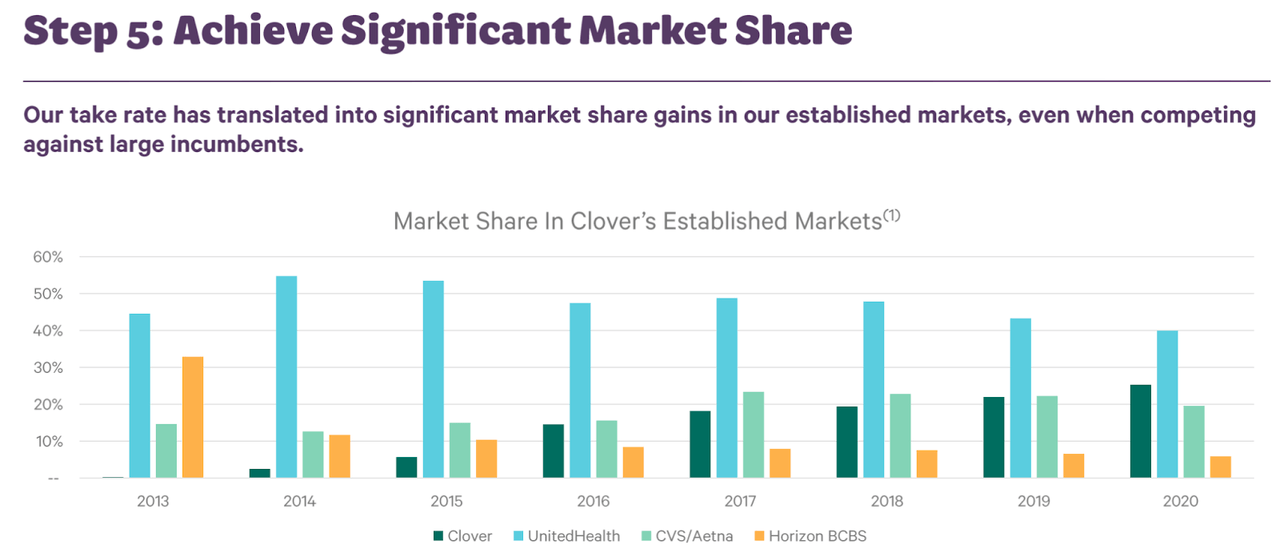 Source: Clover Health Q4'20 Annual Earnings Shareholder Letter
Valuation
A notable mention, and perhaps a good one is that Clover Health's bigger competitors' past revenue had grown much slower than Clover Health's, and they are not expected to grow nearly quite as fast as Clover Health.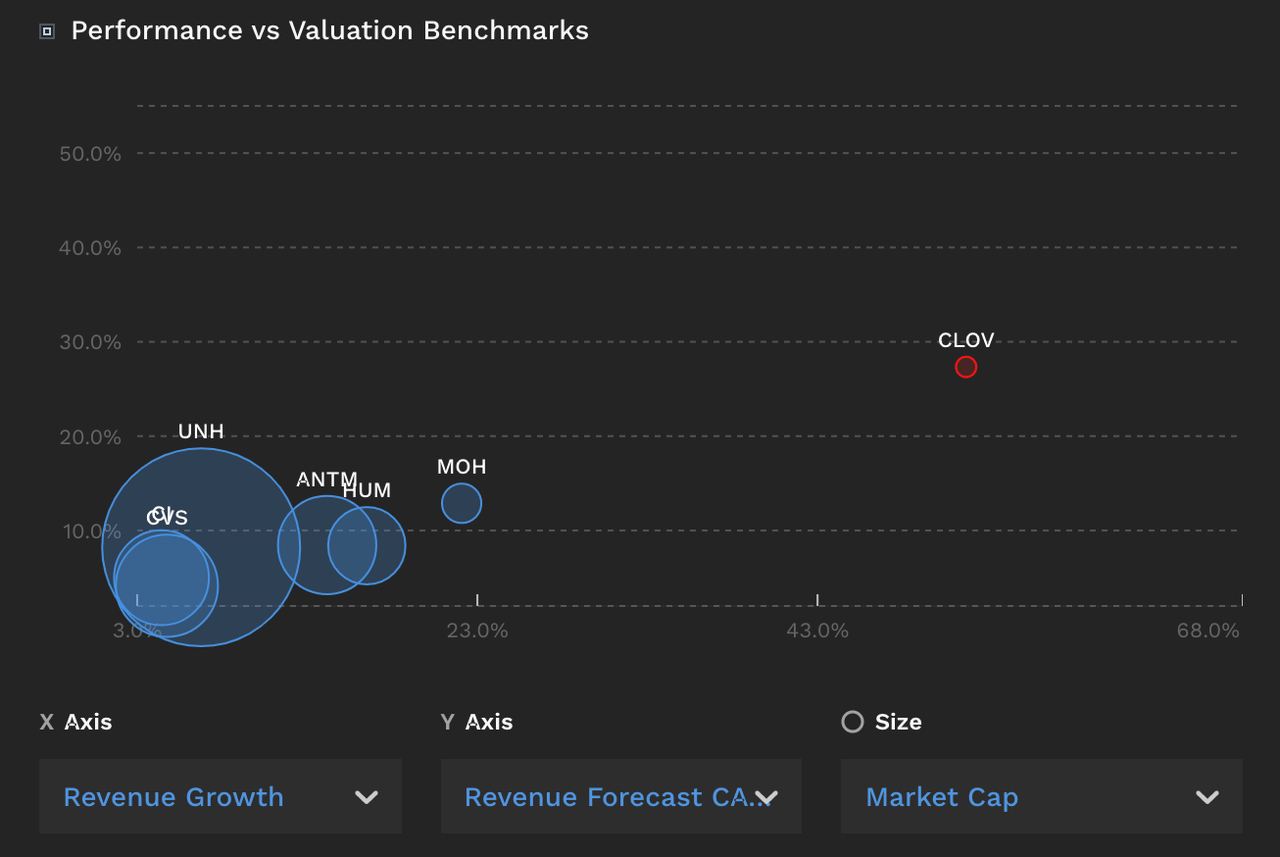 Source: Created with data sourced from S&P Global Market Intelligence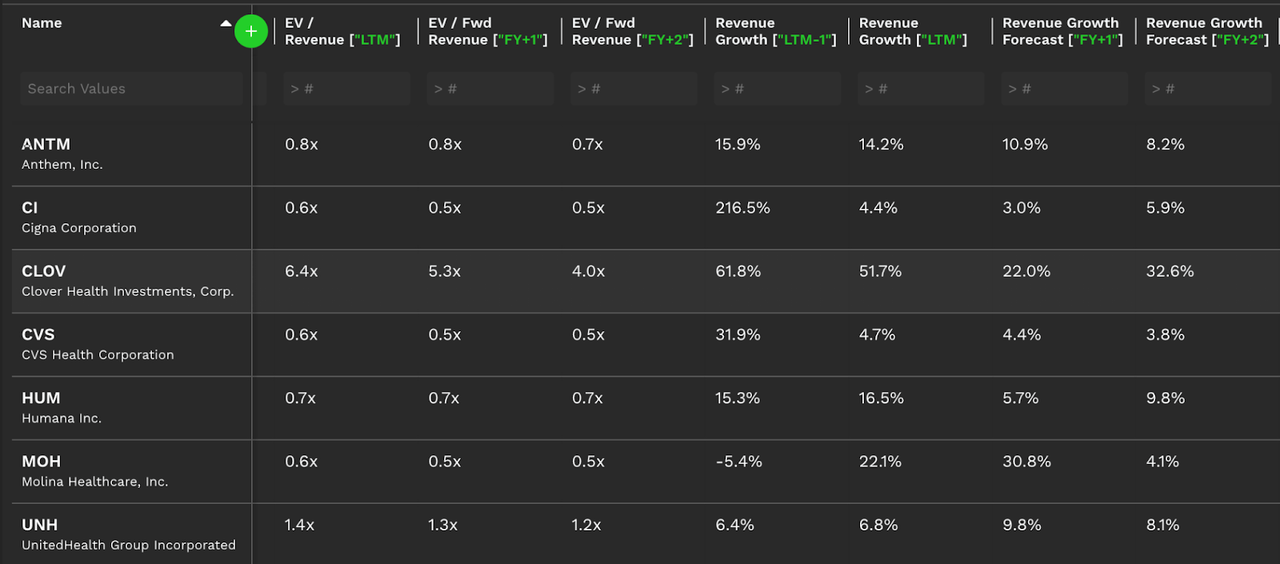 Source: Created with data sourced from S&P Global Market Intelligence
While that's the case, Clover Health's higher expected growth rates have also been reflected in its valuations. The company's EV/Rev multiple is 5.3x FY 21 revenue, and 4.0x FY 22 revenue, respectively. Compared to its larger competitors this represented between 4x to 5x more expensive. Clover Health's growth profile certainly doesn't come cheap, and the company seriously needs to continue to grow fast in order to justify its premium price tag. A return to the previous revenue growth rates of 50% and above will likely spur more interest to participate in the stock, as compared with the current projections.
Price Action and Technical Analysis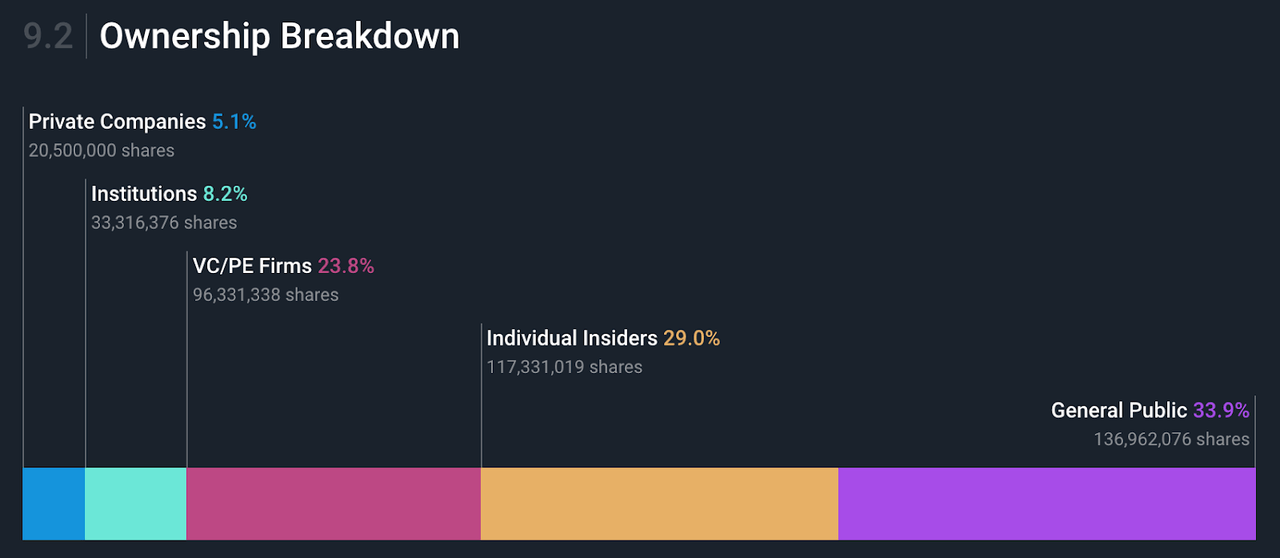 Source: Simply Wall St
With about 34% of the shares currently in the hands of the general public (See chart above), and just 8.2% with institutional sponsorship, I continue to expect high price volatility in the stock price. Insiders hold a significant portion, 29% of the shares, and that is generally considered as a positive factor for the alignment of interests with retail investors.
The stock had also received a significant bear attack (See chart below) over the last few months as the stock price corrected about 64% from the high it made in early January 2021. The short interest ratio of 36% is significant, and if the company were to announce a good quarter at the upcoming earnings on 17th May, we may see a good amount of short covering, some of which had probably already happened recently.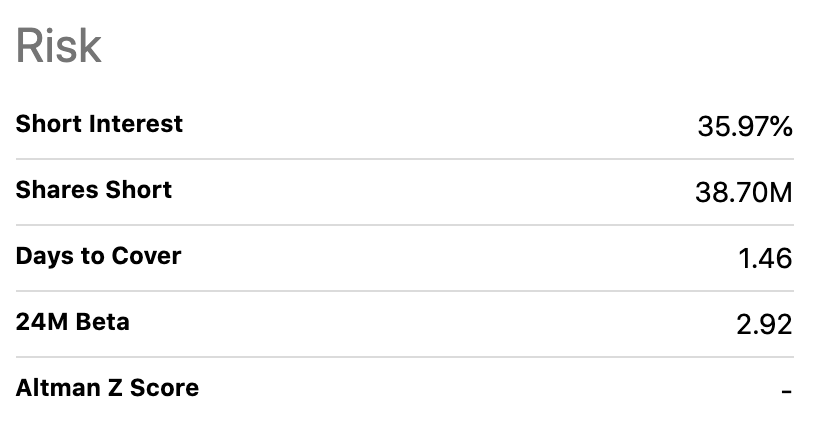 Source: Seeking Alpha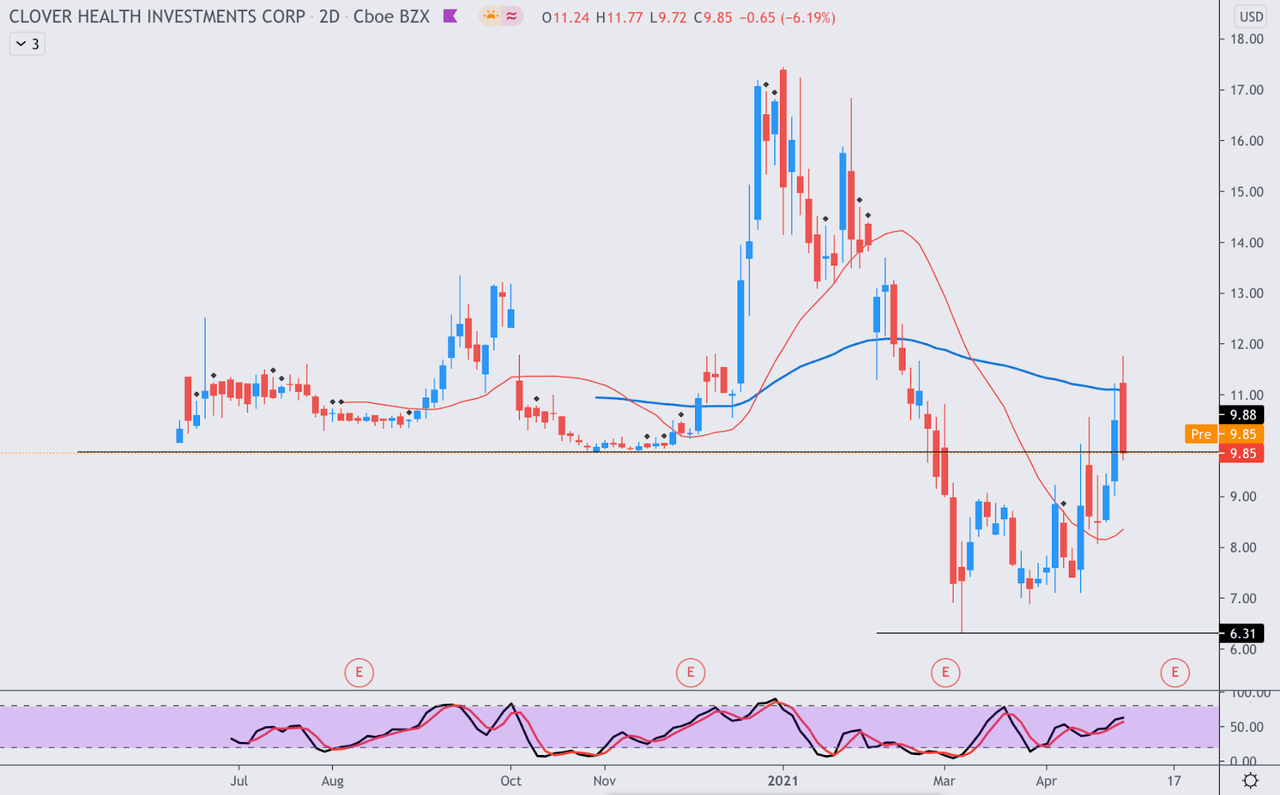 Source: TradingView
The stock seemed to have found short-term support at around the $7 region, and it will continue to be an area of interest if the price consolidated there again. The previous support-turned-resistance of about $9.9 remains in play, and will likely be a key area of interest going forward. This is a volatile stock with short price history, and the moving averages are not so useful in the analysis here. Although the price has corrected significantly from the January high, I will continue to watch the price action, and likely to only consider adding to my position if the price retraced to $7 to $8 region again.
Conclusion
Clover Health is a high-growth stock in a very competitive industry where it aims to disrupt the business model of its much larger competitors. Although Clover Health does not seem to have a significant moat at this point in time, it has been gaining market share against the bigger players with its proprietary CA platform. Investors will find it important to monitor how the company continues to perform to drive high revenue growth moving forward. Given the volatile nature of the stock price, and arguably narrow moat at present, I do not suggest investors adding a big position to this company. At the current price, aggressive investors may consider adding a new position, but I will personally only add to my existing position if it retraced further.