Cassava Sciences: The Right Approach To Tackling Alzheimer's
Summary
Cassava Sciences is developing a treatment against Alzheimer's disease.
There are different approaches to finding a cure and each faces competition. But SAVA is diversified in diagnostics as well, for the dreaded condition which adversely impacts the lives of millions.
After an initial setback in May 2020, there seems to be no factor which could trigger a significant downside in the stock.
On the other hand, there should be upside by June and more later, after a Phase 3 trial is announced.
I first start by providing some insights as to the latest price action.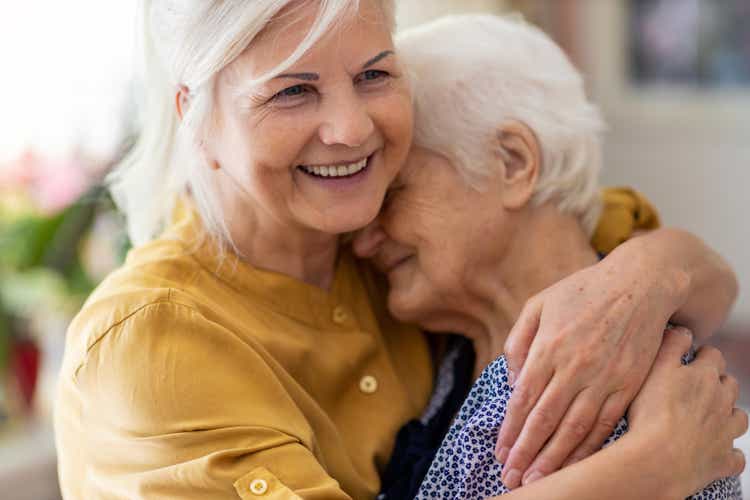 Since my last article on Cassava Sciences (NASDAQ:SAVA) in January 2020, when I was bullish, the stock is up by more than 500%. At one point in early February of this year, it was up by more than 1000% after the biotech had announced results of an interim analysis from an open-label study of Simufilam, its lead drug candidate for the treatment of Alzheimer's disease. In this case, patients' cognition and behavior scores both improved following six months of treatment, with no safety issues.
With the share price hovering around the $42 support level, some are wondering whether there is further upside to come. I bring answers by considering the possible triggers which could induce an upwards or downwards momentum.
In the relentless fight against Alzheimer's disease, I first start with Cassava's lesser-known investigational blood-based diagnostic to detect and monitor the progression of Alzheimer's disease, called SavaDx.
Detecting Alzheimer's
Alzheimer's disease results from the slow degeneration of neurons, starting in the hippocampus (a brain structure essential for memory) and then spreading to the rest of the brain. It is characterized by disorders of recent memory, executive functions, and orientation in time and space.
The patient gradually loses his cognitive faculties and his autonomy, thus the importance of performing a diagnosis as soon as possible. This is based first on the history of the disorders, then on tests of cognitive functions. Diagnostics also involves assessing the nature and severity of the attacks like memory loss and disorientation in space-time and to search for behavioral and mood disorders.
Brain imaging also helps in diagnosis, at an early stage. Thus, MRI can rule out other causes and may reveal brain abnormalities associated with the disease like a reduction in brain size, especially in the posterior regions, and atrophy of the hippocampus. These are arguments in favor of the diagnosis of Alzheimer's.
To strengthen the diagnosis, biological markers can help confirm the origin of symptoms. Hence, it is now possible to measure three markers of the disease in the cerebrospinal fluid (CSF), accessible by a lumbar puncture: the amyloid beta protein, the tau protein, and the phosphorylated tau protein.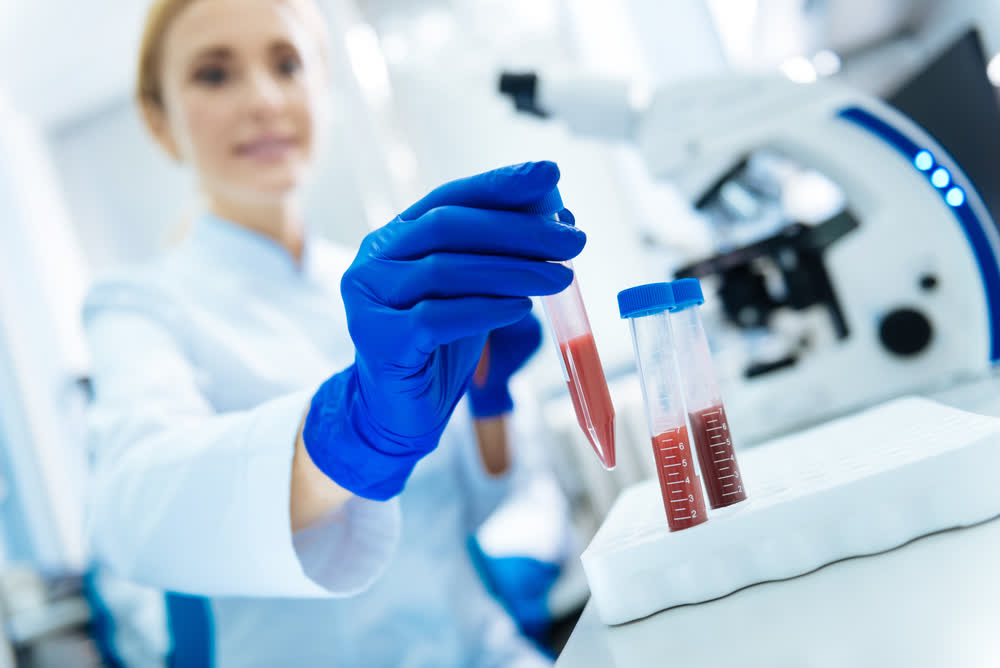 Source: cassavasciences.com
These all take a long time, are invasive for the patient as the diagnosis progresses on, and can turn out to be very costly.
To address the problem, SavaDx aims to make detection of Alzheimer's disease as simple as getting a blood test, possibly years before the appearance of any overt clinical symptoms.
The test is being developed as a simple, accurate, and quantitative blood-based diagnostic to detect and monitor Alzheimer's disease. If successful, the company believes that SavaDx has the potential to replace many of the current approaches for diagnosing Alzheimer's disease.
SavaDx has already detected >10-fold differences between patients with Alzheimer's and young cognitively intact subjects, with current clinical-stage program being funded by research grants from the National Institutes of Health (NIH).
We do not yet know how to cure this disease, but our knowledge of its risk factors and its mechanisms has changed dramatically in recent years.
Fighting Alzheimer's
The most explored avenue currently for developing a treatment against Alzheimer's disease is immunotherapy.
It was first developed to remove the beta amyloid peptide. This strategy consists of injecting antibodies directed against the peptide (passive immunotherapy) or in vaccinating the patient against the beta amyloid peptide (active immunotherapy). This therapy is used by the Eli Lilly (LLY) and Biogen (BIIB) drug candidates. Therefore, these two companies use the same class of therapies which focus on beta amyloid, a somewhat controversial target in the drug development process for researchers trying to figure out how best to treat people with Alzheimer's disease.
The controversy is due to the fact that in some of the initial clinical tests, the amyloid plaque regresses, but sometimes at the cost of significant side effects. Yet, on the other hand, there is the pressing need to provide whatever relief possible with current scientific progress, while waiting for a cure for this devastating health condition.
Exploring further, LLY has made progress with its Donanemab in mid-March by producing a significant decline, by 32% in the Integrated Alzheimer's Disease Rating Scale (iADRS) relative to placebo, with the study meeting the primary endpoint. Still, there were mixed results in the secondary findings of the trial.
Other more conventional approaches are also being developed, which involve breaking up the tau filaments, by Cassava. Hence, in a clinical study funded by the NIH, six months of Simufilam treatment improved cognition scores by 1.6 points on ADAS-Cog11, a 10% mean improvement from baseline to month 6. In these same patients, Simufilam also improved dementia-related behavior, such as anxiety, delusions, and agitation, by 1.3 points on the Neuropsychiatric Inventory, a 29% mean improvement from baseline to the sixth month.
The company now plans to start a double-blind, randomized, placebo-controlled study of its treatment candidate. This kind of trial is considered the gold standard in medical research.
The company expects the trial data and prior clinical results support for Simufilam in a Phase 3 trial for Alzheimer's disease which is scheduled sometime in the second half of this year.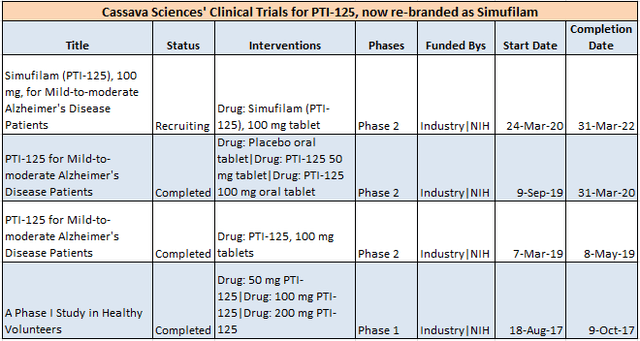 Source: clinicaltrials.gov
I now come back to beta amyloid peptide for Biogen's drug, Aducanumab, currently at Phase 3.
In this case, the FDA is expected to decide whether to approve by June 7, unless there is yet another twist in this Alzheimer's treatment saga. There has been some controversies with this once discarded, but later resurrected drug candidate.
Still, Aducanumab's potential approval in November last year, on basis of sufficient efficacy triggered the stock to an unsustainable 50% upside, after which the share price fizzled to the $250 level.
However, it was a different story for Simufilam in February, and Cassava's stock, after rising to the $90 level, fell back to the more cushioned $50 level.
Valuations and key takeaways
The share price is currently in the $41-42 range and there are only two possible directions it can move from here: either upwards or downwards.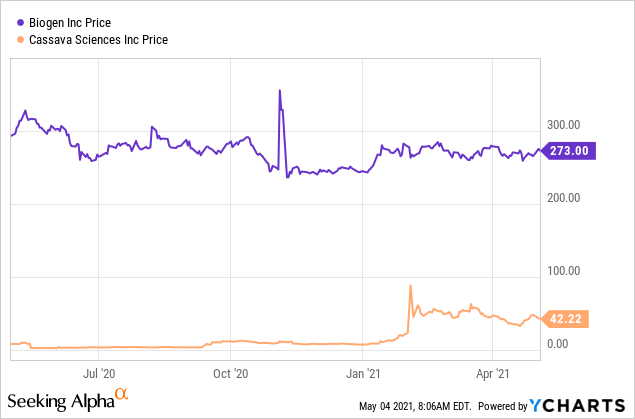 First, unlike Biogen, Cassava's stock cannot move downwards by any significant amount, as the only time its shares tumbled more than 70% was in May 2020 after the company said its investigational Alzheimer's disease treatment failed a mid-stage trial. At that time, the experimental drug, PTI-125, did not meet the primary endpoint for reducing cerebrospinal fluid levels of the tau protein in the Phase 2b study. The therapy was being tested in people with mild and moderate forms of Alzheimer. Since then, the stock has been gaining, one of the reasons being that it did meet a secondary endpoint: that of reducing fluid levels of another biomarker, IL1-beta.
Now, the next crucial period to watch out for investors will be the month of July at the Alzheimer's Association International Conference.
At that time, the company will release an analysis of nine months of treatment with its Alzheimer's candidate Simufilam on approximately the first 50 subjects. Now, since Alzheimer's is a progressive disease, with patients' cognition expected to worsen over time, an improvement in cognition scores following 9 months of open-label treatment would be remarkable, and consistent with the mechanism of action seen during the initial 6 months.
This is entirely possible as Remi Barbier, the President & CEO would eventually "like this drug candidate to benefit cognition for a year or longer".
Consequently, I see the stock flirting again with the $50-55 support levels by July, before surging higher when the Phase 3 trials are announced in H2-2021.
Now, with cash and equivalents of $282.2 million as at March 31, 2021 or nine times 2020 operating expenses, the company has sufficient funds to undertake the costly Phase 3 study which can range from $20 million to $100 million. To further support R&D activities, its product candidate is substantially funded by peer-review research grant awards from the NIH.
Investors will also note that there may be downsides in the stock, mostly as a result of temporary setbacks with the FDA seeking additional safety updates. However, the approval organization is also under some pressure to approve medication. There are basically two reasons for this. First, there are millions of sufferers and by 2050, there will be 150 million people worldwide living with dementia, according to Alzheimer's Disease International, a charitable organization. Second, with Biogen's drug possibly costing over $50,000 per year for treatment, the FDA may want to provide patients with an alternative, possibly in the form of Simufilam.
As for valuations, even with potential sales of only 15 million doses at $25K each (half of Biogen's pricing), we have a huge figure of $375 billion, sufficient to explain Cassava's forward EV/Sales multiple of 38.35x, 457.88% higher relative to the healthcare sector.
Estimated market size = 15,000,000 x $25,000.00 = $375,000,000,000.00
My bullish stance is also reinforced by the fact that, in addition to Simufilam, Cassava is also developing SavaDx, to detect Alzheimer's disease with a simple blood test. Interestingly, Simufilam and SavaDx have both been developed in-house with Cassava owning worldwide development and commercial rights to its research programs in Alzheimer's disease, and related technologies, without royalty obligations to any third party.
This article was written by
My aim is to provide differentiated insights, whether it is for investing, trading, or informational reasons. For this purpose, I am not a classical equity researcher or fund manager, but, I come from the IT world as the founder of Keylogin Information and Technologies Co. Ltd. Thus, my research is often backed by analytics and I make frequent use of charts to support my position.I also invest, and thus, in this tumultuous market, I often look for strategies to preserve capital. As per my career history below, I have wide experience, initially as an implementer in virtualization and cloud, and I was subsequently a team leader and project lead, mostly working in telcos.I like to write around themes like automated supply chains, Generative AI, telcos Capex, the deflationary nature of software, semiconductors, etc and I am often contrarian. I have also covered biotechs.I have also been an entrepreneur in real estate ( a mediocre one), a business owner, and a farmer, and dedicate at least 5 hours per week to working on a non-profit basis. For this purpose, I help needy families by providing sponsored work and contributing peer reviews and opinions for enterprise tech.I have been investing for the last 25 years, initially in mutual or indexed funds before later opting for individual stocks. Got a lot of experience in the 2008/2009 downturn when I lost a lot due mostly to wrong advice. Since then I do my own research and have fallen in love with Seeking Alpha because of the unique perspectives it provides to someone investing hard-earned money as well as access to some of the best analysts.
Analyst's Disclosure: I/we have no positions in any stocks mentioned, and no plans to initiate any positions within the next 72 hours. I wrote this article myself, and it expresses my own opinions. I am not receiving compensation for it (other than from Seeking Alpha). I have no business relationship with any company whose stock is mentioned in this article.

This is an investment thesis and is intended for informational purposes. Investors are kindly requested to do additional research before investing.
Seeking Alpha's Disclosure: Past performance is no guarantee of future results. No recommendation or advice is being given as to whether any investment is suitable for a particular investor. Any views or opinions expressed above may not reflect those of Seeking Alpha as a whole. Seeking Alpha is not a licensed securities dealer, broker or US investment adviser or investment bank. Our analysts are third party authors that include both professional investors and individual investors who may not be licensed or certified by any institute or regulatory body.