The Cheesecake Factory: Trends Indicate Substantial Growth Ahead For Dine-In Leader
Summary
F1Q2021 revenues of ~$627 million beat analyst projections by ~$24 million.
Loss Per Share of $0.03 beat consensus estimates by $0.03.
Off-premise sales continued to be strong across all CAKE brands despite additional dine-in capacity coming on-board.
We're maintaining our 1-year Price Target of $71/share for CAKE. Reiterate Buy Rating.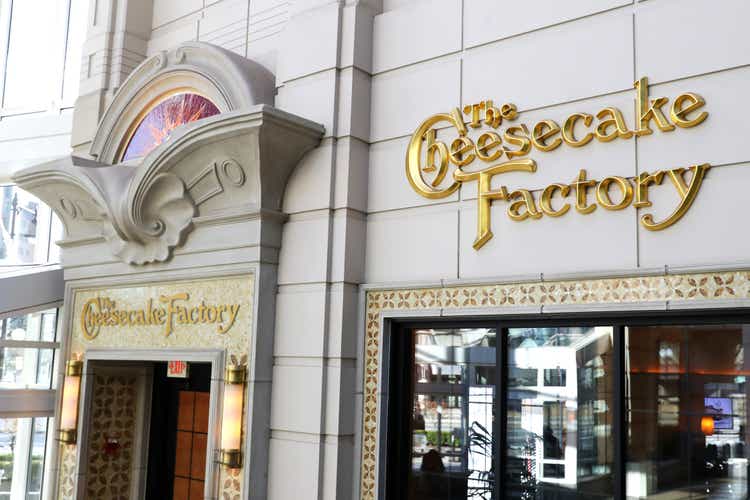 Investment Conclusion
We were highly encouraged by The Cheesecake Factory's (NASDAQ:CAKE) F1Q2021 financial performance. The primary factor driving our upbeat opinion was the strong recovery in retail sales experienced by the firm over March when restrictions on in-restaurant dining were further relaxed. Moreover, the momentum evidenced over the previous month continued into the second quarter, driven by what appears to be pent-up customer demand for the dine-in experience across CAKE's major restaurant brands. Fueled by an upsurge in retail sales in March, CAKE was profitable for the first quarter (if we exclude preferred dividend payment), breaking even, after four quarters of significant losses.
In addition, the ~2% revenue growth experienced over the period was for the most part consistent with the trends evidenced over FY2019. Moreover, although on a 2-years comparable basis, operating income and net earnings were considerably lower, revenues and gross profits came in higher. Further, on a sequential basis, financial results came in ahead, of those witnessed over the prior quarter. In regards to new unit development, CAKE opened three new restaurants, one each of The Cheesecake Factory, North Italia, and Blanco. All three restaurants had solid openings with strong customer demand.
Short-term, given that the business model of most CAKE restaurants is skewed towards providing customers a fantastic in-restaurant dining experience, the company will benefit considerably from the opening up of the economy and increased mobility. Therefore, we expect sharp increase in CAKE's retail sales over upcoming quarters. In addition, we anticipate, significant margin expansion, based not only on revenue leverage, but also from relatively muted inflation linked to labor and commodities, and labor leverage related to economies of scale, as we expect employee head-count to remain at levels evidenced during the pandemic, despite dramatically higher revenues. Considering, the expected outperformance on the top-line and potential margin expansion, earnings and cash flows will come in substantially higher over upcoming quarters, in our judgment.
Longer-term, it appears that CAKE is unlikely to pivot to higher new unit development rates for The Cheesecake Factory brand, and will instead depend on the newly acquired restaurant concepts to drive secular growth. Nevertheless, The Cheesecake Factory is likely to witness growth beyond that experienced over FY2019, as the brand's off-premise retail sales (particularly linked to its desserts segment) developed over the pandemic are sustainable to a large extent. We expect CAKE's actual new store openings growth to be consistent with the consolidated annualized 7% target it has set, with majority of the growth being driven by North Italia and Flower Child.
Therefore, investors should not expect run-away growth from the company and instead view the CAKE business as a steady growth endeavor, with The Cheesecake Factory restaurants as the cash cow, North Italia, and Flower Child as rapid growth drivers, and additional FRC concepts as wild-cards, with the potential to develop into meaningful long-term growth drivers. Nevertheless, on a secular basis, 7% growth in new unit development is sufficient to derive sufficient growth in: revenues, margins, profits, and cash flows, in our opinion. However, don't expect CAKE to provide returns similar to Chipotle Mexican Grill (CMG).
Considering that F1Q2021 results have only improved our confidence that CAKE is likely to meet and exceed our conservative 10-year normalized revenue growth rate of 6% and 10-year straight-lined operating cash flows growth rate of 10.67%, we remain bullish on the stock. Therefore, we're maintaining our 1-year Price Target of $71/share for CAKE. Reiterate Buy Rating. (Please go through our initiation report "The Cheesecake Factory: Undervalued With Little Downside Risk Over The Medium Term" and an associated note for our long-term opinion on the stock).
Key Takeaways From The Quarter
F1Q2021 Results Summary. For the quarter, revenues came in at ~$627 million (~+2% compared with F1Q2020), ahead of consensus estimates of ~$603 million, and loss per share came in at -$0.03 (+1030% vs. the prior year's same quarter), beating analyst projections of -$0.06. In addition, comparable sales at The Cheesecake Factory and North Italia restaurants increased by 2.8% and 5% over F1Q2021. Net loss for the period was ~$1.2 million reflecting an increase of 1130% on a year-over-year basis. CAKE generated ~$22 million in operating cash flows over the period.
Significant Boost In Retail Sales Appears Imminent. Beginning in March, when annualized average unit volumes for The Cheesecake Factory restaurants came in at $11.5 million, significantly higher than those associated with FY2019, the accelerated growth in the element has only improved, with quarter-to-date annualized average unit volumes of $11.6 million, that represents a growth of ~7% over FY2019 levels. These figures are positioned to increase (once all restrictions on restaurants are lifted) as the brand's restaurants are currently operating with ~60% indoor dining capacity and ~2/3rd total on-premise capacity, including patios.
That the magnitude of the uptrend in average unit volumes is likely to be considerable is demonstrated by company data which shows that for a movement in dine-in capacity from 50% to 75%, there is a commiserate ~10% uptrend in comparable store growth rates. Moreover, given recent trends showing that off-premise sales remain at ~$4 million, despite the reopening of restaurants and increased dine-in capacity, it appears that looking ahead, off-premise sales are unlikely to decline substantially and result in a potential wash on total sales growth. Therefore, we believe that The Cheesecake Factory restaurants are likely to witness considerable growth in retail sales, over the near term.
Recent Off-Premise Sales Levels Likely Sustainable. The Cheesecake Factory take-out orders that pre-pandemic represented ~$1.7 million to ~$1.8 million in annualized average unit volumes are currently trending at an annualized ~$4 million, consistent with the annualized off-premise average unit volumes experienced over F1Q2021. In addition, although trends over the current quarter indicate that as total sales increase due to additional dine-in capacity coming on-board, off-premise sales are likely to decrease to 1/3rd of total sales from 43% experienced over the first quarter, based on heightened demand for the brand's desserts, the $4 million in annualized average unit volumes is likely to remain steady, in our assessment.
Our argument is bolstered by CAKE's decision to curtail marketing associated with the off-premise segment, as management possibly determined that the brand's restaurant was likely to be capacity constrained if the off-premise orders continued to expand. From all indications, it appears that The Cheesecake Factory's off-premise segment has morphed into a sustainable long-term growth driver and one that will add significant basis points of revenue growth to the consolidated company.
New Concepts Supported First Quarter Outperformance. We were enthused by the strong financial results delivered by North Italia and Flower Child over F1Q2021. For the period, total revenues associated with North Italia and the FRC Concepts (that includes Flower Child) came in at $87.5 million.
In addition, North Italia's comparable sales: increased by 5% on a year-over-year basis but decreased by 5% on a 2-years basis for the first quarter. However, for the current quarter, the brand's comparable sales are trending towards a growth of 8% on a 2-years basis. Moreover, although all of North Italia's restaurants are open with dine-in restrictions steadily easing, off-premise sales continue to represent ~20% of total sales. CAKE recently opened two North Italia restaurants, a first location in Birmingham, Alabama, and a second location in Miami, Florida. Both introductions were well received by customers, the media, and local influencers. Considering the resilient performance of the restaurant chain over the pandemic, and the recent acceleration in its retail sales, we're convinced that North Italia is likely to develop into a strong long-term growth driver for CAKE.
Over F1Q2021, retail sales per operating week associated with FRC Concepts (that includes Flower Child) were ~$80,700. A FRC Concepts incubator project, Blanco, focused on Mexican cuisine was launched in Nashville, over F1Q2021. In its first 7-weeks of operations, the location was the top performer among the brand's restaurants. Over the pandemic, off-premise sales associated with FRC Concepts restaurants, including Flower Child have continued to expand on a year-over-year basis. In addition, Flower Child restaurants, launched even in obscure locations such as Oklahoma City have evidenced highly busy openings.
Strong Unit Development Planned For FY2021. New restaurant openings planned for the year include two Cheesecake Factory locations, six North Italia locations, and six FRC Concepts locations, that will comprise among others, two Flower Child locations. On a secular basis, CAKE has set a target of 7% annualized growth in new unit development.
We're highly encouraged by CAKE's intentions to rapidly expand the North Italia footprint to 200 stores and to advance the number of units by 20% every year. Given the limited number of pure-play experiential Italian cuisine restaurants in the United States and North Italia's excellent customer reviews, we believe there is a significant opportunity for the brand to develop into a long-term growth driver for CAKE.
Balance Sheet Appears Strong. At the end of F1Q2021, the company had a cash and cash equivalents balance of ~$181 million and long-term debt of $280 million on its balance sheet. CAKE can borrow an additional $97 million to fund operations under a revolving credit facility, it has available. Given its funding position, we believe that the company will handily maintain liquidity over the final days of the pandemic.
Bottom Line
With CAKE's pivot to North Italia and FRC Concepts for higher growth, the company appears set to forgo the low-hanging fruit associated with a Cheesecake Factory footprint beyond the current target. CAKE it appears, desires to build a conglomerate of restaurant groups, rather than focus on the flagship brand. The strategy although sound nevertheless increases the risk associated with long-term growth. Among all of the FRC Concepts brands, only North Italia appears well-positioned to succeed, with the additional restaurant groups being nascent enough in their evolution that their future is difficult to predict with any certainty. Overall, CAKE can now be considered a developing story with a cash-cow element in form of Cheesecake Factory.
This article was written by
Currently, I work as an investment analyst at Seamist Capital. Previously, since 2006, I was on the sell-side, in a research analyst role. The banks I have worked for include the Stanford Group, Madison Williams, Roth Capital, and WR Hambrecht. I have passed the FINRA exams for Series 7, 63, 86, and 87. My educational background includes a Bachelors Degree in Finance and Investments and a Masters Degree in Finance. Currently, I rank among top 5% of bloggers and among top 10% of analysts on TipRanks.
Analyst's Disclosure: I/we have no positions in any stocks mentioned, and no plans to initiate any positions within the next 72 hours. I wrote this article myself, and it expresses my own opinions. I am not receiving compensation for it (other than from Seeking Alpha). I have no business relationship with any company whose stock is mentioned in this article.
Seeking Alpha's Disclosure: Past performance is no guarantee of future results. No recommendation or advice is being given as to whether any investment is suitable for a particular investor. Any views or opinions expressed above may not reflect those of Seeking Alpha as a whole. Seeking Alpha is not a licensed securities dealer, broker or US investment adviser or investment bank. Our analysts are third party authors that include both professional investors and individual investors who may not be licensed or certified by any institute or regulatory body.