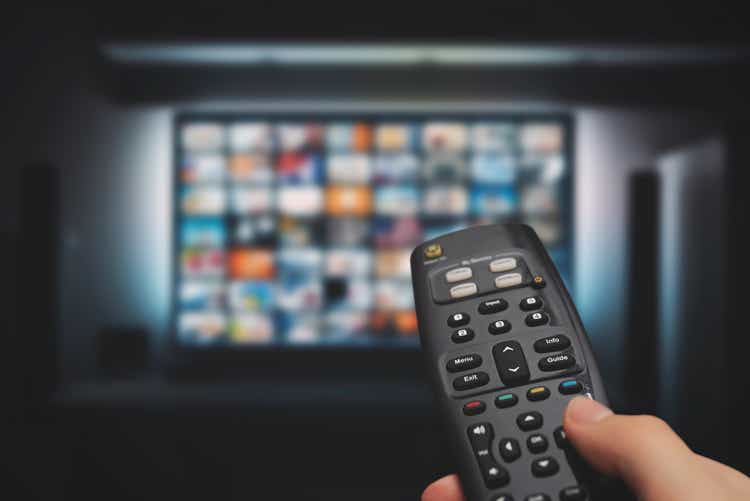 I last published an article in late January, when Roku (NASDAQ:ROKU) was trading at ~$400, calling it a long-term "buy and hold". Well, the fundamentals haven't changed much and the stock is now significantly cheaper after recent selloffs. There's a 25% upside from $320 to get back to $400, and then more over the long-term, in my opinion. With earnings just around the corner, I'd like to share a few updates to my long-term thesis. I don't have a particular opinion on how the Q1 earnings will impact the stock price, but my long-term bull thesis holds amidst all the latest market information.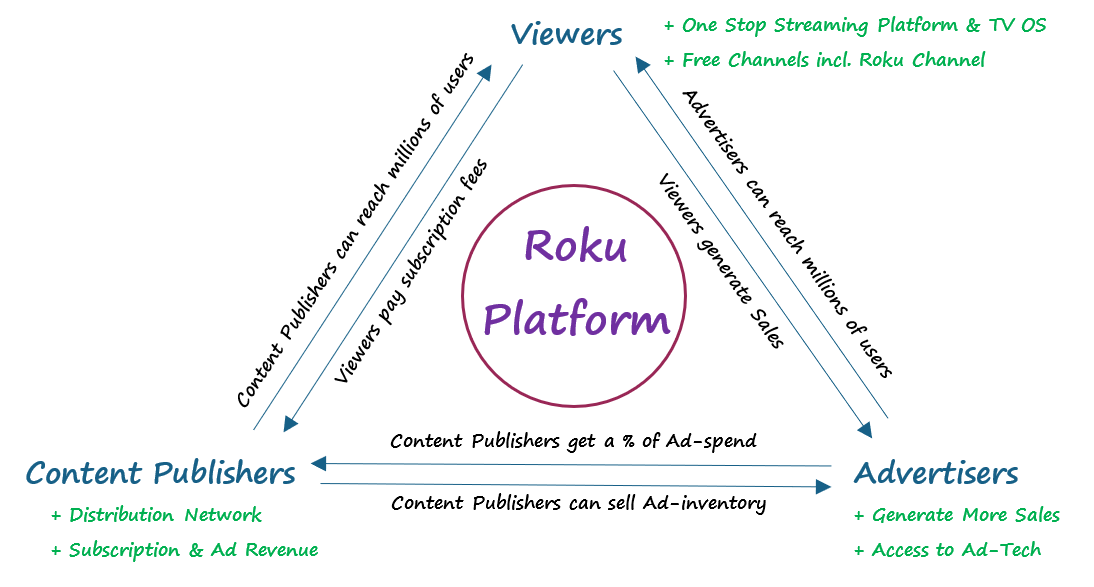 Source: Author, Roku's Stakeholder Relationships
The above chart can be used as a reference source for relationships between Roku and three major categories of stakeholders: viewers, content publishers, and advertisers. Note that I produced the diagram based on my personal interpretations of the company and have discussed the business model in great detail in my previous articles should you wish to get my complete thesis. I've focused below on YouTube TV, the latest Connected TV ad data, and recent valuation multiples.
YouTube TV Pullout Is Mostly Insignificant
I'd like to clarify that I mean this as a fundamental investor rather than a trader. If price action vs. news is a part of your investment process, by all means, discount my opinion as it may not apply to your framework. It was reported that Youtube TV was removed from the Roku platform after Google and Roku failed to reach an agreement. Something along the lines of Google being a monopolistic bully and Roku charging too much (paraphrasing). I would be concerned if Prime Video pulled out, but YouTube TV is in all probability, an insignificant content publisher on the Roku platform. Roku reaches over 50 million active accounts, likely a lot more individuals (multiple family members on the same account), and is, therefore, an unignorable platform for any major streaming content creator to publish their content on. That is unless the content publisher can forego the extra viewer reach because their revenue streams are tiny in the scheme of things. In Google's (GOOG) case, YouTube TV is a minuscule financial component for the behemoth. In Roku's case, Youtube TV is a minuscule contributor to the top line due to its markedly fewer subscriber numbers (3 million) compared to Netflix, Prime, Peacock, Disney+, HBOMax, Hulu. That 3 million also needs to be chopped further for those that use both Roku and YouTube TV. If one is concerned that other content publishers may follow suit by boycotting Roku, I believe it's highly unlikely as the content publishers, including PrimeVideo, would see Roku as a crucial revenue stream to their content businesses.
YouTube TV is essentially an amalgamation of popular live entertainment, news, and sports channels that can otherwise be subscribed to individually but are offered at a discounted bundled subscription price under the "YouTube TV" banner. Knowing the parent company, I would speculate they have a data-sharing agreement with those channels (data = ad-targeting = $$$). It is an enhancing value proposition for Google TV devices, which are, of course, Roku's direct competition. It seems like Google is looking to stage a comeback in TV OS market share in the US which has been dominated by Roku and Fire TV thus far. This is yet another chapter on the battlefield for streaming and television advertising dominance among operating systems and content publishers.
I would infer that Google clearly knows that if Google TV hits mass adoption, they'll be in contention to become a major gatekeeper for television advertising spend. By hitting big, Google will have a richer body of data that would in turn improve their ad targeting capabilities and produce a flywheel for soaking in ad revenue. I found it interesting that they rebranded Chromecasts to full-featured Google TV only last year, with devices finally featuring remotes to improve usability across a TV-specific user interface. Historically, despite being the king of Search Ads, Google has substantially lagged its competitors Amazon (AMZN) and Roku in the evolution and adoption of CTV operating systems. We can see how this landscape evolves going forward, and Google still presents a viable threat, but it appears that the Roku/Fire duopoly is closer to achieving market saturation in the United States leaving a smaller undisrupted market for new CTV converts to capture. As GCP has lagged Azure and AWS, Google TV has similarly lagged Roku TV and Fire TV.
I don't see the competition hugely impacting Roku at least in 2021, and Roku's fundamentals should be virtually unchanged even if there is minor churn from YouTube TV subscribers. The more important factor to track in my opinion is advertising spend, rather than just vanilla subscriber and device growth. Historically, ad spend has been a lagging indicator for eyeballs in virtually every category of digital advertising and has only recently accelerated its transition to CTV. All TV advertising will be CTV advertising, and most of that will be programmatic. Roku has remained one of the first movers to capitalize on this trend by building out the ad-tech capabilities, pioneering the marketplace in which those who're seeking to make the transition could do so with less friction through Roku's OneView platform.
Connected TV Ad Spend Trends Extend To 2021
I used publicly available survey data from the Interactive Advertising Bureau (IAB) to highlight the acceleration of ad spend in a bull thesis back in October/Nov 2020. The latest publicly available reports lack the exact percentage growth terms of CTV ad spend growth for 2021, but the following slides were somewhat reaffirming of the trends in place runway ahead.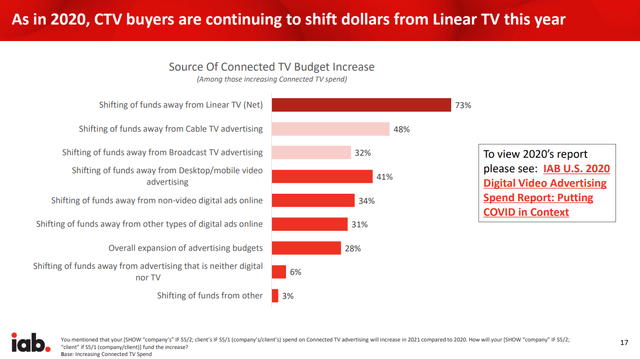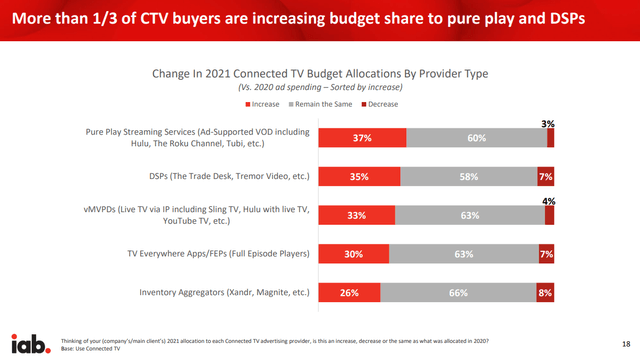 Source: IAB "Video Ad Spend 2020 & Outlook for 2021", IAB Proprietary Research, Published May 2021
The above slides compile survey results from a variety of advertising participants. CTV budgets are set to continue to increase and a lot of that extra allocation is coming from old sources of advertising. For those who are increasing spend to CTV, 73% of the participants are shifting it from Linear TV budgets, and surprisingly, a fair number are moving their allocation from desktop/mobile video advertising as well. For the category of AVOD that Roku supports, 37% of the respondents mentioned they'll be increasing ad spend compared to 2020, more so than other categories of CTV. These numbers aren't particularly meaningful by themselves but when you expand to see the total CTV ad market, they provide some colour. See the charts below: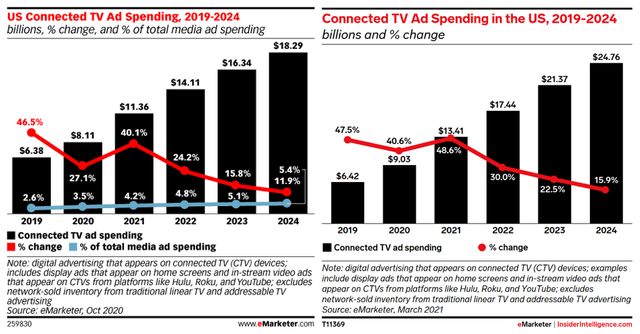 Source: eMarketer (left chart, right chart)
The charts show the same forecast at two different points in time by eMarketer. In October 2020 (left chart), they forecasted 40.1%YoY growth in US CTV ad spend for 2021, while in March 2021 (right chart), they raised their growth expectations to 48.6%YoY as previous predictions were surpassed. The latest number shows a benchmark for Roku's top-line growth by the time it exits 2021. As a market leader, and a market-share taker among incumbent streaming platforms, the company is riding an enormous wave of advertising that should keep growth rates elevated for the coming year.
As for how much of total television spend in the US has transitioned to Connected TV, we're still at a small fraction of the pie. eMarketer also estimated the 2021 US TV Ad spend, excluding digital, at $65-$70B (Source). At a CTV 2021 ad spend forecast of $13.41B, we're still only at ~20% conversion of the closest incumbent mode of advertising. There is yet an enormous opportunity to keep growing. Also, note that this only includes the US market. The international market for ad spend through Roku is far larger.
Financials & Valuations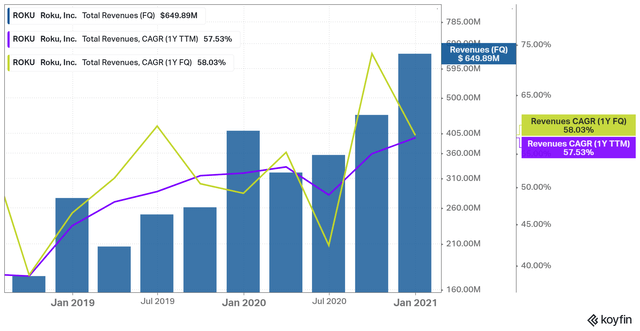 Source: Koyfin, Produced by the Author
Roku's revenues can be broken down into Streaming Players (hardware sales), and Platform Revenue. Streaming Players are sold almost at cost (low gross margin), while Platform Revenues consist of everything else including ad revenue and revenue sharing from content publishers. While the latest gross margins have been recorded in the high-40% range, I expect it to trend much higher over the long-term as streaming players contribute to a smaller proportion of the revenue mix, while the high gross-margin ad money contributes to a higher proportion. Sales growth has been accelerating, with ~58% YoY on a fiscal quarter basis. This should normalize lower as the pandemic recovery ensues, but we'll likely exit 2021 with still an annual +50%YoY rate if I had to make a prediction going off of industry trends. C-19 increased streaming player sales substantially, and it should see more muted growth in 2021 as many customers would have already upgraded for the current sales cycle.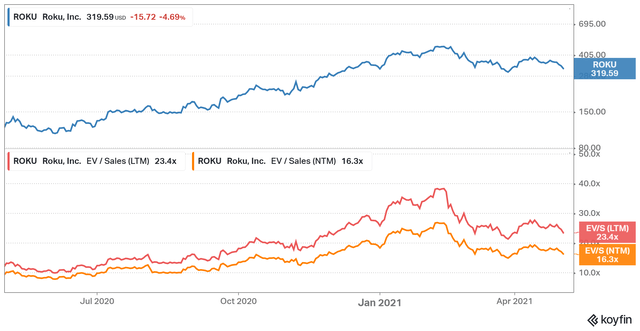 Source: Koyfin, Produced by the Author
Forward EV/S multiples have contracted over the last few months. The stock trades at an NTM EV/S of 16.3x, down from the 20x range not too long ago. For a mid-gross margin business, this is a high valuation on traditional measures. But when properly contextualized, with a CTV ad opportunity that's set to multiply a few times over from current levels, the upside potential is significant and intact in my opinion. The next twelve months also happens to be somewhat short-sighted in the scheme of things. Roku's competitive positioning given their deals with all major streaming services gives them leverage across future negotiations due to the sheer number of households they can reach. This ultimately translates to a strong chance that they will continue to reap their market opportunity beyond 2021, all with an in-house ad marketplace acting as a growth flywheel. When sales can theoretically multiply a few times over, with a high probability of Roku keeping or growing its current market share, it's worth paying up for at the current valuation.
Risks
Risks include competition from Google and Amazon, the macro environment which in turn could adversely impact ad spend and sales growth, and systemic risks. This is a high growth tech stock and it's fair to expect pronounced volatility and a high chance of deep and extended drawdowns.
Ending Notes
Roku offers strong upside potential after the current drawdown. Multiples have contracted significantly, while noise regarding YouTube TV might have adversely affected the stock price without much impact to the fundamentals. Previous expectations of CTV ad spend have been surpassed and 2021 is in all likelihood a major extension of the structural shift from linear TV spend to CTV spend. The latter offers a drastically better value proposition based on data-driven ad-tech. Probabilistically, Roku is very well positioned to capture the market opportunity for years to come. I'm long ROKU.