CytoDyn: Suitable For Trading Not Investing
Summary
In 2019, CytoDyn touted initial approval of leronlimab as a blockbuster combination therapy for HIV.
CytoDyn has encountered a long string of obstacles in presenting leronlimab to the FDA for its consideration.
Leronlimab's current status in its quest for approval as combination therapy is a developing situation.
The ebb and flow of CytoDyn's new and exciting projects have a familiar cadence.
CytoDyn's finances have been touch and go for the bulk of its existence.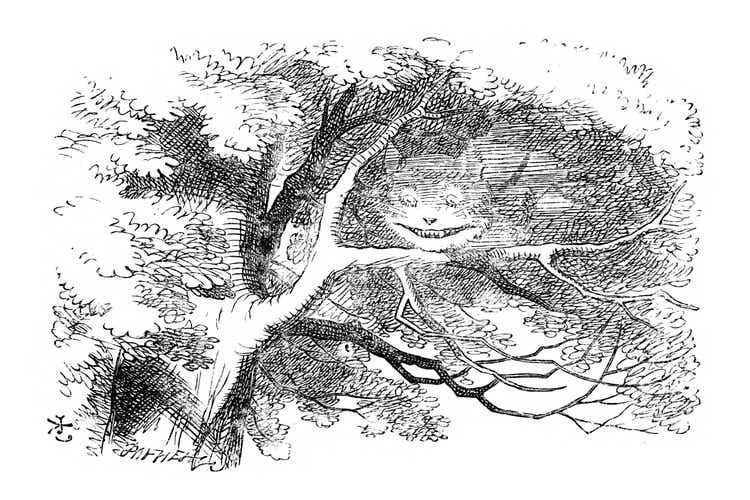 The Cheshire Cat ... constantly grins and can disappear and reappear whenever it likes. Sometimes it disappears and leaves its grin behind.
Fool me once, shame on you; fool me twice shame on me. Fool me on a regular basis and the shame disappears; we are in wonderland.
In this article I will explain my view that CytoDyn (OTCQB:CYDY) is appropriate as a trading vehicle; it should never be considered as an investment.
Revenues for leronlimab as a combination therapy for HIV that once seemed imminent have proven elusive.
When I first started researching and reporting on CytoDyn, its effervescent CEO and guiding nous, Nader Pourhassan [NP] was enthused about leronlimab's (PRO 140, Vyrologix) prospects in treatment of HIV as a combination therapy. At the time he bruited its potential for a rapid FDA approval because of its unblemished safety profile and its superior efficacy.
CytoDyn unabashedly published a slide projecting its combination therapy indication as a potential blockbuster. Additionally, the slide projected its treatment as a maintenance monotherapy to be a mega blockbuster: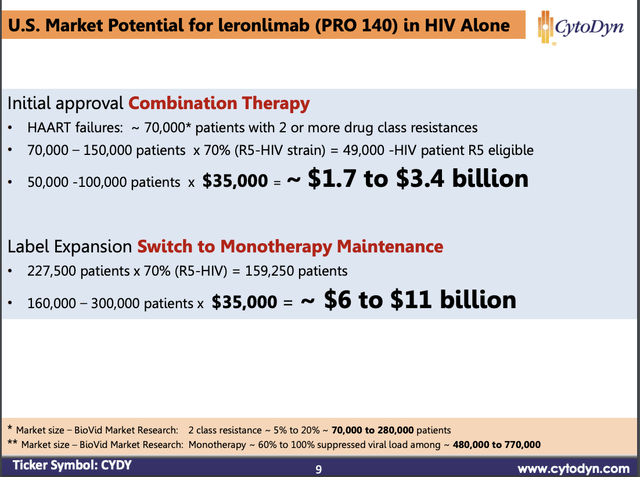 The FDA acts as a strong reality check on companies seeking to market therapies in the United States. No matter how strong the research, the anecdotal support and the early clinical trials reinforcing the safety and efficacy of a particular therapy must still follow FDA procedures before it can be marketed here.
The process typically includes a series of clinical trials including the following:

CytoDyn's efforts to secure FDA approval have been star crossed.
Upon successful completion of the first three trial phases the applicant will typically file a biologics license application (BLA) [for biological products] or new drug application [for drugs]. In the case of leronlimab, CytoDyn must submit a BLA. As I described in "CytoDyn's BLA Blues" [BLA Blues] the process has been arduous.
Initially, CytoDyn thought that it might file its BLA in 2017. This proved to be overly ambitious. CytoDyn decided to file for a rolling review. As things developed CytoDyn found itself delayed to the point that it was planning to complete the first review section (of three) for filing in 03/2019.
Its subsequent path forward included the following inelegant announcements:
04/27/20 press release announcing completed submission of its HIV combination therapy BLA;
05/8/20 press release clarifying that the filing was not considered complete until an additional dataset filing;
05/13/20 press release announcing finishing of filing.
Sadly, although at this point CytoDyn was finished with the BLA, it was still not acceptable to the FDA. On 07/13/20 CytoDyn announced that it had received a dreaded refusal to file letter [RTF]. This stopped the process in its tracks. CytoDyn was confident it could expeditiously resolve the issues of concern.
The BLA remains a work in progress.
As optimistic as we humans always are when faced with an obstacle, roadblocks often develop which prove more difficult than anticipated. In response to the RTF, NP stated:
We are 100% committed and confident we can provide the necessary information to the FDA as soon as possible. No additional trials will be required and all the information the FDA has requested is obtainable.
Time marches on. The calendar has moved into a new year. As I write on 05/4/21, how is it that this obtainable information has been so resistant to actually being obtained?
The BLA fix is in Dhody-Ray edition.
BLA Blues describes the 07/13/20 (at market close) investor's call that CytoDyn hastily convened to counter the negative impact that the RTF predictably had on its stock. At the time CytoDyn was having an erratic COVID-19 fueled summer. It briefly breached $10.00 on 06/30/20, only to fall <$5.00 on Friday, 07/10/20.
In response to the early morning release, it opened on Monday 07/13/20 at $3.24, falling below $3.00 during the day on crazy high volume of >21 million shares. During the call, NP called on CytoDyn's Chief Technology Officer, Dr. Nitya Ray, and Dr. Dhody, its CRO representative. As described in BLA Blues, they minimized the FDA's concerns, leaving the impression that they would soon be resolved.
The BLA fix is in Rahman addition edition.
On 10/21/20 CytoDyn announced that it hired Mahboob Rahman, M.D., Ph.D., as Chief Scientific Officer. The release noted that during his 18 years of pharmaceutical industry experience he had overseen 16 successful BLA/NDAs and sBLAs.
As recently as 01/21, NP noted that Dr. Rahman was attending to resolution of the RTF (4:55/5:56). Well as the old saying goes, "the best laid plans of men and mice", somehow Dr. Rahman must not have added the much needed special sauce. On 4/5/21 he exited his role at CytoDyn.
The BLA fix is in latest edition.
On 05/03/21, CytoDyn issued a release including the following report on the status of its ongoing BLA saga:
CytoDyn has been working diligently to resubmit its Biologics License Application ("BLA") for this HIV combination therapy since receiving a Refusal to File letter in July 2020 and subsequently meeting with the FDA telephonically to address their written guidance concerning the submission. CytoDyn expects to resubmit its BLA via a rolling submission starting in the third quarter of calendar 2021.
Good news? Perhaps, however, I have to confess the notion that its resubmission will be "rolling" gives me the cold willies. A rolling submission speaks to potential for another stream of almost filings. At this stage, in mid-2021, isn't it time to just file the resubmission in toto? Could it be that the BLA is in more trouble than is generally understood?
In its 04/27/2020 investor call, there was some talk of problems related to receptor occupancy test. In his blog, Seeking Alpha contributor Thomas Barnard discusses this issue at length with various CytoDyn representatives including the following:
Thomas Barnard: A receptor occupancy test?

Nader Pourhassan: A receptor occupancy test tells you if the leronlimab is sitting on the receptor.

...

Scott Kelly: ... My interest in CytoDyn rose because they were doing HIV. ...I liked the concept of blocking the CCR5 receptor, because I believe it makes more sense to block healthy cells from HIV entry. Why wait until the virus enters the cell and begins to make billions of copies.
CytoDyn's ability to keep the pot boiling is the reason it is such a great trading vehicle.
CytoDyn's 2019 10-K (p. 2) set out the following as its business strategy:
Our current business strategy is to prioritize the completion our BLA filing for leronlimab as a combination therapy for highly treatment experienced HIV patients, to advance our Phase 1b/2 clinical trial metastatic breast cancer, to continue our Phase 2 trial for graft-versus-host disease ("GvHD"), to finalize with the FDA our submitted protocol for a pivotal Phase 3 clinical trial with leronlimab as a monotherapy for HIV patients and concurrently to explore other cancer and immunologic indications for leronlimab.
While its initial priority of filing its BLA has proven so difficult and unrewarding, CytoDyn has pursued other indications and other venues with startling vigor. I have documented some of these endeavors with particular focus on and enthusiasm for its prospects as a COVID-19 therapy.
As its US COVID-19 trials have produced muddled results, my enthusiasm for leronlimab as an actual therapy for COVID-19 has dropped to negative. I find the idea of searching the world for jurisdictions (Canada, Philippines, Brazil) that will allow CytoDyn to sell its massive leronlimab inventory to be repugnant.
It may be odious; however, CytoDyn's always optimistic, never-say-die approach to its business has resulted in interesting opportunities for traders. Consider its jagged stock chart: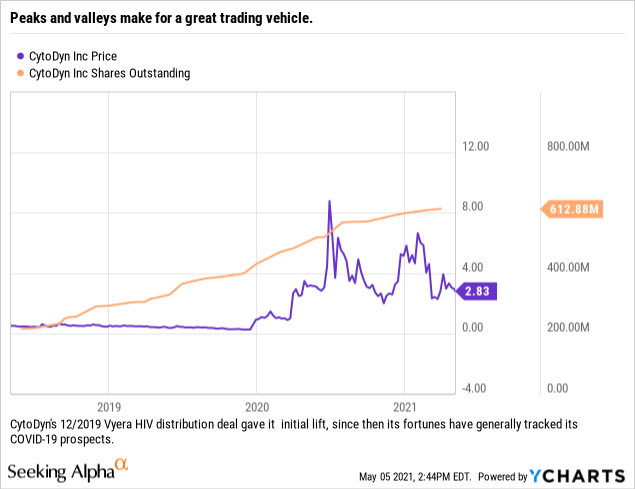 CytoDyn's press releases as shown on Seeking Alpha show that it always has something new with which to entice investors, no matter how dour any other development may prove. It has certainly had its share of disappointments as discussed in "CytoDyn: Reliable In All The Wrong Places".
Examples of recent 2021 initiatives and positive news releases include:
CytoDyn has significant ongoing expenses without any regular income.
CytoDyn runs a precarious existence with high expenses and no regular income. The following from its latest 10-Q (p. 48) pretty much tells the tale:
As reported in the accompanying consolidated financial statements, for the nine months ended February 28, 2021 and February 29, 2020, the Company incurred net losses of approximately $109.8 million and $66.8 million, respectively, and has an accumulated deficit of approximately of $466.0 million as of February 28, 2021. The Company has no activities that produced revenue in the periods presented and has sustained operating losses since inception.
CytoDyn is searching the wide world to help it find a legal buyer for its leronlimab inventory which it carries on its books to the tune of $93.5 million (per its latest 10-Q, p. 43). It has the following projected product expense obligations (p. 28) to Samsung (OTCPK:SSNLF):

CytoDyn's cash balance shown by its 10-Q (p. 3) as of 2/28/21 was a measly $14.291 million.
Conclusion
CytoDyn is playing a high stakes game. It has no approved therapy anywhere in the world. It runs increasing deficits and has significant outstanding indebtedness. Its profuse and byzantine financings as described at "Note 5 Convertible Instruments" of its latest 10-Q (pp 15-22) entirely elude my descriptive abilities.
If - such an intriguing and problematic word - CytoDyn had or appeared on the cusp of getting its BLA approved for HIV as a combination therapy, and getting leronlimab accepted for marketing with a solid label, then it might have near-term revenue potential which would allow it to start digging out of the mire in which it is enmeshed.
That is not to say that it would be a good investment at that stage. Whether leronlimab, hobbled by Vyera as its representative, would break through in a competitive HIV market is unsure. If ever the FDA accepts its BLA, I will reconsider that point.
With an approved BLA its chances at a long-shot COVID-19 therapy would also go up. As matters now stand, CytoDyn is uninvestable. I hold a tiny stake to keep my hand in that I expect to offload at a profit the next time CytoDyn gets hit by a wave of enthusiasm as periodically happens. It is a fine, albeit risky, stock for traders.
This article was written by
Writing under the pseudonym "out of ignorance", I very much regard investing as a learning process. Investing failures are tuition paid. Investing successes enter the trove of lessons learned. In my Seeking Alpha articles I share my experience from decades of investing and from ~5 years of focused research on a variety of stocks, in recent years with a primary emphasis on healthcare stocks. I greatly appreciate those who take the time to share their reactions to articles, particularly those who share relevant anecdotes and experiences.
Analyst's Disclosure: I am/we are long CYDY. I wrote this article myself, and it expresses my own opinions. I am not receiving compensation for it (other than from Seeking Alpha). I have no business relationship with any company whose stock is mentioned in this article.

I may buy or sell shares in any stock mentioned over the next 72 hours.
Seeking Alpha's Disclosure: Past performance is no guarantee of future results. No recommendation or advice is being given as to whether any investment is suitable for a particular investor. Any views or opinions expressed above may not reflect those of Seeking Alpha as a whole. Seeking Alpha is not a licensed securities dealer, broker or US investment adviser or investment bank. Our analysts are third party authors that include both professional investors and individual investors who may not be licensed or certified by any institute or regulatory body.