Google Is Enjoying Competitive Advantages
Summary
Google is able to get a large number of search customers through their Chrome browser along with rev share agreements for Safari and Firefox browsers.
The high cost of indexing is a barrier to entry for new search competitors.
The enormous user base at Google search is a competitive advantage.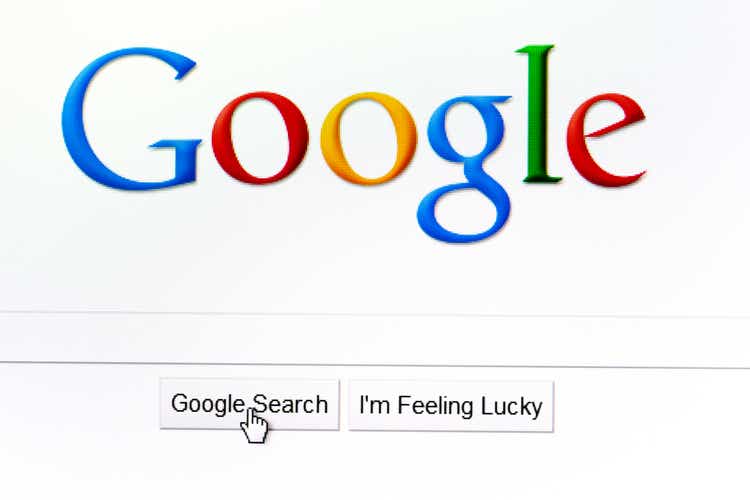 Introduction
My thesis is that Alphabet (NASDAQ:GOOG) (NASDAQ:GOOGL) is an important company for the U.S. that is set up to continue enjoying competitive advantages for many years.
Berkshire Hathaway (BRK.A) (BRK.B) Vice Chairman Charlie Munger praised U.S. tech giants like Alphabet/Google in the spring 2021 shareholder meeting:
Well, I also think it's clear that the list you showed of the leading American companies, it's been very important for America that we've done so well in this new tech field. And I, personally, would not like to see our present giants brought down to some low level by some anti-competitive reasonings. I don't think they're doing a lot of harm anti-competitively. I think they're credit to the Americans, credit to our civilization. And they're huge, and that's good for us.
The October 2020 Investigation of Competition in Digital Markets Report addresses Google extensively and the October 2020 DOJ Complaint is a big concern, specifically this part:
For many years, Google has used anticompetitive tactics to maintain and extend its monopolies in the markets for general search services, search advertising, and general search text advertising - the cornerstones of its empire.
I agree with Berkshire Hathaway Vice Chairman Munger, Google helps the U.S. do well. There's a saying that if a police officer follows you for 500 miles then you're getting a ticket. I would imagine it's a good bet that Google has broken some laws while obtaining competitive advantages yet I'm optimistic that the consequences will not be overly harsh. I'm hopeful that Google will be allowed to settle this in a way that doesn't leave them severely handcuffed in the coming years relative to competitors outside the U.S.
President Joe Biden's April 28th speech to Congress made me think about Google and the other large U.S. tech companies:
Decades ago we used to invest 2% of our GDP on research and development. Today, we spend less than 1%. China and other countries are closing in fast. We have to develop and dominate the products and technologies of the future: advanced batteries, biotechnology, computer chips, and clean energy.
It's a delicate balance as we want to make sure our companies are not unassailable; they need to be following the law. However, a point can be made to give them the benefit of the doubt when interpreting the law as they race against global companies in areas like artificial intelligence.
Access
The October 2020 DOJ Complaint shows the top ways to get to Google as follows:
29% Chrome browser
26% Non-Chrome browsers
23% QSB or quick search box on the device's home screen
17% Google App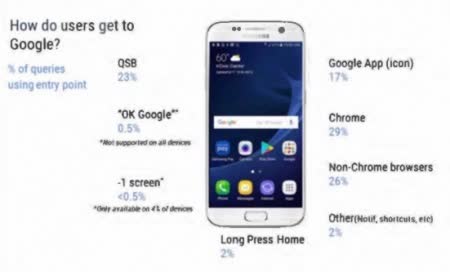 Image Source: October 2020 DOJ Complaint
Google is in an advantaged position seeing as they can use their own Chrome browser to get 29% of their users. Having the largest search engine also puts them in an excellent position to offer sizable rev share deals to Apple (AAPL)/Safari and Firefox for another large chunk of users. The 26% of users from non-Chrome browsers come from rev share agreements with Safari and Firefox where up to 40% of the advertising revenue is shared per the DOJ Complaint:
Today, Google has revenue sharing agreements with the most widely used browsers in the United States, such as Apple's Safari browser and Mozilla's Firefox browser; Microsoft's browsers are the only notable exceptions. Over 85 percent of all browser usage in the United States occurs on Google's own Chrome browser or on one of the browsers covered by these revenue sharing agreements.
Search
The October 2020 Investigation of Competition in Digital Markets Report shows that it would be very difficult for a new competitor to come close to Google search anytime soon. The first advantage for Google is that new entrants face challenges due to the high cost of indexing and the fact that many websites block crawlers not belonging to incumbents like Google and Bing (MSFT). A second advantage is that users have been making Google better every day by submitting search phrases and showing which results make the most sense by the way they interact with the results. Long-tail queries are infrequent search phrases that contain a large number of words and they can be especially helpful per the October Report:
In particular, data on "tail" (or rare) queries enable a search engine to offer relevant results across a higher set of potential queries—improving the overall quality of the search engine - and Google's internal documents show that the company recognizes its long-tail advantage.
Tesla (TSLA) CEO Elon Musk talks about Google's user/data feedback loop advantage in his 3Q20 call:
And of course, as the system collects more data and - it becomes more robust. So it's sort of like how does Google as a search engine get better. It's because everyone is programming it by asking questions all the time and clicking on particular links. So it's got this great feedback loop, and that makes it an extremely effective search engine.
If we're parochial in terms of how a search tool is defined then some of the monopoly optics are not great for Google. Here is what the DOJ Complaint says about general search engines like Google relative to specialized search engines like Amazon (AMZN):
Consumers can find certain specialized information online using sources other than general search engines. For example, consumers can search retail marketplaces such as Amazon or eBay to shop for products, or go to Expedia or Priceline to compare airfares. Search sites that offer users a narrower, focused set of answers to queries are "specialized search engines." Specialized search engines are often able to give users deeper topical results than general search engines by using specialized data or information gathered from users or supplied by third parties.
Viewed through one lens, Google search, Amazon search and the Apple app store are all different ecosystems. This lens explains why page 14 of the October 2020 Investigation of Competition in Digital Markets Report says Google has a monopoly in the markets for general online search and search advertising while page 256 of the same report says that over 60% of all online product searches in the U.S. begin on Amazon.com.
Viewed through another lens, Google search, Amazon search and the Apple app store are all search tools that help customers find products online. Despite Google's enormous advantages with general searches, competitors like Amazon are also doing extremely well for specialized product searches. A November 2020 eMarketer article shows that 53% of U.S. adults go to Amazon for product searches and a March 2021 WSJ article reveals that Amazon has the advertising revenue to show for their enormous share of product searches. I expect Google, Facebook (FB) and Amazon to all continue thriving as the world keeps shifting to digital: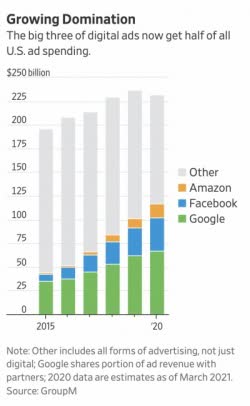 Image Source: March 2021 WSJ article
Like the WSJ, eMarketer shows that Google and Amazon have a large percentage of U.S. search ad revenue: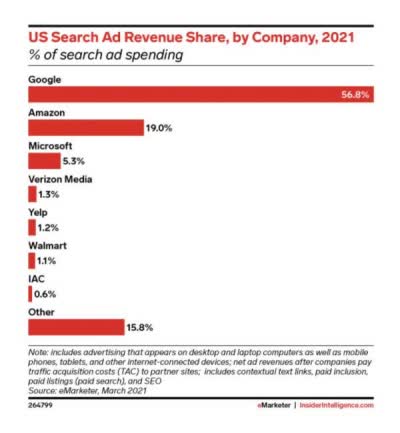 Image Source: eMarketer
Google and Amazon have tremendous advantages with product searches but If they were the only tools for acquiring customers online then companies like Shopify (SHOP) would not be defying gravity with their growth. One of the reasons Shopify is so successful is because there are multiple channels for acquiring customers as they search for products online and Shopify helps merchants with just about all the major channels. The Amazon Jungle by Rick Cesari says that in addition to looking at Amazon and Google ads, merchants should consider advertising with Facebook, Instagram and TikTok. As we move from browser based activity to app based activity, a point can be made that the search tool that is harmful to consumers is the Apple app store where a 30% tax is levied.
YouTube
Alphabet generated over $6 billion from YouTube ads in 1Q21 which shows there is more to the Google Services segment than search revenue. In the 1Q21 call SVP and Chief Business Officer Philipp Schindler revealed that YouTube is advantaged in terms of reaching folks under 50:
Historical approaches to reaching audiences through, let's just say, call it, linear TV don't really work anymore. Advertisers are using YouTube now to reach the audience they can't find anywhere else. And remember, more 18 to 49 year olds are actually watching YouTube than all linear TV combined. And brands are also seeing more incremental reach on YouTube compared to TV.
Valuation
Google Cloud and Other Bets hurt operating income such that valuations based on company-wide free cash flow [FCF] are flawed. Combined, these two segments lowered trailing twelve months [TTM] operating income by $9.4 billion! The P/E ratio can be even more problematic than FCF in terms of showing steady earnings power as it has the volatile "Other income" line in addition to the drain from Google Cloud and Other Bets. A sum of the parts valuation makes more sense to me than using these company-wide yardsticks. To be clear, the yardsticks have use with the advertising business in a vacuum but they are flawed when looking at the company as a whole.
We get the trailing twelve months [TTM] numbers from the tables below by adding 1Q21 to FY20 and then subtracting 1Q20. The sources are the 1Q21 earnings release and the 2020 10-K: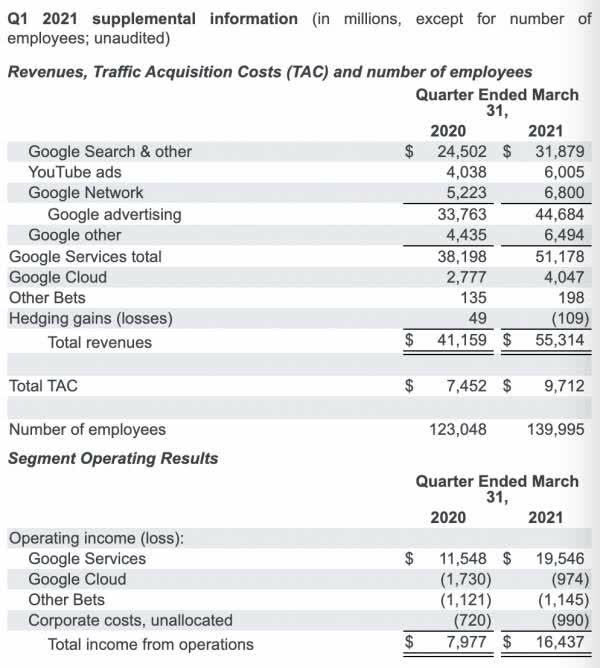 Image Source: 1Q21 earnings release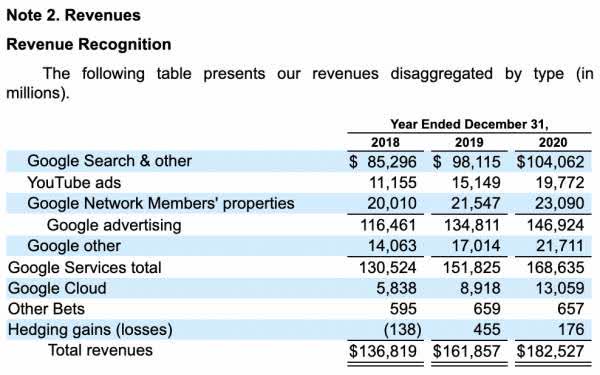 Image Source: 2020 10-K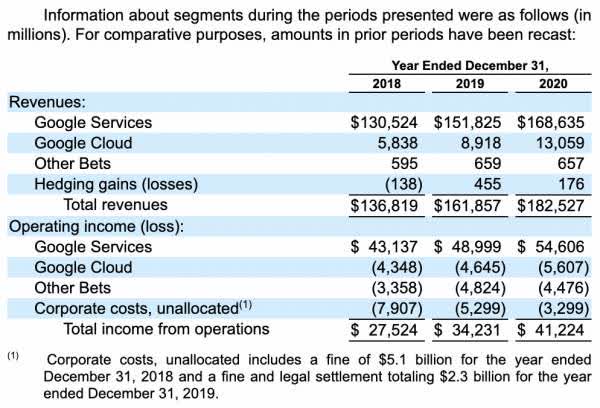 Image Source: 2020 10-K
Trailing twelve months [TTM] operating income is as follows:
$62.6 billion Google Services
$(4.9) billion Google Cloud
$(4.5) billion Other Bets
$(3.6) billion Corporate costs
The run rate for Google Services operating income is $78 billion. Given our low interest rate environment and the way the segment is growing, it could be worth 24 to 25x this amount or $1,872 to $1,950 billion.
I think Google Cloud can eventually get to a margin structure similar to what we see at AWS where they showed a 2020 operating margin of 30% based on operating income of $13.5 billion on sales of $45.4 billion. Google Cloud sales jumped 46% from $2.78 billion in 1Q20 to $4.05 billion in 1Q21. AWS has always had higher margins than Google Cloud but Google Cloud is growing faster. The Google Cloud sales run rate is $16 billion and I think the segment is worth between 8 and 10 times sales or $128 to $160 billion.
The Other Bets segment is full of unknowns like Waymo; I'm guessing it is worth between $25 and $75 billion.
Summing things up, I think Alphabet is worth over $2 trillion:
$1,872 to $1,950 billion Google Services
$128 to $160 billion Google Cloud
$25 to $75 billion Other Bets
--------------------------------
$2,025 to $2,185 billion
I view market cap as the sum of class A and class B shares times the class A GOOGL price as the first component plus the class C shares times the class C GOOG price as the next component. The 1Q21 10-Q shows 300,746,844 A shares and 45,836,948 B shares which add up to 346,583,792 shares that need to be multiplied by the May 5th GOOGL price of $2,314.77. The 10-Q also shows 323,580,001 C shares that need to be multiplied by the May 5th GOOG price of $2,356.74. Summing things up, we get a market cap of $1,564.9 billion or $802.3 billion plus $762.6 billion.
The enterprise value of $1,457 billion is $107.9 less than the market cap due to $26.6 billion cash and equivalents along with $108.5 billion in marketable securities partially offset by $13.9 billion long-term debt, $11.4 billion long-term operating lease liabilities and $1.9 billion current operating lease liabilities from the "Note 6. Supplemental Financial Statement Information" section of the 10-Q.
My valuation is substantially higher than the enterprise value so I think the stock price is very reasonable! Anything can happen with the stock price in the coming months but I think it will do well over the next 5 years.
This article was written by
I'm an individual investor heavily influenced by Warren Buffett and Charlie Munger. Munger's 1994 USC Business School Speech is something I think about a lot: ### Over the long term, it's hard for a stock to earn a much better return than the business which underlies it earns. If the business earns 6% on capital over 40 years and you hold it for that 40 years, you're not going to make much different than a 6% return—even if you originally buy it at a huge discount. Conversely, if a business earns 18% on capital over 20 or 30 years, even if you pay an expensive looking price, you'll end up with a fine result. ... Another very simple effect I very seldom see discussed either by investment managers or anybody else is the effect of taxes. If you're going to buy something which compounds for 30 years at 15% per annum and you pay one 35% tax at the very end, the way that works out is that after taxes, you keep 13.3% per annum. In contrast, if you bought the same investment, but had to pay taxes every year of 35% out of the 15% that you earned, then your return would be 15% minus 35% of 15%—or only 9.75% per year compounded. So the difference there is over 3.5%. And what 3.5% does to the numbers over long holding periods like 30 years is truly eye-opening. If you sit back for long, long stretches in great companies, you can get a huge edge from nothing but the way that income taxes work. ### Feel free to follow me on twitter: https://twitter.com/ftreric
Analyst's Disclosure: I am/we are long GOOG, GOOGL, AAPL, AMZN, BRK.A, BRK.B, FB, SHOP, TSLA, VOO. I wrote this article myself, and it expresses my own opinions. I am not receiving compensation for it (other than from Seeking Alpha). I have no business relationship with any company whose stock is mentioned in this article.

Disclaimer: Any material in this article should not be relied on as a formal investment recommendation. Never buy a stock without doing your own thorough research.
Seeking Alpha's Disclosure: Past performance is no guarantee of future results. No recommendation or advice is being given as to whether any investment is suitable for a particular investor. Any views or opinions expressed above may not reflect those of Seeking Alpha as a whole. Seeking Alpha is not a licensed securities dealer, broker or US investment adviser or investment bank. Our analysts are third party authors that include both professional investors and individual investors who may not be licensed or certified by any institute or regulatory body.